Original URL: http://www.theregister.co.uk/2011/11/11/review_game_the_adventures_of_tin_tin/
The Adventures of Tintin: the Game
Quiffly does it
Posted in Personal Tech, 11th November 2011 14:00 GMT
Review Until I was five, my dad worked at Cern and we lived in the Jura Mountains across the France-Switzerland border. At weekends my mum would take us to Jouets Weber, the largest toyshop in Geneva. It stocked a large number of Tintin books, which my mum translated to me at bedtime.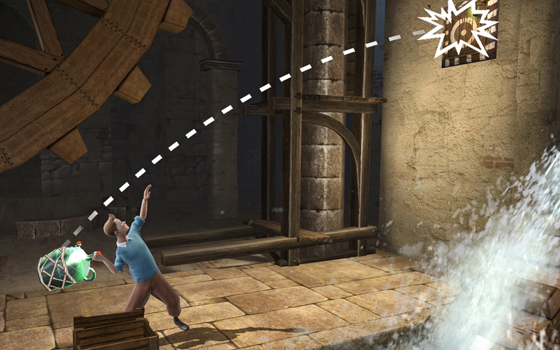 Take a hit and throw up
The memories of this fearless boy reporter and his faithful, if slightly sarcastic hound have always stayed with me and as soon as I got an albino ferret he was destined to be called Milou - better known to non-Francophones as Snowy.
So on receiving The Adventures of Tintin, my first thought was please let Snowy be a playable character. To give developer Ubisoft credit, it anticipated this and I'm pleased to report that, during certain segments, you can indeed play the white mutt. He can even sniff down a baddie or two, just to help out. Barking at rats has never been better!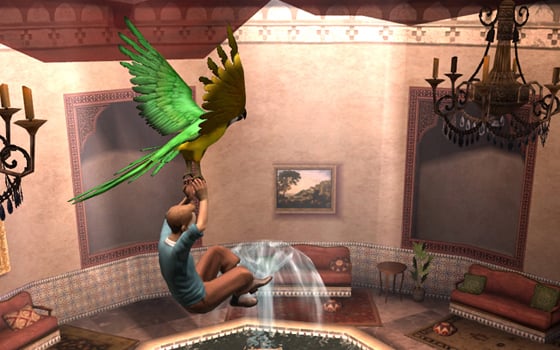 Pull a bird
I start the game as a very Justin Beiber-looking Tintin embarks on a hunt for some priceless scrolls from the pirate golden age that will surely lead to wealth and treasure beyond imagination. I have collect my motley crew to outwit various caricature criminals and crooks to discover the truth surrounding the Secret of the Unicorn.
Tying in to the movie of the same name, the game uses the themes and locations introduced in the film. Ubisoft has boasted that it worked alongside the film's producers and has tried to preserve the Tintin legacy - if not the slightly worrying throw-away racism.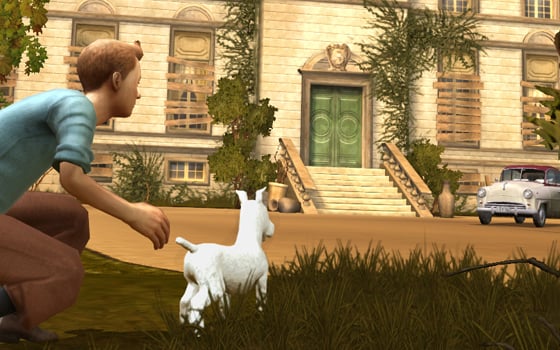 Crouching writer, hidden badly
From the outset, I want to convince myself this isn't just another cash in, and I'm please that it oozes quality, from the voice acting to the pretty, pretty graphics. Visual highlights include the watery escape sequences and a very stormy plane ride.
Horn of the unicorn
You quickly detect the Ubisoft feel. As I play I get déjà vu of Assassins Creed and Tomb Raider, but for children. It's really a shame that things quickly start to get very repetitive. How many times do I have to make the same ship's flags line up with the same picture of a Unicorn?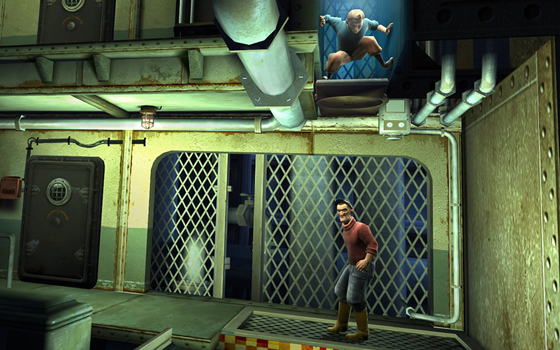 I fart in your general direction
The game has three modes: story, two-player co-op and challenge. In story mode, I spent my time not only fighting enemies, from butlers to pirates, but I also enjoyed getting my swashbuckle on with a bit of sword fighting. This is where Kinect finally starts to earn its money, with a bit of hack and slash against a swarm of smelly brigands.
Be sure to block using the on-screen cues to stop an early death - or non-death indicated by stars above Tintin's head rather than lashings of pixel ketchup.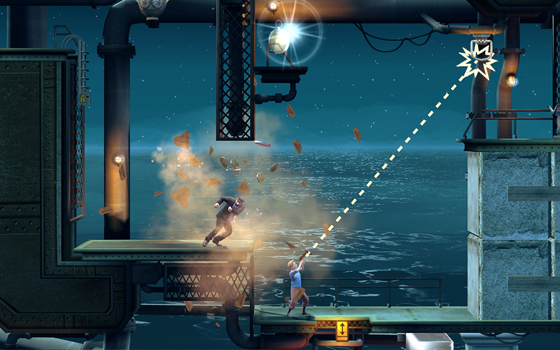 Haddock's smashed again
Shooting baddies from a sidecar, while the always less-than-enthusiastic Captain Haddock drives hell for leather through the desert, has obviously been on my bucket list for a while now. Yes, the movements were guided, which again will annoy most hardcore gamers, but I think that this will actually appeal to this game's target audience.
With a charming and endearing story Tintin filled ten hours of my weekend and it finally gave me a chance to feel I was getting my money's worth out of Kinect.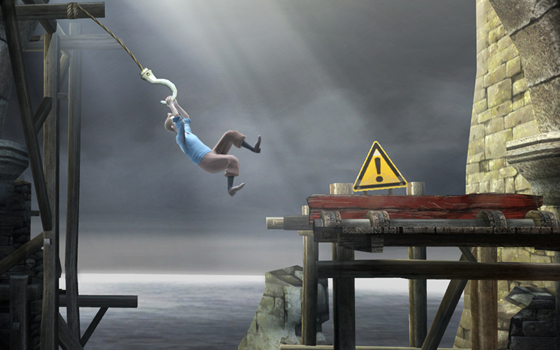 Swingers party
If you've bought Modern Warfare 3, then Tintin isn't for you, but even though it's flawe, I have to admit I had a lot of fun.
Verdict
The Adventures of Tintin brought me back into a world, I am ashamed to say, I had forgotten. Yes it's a simple and repetitive game, and obviously it's aimed at a young audience, but I think the appeal of Tintin is universal. It's a pity this game never fully reaches its potential or comes close to the genius that is Hergé's storytelling. ®
More Games Reviews

Call of Duty:
Modern Warfare 3
Goldeneye 007
Reloaded
Battlefield 3
Uncharted 3
Batman:
Arkham City