Original URL: http://www.theregister.co.uk/2011/11/09/review_marantz_nr1602_av_receiver/
Marantz NR1602 AV receiver with AirPlay
Slimline 7.1 sound master
Posted in Personal Tech, 9th November 2011 12:07 GMT
Review With the NR1602, Marantz has nuked the traditional AV receiver. The old template of massive amplification is out. In its place is an emphasis on networking prowess and design. The result is arguably the most forward-thinking receiver we'll see all year.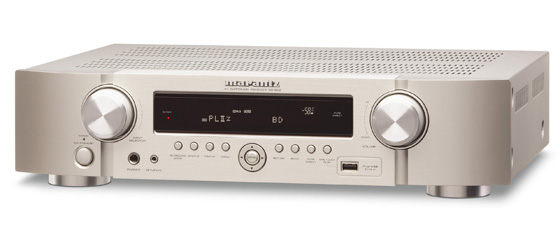 Big sound, slim frame: Marantz's NR1602 AV receiver
The brick-like aesthetics of conventional home cinema amplification have been banished. Instead we have unit that stands just 105mm tall. The NR1602 is available in black or a fetching silver/champagne and has a distinctive curved fascia. The look is potentially a little bit Marmite, but there's no doubting its flair.
While the NR1602 may be slim, its specification is phat. This is a fully-fledged 7.1 amp with network streaming, internet radio and Apple AirPlay compatibility.
Rear connectivity is functional without being excessive. There are four 3D-compatible HDMI inputs, a pair of component video jacks and a trio of legacy AV phonos. There's also Ethernet and an accessory M-XPort (Marantz-eXtension Port) for the brand's optional Bluetooth receiver, useful if you don't use an iPhone but fancy some wireless streaming anyhow.
The front panel offers a USB input which operates as both a digital iPod/iPhone connection and a media reader for thumbdrives and external hard drives.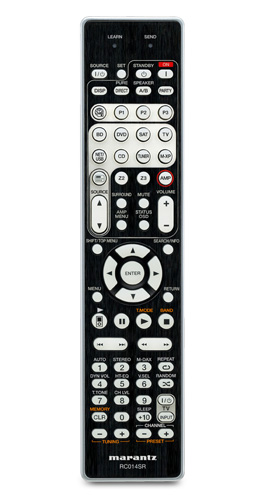 Cleanly laid out remote
The NR1602's user interface makes short work of setup. There's a wizard to take you through basic speaker connections, room calibration and system configuration. Partnering audio and video inputs is simplified by an onscreen mix and match input table (remember Sky doesn't support multichannel sound over HDMI). There's also an HDMI overlay for volume and channel selection.
Sound reinforcement
Auto-calibration comes courtesy of Audyssey's MultiEQ system. You can take measurements with the supplied microphone from multiple seating positions (the 2EQ Full Calibration mode), or just one (Quick Start). The results provide a good starting point for a nicely-balanced system set up, but some manual correction of misjudged speaker distance is likely to be required.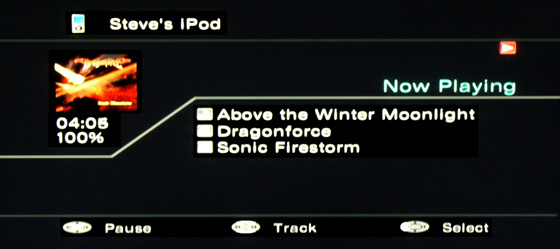 iPod playback screen
Part of the Audyssey package is Dynamic Eq, a two-faced equalizer that makes the assumption that music requires more aggressive equalization than movie content. To use the system appropriately, you'll need to manually juggle between them depending on what you're watching/listening.
To be honest, it's a bit of a faff having to manage all this, although some might find the effort worthwhile (I didn't). In addition to all the usual Blu-ray and DVD codecs, Audyssey DSX height/width processing is also available for those that prefer extra speakers at the front of the room rather than the rear.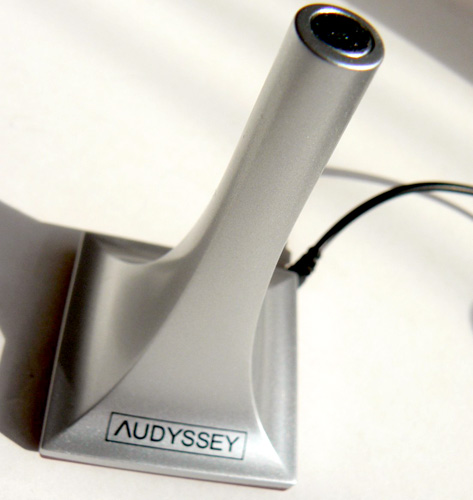 Audyssey set-up mic
Alternatively, if you don't want to run a full complement of speakers in one room, you can always configure the main system for 5.1 and set up a stereo refuge. Marantz rates the power output of NR1602 at 7 x 50W. This makes it a good deal less brawny than comparably priced, conventionally designed rivals. However, in a regular living room I'd argue this lack of grunt is not going to be an issue.
Given that the NR1602 still handles big dynamics well, and its power reserves remain usable right to the edge of the cliff (the amp doesn't get ragged or rowdy at volume), you're unlikely to feel as though you're sacrificing power on the altar of design.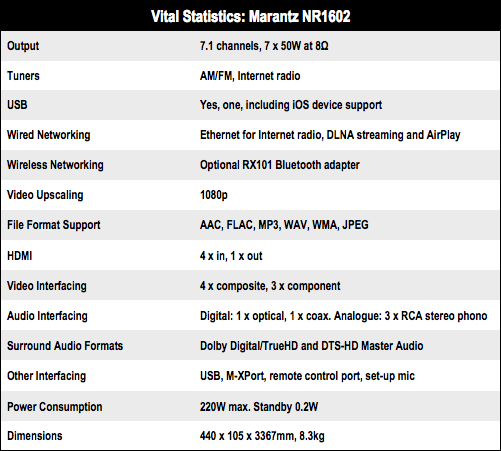 Making space
Indeed, the overwhelming sonic character of this receiver is one of spaciousness and detail. The NR1602 is particularly terrific with Super Audio CD and high bit-rate files – Jazz and MOR rock are a good match.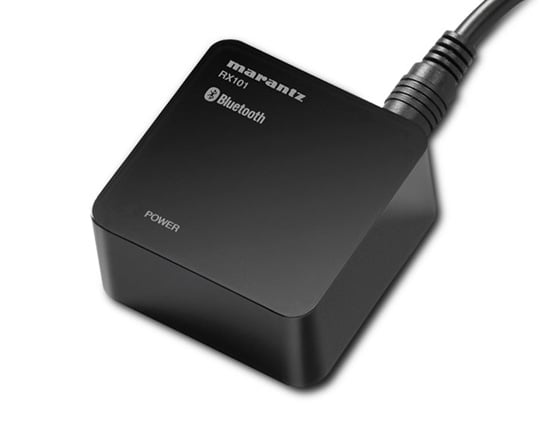 RX101 adapter enables wireless connectivity using Bluetooth
In multi-channel mode, the image is snappy and coherent. Tron: Legacy (Blu-ray) has a wonderfully immersive DTS HD Master Audio 7.1 soundtrack, which this Marantz delivered with popcorn precision. As a network streamer, the NR1602 shows rivals a clean pair of heels. File compatibility from local USB and NAS is fine: MP3, WMA, WAV, FLAC and AAC tunes all play, and album art is displayed when available.
One big attraction for the NR1602 is its Apple AirPlay functionality. This translates to wireless audio made easy for those with iTunes and an iOS device. In addition, there are on-line audio options such as Internet radio, Last.FM and Napster. You can even peruse photo-sharing site Flickr while listening to your chosen source.

Also available in black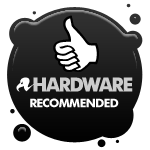 Verdict

By reshuffling traditional priorities, Marantz has conjured up something new and fresh with the NR1602. Out go incredible bulk and superfluous amplification, and in comes bullet-proof streaming, on-line audio and this year's hottest feature ticket – Apple AirPlay. What's not to like? ®
More AV Gear Reviews

Yamaha
RX-V471
AV receiver
Panasonic
DMR-PWT500
3D Blu-ray + DVR
Ten… Freeview HD
recorders
LG
BD670
3D Blu-ray player
Onkyo
TX-NR609
AV receiver