Original URL: http://www.theregister.co.uk/2011/09/21/review_cars_nissan_micra_dig_s/
Nissan Micra DIG-S
Diesel economy meets petrol refinement
Posted in Science, 21st September 2011 07:00 GMT
Review Nissan's fourth-generation Micra didn't make much of a splash when it launched in the UK last year thanks to the absence of headline-grabbing technical advances. The forgettable styling didn't help, Nissan abandoning the idiosyncratic look of the previous model in favour of something that looked decidedly plain alongside its visually challenging Juke.
Twelve months later and Nissan has dropped a new petrol engine into the Micra and instantly transformed it from just one of the boys in the band to the Chris Martin of superminis.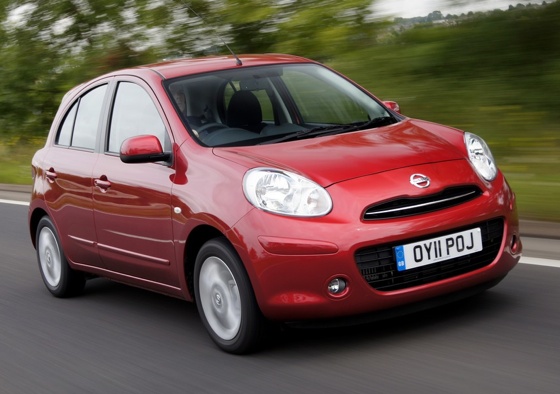 Speedy for a 1.2-litre job
DIG-S stands for Direct Injection Gasoline - Supercharged, and the new 1.2-litre three-cylinder petrol engine is, in my opinion, one of the finest mass-market car engines of the last 30 years. It comes close to displacing Fiat's five-cylinder 20v 2.0-litre turbo as my all-time personal favourite.
Nissan's goal for the DIG-S motor was simple: to get diesel engine economy and petrol engine performance and refinement from the same unit. There's no arguing that it has achieved the technical part of that ambition.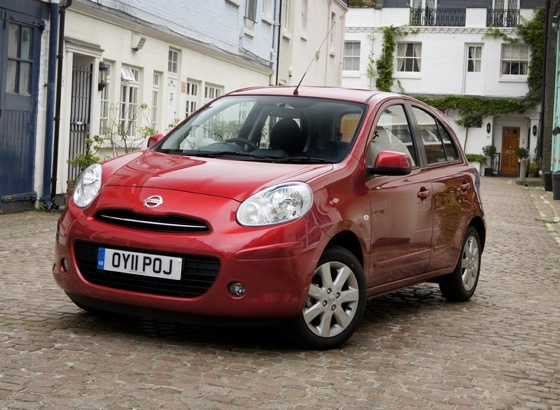 Not quite pretty enough
With 98PS and 142Nm available, the new Micra certainly has plenty of get up and go. Pushed hard, it will hit 110mph and get you to 60 in around 11 seconds. Driven sensibly, it will return a combined economy figure of 68.9mpg and puff out 95g/km of CO2 from the exhaust pipe.
Those numbers pitch the Micra DIG-S head-to-head with Fiat's little 500 Twin-Air, which has slightly better emission figures. But the Micra's motor has a trick up its sleeve: its exceptional level of refinement.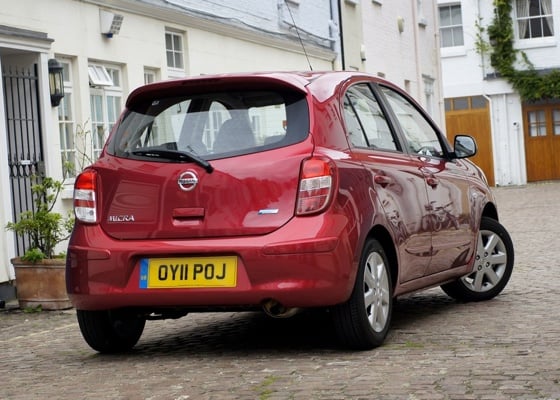 The big rear spoiler is part of the DIG-S aero pack
I'm not saying it's as much fun to exercise as the Fiat's twin, but the Micra's engine delivers its performance in a far less frenetic manner and, more importantly, when driven hard the economy doesn't take the hit that it does in the Fiat.
Miller Cycle time
Another advantage over the Fiat is the total absence of lag from the blower, an inherent advantage of super- over turbo-charging. I suspect nine out of ten drivers when put behind the wheel of a DIG-S would assume it has a 1.5-litre normally aspirated engine and be none the wiser until they got to the fuel pump.
Nissan has accomplished this technical sleight of hand by bolting the supercharger to a very light and low friction three-cylinder engine running on a high compression ratio (13:1) Miller cycle.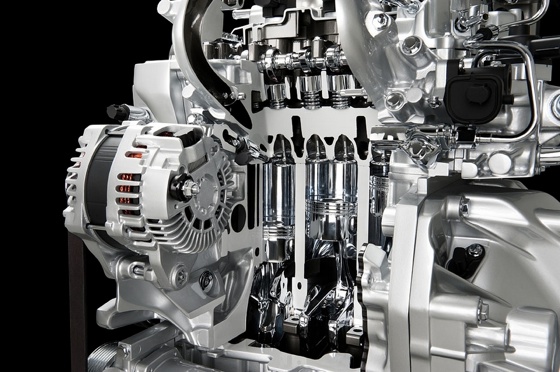 'Nano-polished', no less
By dint of its combustion profile, a Miller cycle engine is good for economy but bad for torque which is why it's favoured in petrol-electric hybrids where the electric motor can pick up the slack. Attach a mechanical blower to a Miller engine and you get the best of both worlds: economy and torque.
In an effort to maximise refinement and economy, the camshaft has been given what Nissan is calling a "nano-level of polishing", while other moving bits like the valve lifters have been subjected to "diamond-like polishing". Apparently, all this buffing and smoothing has reduced internal friction by up to 50 per cent.
The net result is an engine that makes no more fuss when going about its business than a Swiss watch, not that you actually need to rev it hard to make progress. Peak torque may arrive at a rather high 4400rpm but a good 80 per cent feels like it's available from around the 1500rpm mark.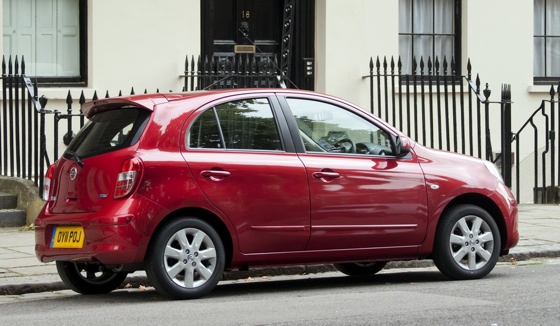 Bit anonymous on the street
If the engine has a downside it's that its dash and brio can make you forget you are in an econo-box. On a couple of occasions while hustling around the Peak District, the eager engine encouraged me to charge into corners with rather too much vim only to run out of poise and grip at the vital moment.
To further help with economy, the DIG-S packs a start-stop system complete with brake energy harvesting to keep the battery topped up and some subtle aerodynamic tweaks to the chin and rear spoilers that reduce the coefficient of drag from the standard Micra's 0.33 to 0.29.
The Nissan Micra DIG-S in Pics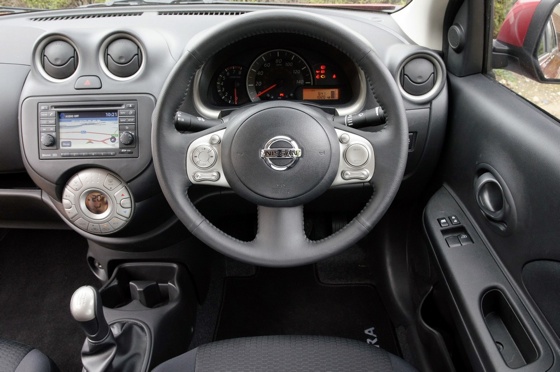 The dash - a 'connected cocoon', according to Nissan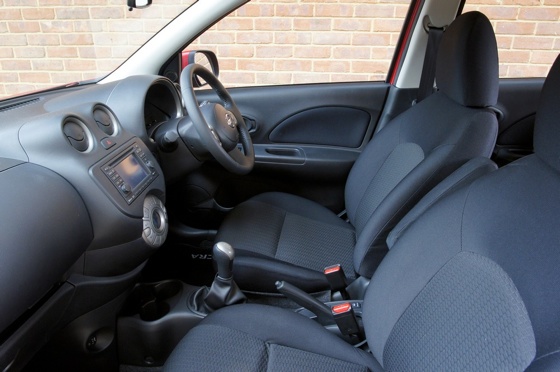 Lots of room in the front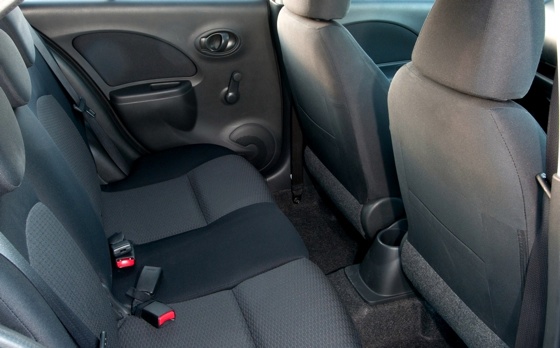 Room in the back too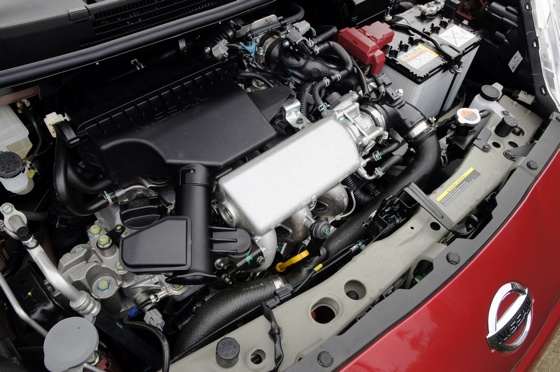 There's a tiny three-pot engine under the bonnet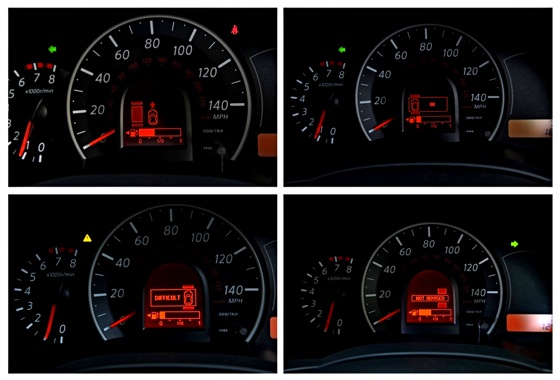 OK, Easy, Behave
Best-in-class roominess
Ignore what's under the bonnet and all the Micra's strengths are still in place. Visibility is truly excellent, the car is almost insultingly easy to drive, and standard levels of kit are generous for the segment. Without a tape measure I can't prove that internal space is best in class, but I'm prepared to bet it's close to it.
Got for the top-of-the-range Tekna model and not only do you get an excellent 5in touchscreen satnav and the Nissan Connect system with USB audio and Bluetooth, but also something called Parking Space Measurement.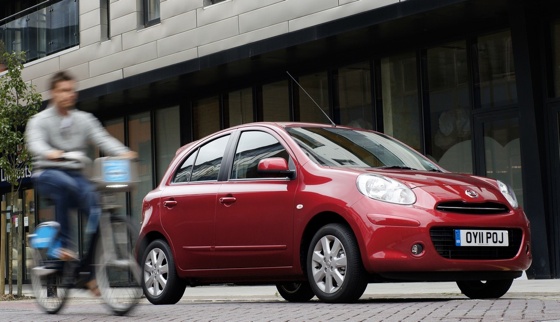 Not quite as eco-friendly as a bike
PSM is a lite version of Ford's Parking Assist, found on the new Focus. Find a parking spot, pull up along side, press the PSM button, and the system tells you if getting into the space will be OK, Difficult or Not Advised, depending on how much longer the space is than your car.
Sadly there's no Twit! warning if you ask it to look at a space shorter than the Micra. No matter what the car's verdict, getting it into the space is entirely down to the driver. That makes PSM the automotive equivalent of being given a reassuring pat on the back before going over the top and then being told you are on your own.
Verdict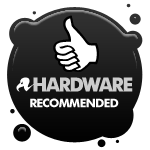 Despite my occasional misadventures, the handling isn't actually bad despite the chassis clearly being set up for comfort rather than speed through the bends, and the tyres being optimised for economy rather than absolute grip.
The problem is that cars like the Ford Fiesta and Fiat 500 have redefined how much driving pleasure you can expect from a basic little hatchback and the Micra hasn't kept pace so I think I'll wait until the folk at Nissan's sister company, Renault, get hold of the DIG-S motor and stick it in the altogether more amusing Twingo. ®
More Car Reviews

VW Scirocco
BlueMotion Tech
TDI 140
Range Rover
Evoque Si4
Lexus
CT200h
hybrid
Volvo S60
DRIVe
Peugeot
508 Active
e-HDI