Original URL: http://www.theregister.co.uk/2011/09/20/review_pmp_philips_gogear_muse_3/
Philips GoGear Muse 3 PMP
The iPod alternative?
Posted in Personal Tech, 20th September 2011 07:00 GMT
Review Any portable media player has to contend with the entire smartphone market. If you don't mind running down the battery, mobiles can be as good as dedicated players. New PMPs need extra frills to stand out. With its third-generation GoGear Muse, Philips has added some interesting tweaks. But are they enough?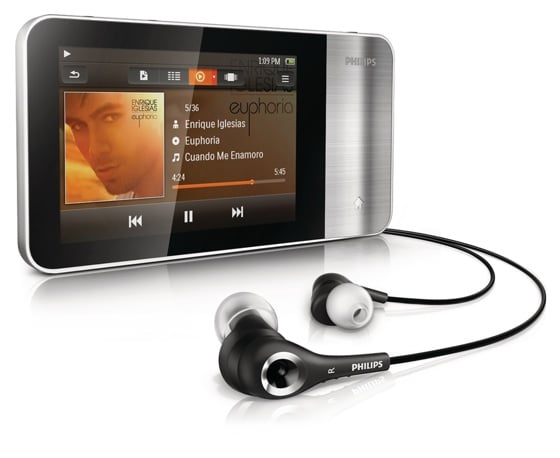 The bundled noise-isolating 'phones aren't too shabby
The GoGear Muse is more than a simple music player, tuning in to FM radio, and presenting photos and video too. It records from the radio or its built-in mono mic in MP3.
Speaking of formats, its codec support is impressive, going beyond the usual MP3, WMA and AAC audio playback to include Ogg, uncompressed WAV, and lossless Flac and APE codecs, which is great for musos, though heavy on memory capacity. It comes in 8GB and 16GB editions, but you can expand that with a Micro SD card.
Audible Audiobooks can be played on the GoGear. For video it plays MPEG 4 in AVI and MP4 containers - but not MKV or MOV - as well as WMV, including some DRM-protected content such as BBC iPlayer downloads.
Apart from physical buttons for on/off, accessing the home menu and changing the volume, you use a 3.2in, 480 x 320 capacitive touchscreen. Sometimes the menu system lags, while at others it runs ahead of itself, especially scrolling up or down tracklists. The player takes about 15 seconds to boot from a cold start.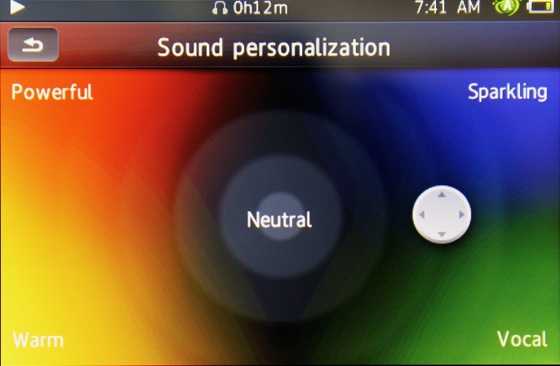 The Sound Personalisation feature is a snazzy looking graphic equaliser
The supplied AY3834 noise-isolating earphones fit as well as any of their ilk. They're above average quality but rather bright sounding, which can be rectified by using the GoGear's Sound Personalisation system - a visual EQ control.
Other features include an automatic optimiser for compressed music called FullSound, which claims to lift softer tracks or lower loud ones to minimise distortion. The results are mixed, often sounding raspy with its own earphones. However, it sounded better with my regular Denon earbuds, as well as a pair of Sony over-ear cans. You can disable FullSound or use Sound Personalisation instead.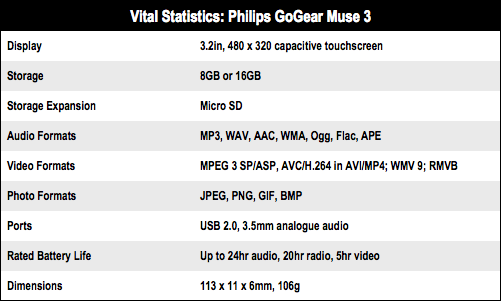 Safe and sound
Another feature is the SafeSound volume analyser, which displays a warning if the level of any track is enough to contribute to potential hearing damage. It's optional, and it's up to you to spot the visual alert. If the player is in your pocket, you won't. However, it also shows your weekly usage in a bar chart. There seems to be an auto-limiting setting but it had no effect with my review sample.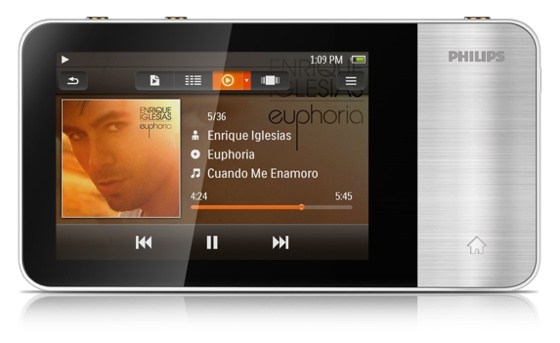 Apart from three keys on top, everything is controlled through the capacitive touchscreen
Video playback looks decent within the confines of compatible resolutions, formats and frame rates but it can be glitchy, so take care if you're playing HD and/or 24fps material.
Getting content onto the player proved to be awkward and unpredictable. The player has its own media manager software based on the open source Songbird, though in a Windows-only version. Windows Media Player recognises the player too, which is what you'll need for transferring DRM-protected WMV files.
The cross-platform DoubleTwist can also sync to the player and allows you to easily transfer most of the GoGear's supported audio file formats but seemingly not video. With Audible audiobooks you'll need to use that service's own download manager.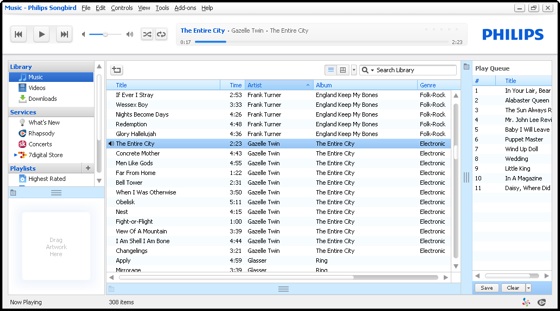 Philips bundles a custom-version of Songbird for transferring songs
For manual transfer of files from any computer, the GoGear also appears as a USB device using MTP (Media Transfer Protocol) or the standard mass-storage class (MSC).
Verdict
The GoGear Muse 3 has plenty to admire, especially the high-grade audio compatibility and Micro SD slot. Its Sound Personalisation control is a user-friendly addition but in other areas the interface could be much more intuitive. DRM-protected content has to be managed through various different pieces of software. If you can overlook those inconsistencies, it's a good player. However, it is less slick than its big competitor and lacks the vast accessory market that supports Apple gear. ®
More PMP Reviews

Archos 32
Cowon D3
Plenue
Apple iPod
Touch
Creative
Ziio
Ten...
sub-£150
PMPs