Original URL: http://www.theregister.co.uk/2011/07/19/review_notebook_toshiba_satellite_p775/
Toshiba Satellite P775 17.3in Core i7 laptop
The Young Ones' notebook?
Posted in Personal Tech, 19th July 2011 12:00 GMT
Review As laptops become ever more identical on the inside, it's the stuff on the outside that now differentiates one from another.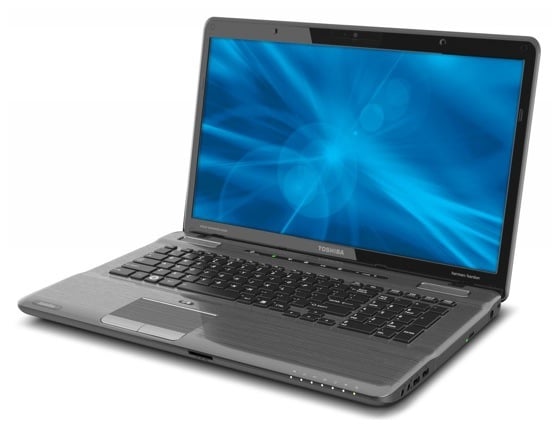 Off to college: the (wealthy) student's laptop?
Toshiba's Satellite P775 is a good example. The key points I jotted down while putting it through its paces are not the 2GHz Intel Core i7-2630WM quad-core processor - many laptops have one of those - the 750GB hard drive - ditto - or the Blu-ray Disc drive - a less commonplace component, but not one to stir the passions, either - but its backlit-keyboard and its looks.
Not that I can find, in all honesty, anything especially wrong with the innards. Toshiba has fitted the P775 with a generous 8GB of 1333MHz DDR 3 memory, plenty for a mainstream machine with a 64-bit operating system and an integrated graphics core. I wish Windows was set, out of the box, to cache more data there so I had to rely less on the capacious but tardy hard drive.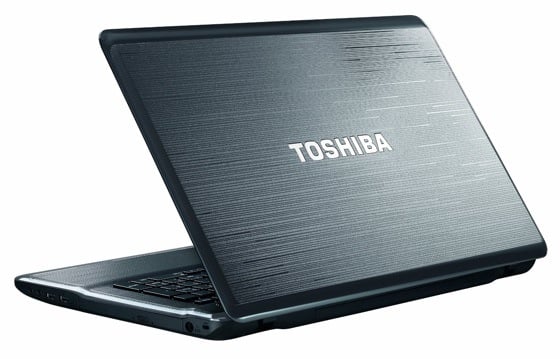 That's a 'metallic urban black' texture, that is
The P775 has USB 3.0, but again lots of machines do now. Even more have Gigabit Ethernet on board. The laptop's wireless adaptor ticks the 802.11n box, but it only covers the 2.4GHz band, not 5GHz too, and it's a single antenna job so don't expect speeds above 72Mb/s - no quicker in practice than old 802.11g.
The colossal 17.3in display runs to a resolution of 1600 x 900. It's nice and bright, but not Full HD, which is disappointing on a screen this size but not an uncommon omission.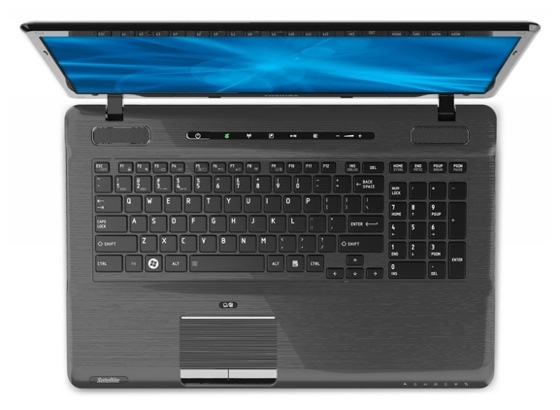 An oddly placed trackpad - and a decent keyboard
The screen is driven, depending on graphics load, by the Intel GMA core built into the Sandy Bridge CPU, or by an Nvidia GeForce GT 540M graphics chip with 2GB of dedicated DDR 3 video Ram. The switching is handled - very nice and smoothly - by Nvidia's Optimus tech.
3D plus BD
Optimus' goal is to use the discrete GPU only when necessary, to reduce energy consumption. But since since the P775 is a desktop replacement, how much pummelling is its 4200mAh battery likely to get? Able to keep the laptop going for an hour and a quarter, the power pack is more a token addition than a statement of mobility. Most folk will use it plugged into the mains, but I suppose Optimus will reduce their electricity bills a wee bit.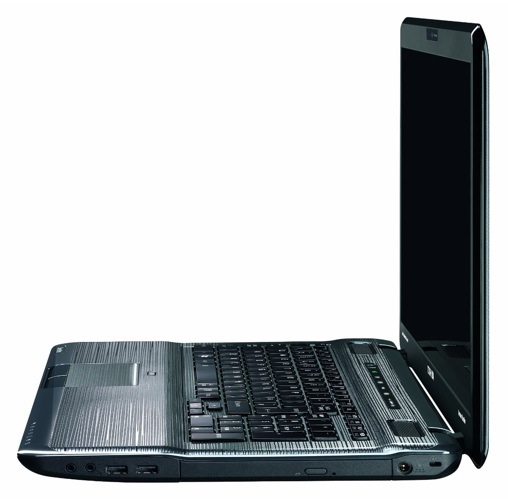 Blu-ray on the right-hand side...
The Nvidia chip is also 3D capable, but I couldn't test this because Toshiba didn't supply any glasses Actually, there are no specs because the P775 is designed to leave displaying 3D to an HDMI-connected TV.
Judging by the P775, Tosh's attitude to 3D seems lukewarm: it may have included a few of 3D film clips, but there's no bundled software to play them with. Nvidia's 3D Vision Player, which can handle the files, has to be downloaded first. Sloppy, Toshiba - even if users double-click the shortcut to download it, they'll end up at Nvidia's driver download page, where there's no mention of 3D Vision Player. I only found it through a site search.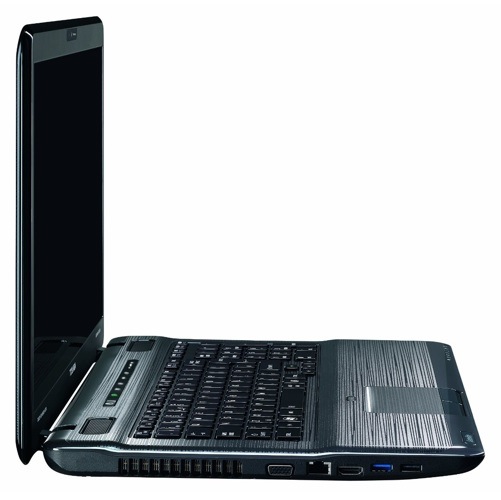 ...SuperSpeed USB 3.0 on the other
Toshiba does bundles an own-brand player, but it can only handle MPEG 4 3D files and 3D Blu-ray discs, not the samples included on the P775's hard drive.
Other content can be downloaded from Places, Toshiba's new online music, movies and games shop. Designed for Media Centre use, the P775 also comes with a wee remote control. Older versions of the P775 had a built-in TV tuner - the new one doesn't.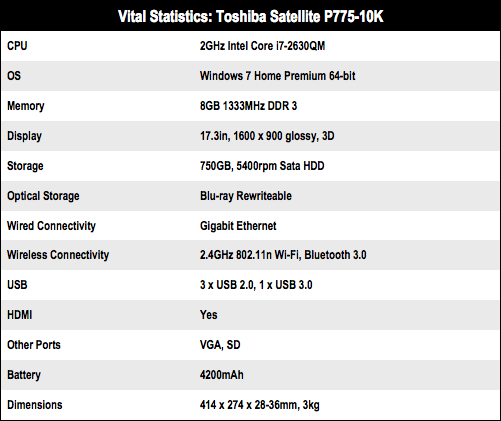 Benchmark Results
PCMark Vantage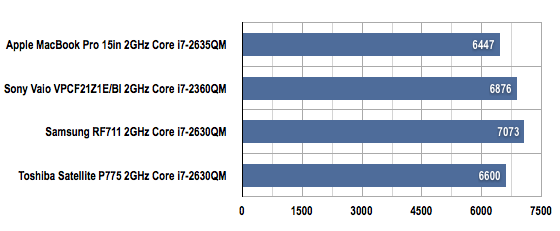 Longer bars are better
3DMark 06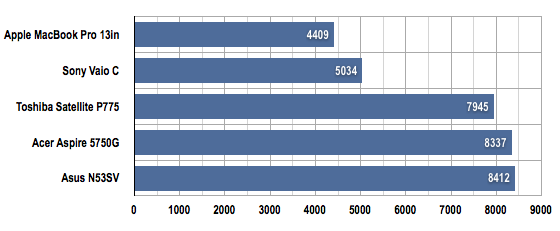 Longer bars are better
Battery Life
PCMark Vantage

Battery life in Minutes
Longer bars are better
I'd happily trade the remote for a decent Wi-Fi adaptor capable of 300Mb/s, but the P775's emphasis is entertainment: hence the Blu-ray, the 3D playback, Places and the beefy Harman Kardon audio system.
University challenge
Its entertainment capabilities define the P775 as a machine for youngsters looking not merely for a computer but also a box that combines games console, flat-planel telly and disc player - students with freshly banked grant money to burn, for example. They'll need that load cheque - the P775 is priced at £1200, more than twice the price of your average budget 15-incher.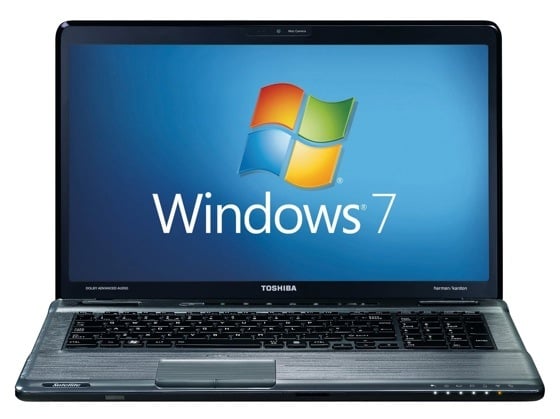 No guesses as to what OS it runs...
Kitted out in a "metallic urban black" colour scheme - glossy black with a shallow-ribbed texture to diffuse the light it reflects - his is a laptop for a lad: big and black, weighty with performance potential and a backlit go-faster stripe above the touchpad.
Speaking of which, what eejit decided it should be placed right on the laptop's leading edge? You'll be pushing away to right- or left-click and failing because the buttons aren't an inch or so in, where your fingers' muscle memory thinks they are.
Benchmark performance? Not at all bad. The P775's PCMark Vantage score of 6600 is good but not a stand-out score either, the Nvidia GPU's 7945 3DMark 06 points likewise.
Verdict
The Satellite P775 is nice enough to look at if you favour boy-racer kit, and puts in a reasonable performance too. It's just not particularly exciting and - compared to the similarly specced yet faster Samsung RF711 - overpriced. ®
More Notebooks Reviews...

Samsung
RF711
Lenovo
Thinkpad Edge
E420s
Acer
Aspire 5940G
Apple
MacBook Pro
17in
Asus
N73SV