Original URL: http://www.theregister.co.uk/2011/07/15/review_leica_x1_compact_camera/
Leica X1 APS-C compact camera
Latest firmware tweaks on test
Posted in Personal Tech, 15th July 2011 06:00 GMT
Review The X1 is Leica's first expert digital compact that, along with some top quality optics, lives up to its billing by offering easy access to manual controls akin to its bigger and pricier brother, the M9. It has no rangefinder focusing to match the M9 either, instead the X1 relies on an LCD screen and an optional clip on optical viewfinder. There's no facility for interchangeable lenses, with just a fixed 24mm f/2.8 lens (equivalent to 36mm on a 35mm camera) in front of a 12.2MP, APS-C CMOS sensor with an ISO range between 100 and 3200 and a maximum shutter speed of 1/2000th of a second.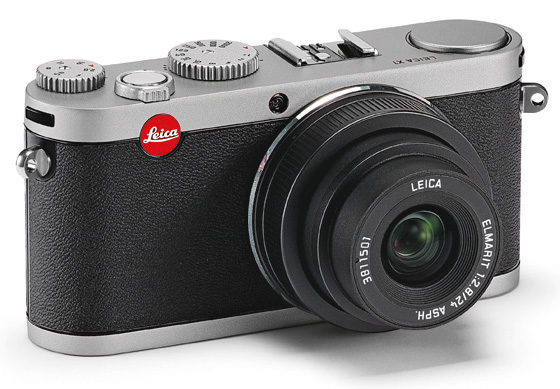 Switch to manual? Leica's X1 has it all to hand
Although the X1 has been out for a while, it seemed timely to put it through its paces as Leica has updated the firmware for this model to addresses some of the issues affecting the original release. Among the listed tweaks are improvements to the camera's focusing performance and JPEG quality. At £1425 the X1 is the most expensive compact currently on the market, but is the premium price tag justified?
Although potentially competing with other APS-C compacts such as the Fujifilm X100, the Sigma DP2 or the Samsung NX100, the X1 is no ordinary compact and not only for fitting such a large sensor in a diminutive body. Leica relies on a customer base of faithful professional photographers but also on wealthy, keen amateurs who buy into the brand as a status symbol as much for its precision optics and outstanding picture quality.
In both appearance and modus operandi, the X1 resembles a shrunken M9, with its smaller stature further enhancing its retro 35mm looks. It maybe small, but at 60 x 124 x 32mm and 286g, it's not exactly pocketsized. The X1's all-metal body has a black textured, leather trim that gives it a luxurious finish and a professional feel. Yet despite lacking a hand or thumb grip the X1 fits well in the hand and the round edges make holding quite comfortable.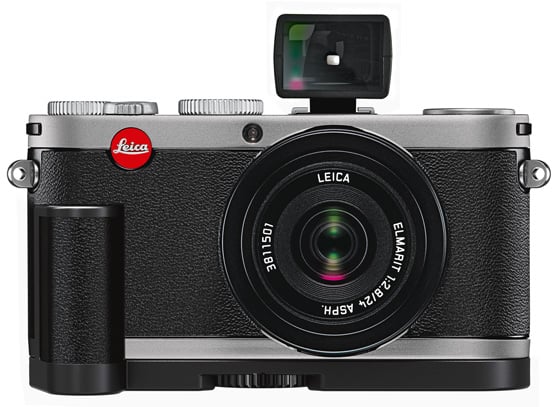 Handgrip and viewfinder
Leica does provide a screw on handgrip that makes accessing the top dials much easier but it comes at an additional £92. In line with Leica's general design criteria, the X1 has a minimalistic yet functional approach to camera control. Large, metal shutter speed and aperture dials dominate the top plate – only the most essential shooting controls have dedicated access, the rest being menu driven.
Priority decisions
The dials are designed in an old-fashioned way, with individual settings clearly marked, and cleverly replace the need for a PASM shooting mode selector. Exposure choices are made by combining the settings on each dial. For instance, Program will be selected by setting both the shutter speed dial and the aperture dial on the provided red A (Auto) while Aperture priority will be set by selecting the desired aperture on one dial and the Auto option on the shutter speed dial. The same applies to Shutter priority.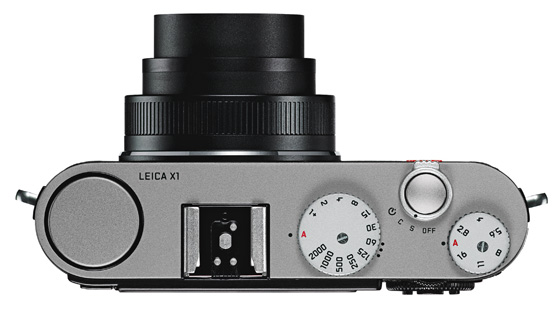 Easy access to shutter and aperture settings
The only complaint I have is that the dials don't lock into individual positions making it easy to inadvertently change settings. In the top right corner of the backplate is a recessed dial that controls manual focus. Buttons surrounding the 2.7in display provide direct access to common functions including white balance, ISO and display info.
Other options, such as exposure compensation, flash mode, auto/manual focus and self-timer are controlled by a conventional four-way navpad, which is surrounded by a dial to scroll through the menu and zoom into images during playback. The Menu/Set button in the middle of the navigation pad brings up the easy, but completely disorganised menu.
Indeed, the menu has virtually no layout, being a single, extended list of settings that you need to navigate from top to bottom and vice-versa. Overall operation is quite straightforward but there are some annoying quirks. For instance, the delete button brings up two options, Single or All, and you can select the desired one by highlighting it. The problem is that Leica uses black as highlighting colour and grey/blue as background. I found this arrangement very confusing and ended up deleting some shots by mistake.
The screen has a resolution of 230k pixels which is average for a compact. Yet it is a major disappointment in a camera of this price as it appears much coarser than those mounted on cheaper models and, despite having five brightness options, it is highly reflective and difficult to use in bright daylight conditions.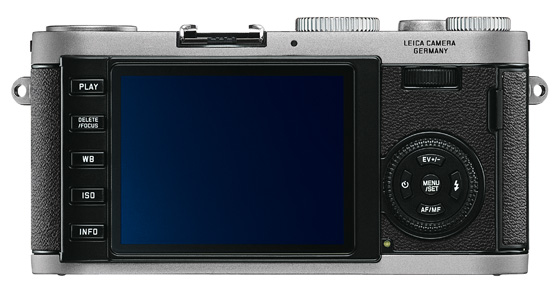 The 2.7in screen is a bit of let down in terms of quality
For an additional £92 you can buy the 36mm Bright Line optical viewfinder, which fits into the X1's hotshoe but, being quite bulky, greatly reduces the camera pocketability. Additionally the viewfinder does not display any shooting information, with the only provision being a white border outlining the frame. I found the framing aid not very precise with the alignment of recorded images differing slightly.
Sample Shots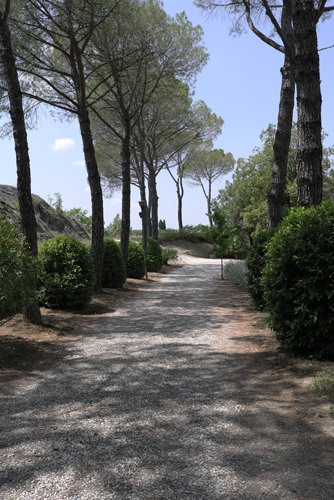 Click for a full-resolution crop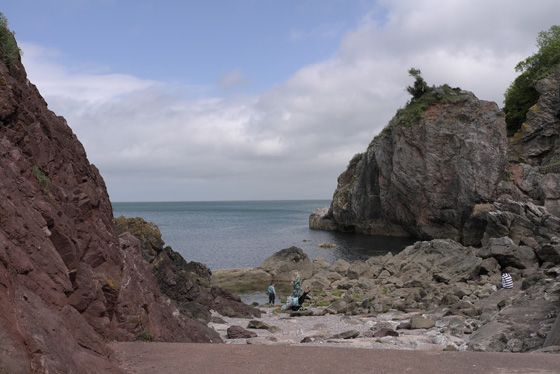 Click for a full-resolution crop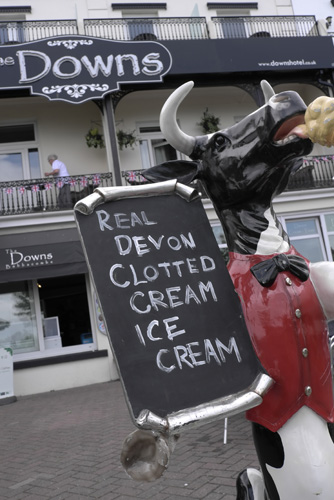 Click for a full-resolution crop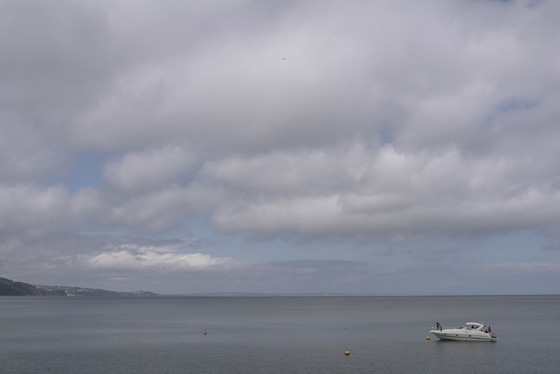 Click for a full-resolution crop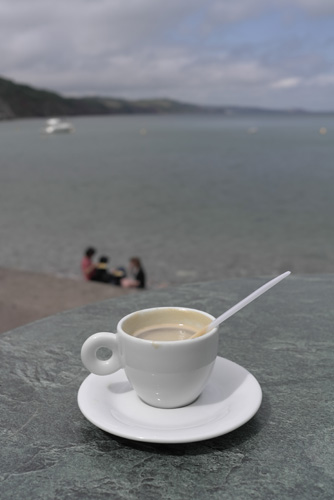 Click for a full-resolution crop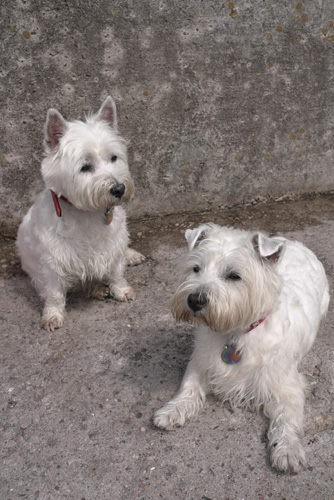 Click for a full-resolution crop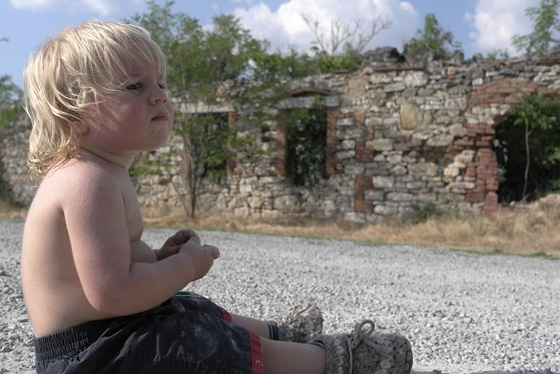 Click for a full-resolution crop
Sample Shots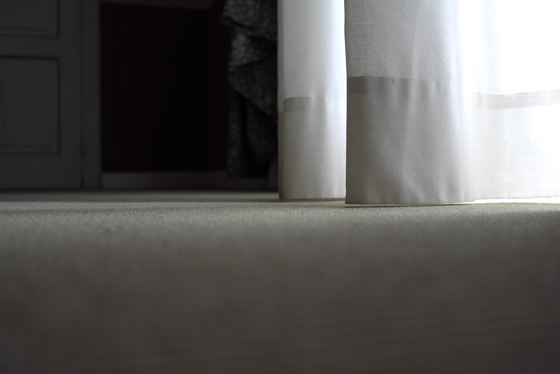 Click for a full-resolution crop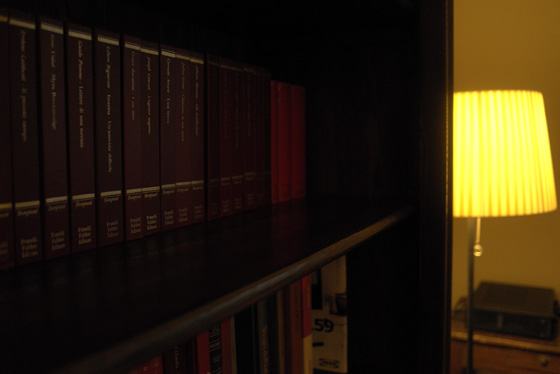 Click for a full-resolution crop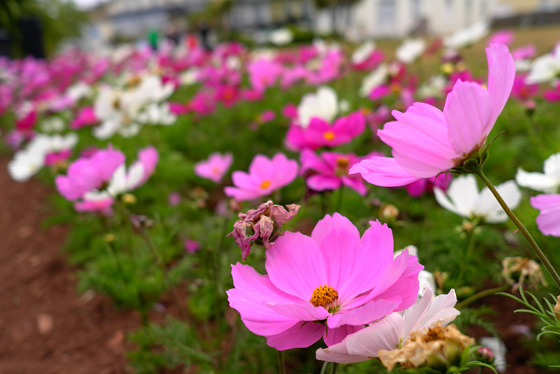 Click for a full-resolution crop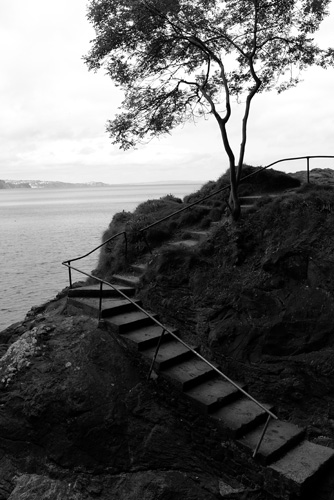 Click for a full-resolution crop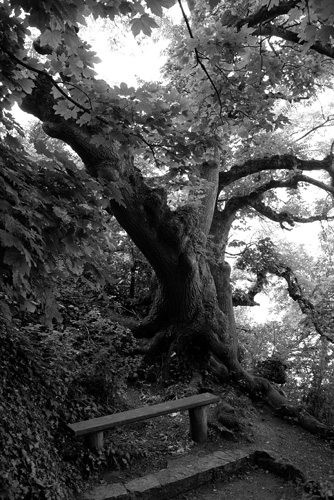 Click for a full-resolution crop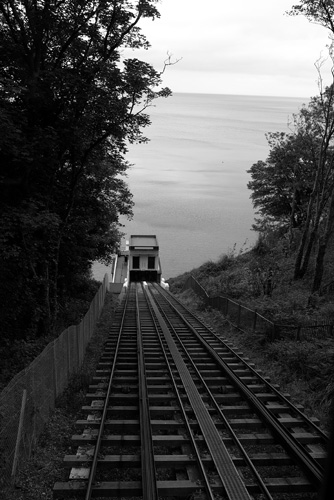 Click for a full-resolution crop
ISO Tests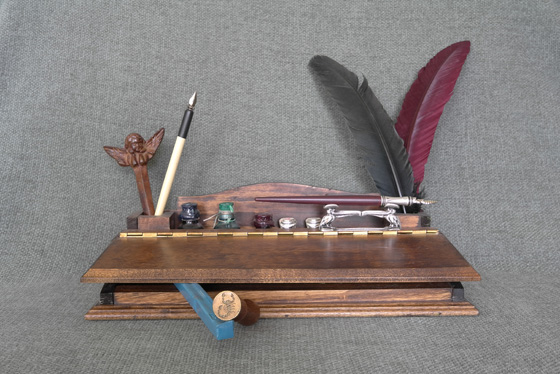 Click to download the full-resolution ISO 100-3200 samples zip file (34MB)
Focus groups
Correct focusing is confirmed by a green led that lights up above the rear screen and that you only manage to perceive whilst looking through the viewfinder if the lighting conditions outside are not too bright. To check the light meter, you have no other option but to keep the LCD screen switched on.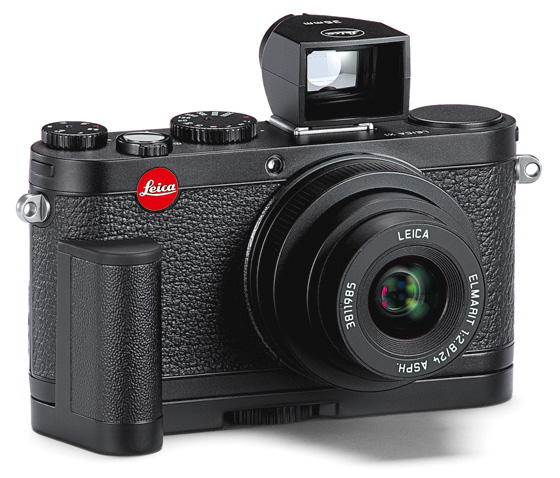 Also available in black
Despite the recent firmware update Auto Focusing remains a sticky point for the X1. Based on a contrast detection system, like most compacts, the X1 provides a one or 11-point focusing modes, a Spot mode and, quite inconsistently with the general concept of the camera, a Face Detection mode.
Autofocus is generally good in normal lighting conditions but slow and erratic in available and low light, which is a real a shame. After all, the X1 features a large sensor, a maximum sensitivity of ISO 3200, a fairly fast fixed lens and available shutter speeds as long as 30s that would all contribute to this camera being an ideal night time shooter. There are also two high speed versions of the one and 11-point AF but they seem to interfere with Live View and do not seem to work very well in low light either.
The manual focus alternative automatically brings up a magnified view in the middle of the frame that you can then move around for accurate spot focus. Leica claims that version 2 of the firmware has addressed the time lag between the turning of the wheel and the focus adjusting speed, making the whole process faster and smoother but, in my experience, the system is still slow and fiddly to use.
For a fixed lens camera that borrows the looks and manual control of an analogue 35mm, I would have hoped Leica would found a way to implement a focus ring on the lens or at least provide it with a hyperfocal distance setting, that lets you bypass the focusing system altogether. Especially, as it's not fast enough for moving objects and accurate focus is tricky to check because the screen is just not sharp enough.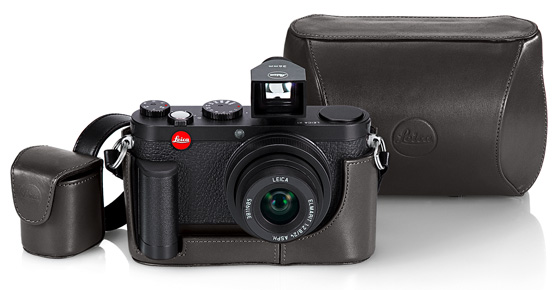 Kitted out
In other respects too, the X1 is certainly no match for its competitors. Start-up times are good enough but shutting down is awfully delayed. The same applies to entering Playback mode and browsing through images. File writing times and shot-to-shot times are also slow, especially when shooting RAW. The X1 does offer an encouraging 3fps continuous shooting mode with a buffer size of up to 6 frames for both JPEG and RAW files but when shooting RAW the camera will lock up after the first burst of shots and not resume functionality for over ten seconds.
Imaging resource
Evidently, the X1 is not a fast shooter in any respect but when you get to spend some time with it then its more enduring qualities shine through. If you can accommodate its slow pace you'll be impressed by its refreshing ease of use and its amazing photographic strengths.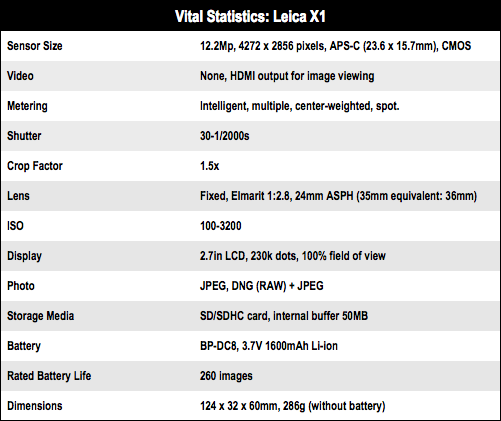 The picture quality of the images the X1 produces is nothing short of stunning. The richness of detail in both shadows and highlights, the smooth tonal gradation, the superb Bokeh and the lack of any lens aberration are truly commendable; outclassing any compact currently on the market and, no doubt, a few DSLRs too.
White balance was consistently good in every situation and exposure metering reliably accurate. Noise performance is terrific and by far the best I've seen in a compact. Images are sharp throughout the sensitivity range with only limited noise appearing from 1600. The noise that does show is mostly of the luminance type though, somewhat comparable to a grainy film and, which, in my view, is not at all unpleasant.
The X1's RAW capture is in the DNG (digital negative) format developed by Adobe. The camera can shoot in JPEG mode or JPEG+DNG but not DNG alone. It uses SD and SDHC memory cards and has a nominal battery life of 260 images per charge but the battery I was issued with didn't last nearly as long as that, so you should budget for a spare.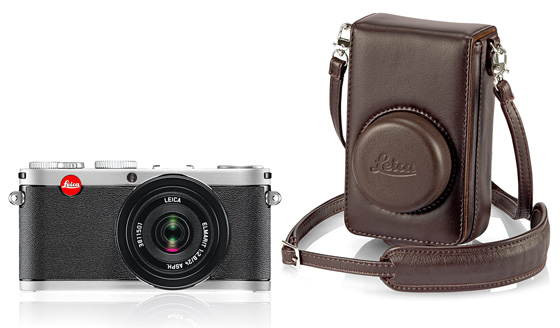 Retro flourishes are appealing, but a better display and a more responsive AF would be more practical at this price
Verdict
The Leica X1 easily delivers the best image quality in its category, as you'd expect from the company, but, at the price of a DSLR, with a few performance issues still unresolved and a mediocre LCD screen, it's unlikely it will win over large shares of compact users.
Having said that, if you are a photo purist, a die-hard Leica aficionado or need the best picture quality a compact can offer, then the X1 is worth every single penny. And considering Adobe Photoshop Lightroom 3 is also included, which costs around £250, it could well be a price worth paying. ®
Catherine Monfils is a professional photographer specialising in portraiture, lifestyle and fashion.
More Compact Camera Reviews…

Ten…
Pocket compacts
Nikon
Coolpix P300
Fujifilm
Finepix X100
Olympus
PEN E-PL2
Leica
M9