Original URL: http://www.theregister.co.uk/2011/07/14/ten_wireless_speakers/
Ten... wireless speakers
In the air tonight
Posted in Personal Tech, 14th July 2011 07:00 GMT
Product Round-up The iPod can take credit for creating an entirely new market for compact speaker systems, yet iPod sales are now starting to taper off as people move their music onto smartphones and tablets.
No one wants their phone or tablet to be out of action while it's docked inside a speaker system, so manufacturers are now adding wireless capabilities to their speaker systems too. Now you can stream songs from your handset even though it stays in your pocket.
Bluetooth is practically ubiquitous among smartphones and tablets, so that's the main technology currently being used for wireless speakers, but we're also seeing the higher-quality Apt-X codec starting to gain ground too, along with Apple's AirPlay, which claims to provide 'lossless' audio quality over your home Wi-Fi network.
Altec Lansing inMotion Air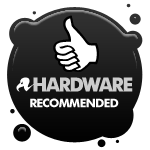 The inMotion Air is one of the cheapest speakers in this group, but it provides good sound quality and some handy features. The speaker doesn't have an iPod dock at all, with only a solitary 3.5mm line-In socket providing a wired connection. Instead, it uses Bluetooth to connect to most mobile devices, along with support for the Apt-X codec for those devices that support it. There's also a separate USB dongle to provide wireless connectivity with Macs and PCs.
The audio quality's very good for such a compact device, with firm bass and enough volume for a dinner party or summer BBQ. It's got a rechargeable battery too, and is light enough to easily pick up and carry from room to room.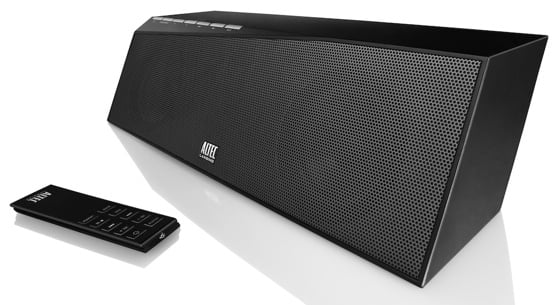 Audyssey South of Market Audio Dock

Audyssey brings its experience of high-end audio systems to this impressive home speaker system. The distinctive pedestal design houses side-facing woofers and tweeters, enabling it to fire a really rich, solid sound into the air all around it. There's a small dock on the front for an iPod or iPhone, and it also includes a microphone so that you can use it as a speakerphone, as well as audio input and output so that it can be used with VoIP applications on a desktop computer. It's a classy bit of kit but, at over £350, still a bit pricey for what it delivers.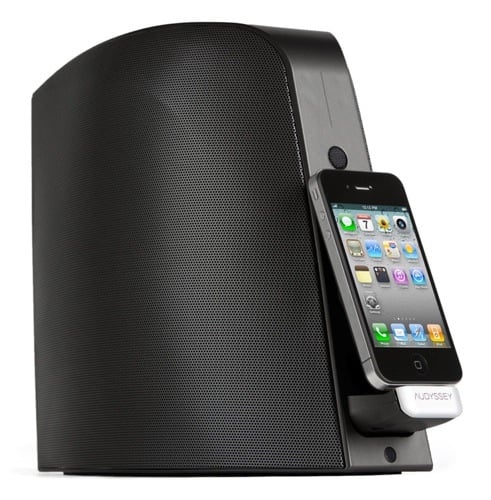 Reg Rating 80%
Price £355
More info Audyssey
Bowers & Wilkins Zeppelin Air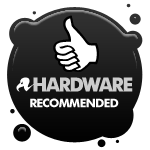 The original Zeppelin got rave reviews, and B&W have now given the Zeppelin an overhaul. The Zeppelin Air is lighter than its predecessor, has new drivers and – as the name implies – adds Apple's AirPlay wireless tech. The initial set-up process does require a wired Ethernet connection, but once you've configured the wireless settings the Zeppelin Air automatically shows up in iTunes on any device that supports AirPlay. The sound is excellent – zinging in the higher frequencies, with a rich, full-bodied bass and plenty of volume behind it too. A fantastic sound, but the £500 price tag really is pushing things when there are cheaper yet barely inferior alternatives out there.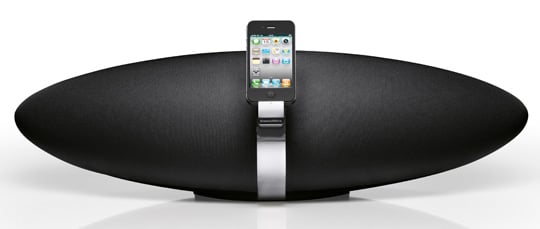 Reg Rating 85%
Price £500
More info B&W
Conran Audio Dock

The Conran Audio Dock is a neat, compact speaker system with the minimalist design that you might expect from Habitat founder Sir Terence Conran. Available in black or white, the Audio Dock has a rotating dock that allows you to switch an iPod or iPhone into either widescreen or upright mode, as well as Bluetooth and Apt-X streaming. Mac users can also download some free software that lets them use the Apt-X codec on their computer as well. Two pairs of woofers and tweeters produce a rich, warm sound and while it's not massively loud it's more than adequate for a tasteful soirée with your Conran cognoscenti designer friends.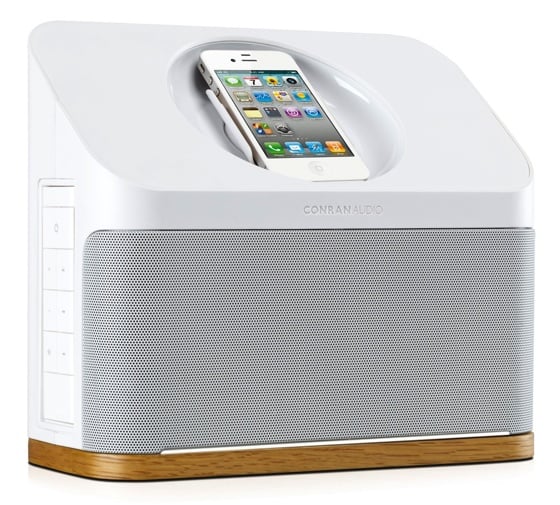 Creative ZiiSound D5x

The D5x is an updated version of the D5 speaker that we rather liked last year - and which is still available at a reduced price of £230. The D5x looks and sounds very much the same as the D5, producing a crisp, clean sound via Bluetooth and a fuller, more detailed sound when using the Apt-X codec - there's an Apt-X adaptor included for iOS devices, with an optional USB adapter also available for £40. However, the key difference is that the D5x can be used with an optional wireless sub-woofer, which costs £140. You can also link multiple D5x units with the sub-woofer, to create a wireless 2.1 or even 3.1 system.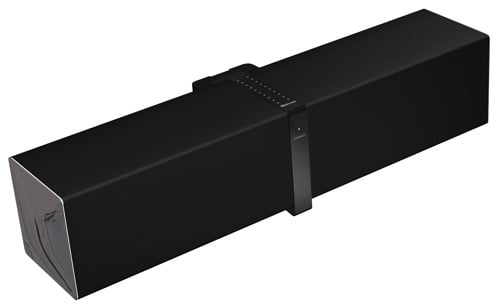 Reg Rating 80%
Price £280
More info Creative
JBL On Air

JBL has really gone to town with its new On Air speaker. As well as supporting Apple's AirPlay wireless technology, the On Air also includes an FM tuner and an alarm clock. It's even got a small LCD screen that displays the time, menu settings, and album artwork too. The sound quality is good – very clean and clear on higher frequencies, and with respectable bass given that the speaker itself is actually quite compact. However, the maximum volume is relatively modest, which really means that the On Air might work best in the bedroom rather than as a main speaker system in your front room – which makes it fairly expensive for an alarm clock.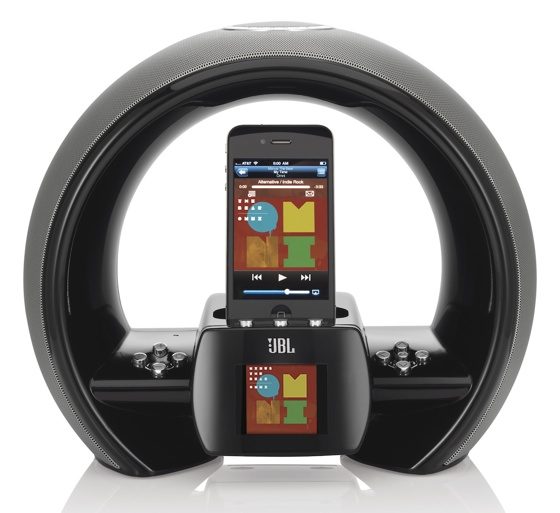 Reg Rating 80%
Price £329
More info JBL
Libratone Beat

The Beat is a typical piece of understated Scandinavian design. The triangular upright unit will fit neatly into a corner in any room, and Libratone's "FullRoom" technology fires the sound out in different directions in order to bounce it off the walls and create an impressively expansive sound. It's got a built in bass-driver too, which gives the lower-frequencies an extra kick, and 100W total output for party time. However, the Beat doesn't use standard Bluetooth for wireless streaming, opting instead for Libratone's own "audio specific wireless protocol". Libratone includes two adaptors for this wireless tech – one for iOS devices, and another, USB adaptor for Macs and PCs - but other types of mobile devices aren't catered for.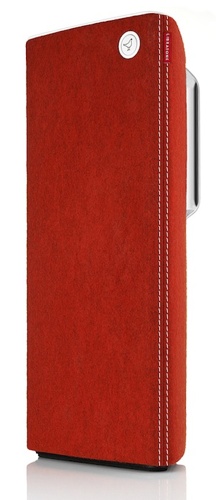 Reg Rating 80%
Price £559
More info Libratone
Parrot Zikmu

Designed by Philippe Starck, the eye-catching Zikmu speakers really are in a league of their own – not to mention a price bracket all their own as well. Available in a variety of colours, the tapering twin towers design is a real eye-catcher - yet it also has practical benefits too. Each 50W speaker is able to pump sound out all around it in order to really fill the room, while the woofers built into the base of each unit will have the floorboards rattling come party time. The Zikmu provides both Bluetooth and Wi-Fi connectivity – the latter a rare feature among wireless speakers - although the Wi-Fi configuration is a bit of a mess, and lacks the simplicity of Apple's AirPlay.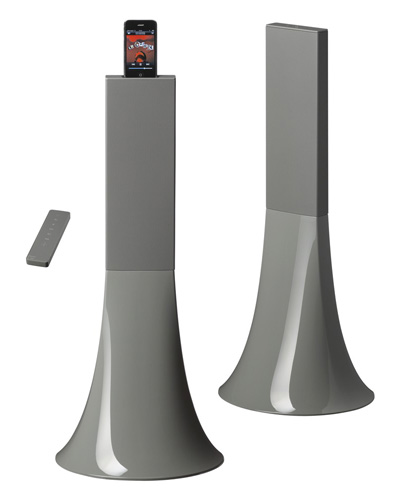 Reg Rating 75%
Price £999
More info Parrot
Philips Fidelio DS8550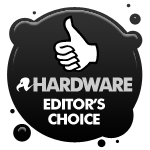 The Fidelio DS8550 is a really good, versatile speaker system at a very attractive price. The DS8550 can use Bluetooth for wireless streaming, but also has a dock for iOS devices, and is one of the few such speaker systems that will even allow you to dock an iPad – or to use the standalone iPad stand that Philips throws in too. The audio quality is excellent, with a warm, rich sound that works particularly well with more mellow music. It's got a rechargeable battery too, and is light enough to easily carry from room to room or to take outside for a BBQ if we ever get some decent weather this summer. The Zeppelin Air' sound is better - just - but you can't argue about the price differential.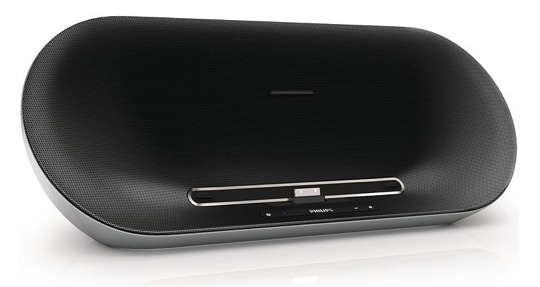 Reg Rating 90%
Price £249
More info Philips
SoundFreaq SoundPlatform

The SoundPlatform isn't the most elegant speaker system I've ever seen, although you could be charitable and describe features such as the little knobs for adjusting treble and bass as 'retro'. Those little knobs can be used to fine-tune the sound to suit your taste, although the speaker doesn't produce quite as full-bodied a sound as some of its comparably-priced rivals. It uses Bluetooth for wireless streaming, and there's also a SoundFreaq app that you can download for adjusting treble, bass and other settings on your iPhone or iPad. However, the SoundFreaq app is poorly integrated with Apple's iTunes app, which makes music selection a bit fiddly at times.