Original URL: http://www.theregister.co.uk/2011/06/17/review_tomtom_start_20/
TomTom Start 20 satnav
Travelling light
Posted in Science, 17th June 2011 06:00 GMT
Review TomTom's entry level Start satnavs have long been the default choice for anyone wanting a reliable but basic PND. Now the range has been given a wash and brush up with the release of some new 4.3in screen devices with prices starting at £130.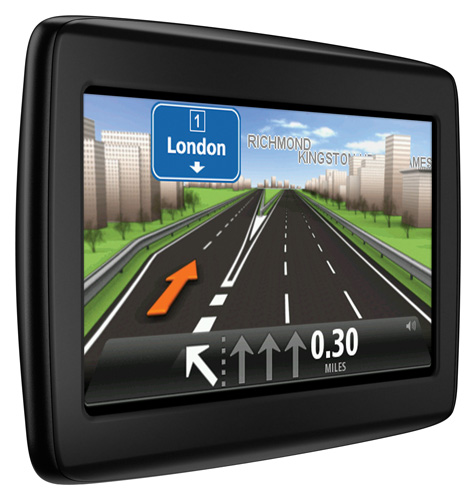 Baby driver: TomTom's Start 20
The design of the Start 20 addresses a couple of long-standing bug bears with many PND users, namely windscreen clutter and suction ring marks. The new integrated ball-and-socket mounting will let you stick the device either the usual way up or upside down, with the screen flipping through 180 degrees depending on orientation.
The advantage of this is that you can mount the unit on your dashboard as well as your windscreen. Ideally, to use it on the dash you need to cough up £5 for a pack of two self-adhesive mounting rings but as long as there is a convenient flat surface, you don't actually need them.
It's an impressively flexible design that can be set to just about any angle you care to conceive of. Once you've become used to it being mounted on the dash, you won't ever want to go back to sticking it to the windscreen. The integrated holder is also a compact affair – fold it flat against the unit and it only adds another 15mm making the whole rig extremely easy to slip into a bag or pocket.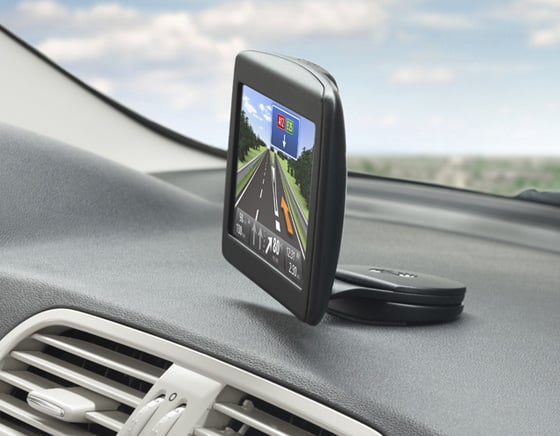 Stick to the road
The Start 20 is the first satnav I have come across to use a micro rather than mini USB socket for charging and the bundled 12V plug connects with a standard USB port. Not earth-shattering developments, I grant you, but life is easier when your PND and smartphone can share cables.
Promising Start?
Although the Smart comes with 4GB of Flash storage and a MicroSD slot, don't get too excited. The former can't be accessed from your PC and the latter won't work until a firmware update arrives later this year. There's no Bluetooth either.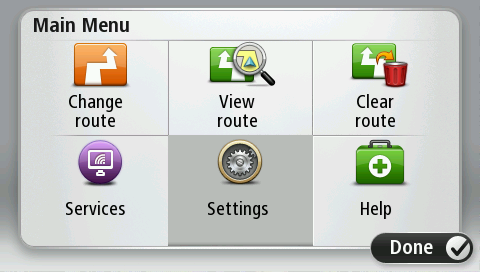 Menu options
Faced with the options of not having traffic data on its entry-level devices, fitting a TMC receiver or migrating the excellent HD Traffic system to its cheaper units,TomTom has gone for the former. I'm not sure that was the right call when Mio will sell you a 4.3in PND with free TMC data for under £100.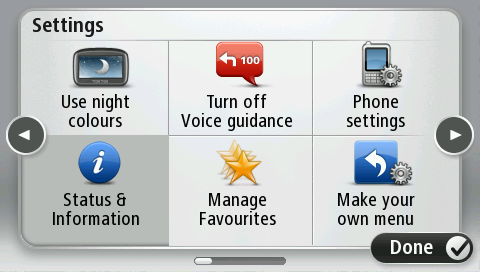 Settings menu
Of course, the Start 20 does have advantages of its own. To begin with you get three very pleasant voices built-in so you don't have to faff about downloading more if the default announcer grates on you.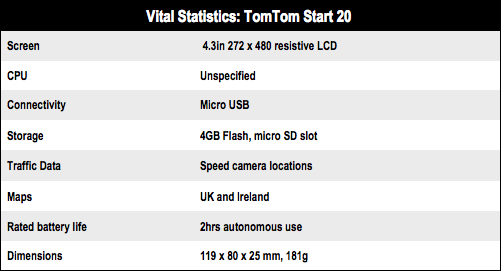 Presentation skills
The menu system – co-opted from the Go Live series – is clear, logical and very well organised. On-screen information is beautifully presented and the map designs are just about the best you can get. There is also full text-to-speech support for road names.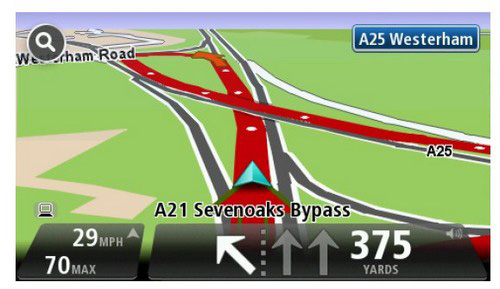 Navigation
Happily, this is the first TomTom I've come across that doesn't read out road numbers in full, so the A666 – the Bypass of the Beast – is given as the A-six-sixty-six rather than A-six-hundred-and-sixty-six. Fewer words is a good thing when it comes to giving directions.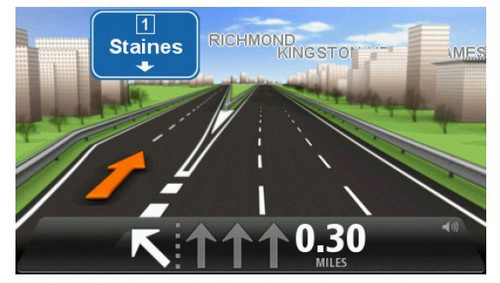 Lane guidance
As I've said before IQ Routes is the best journey planning system there is, because it calculates your route with one beady eye fixed on historic traffic flow for the time and date of your trip. But with TomTom now licensing the system to, amongst others, Mio it's no longer a unique selling point.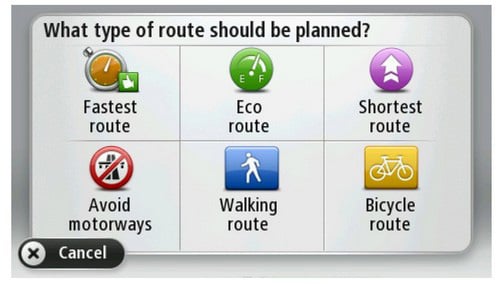 Route options
Compared to previous Start-series devices, TomTom has added two million extra kilometres of roads to its maps. Presumably, that's across Europe not just the UK and Ireland. Enhanced graphics show built-up areas, water features and forests more clearly too.
Cutting corners
It has also doubled the number of Points of Interest which now include phone numbers and opening hours for these places. All useful information but I'd rather my PND knows the M6 is at a standstill than the phone number and closing time of the nearest Burger King.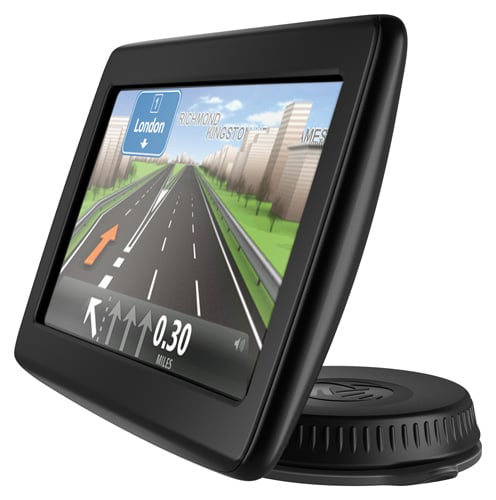 Good for journey planning but not the best in a jam
Verdict
TomTom's navigation system, its maps, UI and voices are pretty much state of the art and the device itself with its clever and versatile integrated mounting arm is physically impressive. But at £130 the absence of traffic data seems poor value. ®
More Satnav Reviews...

Mio
Spirit 687
Mio
Navman V575 TV
TomTom
Go Live 1005
Garmin
Nüvi 3790T
Navigon
70 Plus