Original URL: http://www.theregister.co.uk/2011/05/20/review_creative_sound_blaster_tactic_3d_sigma/
Creative Sound Blaster Tactic 3D Sigma gaming headset
Spatial delivery
Posted in Personal Tech, 20th May 2011 06:00 GMT
Review Having just played Darkspore, and somewhat underwhelmed by the music and ambient sounds, I am definitely not above lowering games' scores slightly based on sound quality. At times it appears that audio is the developers' last thought and, likewise, I'll admit that choosing the latest graphics card or mouse takes precedence over some new gaming headphones. Yet great sound effects, with thoughtful surround positioning, can create a unique gaming experience.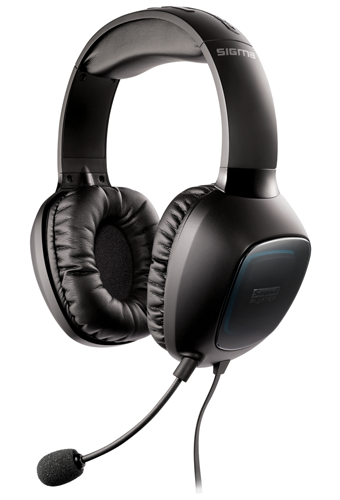 Spaced: Creative's Sound Blaster Tactic 3D Sigma headset
I have been using Razer Banshee headphones for the last six months and even though they are extremely large for my head – and can give me a bit of neck ache if I stick around for a raid or dungeon – I love the way they look and sound. On first glance, I am not sure these Creative headphones can compete.
Unboxing the Creative Sound Blaster Tactic 3D Sigmas – jeez, who thought that name up? I guess they must have studied at the University of Long – my first impression is they look rubbish. What is obviously meant to be an innovative flattened and slightly off angle earpiece says to me Blake's 7 rather than The Matrix.
There is a nod to colour with some kind of blue highlight on the exterior of the headphone enclosure. The pivoting joints don't inspire confidence and give the impression they might not withstand rough treatment. Sure, the Tactic 3D Sigma's padding is spongy and comfy but this headset appears to have been designed by a cheapskate undertaker with a fetish for smelly plastic.
Before I get to how things actually sound, it's worth noting some of the features that add to the usability of the Sigmas, such as the flat ribbon cable. It is the very thin, very flexible, and long with two 3.5mm jacks at the end for mic and audio and controls for volume and mic muting. Believe it or not, for me this cable is a main plus point – it's so light and tangle free that it was like I was wearing a wireless headset. It also reminded me of some yummy liquorice laces, which is no bad thing in my view.

USB adapter bypasses the soundcard to deliver surround audio and mic effects
There is also a noise cancelling detachable microphone included in the box, which is über flexible good for a bend and twiddle while Looking For Group. Forget your soundcard though, you plug in the pair of analogue connectors to the THX USB adapter that connects the Sigmas to your Mac or PC.
Crystal set
Configured this way taps into the headset's THX TruStudio Pro software. Easy to use and instal, it's better looking than the actual headphones with pleasingly large volume and mic controls along with a pretty 3D modelled forest scene to test video. Being a customisable skin, naturally I set the appearance to a purply pink.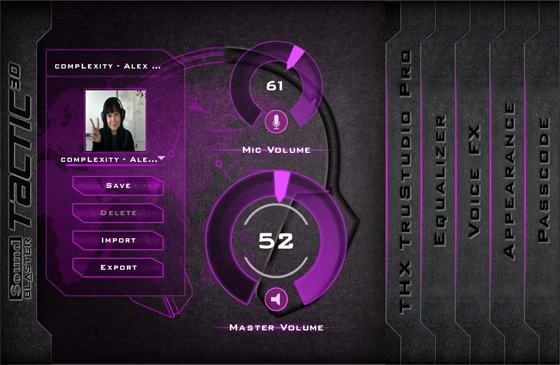 Besides interface customisation, the large controls can also be altered from touchscreen PCs
The Sigmas have impressive frequency response from 20Hz to 20kHz and testing with the Beastie Boys album, Hot Sauce Committee, really showed off the intense, penetrating output this headset can deliver. From the off using the default settings, the Creative Sigmas can definitely do loud, without distorting.
Among the settings is the Crystalliser, which is supposed to add "pop" or sharpness to compressed audio, but despite fiddling with it, I found it didn't seem to do anything impressive. Lest we forget LiveTouch, the interface's touchscreen compatibility, which is all well and good but I don't know anyone who owns one. For fear of this review appealing to anyone under the age of 18, I am not even going to mention the voice morphing, but let's just say I left it on emo.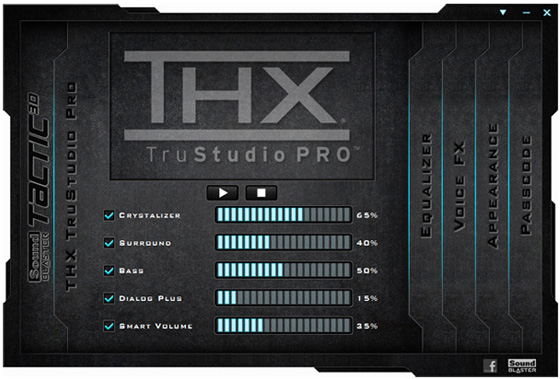 TacticControl THX Sound Control Pro sound enhancement settings
The main selling point of these headphones is the 3D audio – delivering 5.1 and 7.1 soundfields from just two drivers with Creative's THX TruStudio Pro audio technology. After altering the Surround control when playing Left 4 Dead 2 I did find it quite immersive. I could hear the witch crying and the horde running clearly from the front, back, above and below. Woah, watch out for that helicopter!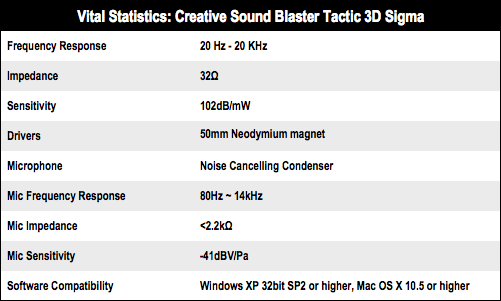 Mission creep
I certainly experienced quite a realistic sense of space and this is definitely a feature I don't get from my Razers, but the Sigmas do suffer from noise spill, as my housemate could hear my untimely death by zombie.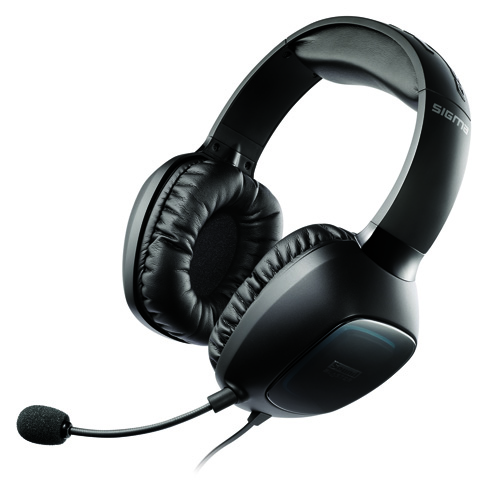 Dull design, but not a bad sound for the price
What would a gaming headset review be without some Call of Duty: Black Ops action? To be fair, this is when I handed the controls to the boys of the house and they were quite impressed. They noticed that the Sigma's surround sound lets you hear people creeping towards you from any direction, so you don't have to worry about being gimped – other players sneaking up behind you and then knifing you in the back – because you can tell where they're coming from.
The game where these headphones performed at their best was, you guessed it, World of Warcraft. The Dialogue Plus setting in the control panel really amplified in-game speech, lending voices perspective and range. There is also a lot to be said for the mic quality – recently improved in sensitivity with a firmware update – which was exceptionally clear over Skype, even to my sister (Tauren Druid) in Vancouver.
DVD audio was good and loud, watching Enter the Void, which is all shot from a first person floating perspective, (sex from above anyone?) was an immersive experience, but not as impressive as the in-game sound. After testing with both music and DVD audio there's no doubt that Sigmas are most satisfying to use as a gaming headset, which is just as well, really.
Verdict
While surround tricks can give you a tactical advantage, I just didn't like the Creative Sound Blaster Tactic 3D Sigma headphones as much as my – yes, much more expensive – Razer Banshees. I want the bass to make my teeth vibrate when a boomer explodes near me and, even after ramping up my pink bass blobs to maximum in the control panel, despite being loud, the Creatives just don't cut it the same way. Bottom end preferences aside, these are decent sounding gamer-spec cans featuring fairly convincing surround sound for the price, but you wouldn't catch me undead in them. ®
More Headphone Reviews

Ten... over-ear
headphones
Marshall
Major
Razer
StarCraft II
peripherals set
Creative
World of
Warcraft
Ten... Wireless
Headphones