Original URL: https://www.theregister.co.uk/2011/04/09/review_panasonic_tx_l37d30_3d_tv/
Panasonic TX-L37DT30 37in 3D LED backlit TV
Panny's first LCD 3D telly
Posted in Personal Tech, 9th April 2011 07:00 GMT
Review The introduction of 3D-ready LCD TVs marks a major policy shift for Panasonic. The brand has been a vociferous advocate of plasma tech for 3D, yet now it's hawking a pair of LED backlit 3D screens, a 32in model and the 37incher featured here. The justification, the company will tell you, is to provide a smaller Active Shutter solution for gamers. But Panasonic's aspirations are far broader than that. It wants a slice of the rapidly expanding LED pie.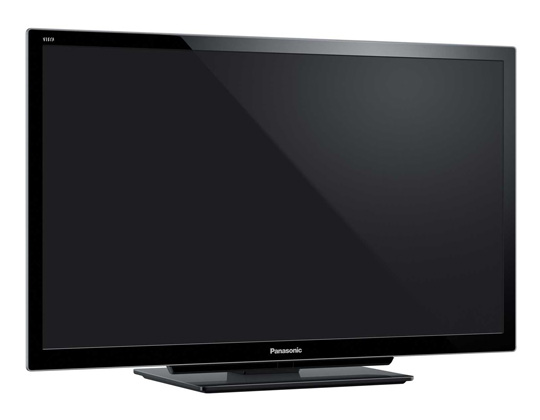 Panasonic's TX-L37DT30 utilises an LCD panel rather than plasma to deliver its 3D picture
The TX-L37DT30 is certainly well-appointed. It has both Freeview HD and Freesat HD tuners, plus a generic DVB-S/S2 satellite alternative, and sports the brand's new Viera Connect IPTV portal. A significant upgrade on Panasonic's old Viera Cast channel, this is a cloud-based service designed to take advantage of the booming apps market.
Connectivity is good. On the back panel you'll find three HDMI inputs, a PC D-sub connection, Scart and Ethernet Lan. There's also a pair of USB inputs. Given that Skype is one of the key features provided by Viera Connect, at least one of these will probably end up being connected to Panasonic's TY-CC10 HD Skype cam. While other branded webcams can be used, Panasonic's model is a neat cosmetic match and also features a wide mic array, which has been designed to pick up chat from a sofa full of people.
A third USB port is provided on the left hand side of the screen for media playback, along with a fourth HDMI input, legacy phono AV inputs and an SD card reader. There is no integrated Wi-Fi. You'll need a dongle if you can't run Ethernet to the set. Setup is quick and easy, thanks to large graphics and a clear UI.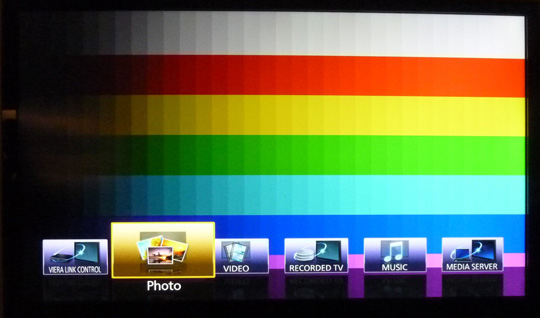 Viera Tools
Unlike rival Samsung, Panasonic hasn't integrated local media playback and streaming into its smart TV dashboard. You still need to use the dedicated Viera tools bar.
Media management
DLNA compatibility ensures the set can see Nas and PC sources automatically, and file compatibility is broad. AVCHD, MPEG2, AVIs and MKV wrapped content all played from my networked test file folder.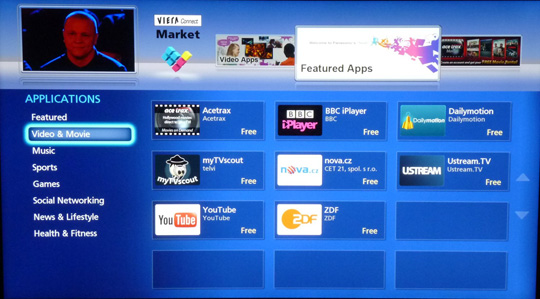 Viera Apps portal
As per usual, SRT subtitles were not recognised over the LAN, but they do read from USB flash drives. Audio support covers MP3, AAC and WMA, but not FLAC or Ogg. Album art and artist metadata were all correctly drawn upon.
I've got to say I'm impressed with Panasonic's second gen IPTV portal. There's a rich selection of useful IPTV services – BBC iPlayer, YouTube, Daily Motion, Acetrax and Cinetrailers – as well as access to the Viera Market, home of a growing catalogue of games and sundry diversions from third party developers. Some games can even be played using a standard USB games pad plugged into the TV, giving a console-like experience.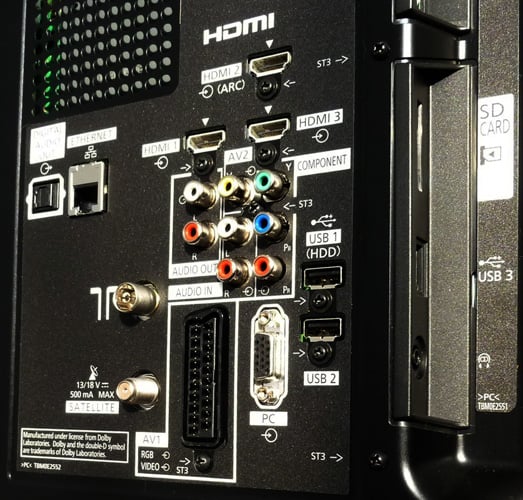 Back panel connections
Naturally, social media apps are provided, including clients for Facebook, Picasa and Twitter. Panasonic hasn't yet worked out how to integrate these within the TV experience – for example, you can't view a TV channel and Tweet simultaneously – but it's a good effort. There is no open web browser though.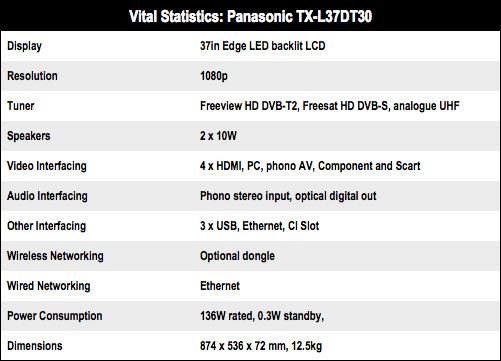 Picture performance
Hi-def picture quality is a cut above the LCD mainstream, with well judged colour reproduction and plenty of detail. There are caveats though; I found the set best viewed in moderate to high ambient light. In a darkened room, its black level limitations became all too evident – blacks grey out and there's only marginal shadow depth. Panel speed and moving picture resolution, though, are excellent. Leave the set's IFC (Intelligent Frame Creation) mode on Mid for the best combination of sharpness and low motion picture artefacting.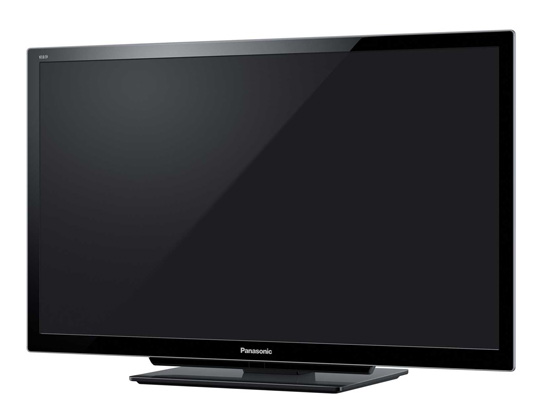 Not quite picture perfect, but media playback file support and IPTV options perform well
Panasonic's 3D plasmas have long enjoyed a reputation for best in class 3D, so how well does this LED debutant perform? Rather well, as it happens. There's some crosstalk double imaging, but it's understated. The screen itself is small enough to negate most double imaging effects. But you do need to sit close to get a sense of immersion.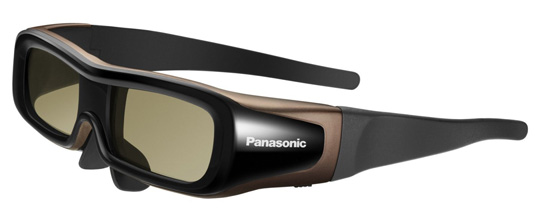 Not the most attractive option for reasons of price as well as style
An onscreen adjustment tool is available to amend parallax, but this merely shifts double images from negative to positive parallax. The kicker is that no 3D glasses are supplied with the screen. You'll need to budget for another £130 for Active Shutter eyeware.
Verdict
The DT30 is a super-slick LED TV with more bells and whistles than a troupe of Morris Dancers. It does everything well, with only a few chinks in its performance armour. Personally, I'm not convinced this is a good size for 3D though. While the implementation is good, the cost of additional glasses and general faff factor mitigate against its appeal. What does impress though is the set's excellent media streaming capabilities and the promise of the Viera Connect portal. ®
More TV Reviews

Samsung
UE55D8000
Philips 21:9
Cinema
Sharp
Aquos
LC-32LE210E
Philips
Ambilight
46PFL9705H
Panasonic
Pure Line
TX-L37D28