Original URL: http://www.theregister.co.uk/2011/03/02/review_phone_nokia_c1_01/
Nokia C1-01 budget voicephone
Talk is cheap
Posted in Personal Tech, 2nd March 2011 07:00 GMT
Review Though you wouldn't guess as much from the raucous clamour about the as-yet-unforeseeable outcome of Nokia's adoption of Windows Phone 7 as its smartphone OS of choice, the Finnish phone giant continues to run a very decent business selling basic handsets to World+Dog.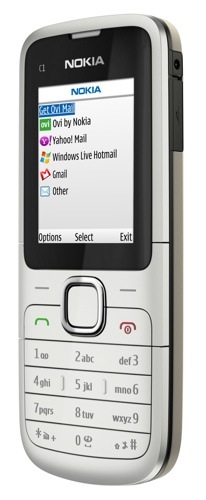 Nokia's C1-01: basic, but bloody good
Case in point: the new C1 and C2 phones, designed to be first rungs on the ladder of mobile ownership for customers in parts of the world where the latest over-spec'd soggy-jamas dream of a smartphone is just a waste of six months' salary combined with lousy battery life.
For those of us in developed markets, they represent the opportunity to buy cheap, well made voice- and text-oriented handsets with a surprisingly comprehensive spec.
Low cost shouldn't mean low expectations. The first thing that will strike you is how attractive the C1-01 looks and feels. Most of the bargain basement phones I looked at in my recent voicephone round-up looked and felt exactly as cheap as they were, if not cheaper. The 01, however, is every bit as solid and well made as the other candybars in Nokia's C-series line-up.
Special mention has to be made of the keypad and five-way nav key combination, which gives little away to that fitted to the far more expensive Nokia C5. The keys themselves are large, well spaced, and have a positive and pleasing action that makes texting a joy.

Bottom'n'top
The screen above isn't bad either. At only 1.8in corner-to-corner and 128 x 160 in resolution, it's no ground breaker but it's bright and colourful and works well in direct sunlight.
K.I.S.S
The C1-01 uses the Series 40 operating system and UI, and while it may be getting on in years it's reliable, simple to use and does everything you could reasonably ask of a mobile phone, including an excellent contacts book that you can sync with your Google account, plus decent e-mail and IM clients. For accessing the internet, Nokia bundles the Opera Mini web browser.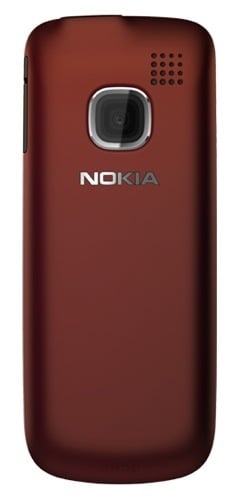 The camera's up for very casual snapping, but nothing that's more ambitious
Having a fully functional music player, Micro USB port and a Micro SD slot good for cards of up to 32GB means the C1-01 can be pressed into service as an MP3 - or AAC or WMA - player and thanks to the 3.5mm audio jack in the top you can use your own earphones.
Sound reproduction was pretty impressive with a good pair of said, so I'd have no reservations about taking a C1-01 with me on my travels rather than an iPod. The C1-01's media credentials are further enhanced by the presence of an RDS FM radio with recording facility and stereo Bluetooth.
The fixed-focus 0.3Mp (VGA) camera is nothing to write home about. Even at this price point Nokia could perhaps have stretched to a higher resolution device, but in decent light the end results suffice for casual snapping.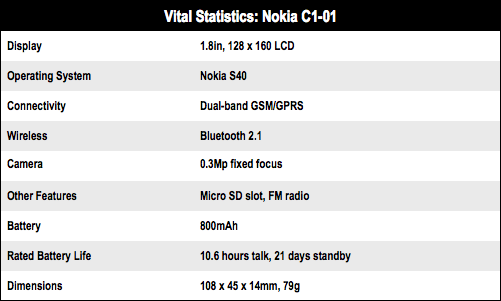 Quality caller
Nokia reckons the C1-01 will let you talk for over ten hours on a single charge and roll along on standby for 21 days. I didn't have my handset long enough to prove that, but after five days of regular use the power bar still showed more than 50 per cent of the charge remaining. In this area the C1-01 is a big step forward from the 2330 Classic it replaces.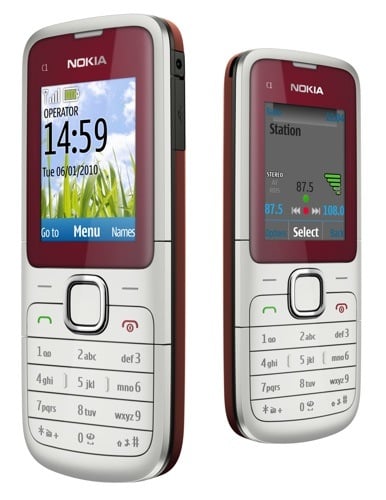 Long runner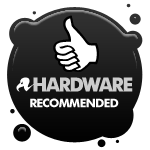 Call quality proved to be quite as good as any other Nokia Series 40 phone I've used recently while signal reception - 2G only, as you can probably guess - was solid even in the poor reception areas of the Pennines that flummox my regular phone making it a perfect second handset for use when you stray off the beaten track. Or visit Wales.
Verdict
While you can get mobile phones for a tenner, unless you have a total disinterest in quality, style and range of function, the Nokia C1-01 is undoubtedly worth its slightly higher price tag. The low spec camera aside, the C1-01 has several features you simply don't expect at this price point, including a very good keypad, stereo Bluetooth and a Micro SD slot. The impressive call quality, strong signal reception and Biblical battery life are the icing on the cake. ®
More Budget Phone Reviews

Ten... dirt-cheap
voicephones
Nokia
C5-03
Nokia
C7
Palm
Pixi
Plus
Ten... budget
Android
phones