Original URL: http://www.theregister.co.uk/2011/03/01/review_desktop_dell_zino_hd_410/
Dell Inspiron Zino HD 410
Diddy desktop with designs on your telly
Posted in Personal Tech, 1st March 2011 13:03 GMT
Review With decent media streamers available for under £150 and many TVs featuring built-in network capabilities, getting content on your telly through a fully-fledged mini desktop PC might seem like a rather expensive way to do things. Still, that hasn't stopped Dell from refining its Zino mini PC series, with the Zino HD 410 being the latest release.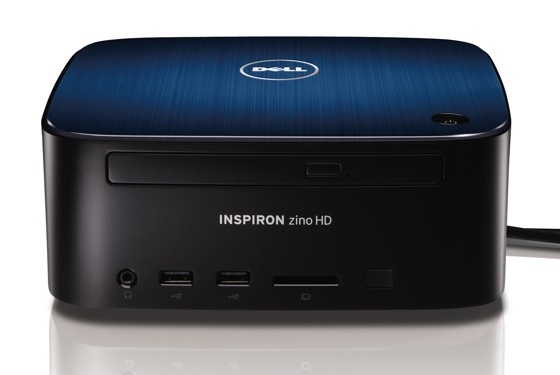 Dell's Inspiron Zino HD 410: set-top sized
There's very little change to the physical design, with the Zino HD 410 looking almost identical to its predecessors. Small, stylish and with smooth, rounded edges, it certainly won't look out of place next to your AV kit.
As before, Dell hopes the lure of interchangeable lids will prove irresistible, with black, red, blue and silver covers all available – though at £20 a pop, I'm pretty sure most people won't bother.
As is often the case with Dell, various configurations of the Zino HD 410 are available. My review sample had a Blu-ray drive, 4GB of memory and a 750GB hard drive, with an AMD Phenom II X3 P840 processor doing the leg work. This three-core chip ticks along at 1.9GHz and, as its PCMark Vantage scores indicate, is a fairly big improvement on the Athlon X2 3250E that was found in a previous incarnation of the Zino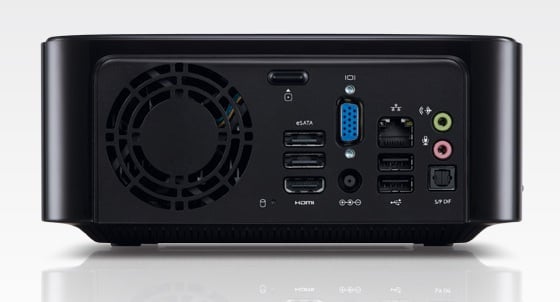 Ports a-plenty
Graphics are taken care of by an AMD ATI Radeon HD 5450, which was enough to furnish Call of Duty 4 with just under 30f/s. This was, however, at 1024 x 768, and the 8.11f/s achieved in Crysis at the same resolution indicates this mini PC is really only suited to undemanding games.
Access all areas
Of course, whether you actually need this extra power on what could well end up simply as a media playback device is questionable. A more modest Athlon II X2 P360 version is available for £349 - £180 less than the model I tested - but at this price you also have to sacrifice the Blu-ray drive, a gigabyte of memory and a large slice of storage space.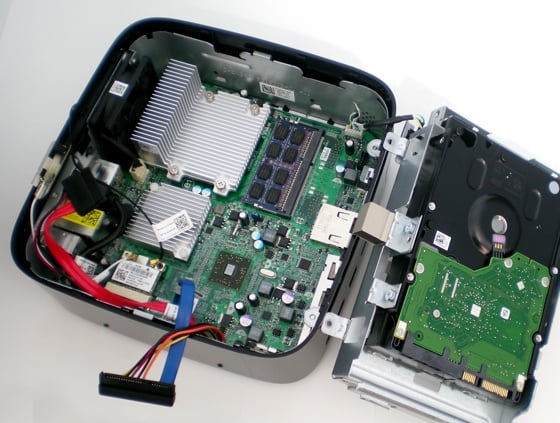 Not the easiest box to upgrade
Although the coloured lid pops off nicely, getting at the guts of the system is a little more involved. Ignoring the fact that I'd actually have to put the blighter back together again, I began whipping out any screw I could get my hands on, which allowed me to remove the top of the chassis, slide out the Blu-ray drive out and wiggle the hard drive cage free. This revealed the miniature motherboard, wireless card and a single memory slot with 2GB of DDR 3 Ram loaded. The other 2GB module is accessed by removing a separate panel on the underside of the chassis.
Unsurprisingly, a fan constantly whirrs away in order to keep the rather cluttered internals from burning up. It's barely audible so won't ruin your film watching, but it does kick out a fair bit of heat and requires plenty of breathing space.
Given this piece of kit is clearly designed to be attached to a big-screen, it's a shame there's no TV tuner included in the price. You can, however, add one, complete with remove control, for a £20 premium. With the cramped conditions inside I'm guessing the tuner comes in the form of a separate USB stick.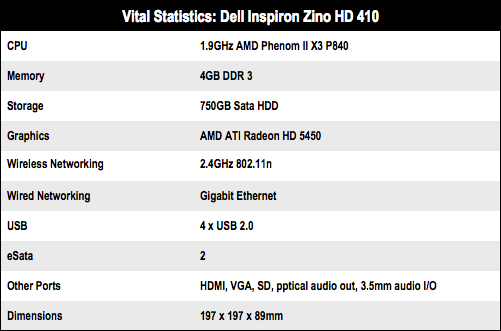 Spec as reviewed
Benchmark Results
PCMark Vantage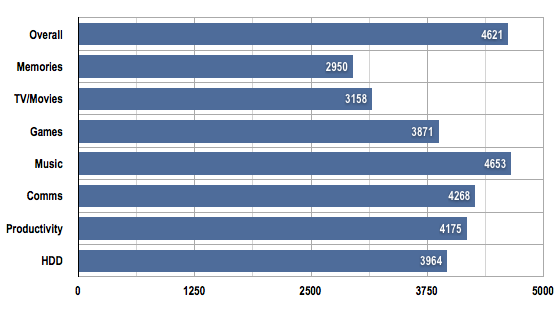 Longer bars are better
Graphics Tests

Longer bars are better
The new Zino HD 410's benchmark scores are well in excess of last year's model, which you can view here, with one exception: the HDD result. Dell used a faster - but probably less power-efficient - drive previously.
Specs appeal
The layout of ports and sockets at the rear has been changed from that of previous versions. The VGA output now sits vertically, with the power socket located directly beneath it. The all-important HDMI slot keeps its place, as do the brace of eSata ports and four USB ports - two of which sit at the front - but there's a new addition on the form of an optical audio output, making it quick and easy to hook up a set of 5.1 or 7.1 surround-sound speakers.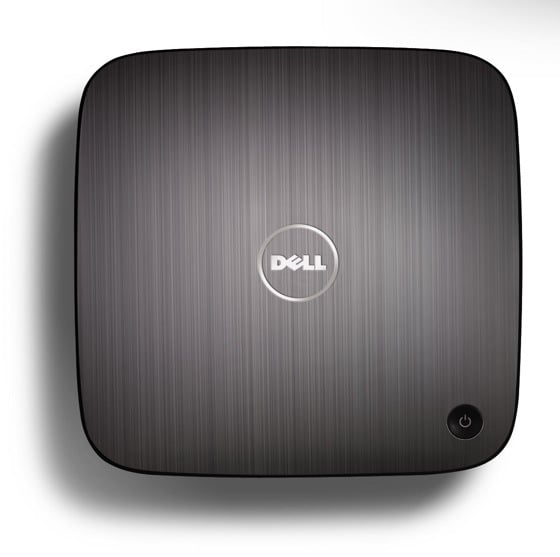 Living room stylish
If you can stomach paying a premium for Windows and not using it, the Zino HD 410 makes for a nice little Linux box. However, when I fired it up with Ubuntu 10.10, the Dell DW1520 wireless card wasn't recognised and the rear analogue audio output failed to work, though the one at the front worked fine. I'm sure more experienced Ubuntu users will be able to fix both these issues, but my attempts failed.
Although the precise configuration I tested isn't listed on the website, Dell assures me it can be ordered over the phone. However, for the same price you can now get a P860-powered version - basically a 100MHz increase over the P840 - along with a 1TB hard drive. The extra processing power will be virtually unnoticeable, but that extra 250GB of storage could well come in handy.
Verdict
The Zino HD 410 certainly fulfills its role as a home theatre PC, and with the inclusion of a triple-core CPU, Radeon HD 5450 graphics and optical audio output it's also far better value than its predecessors. However, although more power is always welcome, I'd have preferred Dell to concentrate on improving its media credentials: a built-in dual TV tuner, for example, or perhaps slimmer dimensions. I also think this configuration is overkill for what most people are likely to use it for, with the cheaper versions, starting at £300, representing better value. ®
More Desktop PC Reviews

Amazon
Acer Revo
RL 100
Apple
iMac
21.5in
Sony
Vaio
L13
Apple
Mac
Mini