Original URL: http://www.theregister.co.uk/2011/02/09/review_printer_lexmark_genesis/
Lexmark Genesis multifunction printer
Space-saving and super swift
Posted in Personal Tech, 9th February 2011 13:00 GMT
Review The Genesis S815 is the latest all-in-one (AIO) printer-scanner-copier-fax from Lexmark that brings a radically different form-factor to the product class.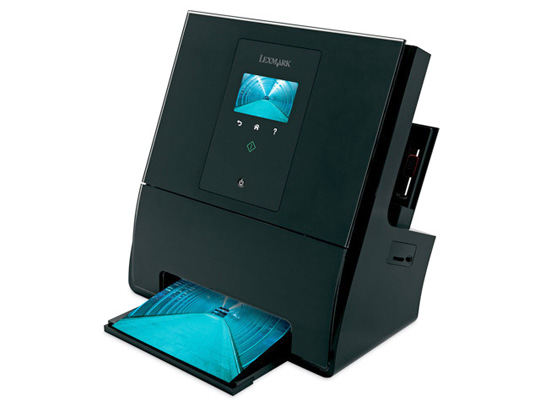 Evolving technology: Lexmark's Genesis
It stands a shade over 40cm high on your desk, with a 40cm x 40cm footprint, allowing for the sheet-collector extension in the front. With this folded away the front-to-back dimension loses about 18cms. The Genesis' desk-space saving may be important to you, but for me the big question was: four hundred quid? Eh?
Consumer AIOs have plummeted in price over recent years, some of them now coming in under the 50 quid mark. For a couple of months now I've been happily running an Epson BX305, which can be picked up for £75, if you shop around. So what's the 'Stella Artois' factor in this new Lexmark offering?
Yes, it can directly print from or scan to a memory stick. And it has a pretty (and very practical) touch screen. But the biggest technical difference lies with the scanner. There isn't one. Or more accurately, the traditional wheezing flatbed crawling sensor arrangement has been replaced by a lightning-fast electronic camera.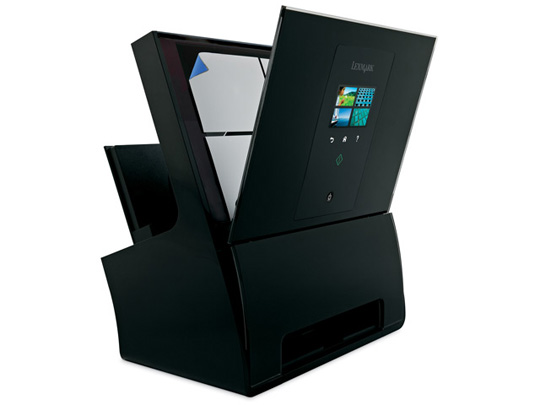 Farewell, bump and grind
Special optics are utilised – designed to deliver a true image at very short-focus – with the inevitable wide-angle lens barrel distortion being corrected electronically. Red, green and blue LEDs flash in quick succession, creating a set of monochrome images that are internally merged to give impressively accurate colour rendition.
This instant image-making – the quoted figure is 3 sec per page – is a huge step up from a traditional scanner – does limit the resolution. The ageing (but much loved) HP ScanJet 4850 on the desk beside it here is typical of its class, with a top native resolution of 4800 x 9600 dpi. The Genesis tops out at only 300 x 300 dpi. This difference is crucial if you want to scan, say, 35mm negatives. But for ordinary A4 documents, postcard-size pictures, or even business cards, 300 x 300dpi is plenty.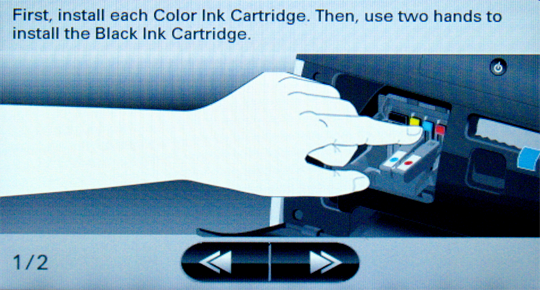 The animated display on the touch screen shows you how to change the ink cartridges
The thermal inkjet printer is fast for its class too. In keeping with recent trends in the business ink-jet market, it uses four separate cartridges (cyan, yellow, magenta and black) that should significantly reduce the cost per page – and this is from a company that used to be notorious for its total cost of ownership.
The manufacturer's figure of "up to 30 pages per minute" for colour is confirmed by my ad hoc tests, that showed it to be between two and four times faster than the Epson BX305. But if time isn't of the essence for you, the print and colour quality of both is about equal. And the Genesis – did I mention this? – is four times the price.
Key to the excellent usability of the Genesis is the 4.3in colour touchscreen. When you open the front panel, for example, while the cartridge carrier slides into the service position an animated movie on the screen shows you how to replace the ink. A similar movie helps you set up the wireless (802.11n) connection.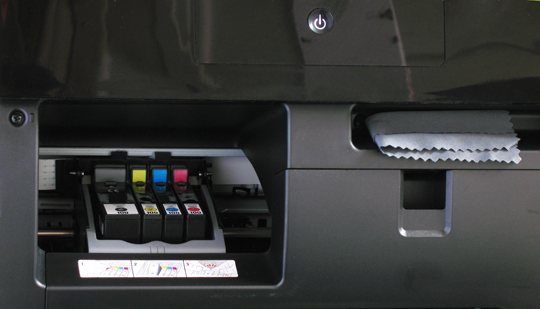 Open the front panel and the carrier slides into the service position. There's a cubby-hole for the dust cloth too
During operation, active icons on the touchscreen represent functions like Fax, Scan and Print. But you can also populate the screen with optional downloadable apps, a feature Lexmark introduced to its printers a couple of years ago. Logging in to Lexmark's Smartsolutions page on your computer allows you to instal apps (that connect the printer to Picasa, for example) by dragging and dropping icons inside your browser. There's an RSS Headlines app that will let you catch up on relevant news, and apps to connect your printer to Picasa, MobileMe, Flickr, PhotoBucket. And many others.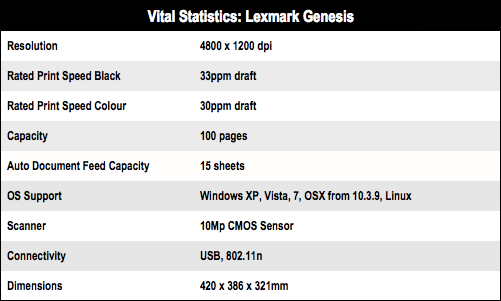 Viewing phone-type apps on a phone-sized screen attached to a damn great office gadget doesn't strike me as being particularly 21st century, and in particular the Google Calendar App that threatens to print out your meetings schedule seems to be a step back to the age of the Filofax. But I suppose it all adds to the fun.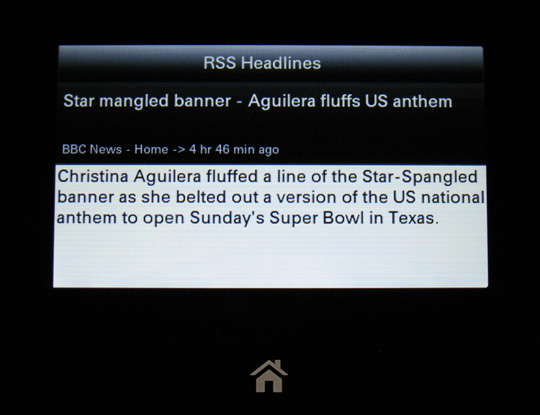 There's an app for this printer, quite a few actually, including this RSS feeds reader
The wide-angle camera introduces some slight linear distortion along the right hand edge, but for ordinary document work this is a great way to scan. I found a bug or two in the scanning software, but nothing I couldn't easily work around. The build quality is first rate – no squeaky plastic casing – and the print speed, ease of use and 3-year warranty certainly go some way towards justifying the premium price.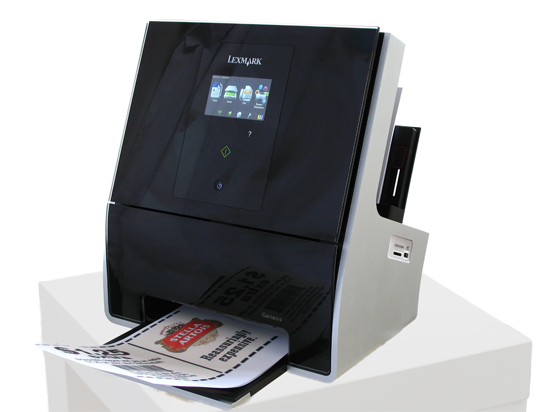 A space-saving form-factor, but at a wallet-wacking price
Verdict
Given its speed and versatility, I'm tempted to score this higher, but the professional office price for a (very nice) home office machine is the downer. If you get a move on, however, the Genesis S815 is included among the printers eligible for Lexmark's £200 cash-back offer that's ongoing until 31st March 2011 – details here. With this deal, the Genesis ends up at half the list price and so I'm inclined to base my rating on this promotional figure. Even so, it still ends up costing more than double the price of my 'trad tech' Epson though. ®
More Printer Reviews…

Bolle BP-10
iPhone photo printer
Budget
Mono Lasers
All-in-One
Inkjets
Desktop
Colour Lasers