Original URL: http://www.theregister.co.uk/2011/01/12/review_gadget_sony_ericsson_liveview/
Sony Ericsson LiveView remote phone viewer
The Android accessory that puts on a display
Posted in Personal Tech, 12th January 2011 13:00 GMT
Review With top-end smartphones costing an arm and a leg, anything that reduces the chances of your cellular pride and joy getting damaged or pinched should find a buyer. Certainly, that's the thinking behind Sony Ericsson's LiveView remote viewer for Android handsets.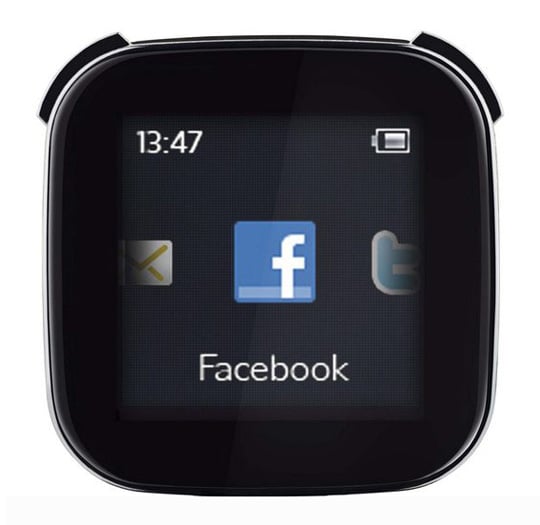 For Android 2 and above: Sony Ericsson's LiveView
The idea is simple: LiveView connects to your phone using Bluetooth and a free Market app pushes information to it from your handset. Out of the box LiveView allows you to see Facebook and Twitter updates, SMS messages, calendar notifications, RSS feeds and missed calls, and it tells you the time.
LiveView also lets you control your music and see who is calling when your phone rings, however, the only phone function is a facility to mute the ringer. Helpfully, the unit vibrates to alert you when a new update is pushed to it. If you lose your phone, the "Find Phone" feature will make it come off standby and chirrup to reveal which cushion it's fallen behind.
A word to the wise about compatibility. Naturally the LiveView works with all Sony Ericsson Android phones but they have to be running v2.0 or above, so that's the Xperia X10, X10 Mini, Mini Pro and X8, but only if you have updated them from Android v1.6. You can find a list of other manufacturers supported handsets here, but it's not comprehensive.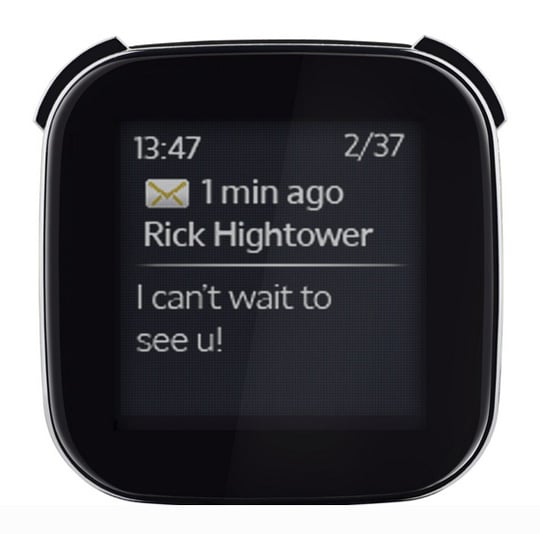 Functionality appears to vary with each handset
As well as an X10 Mini I tried LiveView with a HTC Desire HD running 2.2 and an Orange San Francisco running 2.1 and everything apart from the calendar function and music player track title display, selection and pause worked on both.
Wrist action
Unobtrusive, small and light the unit comes with a clip to attach it to your clothes or rucksack straps. There's a wrist strap too, but at 11mm it's just a little too thick to masquerade successfully as a wristwatch.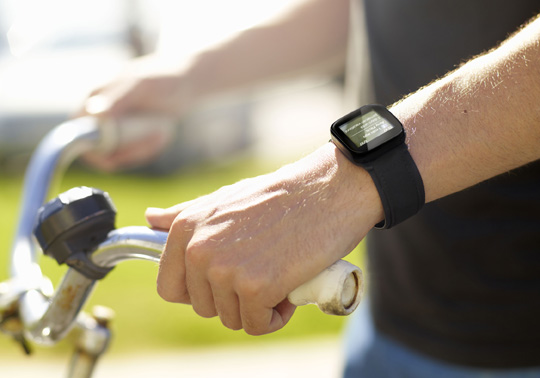 Wearable as a watch, but rather chunky
The LiveView is controlled using two physical buttons set into the upper corners of the device and four touch sensitive areas built into the top, bottom and sides of the screen bezel. The screen itself is not touch sensitive.
The fascia touch buttons take care of basic up/down/next/previous navigation while the upper-controls switch the device on and off and work as a function selector with a long-press of the latter always taking you to the music menu. 

The 1.3in OLED screen, while on the small side, is crisp and clear – reading text was no strain on my eyes. All in all, LiveView proved to be pretty useful and easy to operate when connected.
But that is a big 'when' because there is one major problem. Far too often – every third of fourth time I used it in fact – the connection between LiveView and the phone would drop and getting it back proved a frustratingly random and long-winded undertaking.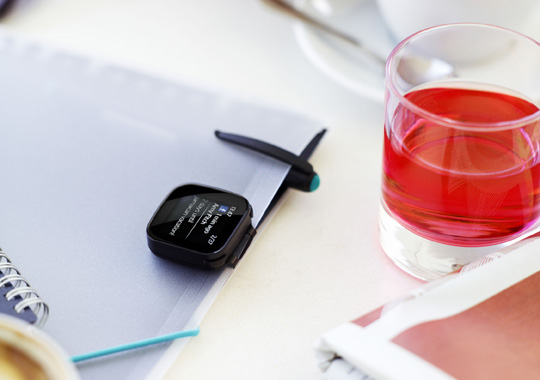 Nice idea, when it works
In fact, I never did manage to work out why the connection was dropping – one moment all was fine, the next, titsup. Sometimes reconnection was possible from LiveView, at others I needed to dig my phone out and access the LiveView app, which rather defeats the whole point of the exercise.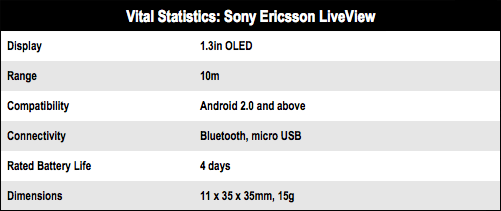 Denial of service
Sony Ericsson is promising a firmware update to sort things out, but my deadline arrived before it did. As it stands, the wayward connection firmware is a hot, steaming turd on top of the LiveView's otherwise tasty treat.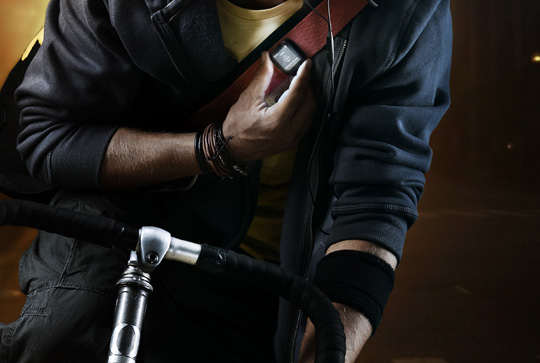 Potentially very useful, but currently dogged by instability
According to Sony, third-party LiveView plug-ins will soon start cropping up left, right and centre. Currently, there are twenty-odd in the Android Market (listed here) but you can only access six at any one time.
Of these plug-ins that I downloaded, I couldn't get the HTC Gmail or HTC Music Control plug-ins to work at all – the latter crashed the music player on my Desire every time I launched it. However, ContactCall – which lets you scroll through your phone book and dial out – proved to be handy when used with a Bluetooth headset. Also, the Calendar plug-in gives you a full month view with the ability to drill down to individual entries for the day.
SE reckons a full charge of the LiveView will be good for four days of use, but the best I managed was about half that. Admittedly, a lot of that time was spent trying to get the bugger to reconnect.
Verdict
LiveView is a handy way of accessing your phone remotely if, for whatever reason, you don't want to get it out in public and wave it about. Still, I'm not sure the basic functions and current free plug-ins justify the price, even though I found it on-line for under £50. More importantly, the connection issues need to be solved urgently, as there's little point in having it otherwise. ®
More Phone Gear Reviews...

Ten Essential…
budget
Android smartphones
iDapt i4
multi-purpose
charger
Duracell MyGrid
cable-free
charger
Ten Essential…
iPhone 4
cases