Original URL: http://www.theregister.co.uk/2011/01/06/review_hifi_wireless_arcam_solo_rdac/
Arcam Solo rDac wireless digital-to-analogue converter
Stream spirit
Posted in Personal Tech, 6th January 2011 07:00 GMT
Review Wireless music systems are commonplace nowadays, but some folk still prefer to use a standalone digital-to-analogue converter to liberate their digital music library, and these are the punters Arcam is pitching its Solo rDac at.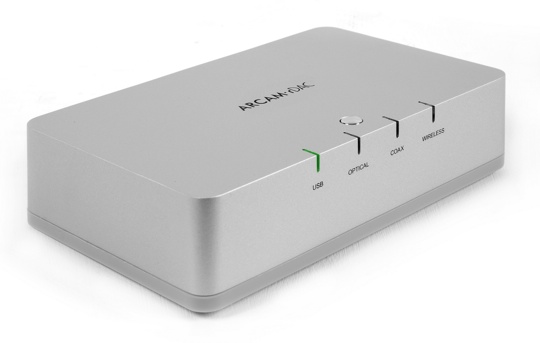 Arcam's rDac: minmalist styling
As you might expect from an up-market British audio kit maker like Arcam, the rDac's look is minimalist, with no controls other than a power switch at the back and a few status LEDs on the front. It's well made, though, with a very solid aluminium shell.
Round the back you will find type-B USB - for feeding the gadget from a computer, rather than a USB Flash drive - plus optical Toslink and gold-plated SPDIF coaxial inputs, making the rDac a piece of cake to connect to a wide range of sources. Output is via two gold-plated RCA phono sockets.
One other input is invisible: the rDac can take a wireless feed from Arcam's rWand and rWave. The rWand connects to your iDevice's 30-pin dock connector, while the rWave is a USB dongle. Both are sold separately for around £70.

No shortage of portage
Connected wirelessly, the rDac will only support files encoded at 16-bit/44.1kHz, but use the coaxial socket and those numbers increase to 24-bit/192kHz. In between, cabled USB tops out at 24/96 and optical at 24/48.
Dynamic audio
Those wireless numbers are not superficially all that impressive when you consider that Logitech's £260 Squeezebox Touch will stream 24/96 files over an 802.11 Wi-Fi network, but Arcam maintains that its use of Kleer's lossless transmission technology helps the rDac punch above its bit-rate weight. And, let's be honest, Red Book CD quality is good enough for most of us.

Stream straight to the rDac from your PC with the rWave
For comparison, I played some 16/44 320Kb/s MP3 files through a Squeezebox Touch over my home wireless network and then through the rDac from my laptop and an rWave dongle. Both rDac and Touch were connected to my trusty Cambridge Audio A5 amp and Mission speakers.
The sound produced by the rDac had greater levels of clarity and detail, particularly with the re-mastered analogue classical recordings that make up the bulk of my music collection.
The extra detail really shone through when listening to Robyn's Body Talk albums, which were reproduced with truly impressive vibrancy.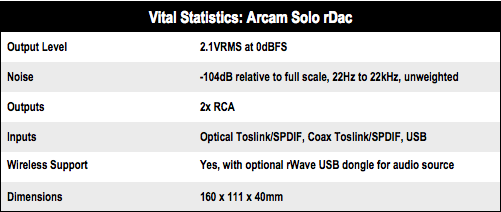 Mastering USB music
Swapping the rWave dongle for a USB cable didn't have any noticeable impact on sound quality. To make USB-sourced music sound as good as possible, the rDac uses audio specialist Data Conversion Systems' (dCS) asynchronous USB system, which is essentially a way of ensuring a smoother flow of music data over the bus, eliminating digital audio artefacts.
I've listened to the rDac with dCS' system on and with it off, and there's a clear improvement to be heard. But it really depends on what your computer is up to: whether it's doing little more than keeping the USB buffer filled, or is busy performing other tasks too. It's the latter that can lead to the signalling issues that async USB counters.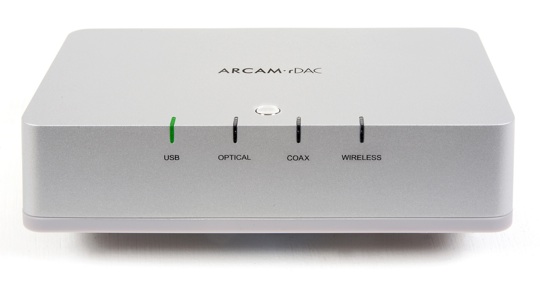 USB audio enhancer
Finally, I also compared the rDac with a 40 quid CYP AUI-D3 DAC. Here the difference - using a DVD source, connected by optical cable - was an order of magnitude greater, with the rDac delivering detail and revealing subtleties beyond anything the CYP could manage.
The last test was conducted with an iPad and the rWand adapter. The resultant blend of convenience and sound quality is the most compelling reason I can think off for actually buying an iPad.
Verdict
When it comes to getting music off your disk drive or handheld and into your hi-fi, the rDac is tough to beat and the connection options make it a very versatile device. You can get one without wireless for £75 less. ®
More Audio Gear Reviews…

Keene
USB FM
Transmitter
Apple
iPod Touch 4G
Gear4
UnityRemote
M-Audio
Pro Tools
Recording Studio