Original URL: http://www.theregister.co.uk/2010/12/31/review_storage_western_digital_my_book_live/
Western Digital My Book Live Nas box
Homelan security?
Posted in Personal Tech, 31st December 2010 07:00 GMT
Review Western Digital's My Book line of drives spans nearly all areas of external storage, supporting fast modern interfaces from FireWire 800 and eSATA to USB 3.0. Yet the My Book Live is network drive and, in terms of connectivity, sports nothing more than a DC input and a gigabit Ethernet port.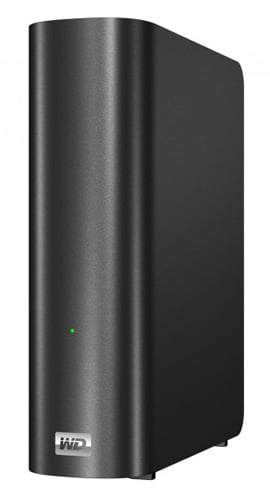 Silent running: Western Digital My Book Live
Available in both one and two terabyte capacities, Western Digital claims 100MB/s read performance for the My Book Live. WD's instantly recognisable My Book enclosure makes another appearance here, which is likely to disappoint some potential purchasers familiar with this design. Alas it's not the most stable upright drive and prone to topple with the slightest nudge – not exactly ideal when your precious data is spinning at speeds in excess of 5000 RPM.
Vertical challenges aside, the My Book Live is passively cooled, as always. For those wanting a quiet Nas box to sit on their desk, this is ideal. However, much like every other WD drive that has utilised this enclosure, the Live runs fairly hot under load.
Admittedly, I have been impressed by the performance of other models in Western Digital's My Book line in the past – notably, the USB 3.0-equipped My Book 3.0. So I had high hopes that the My Book Live would live up to its claimed 100MB/s performance.
Testing with Crystal DiskMark 3.0 using a 1GB file size resulted in a maximum read rate of 48.33 MB/s, just under half of what the spec suggests. Inevitably conditions vary and different file sizes may produce a peak throughput. Still, the My Book Live is certainly not the slowest Nas box I've encountered by a long shot. Yet while it apparently doesn't deliver in terms of claimed throughput, some of its other features certainly hit the spot.

Power and networking ports – yup, that's it for connectivity
Streaming ahead
Like most Nas boxes, the Live comes equipped with a host of media streaming functions, individual user areas and an array of backup options (including Apple's Time Machine) all controlled through a slick web interface.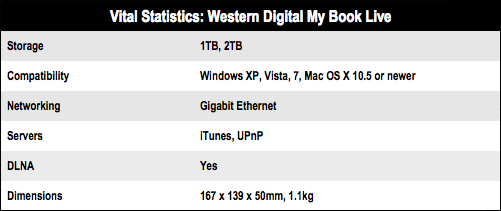 In these areas I cannot fault the My Book Live. Media streaming to any UPnP/DLNA or iTunes DAAP device is flawless and configuration is simple and straightforward, using the rather well polished web interface.
Also, as any good Nas box should be, the My Book Live includes remote access functionality. However, unlike most other Nas boxes, Western Digital does not let you choose which dynamic DNS service you wish to use.

Easy to configure... and knock over
In order to access your files, you must sign up for an account with MioNet, although the subscription is included in the price of the drive. However, users who run other services on their network through an existing dynamic DNS service are likely to be disappointed by this lack of basic functionality.
Verdict
Western Digital's My Book Live isn't as fast as it should be, is likely to fall over and will frustrate you if you want remote access with your existing services. However, it is a perfectly functional media-streamer and is fairly compact too. This makes it ideal if you just want something basic to shove in a corner to manage your music and backups without too much thought. ®
More Network Storage Box Reviews

Synology
DiskStation DS411+
Cloud Engines
Pogoplug
Dane-Elec
myDitto
Verbatim
MediaShare