Original URL: https://www.theregister.co.uk/2010/12/15/ten_essential_pmp_players/
Ten... sub-£150 PMPs
Music and movies on a budget
Posted in Personal Tech, 15th December 2010 07:00 GMT
Product Round-up Budget PMPs are the missing link between a high-end video job and a standard MP3 player. With modern devices so advanced, some would class these PMPs as cell-phones without the option to call, a view I generally shared.
However, without the distraction of ringtones and txt msgs, they have space to focus on getting the rest right and your phone doesn't suffer from a low battery life.
Here, in alphabetical order, is a selection of what's available for less than £150 from each end of the spectrum.
Apple iPod Nano 6G

Apple, the Uncle Sam of portable entertainment, disappoints with its sixth-gen Nano that taints the addition of a touchscreen by removing all things video. Watching clips on its now 240 x 240 screen is an unattractive prospect anyway, but for that price, surely it's a mandatory inclusion? The camera has vanished too, so the addition of an FM radio aside, the Nano has limited options and feels more like a Shuffle with a screen than a thumb-sized Touch.
The slick metal casing gives the Nano a sense of durability, but products this small are usually lost before they break. If competitively priced among some of the lower-end PMPs, the Nano would fare better, rated on its design and sound quality. But at £138, it's poor value for money. While Apple will bring the new touchscreen and dimension reduction to its defence, the fact is, unless size matters, your money is better spent elsewhere.


Reg Rating 70%
Price £138 (8GB), £160 (16GB)
File support MP3, AAC, AIFF, Audible, Wav, Apple Lossless
More Info Apple
Archos 3cam Vision

After my disappointment with the Archos 18 vision MP3 player, it was nice to see the French company drive some va-va-voom into products higher up the line. The 3cam Vision impresses from go with a smooth design and responsive touchscreen. Audio is booming enough for me, but perhaps too warm and its frequency range feels smelted. I was pleasantly surprised by the 3cam's wide format support, which worked a treat when it came to video. The 3in, 400 x 240 screen is worth a watch.
The 3cam has a built-in camera for photos and video, although the quality is a little grainy and it's situated in an awkward place, exactly where you'd naturally grip the device. The 3cam also comes with a built-in FM transmitter to wirelessly stream music collections.
The Archos is let down by occasional loading errors, dodgy file browsing and no card expansion, but overall it still gets a tres bien from me.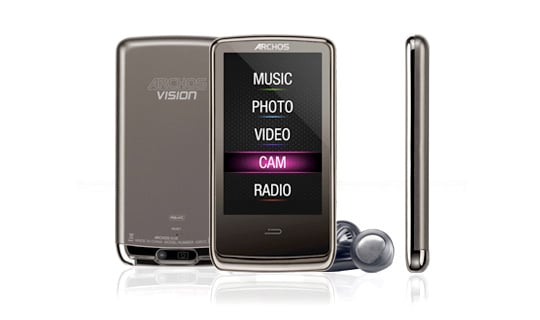 Reg Rating 80%
Price £90 (8GB)
Audio Support MP3, Wav, Flac, Ogg, APE
Video Support MPEG, FLV, AVI, RMVB
More Info Archos
Cowon iAudio 9

Choosing the right PMP player can be like a new beginning - you should always consider your Korea options. iAudio's Cowon i9 is, however, a dog of a device. The casing is extremely lightweight, despite being scratchproof, and gives the impression it won't see another Christmas. The diagonal-scrolling menu system is illogical.
EQ settings bring a needed oomph to the audio, which is mild without the bass boost and average at best. This becomes irrelevant when you use the built-in speaker, which rivals the irritating noise of a hungry mosquito. Limited file support is irksome and video remains a predictably poor option on its 2in screen. To top it off there's no memory card expansion.
It's poor value for money really and for that price, I'd expect something with a more robust feel.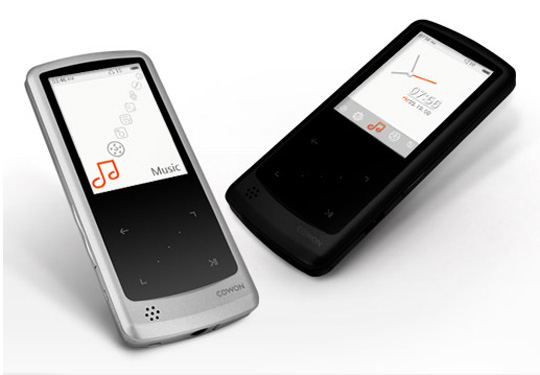 Reg Rating 50%
Price £99 (8GB), £129 (16GB)
Audio support WMA, MP3, Flac, Ogg, Ape, Wav
Video support Xvid, WMV
More Info Advanced Mp3 players
Creative's Zen X-Fi Style

Creative's compact Zen X-Fi Style has a certain charm, but can be annoying to use. Despite a cheap plastic body, I reckon it could handle a few knocks and tumbles.
The audio is above average, especially when you swap the supplied phones for some decent cans. The X-Fi Crystallizer and Expand sound-enhancement settings provide a welcome boost, albeit odd if fully implemented. I didn't want to watch much video on its 2.4in screen, but using the bundled PC-only software, conversion is easy. It also lets you sync RSS feeds for offline reading, though it's hard to scan because the text is so large.
The Zen X-Fi Style has no dedicated volume control yet more other buttons than necessary, all of which are impractical and very clacky. There's also no card expansion.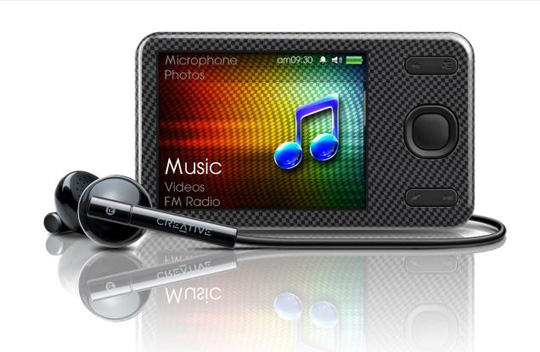 Reg Rating 70%
Price £70 (8GB) £100 (16GB)
Audio support MP3, WMA, AAC, Flac, Wav, Audible
Video support MPEG 4, WMV, DivX, XviD
More Info Creative
iRiver S100

A simple design of minimal but sensible controls and a vibrant 2.8in display leaves a positive impression of the S100, boosted even further by a better-than-average battery life and broad range of supported formats. The S100's radio functionality soars above the rest with the inclusion of a DAB tuner. It can tricky to find a radio signal, but you do have the ability to record the programmes you can find.
There are some dull games built in too, and the sound's not all that impressive either. Various EQ settings boost the audio well, but despite changing the supplied headphones for beastlier alternatives, the S100's output remained uninspiring. Not to say it was bad, just not special either. Other than that, it ticks every box and although on the expensive side, remains a dignified choice.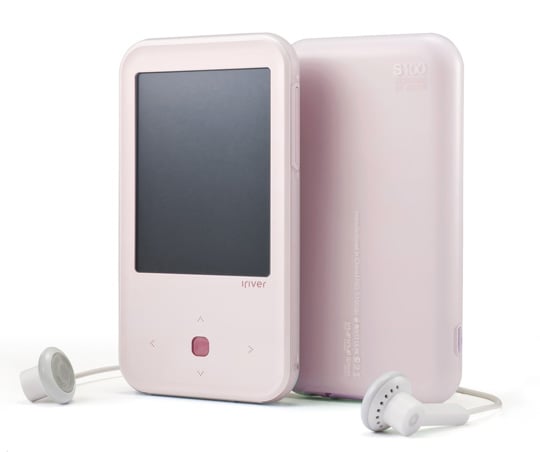 Reg Rating 75%
Price £130 (4GB) £150 (8GB)
Audio Support MP3, WMA, Ogg, ASF, Flac, Ape
Video Support Avi, MP4, WMV
More Info iRiver
Philips Go Gear Muse

Philips' GoGear Muse instantly impresses with a stainless-steel body of substantial, but reassuring, weight, and its slick-looking 3.2in, 480 x 320 touchscreen. But dig deeper and the Muse begins to disappoint. Button actions feel clunky, the software lags and long videos are sometimes stuck loading until the device is reset.
Any fresh wallpaper you've set is reset when the gadget is powered off. A minor bug, yes, but still an annoying one that shows a lack of care on the part of Philips.
Nevertheless, the GoGear's audio quality is superb, even with the supplied headphones, which are better than most. The vast file support helps to justify the price though and with the inclusion of a touchscreen, HDMI output and Micro SD expansion up to 32GB, the Muse remains a likeable device.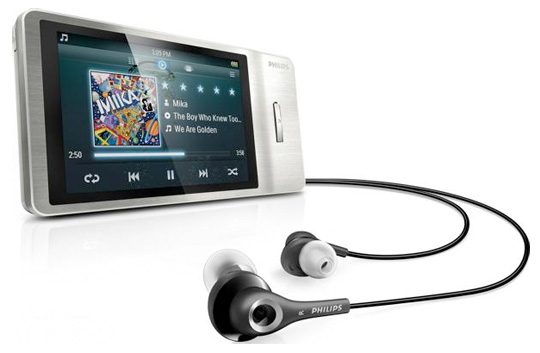 Reg Rating 80%
Price £100 (8GB) £130 (16GB) £180 (32GB)
Format Support WMA, MP3, Wav, AAC, Ogg, Flac, APE
Format Support MPEG4, H.264, RMVB, WMV
More Info Philips
Samsung YP-R1

With Samsung's Galaxy Player 50 not available until January, the YP-R1 remains the South Korean company's best sub-£150 choice for Christmas. Thanks to its snazzy 2.6in, 400 x 220 touchscreen and formidable format support, it's a good choice too. The YP-R1 immediately impresses with a compact size that won't bulk out pockets, but is heavy enough to instil confidence in its build quality.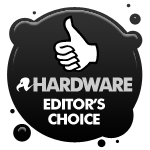 Its responsive UI and logical layout is a joy to use, sweeping you through a varied feature list that includes a Flash player, games, recordable FM radio and a quirky but useless remix app, Beat DJ. Sound is fantastically rounded and powerful, prompting instant head bobs and wowism. Video looks great at and if that's too much of a squint, it can be connected to TVs with an additional cable. The proprietary USB port is the biggest disappointment along with a shorter-than-average battery life but the YP-R1 remains a slick device and a top choice for Christmas. Hunt online and you can find very cheap deals.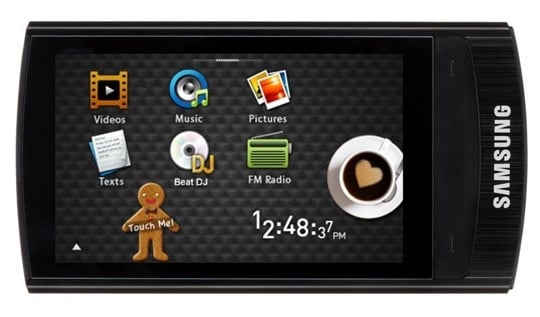 Reg Rating 90%
Price £70 (8GB) £120 (16GB)
Audio Support MP3, WMA, Ogg, Flac, Wav, AAC, SWF
Video Support SWF, WMV, H.264, DivX, XviD, MPEG4
More Info Samsung
SanDisk Sansa Fuze+

After it took top honours in Reg Hardware's budget MP3 player round-up, I couldn't wait to see how SanDisk's higher-price model fared. Unfortunately, it failed to impress quite as much as the cheaper one does.
The wholesome sound quality is uncompromised and the super-loud output a welcomed option. Fortunately, it comes with a visual warning to help you avoid potentially damaging levels. As a music player, then, the Fuze+ is fabulous, but apart from the display that shows crisp album art and brings an option of video, it delivers little improvement on the Clip+. Is video on a 2.4in screen worth the mark-up?
The touch-sensitive control pad is often laggy, and it's easy to select the wrong option by mistake. The swipe controlled movement malarkey feels unnatural anyway. Despite this, I'd be lying if I said the Fuse+ was bad value for money. Considering it's half the price, I would definitely prefer it to an iPod Nano.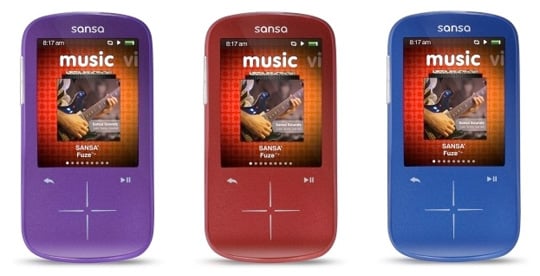 Reg Rating 80%
Price £65 (4GB) £74 (8GB) £98 (16GB)
Format Support MP3, WMA, AAC, Ogg, Flac, Audible, Podcasts
Format Support MPEG4, H.264, WMV, Flip Video
More Info SanDisk
Sony Walkman NWZ-A845

Straddling the price line - the A845 is less than £150, its more capacious stablemates are above the cut-off point - this Walkman is now seemingly being disowned by Sony, presumably with the anticipated introduction next year of new models. They won't help the Christmas buyer, who can still pick up the skinny - it's 7mm thick - player.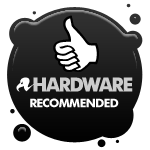 It excels at the job in hand, audio sounding clear and crisp, and video looking good on the 2.8in, 400 x 240 OLED screen. Sony also includes some rather nice noise-cancelling earphones with this player. These can be pricey enough bought separately, so it's good to get them for free, as it were.
Sony has equipped the 845 with Clear Stereo, VTP Surround Sound, DSEE Sound Enhancement, a five-band equalizer and S-Master Digital Amplifier technology which all sounds most impressive both figuratively and in use.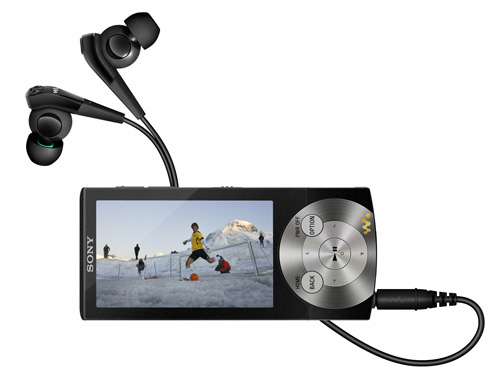 Reg Rating 80%
Price £115 (16GB)
Audio Support WMA, MP3, AAC
Video Support MP4, AVC, H.264, MPEG4, WMV
More Info Sony
Sony Walkman NWZ-E45x

Sony's E series is easy to use and has some cool features, however falls short with its low volume levels. It's by no means inaudible as was the case with its B-series MP3 player, but as someone that regularly listens to unmastered music, not being able to over-inflate my levels is annoying. Saying that, audio here is well rounded and enjoyable. Ultra crisp clarity actually impresses, but bring heavy background noise into the equation and you do the maths.
The E series is practical as a music player. There's a strange Karaoke setting - you can tell it was designed in Japan - which attempts to EQ-out the vocals and produces a very odd-sounding instrumental track.
Video looks surprisingly nice on the small screen, but despite claims that it handles MPEG 4 and H.264, I couldn't get any of my encoded videos to work. Despite this, there are many things to like about Sony's E, which is a solid device and enjoyable to use, but disappoints with a lack of memory card expansion.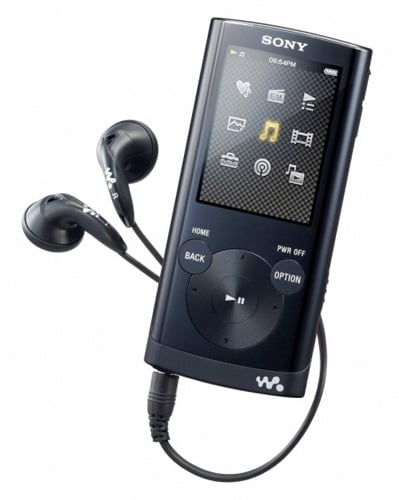 Reg Rating 75%
Price £69 (4GB) £89 (8GB) £109 (16GB)
Audio Support WMA, MP3, AAC
Video Support MP4, AVC, H.264, MPEG 4, WMV
More Info Sony