Original URL: http://www.theregister.co.uk/2010/10/18/wtf_is_dlna/
WTF is... DLNA?
A cure for media playback blues - or will it just have you seeing red?
Posted in Personal Tech, 18th October 2010 07:00 GMT
DVD and Blu-ray Disc players, internet radios, sound systems and projectors, TV set-top boxes and the TVs themselves have traditionally been a motley crew, arguing among themselves in so far as they communicate at all, about who should do what and to whom.
The noble aim of the DLNA - the Digital Living Network Alliance - is to make the whole schmeer sing from the same songsheet.

Only this month, LG announced that its debut Windows Phone 7 handset, the Optimus 7, will support DLNA-streamed playback. Ditto audio systems from Marantz and Denon, which will also be compatible with Apple's rival technology, AirPlay, itself derived from iTunes' audio streaming system, DAAP. Sony's internet TV receiver, the SMP-N100, can present DLNA-sourced content, just like the giant's tellies can.
Your average geek has been able to do all this cross-box streaming this for a long time without anybody's help. Set up your file shares, open a few ports if necessary, perhaps throw in some command line incantations, and with a combination of UPnP AV, SMB, DAAP and other magic, the multimedia can be coerced to flow across the LAN.
The promise of the DLNA, held out since the organisations formation some seven years ago, is to offer the same feature-set out of the box to acronym-phobic consumers who wouldn't know a MAC address from a hamburger joint.
DLNA in action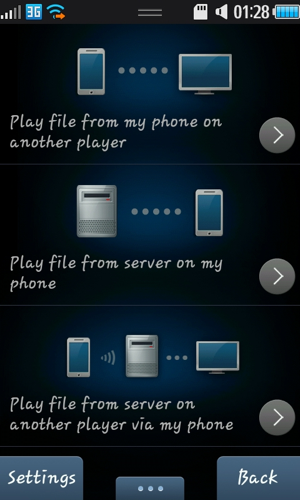 The Samsung Wave mobile phone rather oddly conceals its DLNA functions under Connectivity in the Settings menu. But the three main features of DLNA/UPnP AV are all here. The top option allows media on the phone to be served over the LAN to any DLNA-capable player. The middle option turns the phone into a DLNA player, accessing media from one or more servers on the LAN. The third option establishes the phone as a DLNA controller. In this mode, the phone operates as a remote control, deciding which media from any LAN server is played on any of the available DLNA players connected to the LAN.
Don't mention DLNA. I did, but I think got away with it...
A difficult promise to fulfill - which may be why it's only whispered to the public. DLNA members like Samsung, Acer and Microsoft seem never to use the initials. Samsung calls its implementation "AllShare". Acer's brand name for the technology is "clear.fi". And Microsoft wraps up DLNA in its all-embracing Media Player and WIndows 7's Play To... command.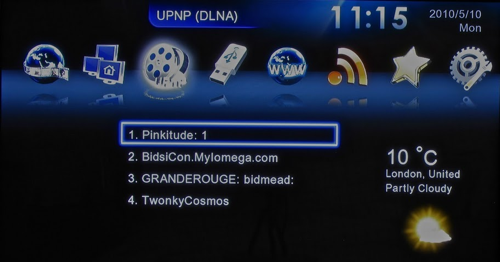 This media player isn't an official DLNA device - so it's capable of handling formats like MKV and ISO that are outside the rigid restrictions imposed by the Alliance
Panasonic is a notable exception. "We do promote it as DLNA, because we think that's more recognisable for the consumer," says Steve Lucas, Panasonic Product Specialist for Consumer Products. "But then we explain which DLNA file formats we support. One of the things that I think is confusing with DLNA is that although there are a number of file formats that are part of the affiliation, it's down to the individual manufacturer which formats are supported in their products."
It was Microsoft that first devised UPnP AV - the universal plug-and-play protocol that forms the underpinning of DLNA.
"UPnP was the original standard and DLNA is a certification process on top of that," explains Bob Hannent, CTO at set-top box manufacturer Humax. Significantly, Hannent's own company hasn't chosen to go down the DLNA route. "We don't even mention UPnP," he says. "We're just referring to 'home media networking'."
Some software options
Users of Windows 7 are already in the game, and earlier versions of Windows can be updated to suportg DLNA simply by upgrading to the latest version of Windows Media Player.
Twonky offers a suite of products that enjoy the approbation of the Alliance, but are not officially certified, because no framework for software certification has been hacked out yet.
TVersity is a very well liked Windows-only DLNA-type server available in both a free and a paid-for version.
As its name implies, the PS3 Media Player is targetted solely at the Sony Playstation 3, but has the merit of being cross-platform and free.
Boxee is also cross-platform and freely downloadable, but with much wider scope - it can run on the first-gen Apple TV, for example. A hardware implementation from D-Link is expected toward the end of the year.
All you need is UPnP?
Colin Crawford, marketing manager for the UK radio manufacturer Pure takes the same view. Pure uses the core UPnP technology to allow its internet-connected radios to play music customers already have stored on their network.
"As far as DLNA's concerned," he says, "we don't see quite enough value for us to be spending what is a fair amount of money annually." To sign up with DLNA, companies like Humax and Pure would be expected to pay an annual membership fee of around $10,000. That's a lot just to formally state you support technology that you already do.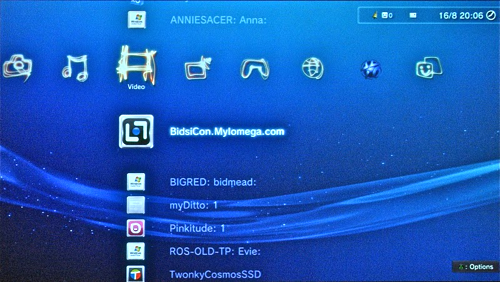 Sony's PS3 is an excellent, if quirky DLNA client. The Pinkitude server seen here is tuned to work with consoles - with the result that it doesn't work with any of the other DLNA devices on my LAN
To be DLNA certified, a product is tested to show that it meets the defined standards. But there's no requirement to demonstrate that your DLNA-compliant devices actually work together with anyone else's. Practical tests of this kind are left to the informal DNLA "plugfests" the Alliance hosts around the globe at regular intervals.
So this leaves DLNA in a curious place. With the exception of Apple, a notable non-member with its own quite different home networking technology, large manufacturers endorse DLNA, build it into their products, but often don't mention it, or put it out under their own proprietary name - a marketing ploy that seems intended to encourage brand loyalty rather than offering hope for interoperation between brands.
DLNA: A developer's view
Open source coder Benjamin Zores, who has worked extensively with UPnP and DLNA, sees DLNA as an attempt by a consortium of industry heavy-hitters to "harden" the geeky flexibility of UPnP AV, mostly by imposing severe restrictions on the formats it will handle, to the extent that "99 per cent of video files are not DLNA compliant".
This explains the dreaded error messages that DLNA users seem to see too often: "Unsupported Format" and, worse still, "Data is Corrupted" - which it almost always isn't. In summary, says Zores: "DLNA is truly broken by design".
Interoperability issues
As some Iomega customers found a year or so back, the DLNA compliance of their new network storage devices didn't ensure that the movies they placed on them would play back on their DLNA-compliant Sony TVs.
Nidhish Parikh, newly elected chair of the DLNA, whose day-job is head of personal media at Nokia, admits that DLNA is still work in progress. "We've done a lot, but there's a long way to go... We're being very responsible and deliberate in what we're trying to do here."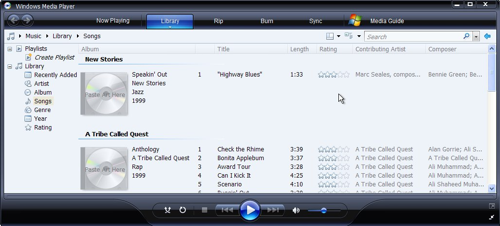 DLNA is a standard feature of Windows 7. Older versions can be brought up to speed by installing Media Player 11
Evidence of this "deliberation" emerges from the Alliance's approach to mobile data. Twenty-first Century lives are no longer centered around the living room, so media servers like the Pogoplug - none of them DLNA-certified, incidentally - offer streaming to mobiles and other devices across the internet.
The Alliance has just this sort of wide area network functionality in its telescopic sights, but is waiting for the general deployment of IPv6. But as Jed Putterman, of Pogoplug developer Cloud Engines, reminds us: "Even the beginnings of IPv6 acceptance will be years away."
But what can you expect from an organisation founded in 2003 but which in 2010 still can't guarantee member A's products will work with member B's? The Alliance finally announced this year that it will put in place a system to certify DLNA-capable software, but it has yet to reveal any details about the scheme.
Confined for now within the home network, DLNA offers consumers a generalised assurance of multi-media interoperability. But the fine details of what it actually does - and doesn't do - lie behind paywalls on the DLNA Web site. And because the Alliance doesn't offer any central help desk, when your cross-manufacturer connections fail, there's no single point of redress - which, of course, may be one of the reasons DLNA goes out into the marketplace under various brand disguises. ®
How DLNA stacks up
Device Discovery
The network layer is based on IP, either wired or wireless, and compatible devices discover each other using SSDP (Simple Service discovery Protocol), a fundamental of UPnP. This allows devices to reveal their names to one another, along with information about the functions they are capable of performing.
Content Discovery
UPnP is used between the connected devices to establish lists of the multimedia files available based on their associated metadata. DLNA guidelines dictate the mandatory formats - which include MPEG 2 and AVC/H.264 for video, PCM and AAC for audio, and JPG for pictures. Other formats - MP3 and Flac, for instance - are optional and may not necessarily be accepted by some DLNA-compliant devices.
Content Transfer
The devices exchange "media format profile IDs" to reach agreement about which files can be served and played. Content that passes the test is piped through the Web protocol HTTP. Premium content may be tagged using DTCP-IP "link protection" to ensure copyright material stays within defined bounds.