Original URL: http://www.theregister.co.uk/2010/10/12/games_review_enslaved_odyssey/
Enslaved: Odyssey to the West
Monkey Tragic
Posted in Personal Tech, 12th October 2010 14:18 GMT
Review The central story of Enslaved: Odyssey to the West is one accustomed to poetic licence and dilution. The original 16th Century Chinese novel Journey to the West was itself an amalgamation of supernatural fables based loosely on a 7th Century Buddhist monk's pilgrimage to India.
Centuries later, in 1942, a heavily abridged English translation popularised the story as Monkey: A Folk Tale of China. But, of course, the fabled journey of Tripiktaka, Monkey, Pigsy and Sandy became familiar to us less scholarly mortals through the cult 1970s TV series Monkey – perhaps the most contentious treatment of all as a Japanese production with an all-Japanese cast.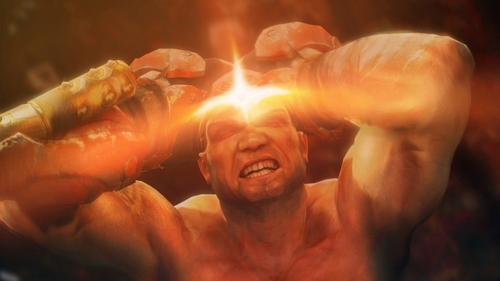 It's hard to see the light
It seems perfectly natural, then, that the first videogame translation takes place 150 years in the future, amid the post-apocalyptic wastelands of the United States. Fleeing their mysterious enslavers, Trip finds Monkey wearing that famous subjugating headband, and with it forces him into helping her - her quest now one of freedom rather than enlightenment; her enslavement of Monkey born of selfishness rather than divine providence.
A beautiful blanket of vegetation camouflages a perilous continent populated with battle-ready mechs from a long-forgotten war. Trip's genius hacking skills can't alone combat the horde of mechs, whose primary function remains the extermination of all humans, and so enslaves the brutish, brawny loner, promising to set him free once safely home.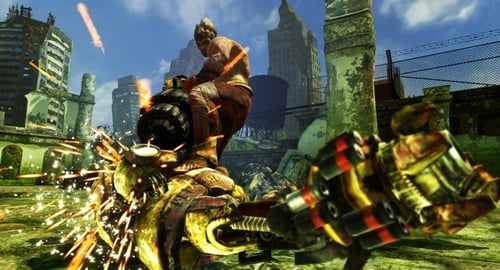 You know the drill
Thus begins Enslaved's ten-hour long buddy adventure. Part written by Alex The Beach Garland, and directed and starring Andy 'Gollum, Ian Dury' Serkis, it's clear from the outset that Enslaved's ambitions lie in furthering the storytelling capabilities of videogames. But while Serkis produces one of gaming's finest performances as Monkey, the collaboration between Garland and developer Ninja Theory proves far less successful in realising its ambitions.
Naff narrative
Enslaved 's narrative is as desolate as its wastelands. Characterisation relies entirely on the excellent voice acting, and not in any memorable or revealing dialogue. And the narrative constantly falls into the trap of telling rather than showing.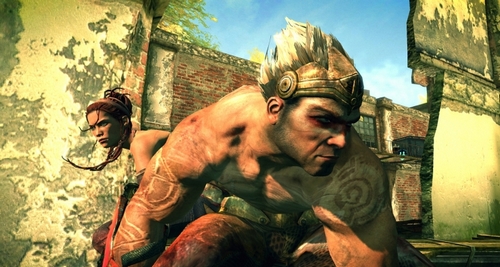 Crossing the road never looked straightforward
Monkey and Trip's relationship marks the narrative highlight, evoking genuine emotion as forced co-operation blossoms into affection and, ultimately, love. But neither character is sufficiently fleshed out, and neither feels like it has a credible back-story.
The introduction of Pigsy during the game's second half promises to inject some much needed humour. But the greasy, wisecrackling pig is laughable. And by that I don't mean funny. Pigsy's sex addiction in the ancient Chinese story is transposed into mechanophilia, which results in some puerile, cringe-worthy jokes, which neither enliven nor enrich the narrative.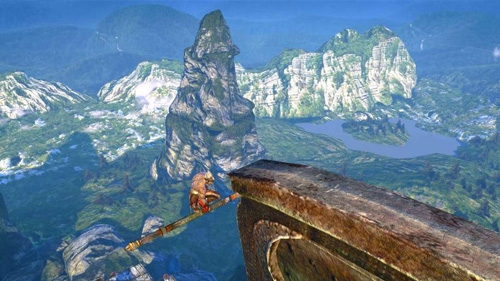 Higher viewpoints than Assassins Creed
The story also suffers from severe amnesia at times, especially in its denouement, leaving players scratching their heads wondering how they got there and where it was they're were supposed to be heading to.
Carpal Tunnel Syndrome
Of course, poor narrative never hindered a great game. But Enslaved is not even a good one. It's focus on narrative tries to disguise some truly lacklustre gameplay, the only memorable sections of which bookend the game's insipid and repetitive bulk with set-pieces ripped wholesale from Uncharted 2 and Lost Planet 2, respectively.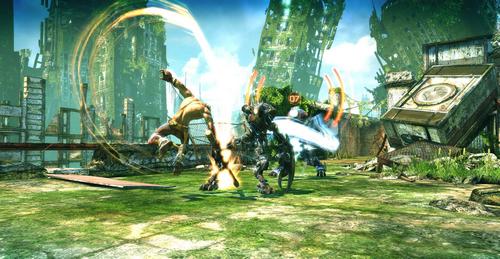 Round-a-bout
Combat skills are divided into three disciplines. Stealth involves a simple circumnavigation of turrets, in which Trip can be used to activate a decoy, drawing their fire. Distance shooting involves blasting static mechs at range, where non-existent AI reduces gameplay to a Turkey Shoot. But the absolute worst mechanic – and unfortunately most widely employed – is melee, where Monkey's staff is limited to just a couple of combos which, after ten hours of gameplay, I affectionately nicknamed Repetitive Strain Injury and Carpal Tunnel Syndrome.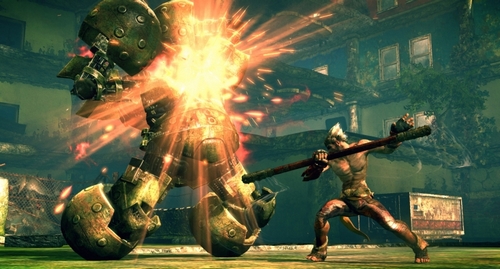 I wouldn't touch him with a ten foot pole... on second thoughts...
When not fighting ennui, sorry mechs, progress is a simple case of climbing and jumping around flashing breadcrumb trails of platforms and pipes and poles. Rudimentary co-op mechanics, in which you throw Trip across wide gaps, or lift heavy objects for her to crawl under fail to alleviate the drudgery, as do occasional, simplistic puzzles. And racing sections, where Monkey speeds around on his cloud, although entertaining, appear all-too-infrequently to break the monotony.
Rushed to market
Worse still, the game's most memorable sections are often completely unplayable. In the same way narrative tells rather than shows, cutscenes often replace gameplay, as Monkey rides on the roof of a van, careering and bouncing through gunfire, or as Pigsy drives a gigantic mech into battle.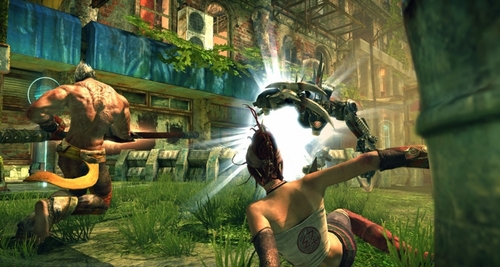 Lightly does it
Even the often drop-dead gorgeous visuals fail to save Enslaved. The epic grandeur of the post-apocalyptic wasteland has a unique vibrancy, courtesy of the primary colours of its cartoon-esque palette, made especially beautiful by the foliage grown over the traces of man. But the PS3 version is plagued with a woeful frame-rate and during both play and cutscenes, and horrendous screen tearing and anti-aliasing, which would suggest the PS3 version was rushed to market.
Verdict
As an exercise in pushing storytelling within videogames, Enslaved merely highlights just how much the medium still needs to mature. The voice acting deserves critical acclaim, Andy Serkis in particular proving videogames deserve greater consideration than most non-gaming critics presently afford it.
Had Enslaved achieved its ambitions, instead of failing to match even the current best exponents, it would still have been in vain, thanks to its utterly uninspired and banal gameplay. ®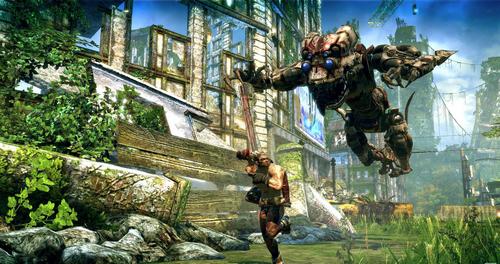 The frog-like hovercraft croak down and had to be toad
More Games Reviews

Castlevania:
Lord of Shadows
F1 2010
Dead Rising 2
RUSE