Original URL: http://www.theregister.co.uk/2010/09/06/review_laptop_hp_pavilion_dv6/
HP Pavilion dv6-3085ea 15.6in notebook
Family favourite?
Posted in Personal Tech, 6th September 2010 07:01 GMT
Review Those who want their notebook PCs to play music and video while managing a burgeoning digital image collection should cast an eye at the HP Pavilion dv6-3085ea. It's an attractively slim computer with a design outline that's generally reminiscent of Apple's MacBook Pro. The clamshell even stays closed thanks to Apple-style magnets, instead of a conventional sliding catch.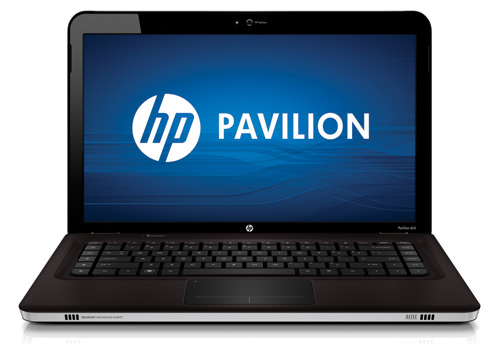 HP's Pavilion dv6: bright and clear at the right angle, the LED display appears dark at the slightest tilt
The outer surface is pointlessly textured in accordance with the current fashion. I confidently predict that in a few years we'll look back at this fad with some embarrassment. Today's modish texturing is tomorrow's Artex.
Opening the lid reveals a big, shiny 15.6in display that makes use of technology HP refers to as 'High-Definition LED BrightView'. It produces superb on-screen quality if you adjust the angle just right and refrain from moving your head too much. However, the subjective visual brightness and contrast changes radically if you tilt the display the slightest angle off that sweet spot.
Because of the way the display hinges over the rear edge of the notebook, all connectivity ports are located on the left and right-hand edges, with the stereo speakers built into the front. In addition to four USB ports (one of which doubles up as an eSATA port) and Gigabit Ethernet, HP wins our high-five award for including an HDMI port. However, if you need to attach a legacy VGA device or a DVI cable, you'll need to buy an HDMI adapter.
The optical drive is a tray-loading CD and DVD rewritable device with LightScribe capability. So having burnt your photos, movies and music to a LightScribe disc, you can flip it over and etch the label into the top surface.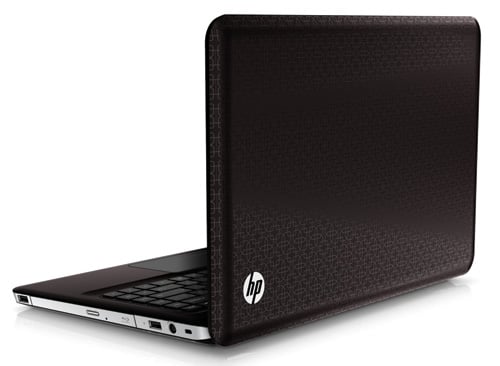 Textured surfaces on notebooks is a consumer fad that HP is happy to indulge
Talking of storage, the HP Pavilion dv6-3085ea is fitted with a 7200rpm 500GB hard drive. This is a respectable capacity for a notebook that could end up being stuffed with holiday pics, audio and home video. HP has also built in a multi-format camera card reader – an essential inclusion for a media-friendly computer.
Life is suite
The 92-key keyboard is pleasant to use with shallow action on the keys, and you can switch on a glowing keyboard backlight when playing around in the dark. A set of dedicated keys down the left give you one-tap access to your e-mail program, your web browser, HP MediaSmart, the current program's Print dialogue window, and a calculator.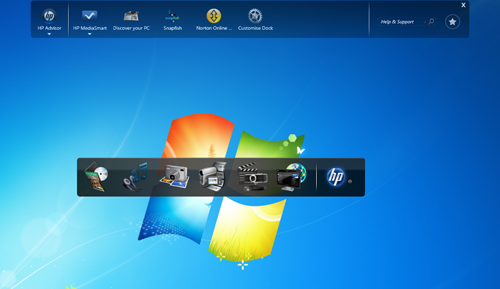 HP MediaSmart Suite pops up big friendly icons for accessing media files and devices
If the latter seems incongruous next to the others, you'll find the way it self-launches in 100 separate windows even more bizarre. Leave the calculator key well alone, I say.
The large trackpad in front of the keyboard supports a small variety of multi-touch gestures but don't expect more than a flip and a scroll. You can tap anywhere on the trackpad to make a selection or double-tap to launch. To do anything more complex, such as click and drag, you will need to press down on the denoted left- and right-click areas and drag another finger across the main area of the trackpad.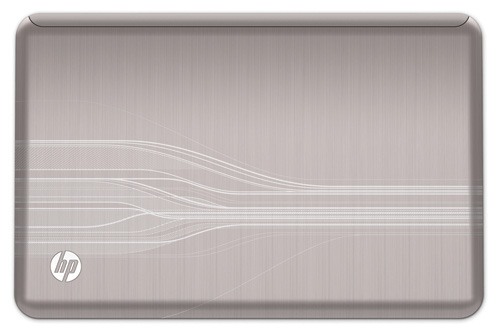 The notebook, as tested, is currently supplied in a metal finish only.
To the right of the trackpad is a built-in, swipe-action fingerprint reader, a device not found on the other Pavilion dv6 models. You can record any or all of your fingerprints on either hand and use them for additional PC security. For example, you could protect your Windows account with an impossibly complex passphrase that you'll never have to type in because you can log in with a simple swish of your finger.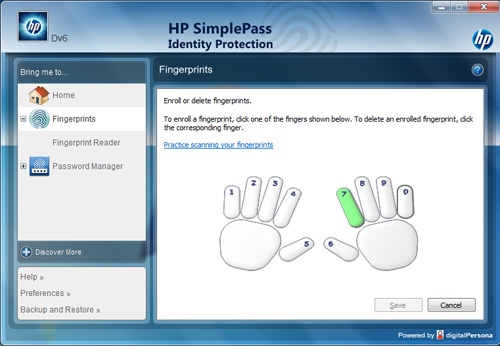 Log in to your Windows user account with a swipe of a finger instead of a password
I'm no security expert but the fingerprint reader appeared to work a treat. I tried lots of silly ways of trying to circumvent the system but couldn't fool it. Nor did it ever misread my fingers, even when they got er... a little greasy in the gentle warmth of the summer.
Pointing the finger
I'm just wondering why a notebook that is so clearly intended for use as a leisure and entertainment PC should include a fingerprint reader at all. The HP Pavilion dv6-3085ea has a £200 premium over the price of the other Pavilion dv6 models: surely it can't be down to this fingerprint lark, can it?
Benchmark Tests
PCMark Vantage Results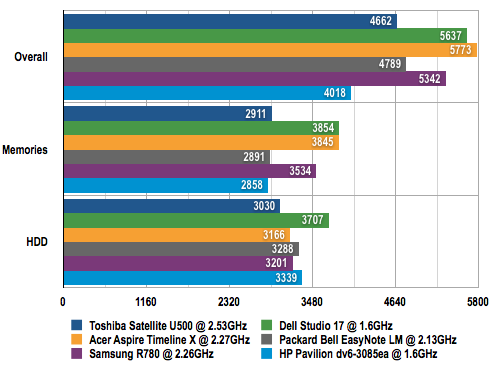 Longer bars are better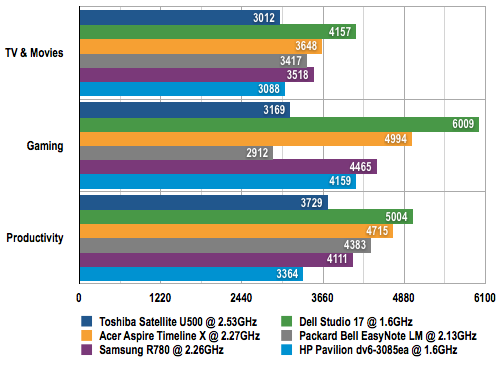 Longer bars are better
Despite this, the most striking feature of this notebook, as far as I'm concerned, is HP QuickWeb. This is a mini HP operating system that kicks in within a few seconds of the unit being switched on, with a graphical interface that provides access to your photos, videos and music. It even lets you check your e-mail, browse the web, start an online chat or run Skype. All of this happens without having to wait for Windows 7 to launch.
Battery Life Results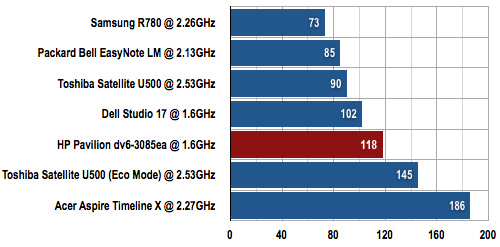 Battery life in minutes
Longer bars are better
Hang on, HP QuickWeb doesn't ask me for a login. That means it circumvents my PC login AND fingerprint check in one go. Oh brilliant, I'm so glad I spent that extra £200 on security. Still, I'm rather fond of this feature. It's not exactly 'instant-on' but comes pretty damn close. Oddly enough, though, you'll have to run Windows if you want to watch a DVD.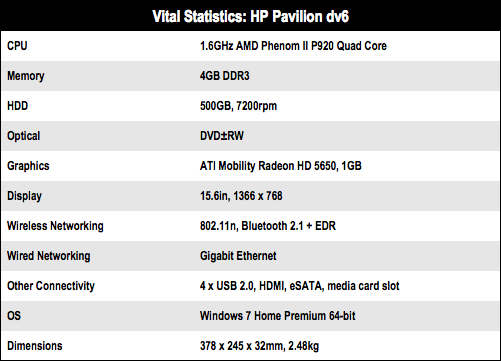 Brickbats
The results of the performance tests are not so impressive, indicating a capable computer but certainly no powerhouse. I also ran a blatantly unfair battery test, in which I ran the intensive PC Mark Vantage benchmark continuously in a loop until the battery ran out: it lasted two minutes short of two hours. But then, media playback is power-hungry, and this is exactly what this notebook was designed to do.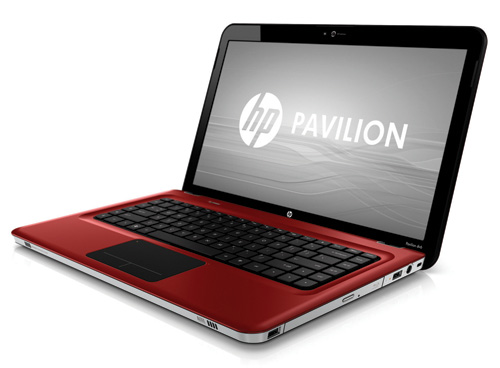 Cheaper dv6 models, minus fingerprint reader, are available in cherry black, pearl white and a fetching red
On that note, the HP Pavilion dv6-3085ea consumed an average of 38 to 50W in normal use or while charging from the mains, dropping to 10W in Hibernate mode. Disappointingly, the transformer block in the mains cable is an old-fashioned dead-rat-cum-house-brick. Some miniaturisation is in order, HP, please.
Verdict
The fingerprint security seems out of place, especially since HP's own 'instant-on' operating system appears to circumvent it anyway. Given its pointlessness, the overall effect is to make the notebook more expensive than it needed to be. Even so, playing with media files is the principal past-time of vast numbers of domestic computer users, and everyone would secretly prefer a notebook over a desktop computer, so I can see a ready and willing market for the HP Pavilion dv6-3085ea. ®
More Notebook Reviews

Apple
MacBook Pro
15in
Toshiba
Satellite
U500-1EX
Samsung
R580
Dell
Latitude
XT2 XFR