Original URL: http://www.theregister.co.uk/2010/08/25/ten_essential_wireless_headphones/
Ten... Wireless Headphones
Wired for sound? Not any more!
Posted in Personal Tech, 25th August 2010 07:02 GMT
Product Round-up The last batch of stereo Bluetooth headphones I looked at, back in 2008, were something of a mixed bag, with some cumbersome designs and very variable audio quality. Fortunately, the current generation provides much better stereo quality, and we'd happily recommend any of them as an alternative to a conventional set of wired headphones.
One word of warning for Apple fans: the iPod/iPhone/iPad don't support the Bluetooth AVRCP protocol, so while you can adjust the volume directly from the headphones you need to use your mobile device's own controls to select tracks rather than controlling playback from the headphones themselves.

Jabra Clipper
Jabra's slimline Halo headphones are a good choice for lounging around at home, but if you're out and about with your Bluetooth mobile then the new Clipper is a more practical choice. The Clipper is a sturdy metal-and-plastic Bluetooth adaptor that clips onto your clothes while you walk around or pound the treadmill at the gym. The little in-ear phones supplied with it provide decent stereo sound for listening to music, and there's also a built-in microphone for making calls. Shop around and you can pick it up for as little as £30.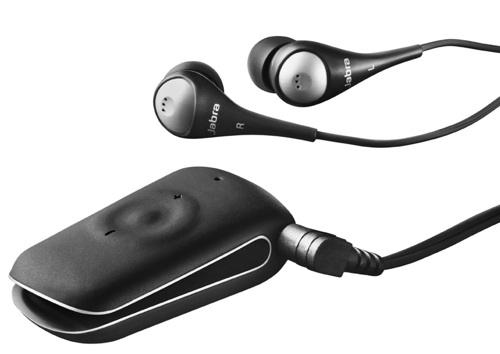 Reg Rating 80%
Price £45
More Info Jabra

JayBird SportBand 2
The JayBird SB2 didn't make a great first impression. The promotional pics of a bosomy blonde in a sports bra are decidedly naff, and the luridly-coloured plastic headband looked just plain rubbish. However, the SB2 proved me wrong. The headband turns out to be both robust and flexible, and well suited to wearing when you're out doing sporty stuff. The sound's very good too, producing a warm, textured tone that rivals some of the more expensive models reviewed here. It also supports the Apt-x codec for even better sound quality – although you'll have to fork out an extra £30 for a separate dongle if your handset doesn't already support Apt-x.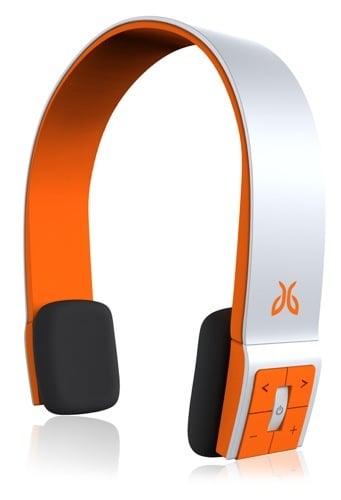 Motorola Motorokr S9 HD
Reg Hardware reviewed the original S9 in its last Bluetooth headphones round-up a couple of years ago, but the current version has gained an 'HD' suffix to suggest that the sound quality has been improved. The S9 HD does indeed produce a punchier sound than its predecessor, with more pronounced bass and slightly higher maximum volume than some of the other headphones in this group. The higher frequencies could be a little more clearly defined, but the lightweight S9 HD is a good choice if you need some loud noise to get you motivated during a workout. It's good value too, as it includes a separate Bluetooth adaptor for iPods that don't have Bluetooth built-in.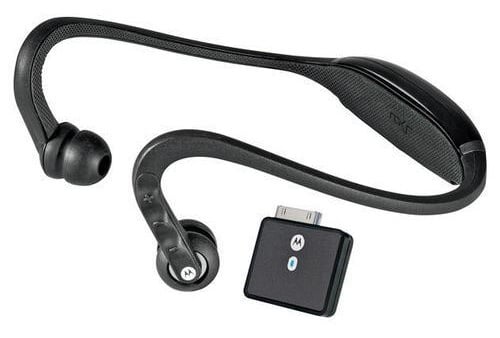 Reg Rating 80%
Price £90
More Info Motorola

Nokia BH-905
It took two or three attempts to successfully pair the BH-905 with my iPhone, as the button-pressing sequence wasn't clearly described in the manual, but once that was done the headphones performed admirably. The stereo sound is rich and detailed, and really punches out the bass on Kylie's Can't Get You out of my Head. The £199 price tag is a bit hefty, but the BH-905 also includes an effective noise-cancelling feature that is obviously aimed at the well-heeled business traveler. There's a padded travelling case too, along with a selection of adaptors for using the headphones on planes or with ordinary wired music devices too.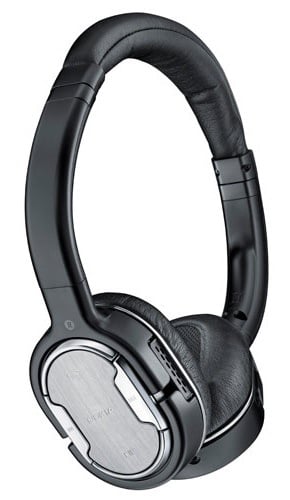 Reg Rating 80%
Price £199
More Info Nokia

Opera S5+
Opera's S5+ headphones use the Kleer wireless technology rather than Bluetooth. They also include a dongle that plugs into the dock connector on an iPhone, iPad or iPod. The results are impressive – if only for the sheer volume, which far outguns any of the Bluetooth headphones in this group. The audio quality is good too – it's a more solid and robust sound than I've heard from most Bluetooth headphones. The only minor problem was that I found it necessary to jam the fiddly little earbuds quite tightly into my ears, or else the lower frequencies would lose strength.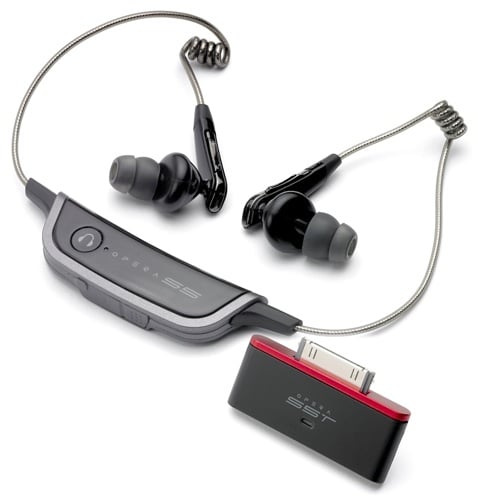 Reg Rating 85%
Price £85
More Info DIP

Plantronics Backbeat 903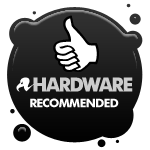 Getting the Backbeat's rubbery earpieces successfully hooked over your ears and plugged in is a bit of a struggle, but they do work well and their light, portable design is suitable both for sporting activities and for simply jamming into your pocket when you're travelling. The audio quality is very good, with a rich full sound and plenty of detail, and there's a bass boost option to give things an extra kick as well. There's a decent size microphone for phone calls, and you can also fork out another £20 for the Backbeat 906 model, which includes a Bluetooth dongle that will work with any device that has a standard audio jack.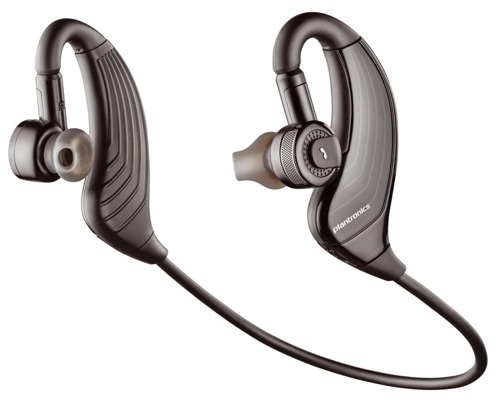 Samsung SBH650
The SBH650 is another clip-on adaptor that you can attach to your clothes when you're walking around. It's got a microphone so that you can take calls, but the mike is pretty small and the manual makes it clear that you need to keep it quite close to your mouth when you're talking. The headphones aren't the best quality either, as the stereo sound is rather lacking in detail. However, the adaptor uses a standard audio connector so you can use any other headphones that you already own, and with online prices around the £30-35 mark this is an affordable option for getting stereo Bluetooth on the move.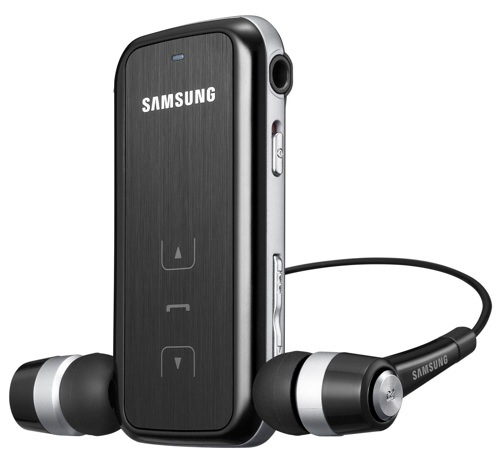 Reg Rating 80%
Price £35
More Info Samsung

Scosche tuneStream HZ5
Scoshe and JayBird obviously source their kit from the same place, as the design of the tuneStream and JayBird headphones are almost identical – right down to the flexible plastic headband and even the shape and layout of the various control buttons. However, the tuneStream may appeal to a different audience as its matte-black finish is a lot more subdued and businesslike than the garishly coloured JayBird. The sound quality is just as good, producing a nice full sound and healthy volume level. Scosche has a slight edge on price, though, as the tuneStream is about £10 cheaper than the JayBird when you look around online.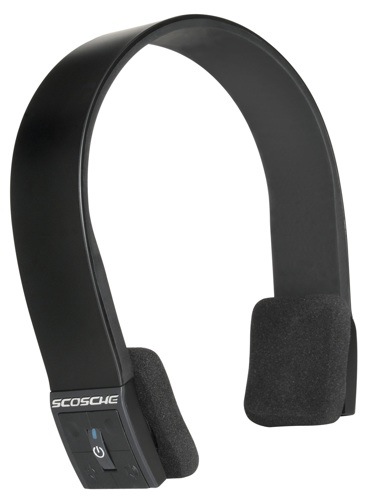 Reg Rating 85%
Price £90
More Info Scosche

Sennheiser PX 210 BT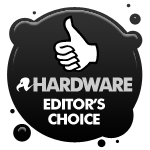 Sennheiser is hedging its bets in the wireless market, as it makes separate ranges of headphones that use both Bluetooth and the rival Kleer wireless technology as well. Its RS 160 Kleer headphones - reviewed here - aren't very portable, though, and I prefer the more compact PX 210 BT instead. These Bluetooth headphones have comfortable padded earpieces that are good for long journeys, and they produce a warm, textured sound that captures plenty of detail in complex harmonies. They're a bit expensive, though, and the maximum volume level is relatively limited so they're probably more suited to gentler classical or acoustic sounds than urban beats or rock music.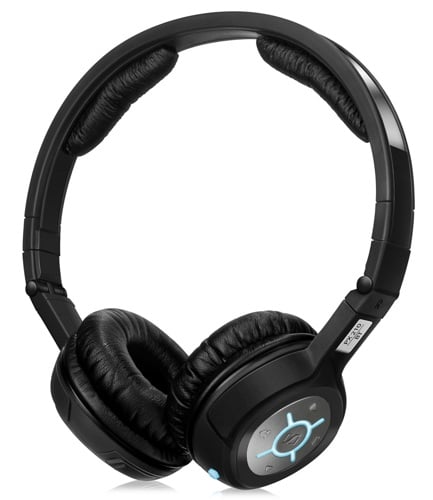 Sony Ericsson MW600
Like Jabra's Clipper, the MW600 consists of a small Bluetooth adaptor that you can clip on to your clothes, along with a standard set of wired earphones that you plug into the adaptor. The tinny little earphones included with the MW600 aren't much cop but you can plug in any other set of headphones that you own – I used the Sennheiser CX300 and got very satisfactory audio quality. The MW600 also has a built-in FM radio, and some neat touches such as a small OLED status screen and touch-sensitive volume control. But, like many of these Bluetooth devices, it could use a little more raw volume.