Original URL: http://www.theregister.co.uk/2010/08/02/review_graphics_tablet_display_wacom_cintiq_21ux/
Wacom Cintiq 21UX interactive pen display
Designer on-screen drawing tablet
Posted in Personal Tech, 2nd August 2010 12:25 GMT
Review Wacom may be best known for its standalone, pressure-sensitive tablets, but its current flagship product is a 21-inch LCD monitor, but with a difference. The whole screen of the Cintiq 21UX is one enormous graphics tablet that you can draw on directly.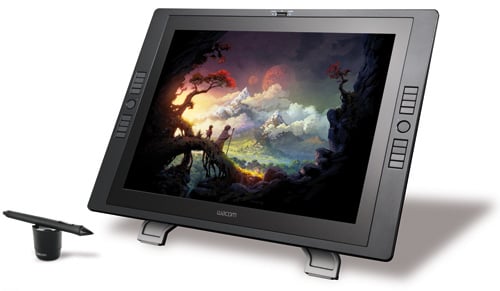 Drawing board: Wacom's Cintiq 21UX
In essence, the Cintiq 21UX eliminates the need to master a tablet as a separate piece of kit – where you would look in one place while drawing in another ¬¬– enabling you to work on an image without anything getting in your way. Curiously, the screen has a 4:3 aspect ratio, rather than widescreen, which initially feels like a backward step. After years of widescreen displays, I have to admit I found this display areas uncomfortably narrow.
The tablet comes with a sturdy multi-position mount. You can place it at any angle from virtually vertical to almost flat and rotate the screen to any position. The Cintiq's versatile positioning helps to address the main problem with drawing directly on-screen, namely, the artist's hand obscures the image. By contrast, with a conventional tablet to the side of the monitor, it's possible always to see the entire image without impediment.
Raising the Cintiq 21UX up on a stand also means a keyboard can be placed beneath and in front of it, giving access to all the shortcuts and modifier keys essential for designers. This was a major problem with earlier Cintiq devices, and again it has been neatly overcome. It's also just about possible to remove the tablet from the stand and hold it in a lap, although it's such a heavy device that few would find this comfortable for long.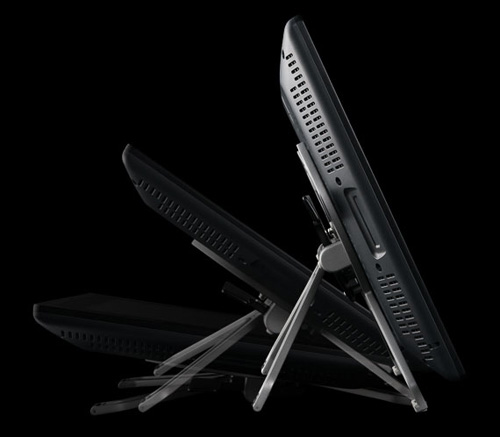 Can be positioned to suit most drawing preferences
Eight Express keys on either side of the tablet's edge can be customised to perform any function you choose, from triggering Photoshop Actions to holding modifier keys. Modifiers are essential to in applications such as Photoshop; to constrain selections, pop up contextual menus and to modify tool behaviour. Having these located on the tablet border is a good idea in principle, but there are a couple of problems.
First, it's tricky to hold more than one key at a time. Although I could press adjacent keys with my thumb, pressing a discontiguous selection involves using two or three fingers – a clumsy option. The real problem, though, is remembering what all the keys are supposed to do, or even where they're located.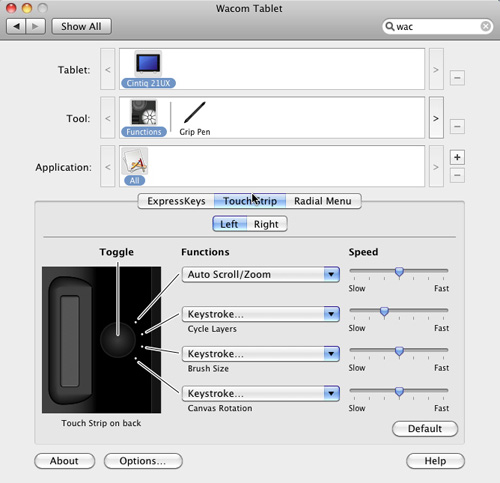 The rear-mounted Touch Strip can have up to four functions with adjustable sensitivity on each
The screen is so crisp and bright that the black keys, mounted on a wide black bezel, are almost invisible. The obvious solution would have been to make the keys a different colour to spot them more easily. A far better solution would have been to integrate the illuminated OLED keys seen on Wacom's Intuos range of tablets, which not only light up, but display the function of the key using either words or custom icons.
The Touch Strip is located on the back of the Cintiq, one on either side, thoughtfully located to be easy to scroll with the fingers. You can set this strip to perform one of four functions, such as scrolling, zooming, cycling through layers, changing brush size, and so on.
A circular button on the front of the panel allows you to choose which of these you wish to use at any time, and a bright white light next to the button gives a visual clue to which is currently selected. Again, there's a problem here: the position of the light relative to the button hints at its purpose, but when I can't even see the button clearly, it's hard to tell the precise location of the light.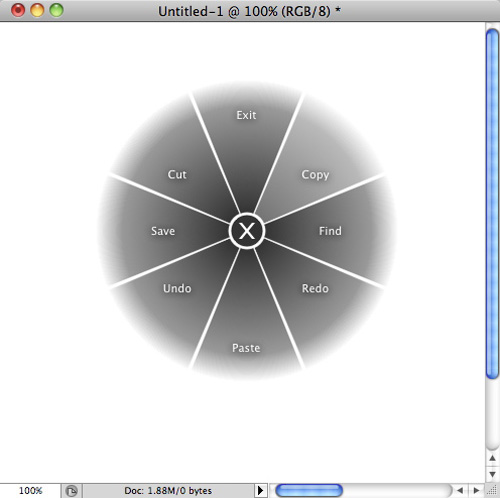 The innovative Radial Menu can be setup with multiple submenus to trigger a range of tasks
You can configure the Express Keys to pop up Wacom's innovative Radial Menu, first introduced a couple of years ago. This presents a virtual menu divided into eight segments, each of which can be user-defined to perform a specific task – switching to an email client, copying a selection, and so on. Furthermore, you can also make each segment trigger a new Radial Menu, and this is where the real power comes in.
If I set a segment to, say 'Filters', then clicking this will pop up a new Radial Menu where you can set your eight most-often used filters. Or you could take it even further, by setting a filter category rather than a single filter, which will then pop up a third Radial Menu containing filters from just that category.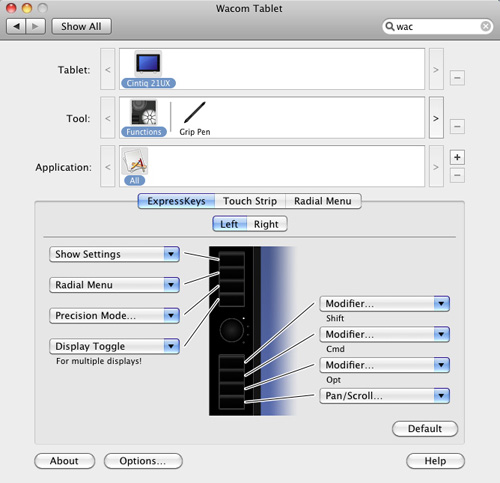 Different functions can be set for each set of Express Keys, mounted on both sides of the tablet
Using the Radial Menus isn't quite as straightforward as it sounds, though, since the Cintiq's preferences don't have access to application menus directly: they can only trigger basic commands, and further settings have to be achieved through simulating keystrokes. In Photoshop, this means you'll have to set up custom keystrokes to trigger each filter you want to use, remember the strokes, and then copy them into the Cintiq's control panel.
The mapping of the stylus to the screen is clean and precise, with none of the juddering at the corners that plagued some earlier Cintiq models – and it's possible to recalibrate the alignment through a simple two-step process. For detailed work, you can set one of the Express Keys to enter Precision Mode, so the full monitor area is used to operate on just a quarter of the screen size. This takes some getting used to, but it's a good solution when precision is paramount.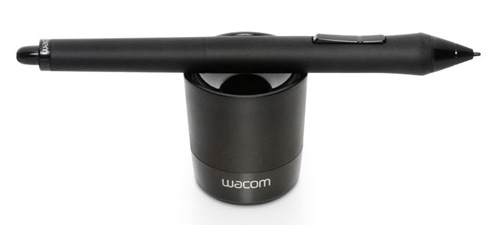 The new Grip Pen
The Cintiq 21UX comes with a new Grip Pen that features 2048 levels of pressure sensitivity, rotation sensitivity – particularly good for manipulating 3D models – and a set of spare tips. A recess in the back of the tablet is intended to hold multiple pens for easy access, but a design flaw here means that it can't be used at any but the steepest monitor angle, and even then it's too small to prevent the pens from falling out.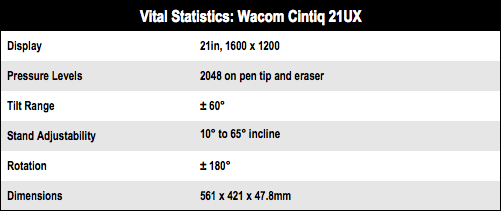 As a general display for web browsing, e-mail or text-based tasks, using a pen to navigate feels more awkward than beneficial. A standard mouse, of course, is the simple solution here, and I found that using a mouse as well helped the process. It makes most sense to use the Cintiq as a second monitor, reserved purely for illustration work.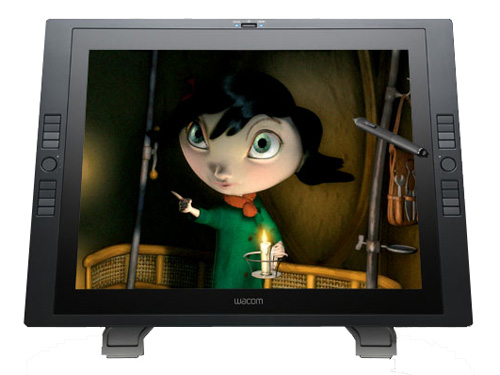 Pricey, but could well suit old-school artists moving into the digital domain
Indeed, this might be the best way to go, as seasoned Wacom users will be aware, the surface of a traditional tablet soon gets scratched with repeated pen use. I haven't used the Cintiq for long enough to know if this will be the case here, but having a plastic, rather than a glass surface – no doubt necessary for pressure sensitivity – suggests that scratching may well take place, which, on a tablet of this size, would entail an expensive repair.
Verdict
Wacom could have made the tablet vastly more appealing by the inclusion of the OLED buttons used in lower-end tablets, and it's surprising that it chose not to do this on its flagship product. I've been asking for a pop-up virtual keyboard since the Cintiq first appeared, which would obviate the need for a nearby keyboard for many tasks but, alas, this has yet to make an appearance.
While it may be the ideal solution for traditional painters moving to a digital medium, as a designer used to a standard pen/monitor combination I found that the huge travelling distances I now have to make simply results in tired arms; there's also the perennial problem that my hand, inevitably, gets in the way of the design. At £1800, the Cintiq 21UX is a considerable investment, and you'll have to decide for yourself whether this way of working is worth the outlay. ®
More Tablet Reviews...

Apple iPad
3G 32GB
Acer
Aspire
1825PT
Dell
Latitude
XT2 XFR
Wacom
Intuos4 L