Original URL: http://www.theregister.co.uk/2010/07/07/review_media_player_cowon_j3/
Cowon iAudio J3 personal media player
A great PMP, remixed
Posted in Personal Tech, 7th July 2010 07:02 GMT
Review When Cowon's iAudio S9 media player landed on my desk back at the end of 2008, it made a favourable impression. While it wasn't a multi-function whizz kid like the iPod Touch, its superb screen and excellent sound quality knocked the Apple into a cocked hat.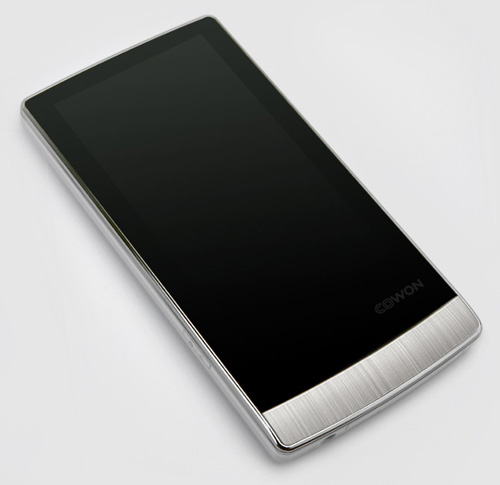 Cowon's iAudio J3: new life for an old PMP
Now Cowon has given the S9 a wash and brush up and re-launched it as the J3.
While I had no criticisms of the size or build quality of the S9, the J3 improves both. Gone is the curved back, replaced by an altogether squarer shape which is as wide and as high as its predecessor but nearly 3mm thinner in the middle.
At 76g, the J3 is heaver than the old player but the brushed metal highlights alone are justification for that, and the J3 feels the more solid product. While the S9 had external controls for volume, track selection and play/pause tucked away at the top, the J3 moves them to the more logical and easier-to-access position on the right side of the device.
The most significant physical improvement is the addition of a Micro SD card slot good for cards of up to 32GB in capacity. And, for the first time in a Cowon player, the built-in storage and the memory card are combined into a unified whole when viewed through the main menu.
The player now supports Vorbis Comments as well as ID3 file tags.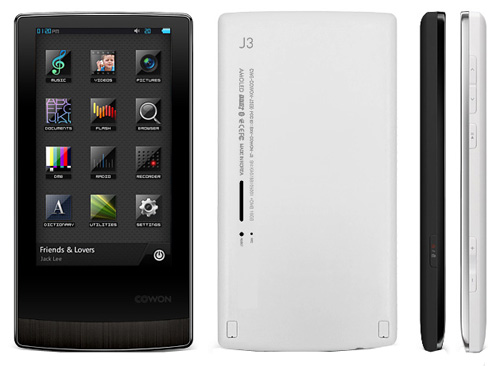 A much better design this time round
To be honest, the S9's Flash-based UI had a few rough edges and though the J3's UI is an improvement, parts of it are still a little crude when compared to an iPod Touch and require some exploration of the user manual to master. That said, the capacitive touchscreen reacts smartly and accurately to taps and swipes, and there are some nice home screen layout options.
According to Cowon, file support has remained unchanged, with MP3, WMA, Flac, Ogg, APE, WAV and Audible audio files along with AVI (Xvid/DivX), WMV and ASF video all catered for, it says. So I was rather surprised when I tried AAC audio and H.264 video files and discovered that they played perfectly too. Why Cowon is keeping this a secret is anyone's guess.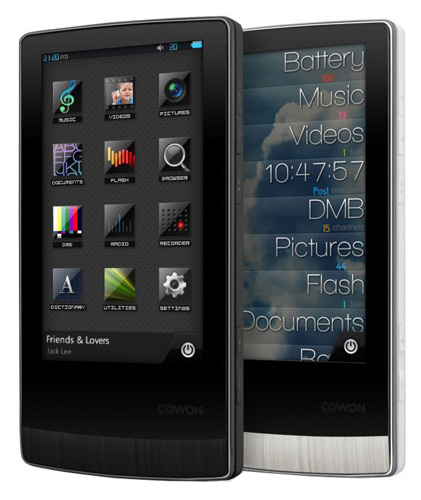 The UI looks good, but what to press and when aren't always clear-cut
Like all Cowon video players, the J3 is tolerant of file resolutions above its native size, in this case up to 640 x 480. It also supports most common subtitle file types - and lets you change their size, colour and sync - and will let you watch your videos in just about any aspect ratio you could wish for.
I'll spare you tales of what video and music files I tested the J3 with, suffice it to say that sound and video quality are both absolutely superb. The 3.3in, 480 x 272, 16m colour OLED screen is an absolute pleasure to look at.
Like the Cowon V5 - reviewed here - the J3 comes with the latest version of Cowon's BBE sound modification suite, which is rapidly becoming my favourite system of its type and caters for every musical taste under the sun. Usefully, the full suite can be accessed directly from both audio and video files.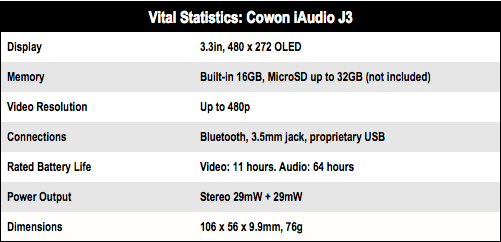 The J3 has most of the other basic PMP bases covered. Playlists can be synched from any MTP media player, or you set up a favourites list on board. You also get stereo Bluetooth, an FM radio, a voice recorder, the option to place multiple bookmarks in both audio and video files, a file browser and DRM support for the likes of BBC's iPlayer.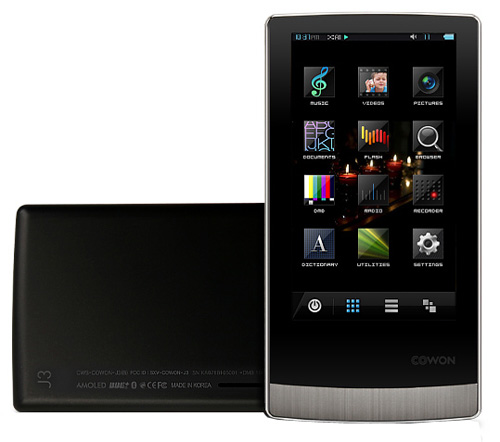 The OLED screen is gorgeous
Of course, Apple can still teach the Koreans a trick or two: the J3 still doesn't support gapless playback.
The longest I managed to get from a full charge of the old S9 was 9 hours 50 minutes of video playback and 45 hours 30 of audio. The J3 trumped both those numbers with 10 hours 30 of video and an impressive 58 hours and 45 minutes of audio.
The 16GB J3 costs £199. Pick up a 16GB Micro SD card for £30 and that makes a 32GB J3 pretty much the exact same price as a 32GB iPod Touch. The Touch does more - internet connectivity, games etc - but the J3 sounds better, is a superior video player and using it doesn't involve fannying about with iTunes, so take your pick.
Verdict
All the core strengths of the Cowon S9 are still in place, including superb sound and excellent video quality, while the addition of a memory expansion slot and improved battery life are very welcome. The wholly unexpected and unheralded appearance of support for H.264 video and AAC audio now makes the J3 one of the best PMPs on the market. ®
Thanks to AdvancedMP3Players for the loan of our review device.
More PMP Reviews

Cowon
iAudio V5
Speedo
Aquabeat
Samsung
YP-R1
Sony Walkman
NWZ-S544