Original URL: http://www.theregister.co.uk/2010/07/01/games_review_tiger_woods_2011/
Tiger Woods PGA Tour 11
On course for more swinging
Posted in Personal Tech, 1st July 2010 14:02 GMT
"Golf is like an 18-year-old girl with big boobs. You know it's wrong, but you can't keep away from her."
Of all the golfing quotes, this one from Val Doonican (of all people) resonates most when considering Tiger Woods PGA Tour 11.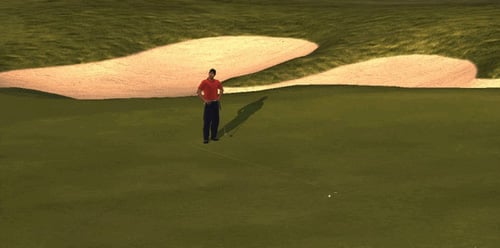 Despite the name, you can't cheat in this game
If you think that's a cheap shot at Tiger you'd be half right. PGA Tou may have graced fewer consoles than Tiger's graced hourly motels, but in returning to purchase this year's version, you won't feel anywhere near as sleazy.
You see, although EA has rightly earned an invidious reputation for perennial tinkering for the sake of tinkering, it also occasionally gets an update right. PGA Tour 11 represents just such an occasion, offering the current generation's finest golfing experience to date.
The first improvement you notice is to golfer progression. Gone are PGA 10's coach drills and stat modifiers, which always felt punitive, as they chipped away at your perfect 12.0 attributes with each poor round.
In their place is a more holistic, system of XP, a currency earned through challenges, tournaments, and even Fairways and Greens in Regulation, with which you can upgrade skill attributes or purchase Pro Shop equipment. By rewarding, albeit modestly, even poor placings in tournaments, the system also ensures an incentive to finish even the most abject rounds.
But the XP system doesn't single-handedly justify PGA 11's purchase. Two other major new features, Focus and True Aim, complete the most positive overhaul to the series in recent times.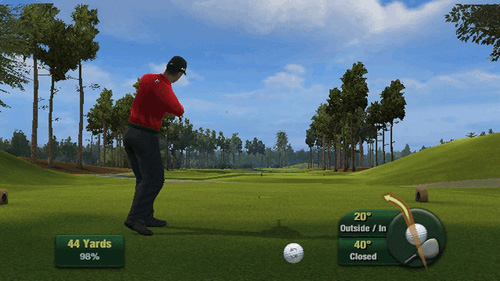 The green was a fairway away
Focus and control..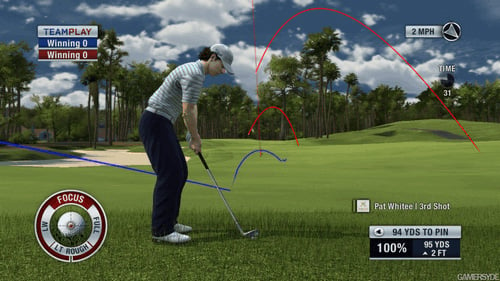 Let's get this down to a tee
Focus is an exhaustible gauge that curtails the use of Power Boost, Spin Control and Putting Line Preview. You begin each tournament with Focus at 100%, but it's depleted with each use of these features, forcing you to ration those extra touches of control.
As in previous entries, Tour Pro mode turns off all three features, greatly increasing the game's difficulty. But outside of Tour Pro, Focus remains a compulsory mechanic, challenging more casual players with its additional, but welcome, layer of tactical play.
True Aim, while not compulsory, is the more radical new feature. When selected, it changes the entire viewpoint to better approximate the true golfing experience. The aiming reticule is removed, and in its place markers indicate distance and elevation. Without so much as a dot to indicate ball placement, you'll have to judge the centre of the view to determine direction, and pay careful attention to your club's carry distance.
If that's not enough, the camera remains steadfastly behind your golfer after you've played the shot. And although the ball's flight is clearly marked by a trail, the limited view severely hampers any spin control adjustments.
It's a good thing, then, that True Aim is optional. The aiming reticule and adjustments have been a feature of the series for so long now, that I imagine for many players, like me, they've become something of a Linus blanket. But for those disillusioned by previous annual updates, the mode promises to freshen the experience considerably.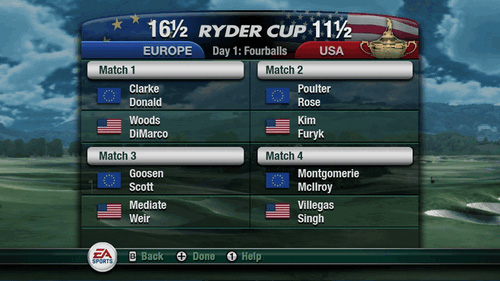 Who's driving in the Ryder?
Freshen up the graphics..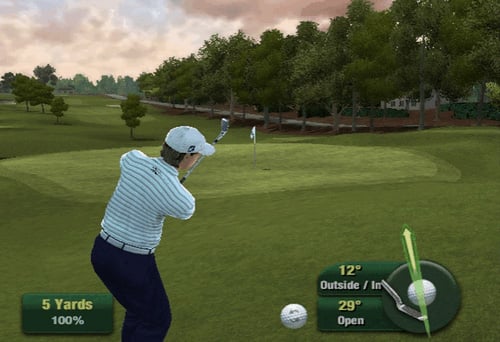 Chip and in
Unfortunately, little has been done to freshen up the game's graphics. Always adequate, the series has never troubled current hardware, and this iteration is no different.
That said, it's nice to finally see clouds moving and the odd breeze stir up some ripples through your golfer's trousers. But apart from these, a change in menu design, and minor improvements to Game Face, graphics remain unchanged.
As you'd expect, all of the traditional modes are present in both online and offline. But this year they've been joined by the Ryder Cup, which offers 12 vs 12 competitions in all the Cup's formats. It's unlikely you'll be playing it much offline in single-player, where you have to rely on a CPU player for partnered events, but it should prove extremely popular online, where a good old bit of Europe vs U.S.A is bound to get the abuse flowing.
Not to start any conspiracy theories, but on that point, it's surprising to see EA released the game in the States some weeks ago. I'd hate to suggest its early release was based on anything other than marketing budgets, but with the actual Ryder Cup only three months away, European players of PGA 11 will be at a significant disadvantage when first playing online against American opposition.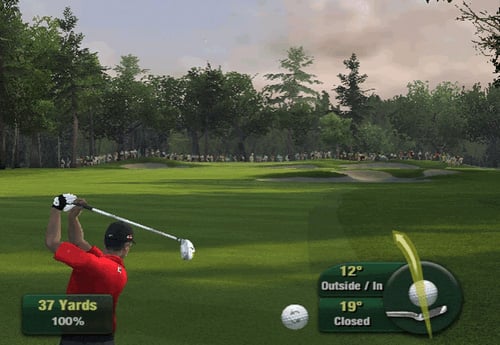 Swing like Tiger
Verdict
Unlike Fifa 2010 World Cup South Africa, EA's latest PGA Tour offers enough new features to warrant recommendation. The new XP and Focus systems should please just about everyone. And while True Aim probably won't, the fact that it's optional prevents it being divisive.
In fact, so good is PGA Tour 11 that, even though I know it's wrong, I'm off to play around with an 18-year old. Sorry, I mean I'm off to play a round of 18 holes.
More Games Reviews

Singularity
Prince of
International
Cricket 2010
Darkstar One:
Broken Alliance
Alpha
Protocol