Original URL: http://www.theregister.co.uk/2010/05/19/review_laptop_dell_xt2_xfr/
Dell Latitude XT2 XFR ruggedised laptop
A tablet to take for the rough and tumble
Posted in Personal Tech, 19th May 2010 12:02 GMT
Review Dell's XT2 tablet PC has been around for just over a year, and now the company has come up with a fully-ruggedised version in the form of the XT2 XFR. Able to withstand drops, freezing temperatures and rain, it's primarily aimed at those who have to cope with something a little more testing than a daily commute on the train.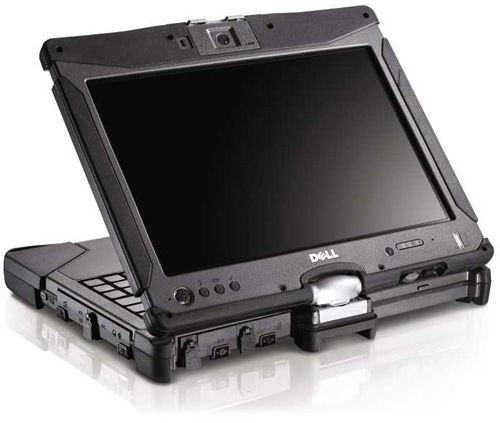 Hard as nails? Dell's fully-ruggedised XT2 XFR
With a sturdy, rubber-edged chassis, the XT2 XFR has much in common with similar ruggedised laptops from the likes of Getac and the Toughbook range from Panasonic. One of the downsides of these designs is that they tend to look almost toy-like, and the XT2 XFR is no different.
All ports round the edge are covered up by small waterproof doors, while a catch at the front securely locks down the lid. At 2.7kg, it's fairly heavy for a tablet, but that's to be expected given its robust nature. On the underside the 42Wh battery is removed by unlocking and releasing two catches – take it out, and a 128GB Samsung SSD is also revealed.
The 12.1in flip-and-twist screen (1280 x 800) is a capacitive multi-touch display, and Dell supplies a stylus that slots neatly into the side of the chassis. Being bright and lacking a glossy coating, the display is also perfectly suited to outdoor use. It welcomes finger prods, but if you whip the stylus out it'll ignore them, so if your palm touches the screen your scribbling won't be interrupted.
Inside, the keyboard is comfortable to type on and Thinkpad fans will appreciate the nipple control sat in the middle. The touchpad seems unnecessarily small, though, and the rubber buttons are awkward to use.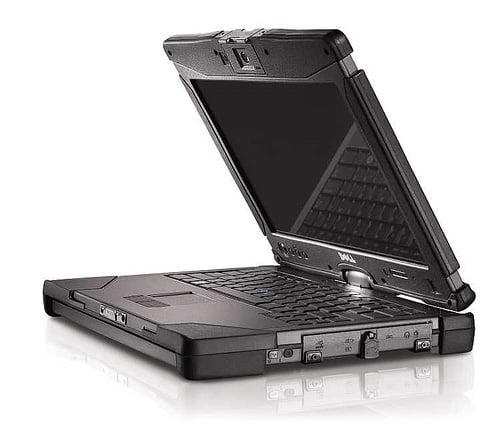 All ports are hidden away behind waterproof doors
The laptop's powered by a 1.6GHz Core 2 Duo SU9600 processor, has 2GB of DDR3 memory to play with and uses Intel's integrated GMA 4500MHD chipset for the graphics. Other features include 802.11n wireless, Gigabit Lan, an ambient light sensor, fingerprint reader and Windows 7 Professional 32-bit.
Unfortunately for Dell, the first review sample it shipped out to me was pretty much useless in that the touchscreen had a mind of its own. Random screen presses occurred every few seconds, almost as if there were a poltergeist in the room – all of which made it impossible to use. Furthermore, one of the waterproof caps at the rear wasn't particularly snug.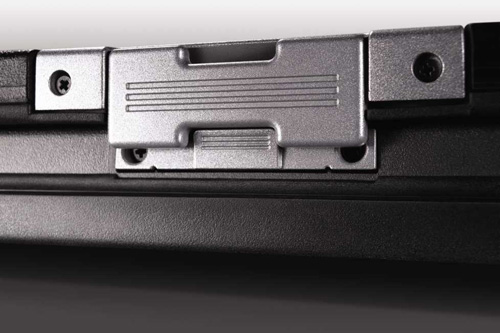 Robust fittings keep the elements and accidents at bay
Dell therefore recalled the laptop back to its labs and, about a week later, it was returned. The loose waterproof cap appeared much more secure, the screen was just as problematic as before, which seemed more than a little odd since Dell had told me their labs couldn't find anything wrong with it.
In order to get things moving, Dell opted to send me a German version of the XT2 XFR, which is identical except for the different keyboard layout. Thankfully, this sample worked perfectly. I don't want to knock Dell too hard over the malfunctioning of the original review sample, but given that this laptop is meant to be harder than nails you'd think the chances of problems occurring would be pretty small.
With a fully-functional sample I decided to go about testing some of Dell's claims. The laptop is both MIL-STD-810G (a US Department of Defence test) and IP-54 (protection from dust and water) certified, so I started by subjecting it to a few random drops. Dell reckons a 3ft fall is no problem for the XT2 XFR, so, tape measure in hand, that's exactly what it got. Despite making an unholy racket, it emerged unscathed and the rubberised sections of the chassis meant there were no unsightly marks.
Of course, being a tablet it's designed to be used in the hands at chest height. And since most people are a fair bit taller than 3ft, a butter-finger moment would most likely result in it tumbling around 5ft. To be honest, I reckon a 5ft drop wouldn't be a problem, but I didn't fancy testing beyond Dell's specifications and then be faced with a hefty repair bill.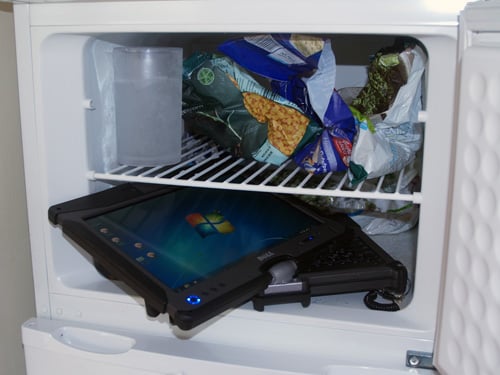 Ice to see you – the XT2 XFR seems happy enough in a deep freeze
Another of Dell's claims is that it can withstand temperatures right down to -40C, and be fully operational at -23C. And after finding the temperature of my freezer to be -21C, I decided to plop it in overnight alongside the freezer's woefully out-of-date contents. The next morning I took it out, fired it up and – despite being too cold to hold – it appeared to work fine.
However, closer inspection revealed the touchscreen wasn't responding. Even after a couple of hours of it being switched on it still remained oblivious to my finger prods. Weary at the thought of another review sample switchover – and no doubt a few raised eyebrows from Dell – I was relieved when it sprang back into life after a few more hours at room temperature.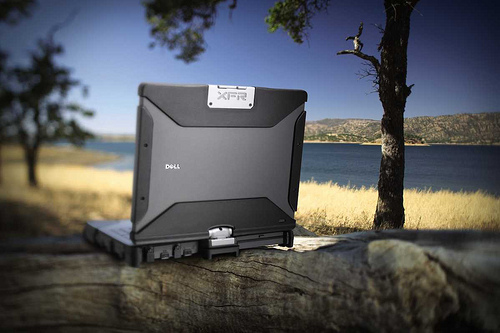 Wish you were here? The XT2 XFR on its hols
The '5' part of the laptop's IP-54 certification means it's protected from dust, while the '4' indicates it can cope with water splashing against any side of the chassis (rainfall being a prime example). For once I was glad of some heavy rain and promptly took the laptop outside to give its water-resistant credentials a test. A good dosing later, I dried the laptop off then checked inside the various waterproof covers that keep the ports safe – all were free of water and the laptop worked perfectly.
Benchmark Tests
PCMark Vantage Results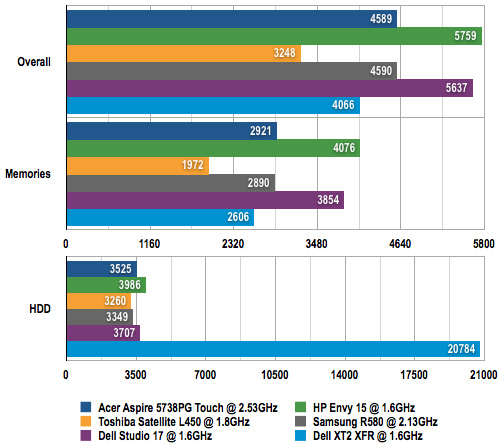 Longer bars are better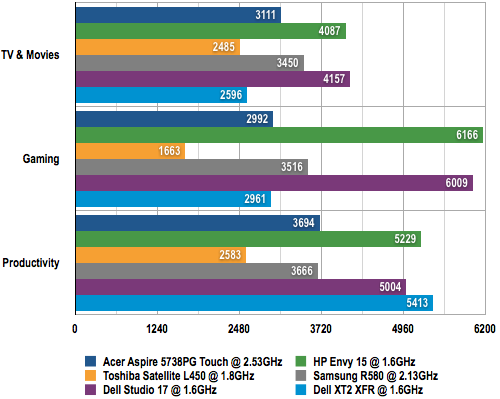 Longer bars are better
Battery Life Results

Battery life in minutes
Longer bars are better
Performance isn't key here, but no laptop review is complete without a few graphs. The SU9600 processor managed to achieve a respectable overall score in PCMark Vantage, and the SSD helped boost the HDD score to 20,784, which is well above what traditional drives get. 3DMark Vantage wouldn't run, but given the integrated graphics it's safe to assume the score wouldn't have flattered.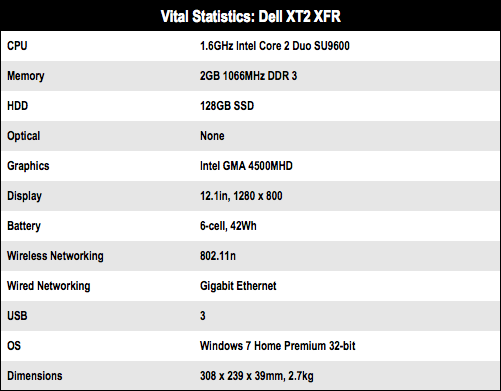 Performance away from the mains is more important on a device such as this, and the 42Wh six-cell battery managed a slightly disappointing one hour and 57 minutes when looping PCMark Vantage. Expect around three hours under normal use with the brightness at half mast.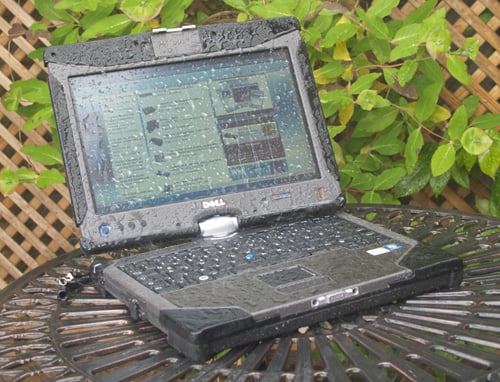 Make sure the catches are done up before heading out in the rain
Verdict
The XT2 XFR obviously has a very niche market, but aside from its touch capabilities temporarily ceasing after its spell in the freezer, it appears as rugged as Dell claims it to be. Of course, all that protection comes at a price, but it is in line with the competition, most notably Panasonic's Toughbook CF-19. It would be nice if it were a bit lighter, especially since it's designed to be used in the hands, but overall it's a decent ruggedised tablet-style laptop. ®
More Notebook Reviews

Samsung
R580
Dell
Latitude Z
Toshiba
Satellite
U500
Acer Aspire
5738DZG 3D