Original URL: http://www.theregister.co.uk/2010/05/18/review_laptop_apple_macbook_pro_15in/
Apple MacBook Pro 15in
Class act
Posted in Personal Tech, 18th May 2010 12:25 GMT
Review Remember the Apple PowerBooks? They were pants. Of course, I didn't know this at the time. It's only now, having had the chance to play with Apple's latest MacBook Pro, that I realise that everything that came before it was so dreadfully ordinary.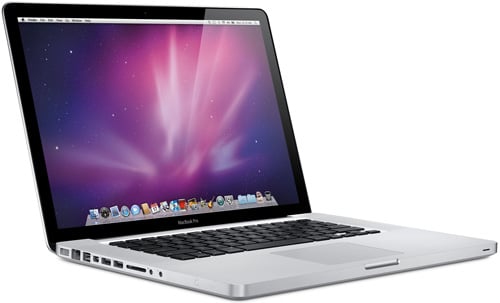 Apple's MacBook Pro 15in: now with Core i5 or i7 CPU options
Apple's latest series of MacBook Pro computers are available in three models according to screen size - 13in, 15in and 17in - and a restricted range of Intel processors. The product tested here is the mid-range model that Apple probably expects to sell in the greatest numbers: a 15in unit fitted with an Intel Core i5-540M (dual-core, four thread) processor running at 2.53GHz.
For this new range, Apple has almost completely dispensed with its curvy design legacy. Apart from its four rounded corners, the MacBook Pro is a straight-edged notebook in which right-angles are the fashion of the day. It's also much slimmer than I had imagined: indeed, it is just 5mm thicker than the innovative MacBook Air.
There is no clasp since a powerful magnet keeps the clamshell securely closed. Once the unit is open, you can tilt the display back on its hinges without having to hold down the base unit to stop it toppling over. This notebook is perfectly balanced. The rubber feet, although not terribly grippy, are set almost flush with the base.

The minimalist styling continues unabated
The 15.3in glossy widescreen display is surrounded by a flush bezel in jet black, with an iSight webcam embedded in the bezel above the screen. The 1440 x 900-pixel display is razor sharp and very easy on the eye.
Usefully, you can adjust the brightness of the display all the way between extremely bright and almost completely black. This is possible thanks to the LED backlight system, helping keep the power consumption low. Another contributing factor is the way the system switches automatically between low-consumption, on-board Intel graphics chipset for office programs and the more powerful Nivdia GeForce GT330M for games and graphics-intensive software.

External battery level indicator lets you know how the charging is going when closed
I was not able to test the battery life thoroughly under lab conditions, but a scaled-down benchmark involving hard disk video playback with screen brightness set to 100 per cent and audio at 50 per cent suggests that you could use the MacBook Pro intensively for a good six hours non-stop before even thinking about the next recharge. Apple's estimate of eight to nine hours between mains recharges is perhaps optimistic but certainly not unrealistic for general use.
The mains cable has a 'dead rat' transformer halfway along it, although Apple has designed it to be flat (it's about 6cm square and 2cm thick) to make it convenient to pack away. The cable itself is long but thin and supple so that it's easy to wind up without risking it bursting everywhere inside your bag.
The connector at the MacBook Pro end doesn't so much insert into the power port as snap onto it magnetically, a feature called MagSafe that Apple has been employing for a couple of years now. It means if someone trips over the mains cable while you are recharging the computer, the magnetic connector is pulled away harmlessly from the notebook's power port rather than the cable yanking the entire notebook onto the floor.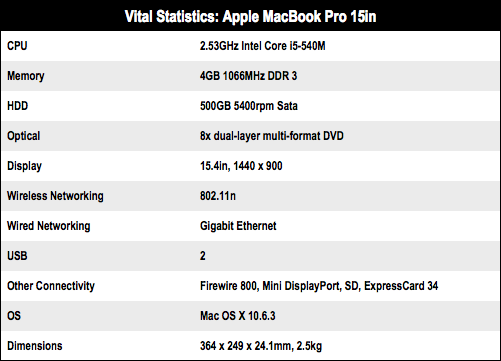 As usual, Apple has designed the MagSafe connector in high-gloss, slippery plastic. This makes it very difficult to grip the connector if you have greasy fingertips like mine. In this case, you may end up having to yank the connector away from the computer by its cable because there is no other way. Please stop making slippery plugs, Apple. It's bad enough that you do it with all your iPod connectors.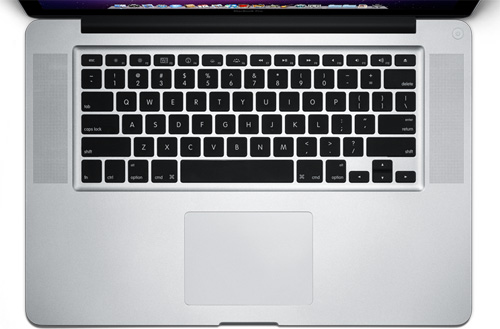 Same sized keyboard as the current desktop models
Talking of power, note that the MacBook Pro 15in never gets as hot as other notebooks. The top surface of the aluminium case stays at room temperature even after hours of use, while the base barely even gets warm. The display remains resolutely cool.
If the shape, size and layout of the keyboard looks familiar, it's because it is exactly the same as Apple's wireless keyboard included with its desktop iMacs and floor-standing Mac Pros. No keys have been doubled up, squeezed or removed, although be aware that there is no numeric keypad, as is the case with the Apple wireless keyboard.
A thumbs up for the backlit keyboard
A sensor built into the unit can be set to monitor the ambient light, causing the white labels on the black keycaps to illuminate. This is a great way of running down the battery faster than necessary but it is a fine feature for those delivering presentations in darkened rooms. Stereo speakers sit on either side of the keyboard. The audio quality is good but limited in bass frequency, and the maximum volume is notably quieter than many other notebooks I have tested.
Benchmark Tests
Xbench Results
Overall

Longer bars are better
CPU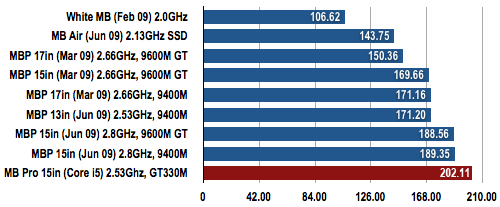 Longer bars are better
Memory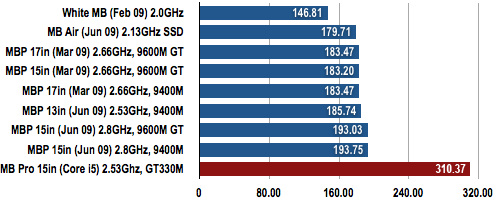 Longer bars are better
HDD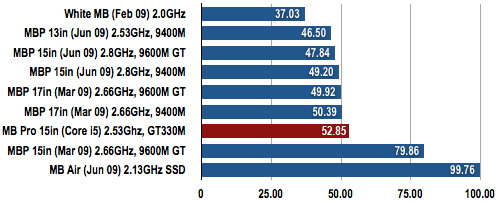 Longer bars are better
Graphics – Quartz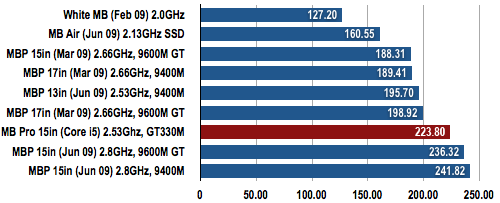 Longer bars are better
Graphics – OpenGL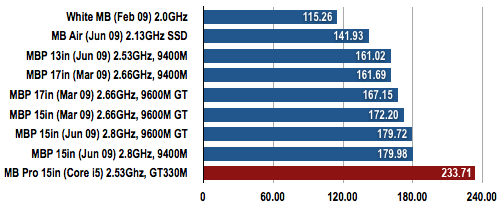 Longer bars are better
The redesigned trackpad in front of the keyboard is huge. It is so big, in fact, that it now supports one-, two-, three- and four-finger touch gestures, and they all work beautifully. For example, sweeping four fingers across the surface switches between running applications without even a hint of delay. Gently pressing downwards on the trackpad itself produces a click; tapping gently with two fingers produces a right-click. The trackpad feels responsive and rock-solid, as indeed it should: it's made of glass.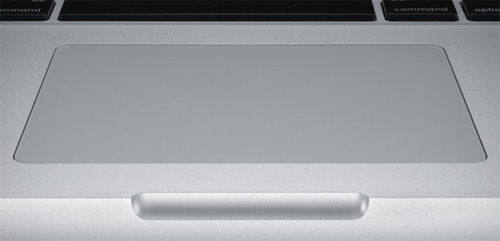 The clickable trackpad responds to a range of multifingered gestures
My one serious complaint is that the unit is so thin that Apple is unable to provide as many connectivity ports as I'd like. All the ports are ranged down the left-hand edge, so there's only enough room for a couple of USB 2.0 ports in the mix. Frankly, I'd have happily sacrificed the Firewire 800 port for a third USB port - preferably USB 3.0 - but there you go. That said, you do get a handy SD card port (shame it doesn't work with x-D, MMC or Memory Stick media without adapters), a Gigabit Ethernet socket and built-in wireless 802.11n support.
But since you've got me started, the lonely Apple Mini DisplayPort is a bit of a disappointment too, since anyone wanting to connect the MacBook Pro to a projector or other external video device, whether analogue or digital, will have to purchase one or more of Apple's £21 video adapters. As if you hadn't spent enough on the computer already! And there's no HDMI!
As with all new Macs, Snow Leopard (Mac OS 10.6) is the latest flavour of OS X installed, along with the iLife suite. The latter provides a fully integrated presentation and authoring package for all your music, photos and videos. The music composition application Garageband has come of age, providing music lessons as well as its usual features including riffs and loops in various genres, audio effects and visual podcast production. The stalwart offerings of iMovie and iPhoto continue to support an ever-expanding range of cameras.
Verdict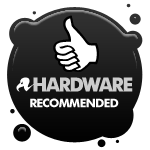 Despite everything I just wrote about connectivity, the fact is that new MacBook Pro 15in is a gorgeous notebook to use. You can show me better benchmark results, without doubt, but in the real world this machine boots up quickly, runs smoothly, responds to commands instantly, operates quietly and performs slickly. It looks stylish in an understated way, and heads will surely turn when you place the machine on a boardroom table. In emotional terms, it's the computer equivalent of stepping into the Cannes sunlight on a hotel balcony facing the sea while wearing a casual Armani suit, no tie. You're telling yourself "I paid way too much for this" but you love every second of it. ®
Thanks to Square Group New Oxford Street for the loan of the review sample.
More Apple Laptop Reviews…

Apple MacBook
Late 2009
Apple MacBook Pro 13in
June 2009
MacBook Pro 15in
June 2009
MacBook Pro 17in
March 2009