Original URL: http://www.theregister.co.uk/2010/05/17/ten_essential_android_games/
Ten Essential... Android Games
Get gaming on your Google phone
Posted in Personal Tech, 17th May 2010 11:02 GMT
Product Round-up If there is one thing that iPhone owners can be smug about it's the number of quality games available from the iTunes App Store. But Android owners needn't feel too badly done by - the Android Market has a few choice gaming applications all of its own.
This list is unapologetically personal, and several well regarded games like Mystique, the Wipeout clone Speed Forge 3D and the platform jumping cows game Abduction: World Attack didn't make the cut because frankly I just didn't have as much fun playing them for any period of time as the ones below.
All the games played well on my humble T-Mobile G2 Touch/HTC Hero running Android 1.5, but the bigger the screen and the faster the phone the better, so make sure you enter Reg Hardware's Sony Ericsson Xperia X10 competition.

Air Hockey
Games don't get much more simple than this, but a simple idea well executed still deserves recognition. The great thing about this air hockey game is that your mallet always sits just ahead of where your finger touches the screen so you can see what is happening and finesse the angle at which you strike the puck.
Mallet and puck movements are fluid and very well judged, and the sound effects are spot on, all making this as close to a decent game of air hockey as you can get without actually having an air hockey table in your basement.
Spring 50p for the full version and the computerised opponents gets better and faster as your own your skills improve. You also get a two-player mode which lets you and a friend play on the same screen. Of course, as you will both be hunched over the same phone screen it will need to be a very good friend, at least until a sizeable Android tablet turns up. JJC reckons the two-player version only works on Motorola Droid handsets but it worked fine on my Hero.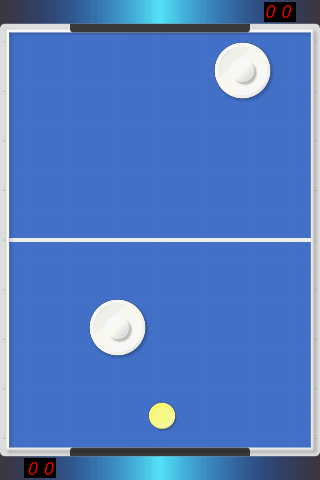 ---

Reg Rating 80%
Price £0.50
More Info JJC Games

Buka
In this strange blend of Asteroids, Pokémon and Missile Command your task is to protect a space travelling anthropomorphic blue globe called Buka from the depredations of various grinning baddies by using sonic deflectors, explosive charges or simple evasion as he/she/it travels to a Happy Place.
As the levels mount, the bad guys get faster and more frequent leading to frequent Missile Command moments of meltdown when you are simply overwhelmed. Sonic deflectors are triggered by rapidly tapping the screen while explosions are set by holding down on an area and then letting go... kaboooooom.
The sonic pulses can also be used to direct Greeny Pieces - don't ask - towards Buka which is a good thing for reasons never made entirely clear. But never mind, this isn't a game to over think.
Buka's various chirrups and warbles are translated in speech bubbles and are nowhere near as annoying as you would expect, leaving you feeling strangely protective of the weird little blue ball. All in all probably a game for the youngsters but there is no harm in letting your inner child out for a romp once in a while.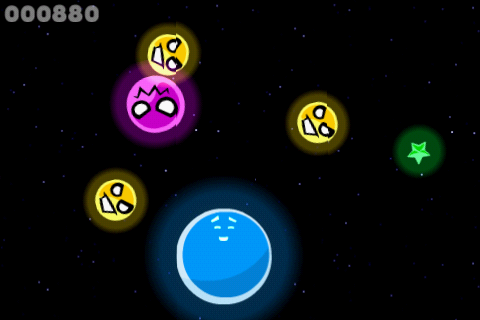 ---

Reg Rating 85%
Price £1.50
More Info Hexage

Chess
Chess has an edge over all the other games here because you can play it and genuinely convince yourself you are not just wasting time that could be better put to some vaguely constructive or less brain-deadening use.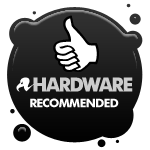 Written by Aart Bik, this Android chess programme is simple, easy to play and free. You get five levels of machine cleverness and moving pieces is simplicity itself: just tap the piece you want to move and the squares you can move to show up in green. Tap the destination square and the move is made and any taken pieces removed. The game also lets you choose between being black of white and has a couple of basic but not unattractive piece and board designs.
Unlike playing chess in the real world, you can undo moves if you find yourself up a creek without a rook, queen or paddle, and even swap sides mid-game to see if the computer can dig you out of the catastrophic strategic and tactical mess you have managed to get yourself into. Exit a game mid-way through and the app remembers the state of play when you next fire it up. What more do you want for nothing?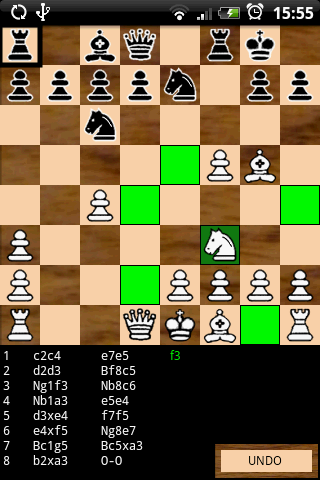 ---

Reg Rating 90%
Price Free
More Info Aart Bik

Connect Four
If you ever plan on going on holiday to Thailand it's worth taking to time to master Connect Four because it's a very popular game in the bars in places like Phuket and Pattaya. Quite an achievement for a plastic game knocked together by Milton Bradley back in 1974.
Get to the stage where you can beat this game on Level 4 or above, even after half a dozen bottles of Singha, and you'll be heading for Grandmasterdom, or whatever the Connect Four equivalent is. Play couldn't be simpler, just tap the square you want to drop your counter into and... well, that's it really. Dig into the settings you can select who goes first - in this game getting first drop is a huge advantage - and change the colour scheme.
The programme has a handy adjustable "clumsiness" setting that lets you emulate your opponent being momentarily distracted from the game by your rakish good looks. Sadly, what it won't do is love you long time afterwards. Nor does it allow for network play with living, breathing opponents.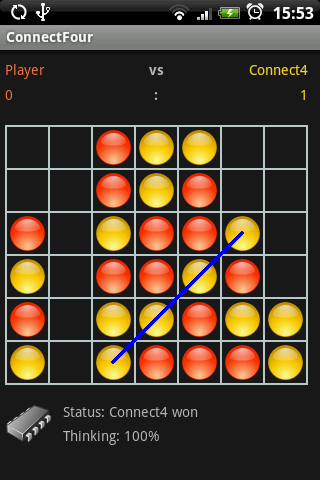 ---

Reg Rating 85%
Price Free
More Info TIC Mobile

Hyperspace
An expansive variation on the tilt game, Hyperspace was one of the first serious games to appear for Android but age has not wearied it in the slightest.
The objective of Hyperspace is to roll a football through an increasingly complicated series of levels dodging holes and other obstacles, all against the clock. The further you progress the more complex the levels become until they quickly become more hole and obstacle than level ground.
Each level has stars dotted about it, all just off the optimum course. Collecting stars earns you more time, but you need to be careful you don't burn up more seconds mucking about trying to grab them than they earn you. The game has four difficulty settings ranging from Easy to Insane, and a Reverse mode that I think makes you play it backwards - I've not got that far yet.
Perhaps it doesn't sound that interesting, but the movement of the bouncing ball and the accompanying sound effects are simply a joy and some real thought has gone into the design of the levels. The only downside is that at £2.94 a pop its one of the more expensive games in this round up.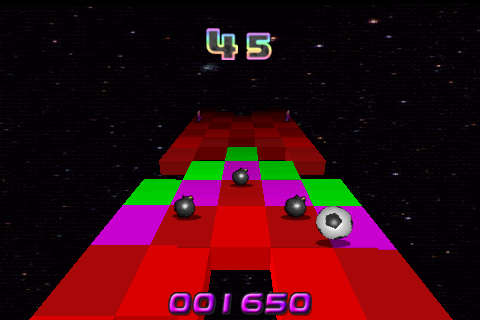 ---

Reg Rating 80%
Price £2.94
More Info Psychotron

Jewellust
The basics of this game are pretty straightforward: swap jewels in a grid until three or more line up vertically or horizontally so that they vanish. Continue to do this against the clock until random pieces of mosaic work their way to the bottom of the grid. Complete the mosaic and you win and progress to the next round.
What separates Jewellust from the herd is the cracking design and introduction of an over-arching goal in Campaign Mode which takes things beyond simply racking up a high score for the sake of it.
As the levels increase, the mosaic you need to complete gets larger but you also get an increasing number of special features such as a Line Blaster or Time Zone. Managing all these features against the clock is where the skill comes in. At the end of each section you also get another puzzle to complete adding further diversity.
The design has a bright and colourful look to it and a vaguely Egyptian theme - you are supposedly making your may through various pyramids in search of Pharaoh's Treasury in the Great Cheops Pyramid. Fourth Dynasty nonsense aside, this is a highly inventive variation on a theme and well worth checking out.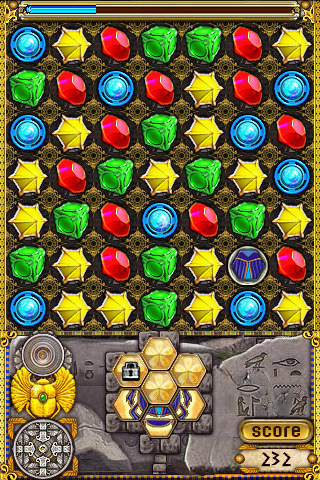 ---

Reg Rating 80%
Price $2.95 (£2)
More Info Smart Pix Games

Light Racer 3D
In a nutshell, this is the Tron light-bike competition for Android. Apart from some simple but highly effective 3D graphics, what I like about Light Racer is the four-position player view that lets you race with either the riders' POV or see the action from one of three over-the-shoulder angles.
Changing the direction of your light bike is a simple matter of tapping the side of the screen or using the track ball. Delicacy is not an issue as you can only turn at right angles.
If the game has a drawback it's that the arena is just a little on the small side, preventing you from screaming off into the distance to avoid the light tanks that appear in certain levels.
The free demo will give enough of a taste to determine if its worth shelling out the $2.49 for the full version that comes with more gaming options and multi-player support so you can race against up to two other people over a Wi-Fi network.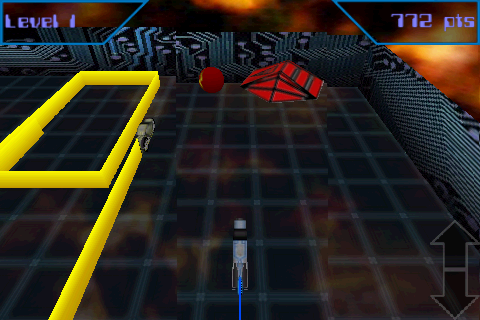 ---

Reg Rating 75%
Price $2.49 (£2)
More Info Battery Powered Games

Robo Defence
I wasn't a fan of tower defence games until I came across Robo Defence. Strewth, but it's addictive. The basic idea is that you buy automatic defence turrets to destroy an enemy who wants to cross an area of open ground. If enough make it across, you lose.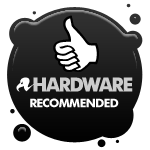 For each enemy killed you earn points, with which you can buy gun turrets, missile batteries and devices to slow the enemy down so allowing your turrets to pour on the fire for longer. The longer the game goes on the faster, tougher and more numerous the enemy becomes.
To succeed, you need to apply some serious thinking to the layout and mix of your defences and their upgrades - anti-aircraft missile batteries are great against choppers, less so against tanks - and issues such as weight of shot verses rounds fired per minute and effective range.
Robo Defence comes with 20 levels of difficulty and five map types of varying complexity so it should keep you occupied for hours on end. How good is it? While writing this I started playing at 11.30pm one night and was still going at it all guns blazing at 3am.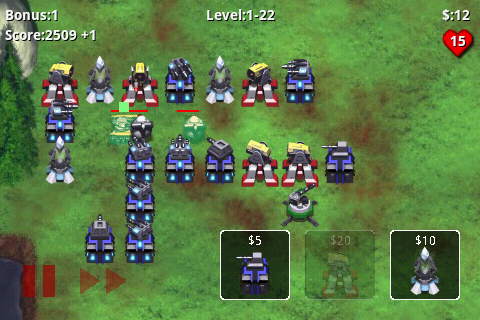 ---

Reg Rating 95%
Price $2.99 (£2)
More Info Lupis Labs

Toon Warz
A 3.5in touchscreen is hardly the ideal medium to view and control a first-person shooter, but Toon Warz makes a better fist than most at overcoming the hardware limitations.
To start with, you get a fully fledged game with well designed and expansive maps, a nice selection of weaponry and well thought out gameplay with logical objectives. The graphics are sort of Return to Castle Wolfenstein meets Marathon 2.
Call of Duty: MW2 it ain't but come on, it's playing - and playing smoothly - on a mobile phone. The "toon" part of things comes into play with the bad guys who look like Hanna-Barbera's idea of Nazis so kudos to developer Polarbit for not chasing the gratuitous violence and gore buck.
The customisable control interface that combines the accelerometer, trackball and on-screen pressure pads is well thought out, and the adjustable sensitivity means exploring never gets to be a chore. If you can't hold your phone steady, the accelerometer can be disabled.
The game isn't perfect - the 'jump' feature is hit and miss, and save points are too few and far between - but it's the best phone FPS I have come across and one you can spend many a satisfying hour playing.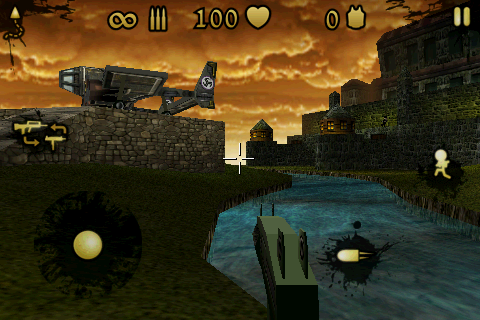 ---

Reg Rating 75%
Price €3 (£2.50)
More Info Polarbit

Zombie, Run!
Zombies, Run! makes the list because it's that most rare of computer games: one that actually gets you out of the house and into the sunlight... arggghhhh, it burns, it burns.
Actually, I'm not entirely sure Zombie, Run! qualifies as a game at all. What you do is this: you switch your GPS system on, let the app find your location, tap on Google Maps to pick a destination and then the game populates the area around with zombies. Green for ones that don't have your scent yet and red for ones that are coming after your brain with gusto and ketchup.
Zombie speed can be set to either Night of the Living Dead, Resident Evil or 28 Days Later, and their number to Controlled Outbreak, Early and Late Local Infestation, or Total Pandemic.
Once set your aim is simple, get to your destination without getting torn to pieces and ending up as a snack for the living dead. OK, its pointless, but since when as that had anything to do with it? A multi-player mode lets you dodge the dead with your mates.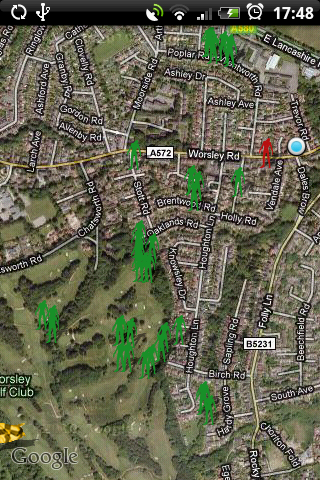 ---

Reg Rating 75%
Price Free
More Info Peter Dolan