Original URL: http://www.theregister.co.uk/2010/05/12/games_reviews_alan_wake/
Alan Wake
Strong on atmospherics
Posted in Personal Tech, 12th May 2010 11:42 GMT
Review It's the dead of night, and you're driving along a deserted and gloomy mountain pass with only the low drone of your engine for company. Out of the corner of your eye you spot a rickety old timber shack at the side of the road. You pull over and the engine goes quiet. All around you, a dark, insidious mist gathers, creeping through the tall pines from every direction.
Darkening, the mist howls through the trees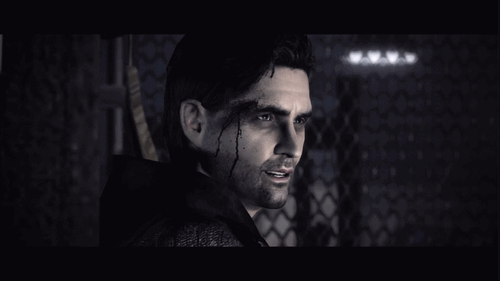 A cut above the rest
You pause. You're desperately low on ammo. You know there's a chance there could be some pistol rounds inside, or maybe even a spare battery for your flashlight. But every instinct tells you not to get out, not to leave the safety of your car, not to venture into the dark. Welcome to the nightmare world of Alan Wake.
It's a dilemma you'll face many times when playing Remedy Studios' Xbox 360 exclusive. And it's a fitting one too, given that it's the hallmark of the many pulp psychological thrillers that influence it.
The greatest source of inspiration is revealed early on. If the premise alone doesn't convince you - the eponymous hero is a writer taking a secluded break with his wife to overcome a severe bout of writer's block - then the opening credits surely will. Its sweeping panoramic flight over pine covered mountains is identical to that of The Shining. And Bright Falls, the game's fictitious New England fishing port, could be the setting for any one of a dozen Stephen King books.
But this is not unadulterated homage. Unsurprisingly, there are references to New England's other famous Gothic sons: Poe and Lovecraft. And, present throughout the game, there are televisions showing a series called Night Falls, which bears more than a passing resemblance to The Twilight Zone.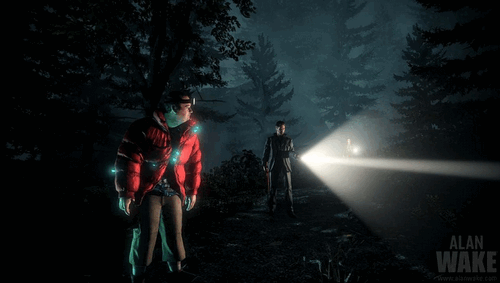 We really took a shine to this game
The narrative slowly builds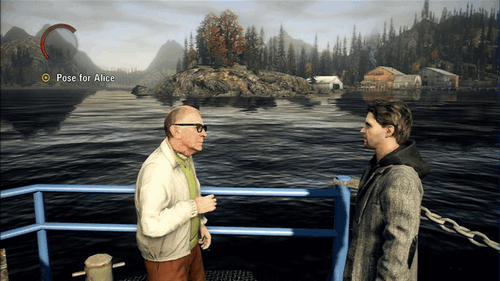 All gramps on deck
Awash with such references and in-jokes, the game's first hour proves unabashed of its inspirations. Aside from a brief introduction to game mechanics by way of a dream sequence, this opening hour builds the narrative slowly.
You start aboard a car ferry, during a bright summer's day, as you make your way across the bay towards Bright Falls. It's your first good look at the game engine, and it doesn't disappoint.
The draw distance is incredible. And the visuals themselves are matched only by the authenticity of the scene. No detail has been overlooked, from distant looming mountains and a train rumbling over a steel bridge, to the purse seiner docked next to the warehouses and the flocks of squawking seagulls overhead.
The graphics easily rival those of Unchartered 2, and immediately dispel fears that Alan Wake's development origins on the first Xbox would leave a legacy of poor polygons and flat textures. The cut-scenes are equally beautiful, leaving only facial animations and lip syncing open to criticism, which, although adequate, are incongruous to the otherwise eye-bleeding visuals.
As each of the game's six episodes start during daytime, you'll have plenty of time to see Bright Falls in its most dazzling aspect. But it is darkness that forms the bulk of narrative and gameplay.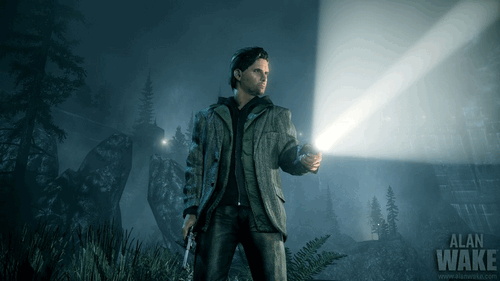 Michael Douglas always carries a torch
Humans possessed by a demonic dark force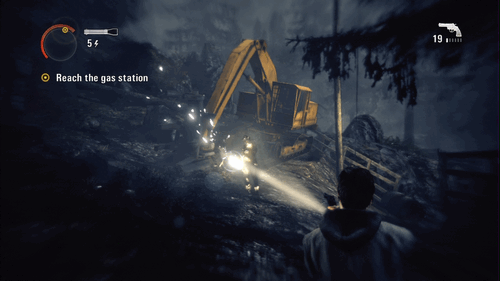 No diggity, bag 'em up!
The mysterious disappearance of your wife precedes the first night time section and informs your purpose. Waking from a car crash with no memory of how you got there, you head towards the bright lights of a gas station, encountering along the way the first of the Taken - humans possessed by a demonic dark force.
In keeping with the surroundings, their weapons are foresting tools, such as axes and hand scythes. They inflict significant damage when thrown or stabbed and slashed at you, and instil a genuine level of fear.
Armed with a flashlight and gun, you soon realise the Taken are impervious to bullets alone. An impenetrable darkness surrounds them, which must be dispelled. By concentrating your torch light upon them, you drive away this darkness, leaving them vulnerable to bullets. An option to boost the light from your torch speeds up this process, but chews through your battery.
Although it recharges over time, in the heat of combat you'll need to insert replacement batteries, found as collectibles. Initially a great mechanic, the dynamic dissipates later on due to repetion and an overabundance of spare batteries.
Weapons require closer monitoring, especially on the Nightmare setting (recommended for a game which otherwise proves a little easy). Flares provide breathing space, as Taken are kept temporarily at distance. And the flare gun and flash grenades despatch multiple enemies instantly. Shotguns and hunting rifles complete the weapons, offering a modicum of variety to gunplay.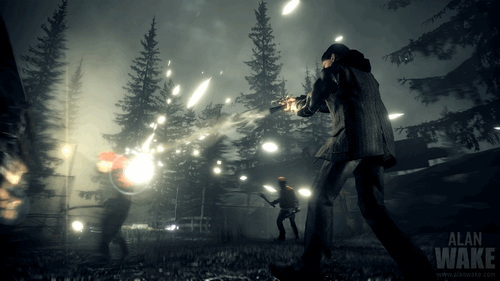 Forest fire!
Finding yourself short of bullets at the wrong time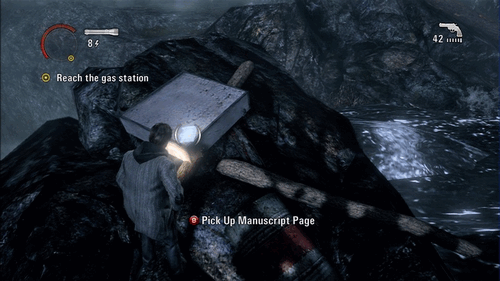 Maybe this can shine a light on what's happening
Failure to scour the environment or head off the beaten path in search of ammo can prove fatal. On a few occasions this can be a game breaker. Without instant saves, finding yourself short of bullets at the wrong time can lead to backtracking over miles of deserted land, or worse, restarting the whole episode.
Another potential game breaker occurs during combat. Retreating slowly whilst training your torch and gun on approaching enemies is critical to success. But the otherwise beautiful mountainous terrain can here prove frustratingly treacherous, as you accidentally back up off a cliff and fall to your death. Fortunately, this happens infrequently enough not to leave you feeling cheated.
The interplay of Alan Wake's light and dark underpins not just combat, but the entire game. Daytime sections at the beginning of each episode provide a welcome, nerve-calming change of pace. Cut-scenes introduce the various townsfolk of Bright Falls and develop the plot admirably. Characters are well rounded and the dialogue is excellent, especially in the camaraderie between Alan Wake and his wisecracking literary agent, Barry Wheeler.
While the writing itself wouldn't trouble Stephen King, it is deeply imbued with the lexicon of the genre, and cements the illusion that you're part of a living, breathing world.
Anything lost in the visuals at night time is made up for by an increase in atmosphere. The feeling of isolation the dark brings to the mountainsides is terrifyingly real, and occasional far off noises of branches snapping or rocks falling further unnerve.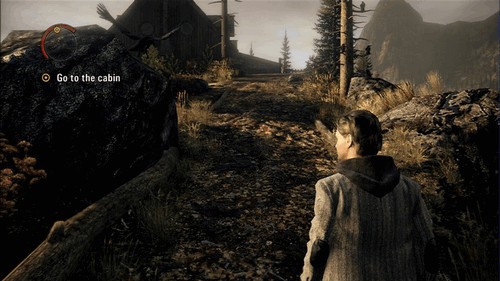 Cabin pressure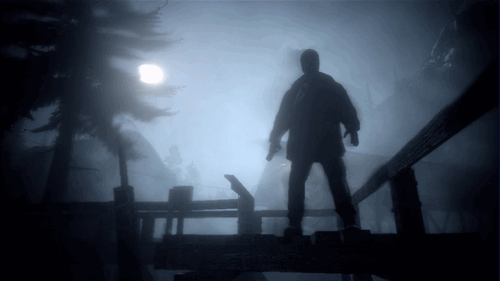 Mist every time you shoot
The mist always impresses, too; never more so than when presaging the arrival of the Taken. Darkening, the mist howls through the trees as it envelops your position, blurring your vision, and adding to the sense of dread.
Alan Wake's greatest flaw, however, is the inability to maintain this feeling of dread. The Taken is an enemy limited by AI and variety. With only three distinct types, small, big and fast, it doesn't take long to work out effective strategies to dispense of them, irrespective of number or combination.
Improved stage design in later episodes adds complexity, as does the introduction of poltergeist-possessed objects, which range from barrels to combine harvesters. Whilst improving upon the middle episodes, it does so without truly recreating the fear instilled in opening stages.
Slightly less irksome are the game's puzzles. I'm no fan of contrived or overly-elaborate puzzles, especially in adventure or survival horror games, but Alan Wake's are utterly perfunctory. In truth, they're not really puzzles at all. They're more like the push-button, door opens mechanics of something like Doom.
These flaws prevent Alan Wake from being truly great. Which is a real shame, because it's probably the most enjoyable and engaging title I've played since Unchartered 2.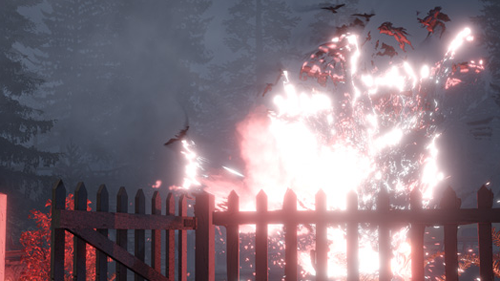 Bang for your buck?
Verdict
If it's deep complexity, smart AI, or great variation you're after, then this probably isn't the title for you. If, on the other hand, you love narrative and atmosphere, and are looking for an excellent pulp story with bags of character, occasional shocks and stunning graphics to boot, then, just like me, you'll find a lot to love about Alan Wake.
More Games Reviews

Dead to Rights:
Retribution
Tom Clancy's
Splinter Cell:
Conviction
Heavy
Rain
Bioshock
2