Original URL: http://www.theregister.co.uk/2010/05/04/grouptest_oap_phones/
Granny friendly phones
Six simple handsets for your aged relatives
Posted in Personal Tech, 4th May 2010 07:02 GMT
Group Test Explaining to your grandmother how to use a mobile phone can be a challenge. To those of us under the age of 40, the basic menu structure and controls of a mobile handset need no more explanation than the act of breathing, but to the over-60s it may as well be a concept that has dropped through a stargate from some far-away galaxy.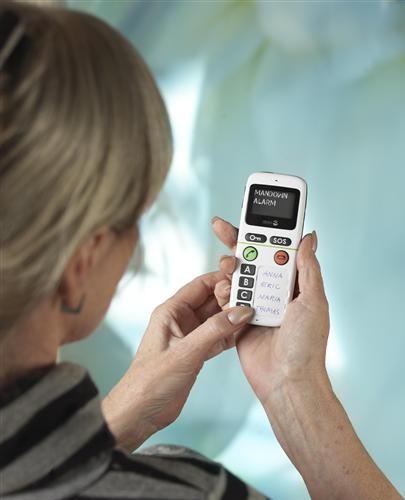 The ideal phone for gran needs to cover several bases in order to get a recommendation, ranging from ease of use to the quality of the handset speaker. Unlike normal phone reviews where the addition of every conceivable add on, feature or application is seen as a benefit, here the opposite is true. Anything that adds complexity better be there for a good reason.
Apart from matters of general ease of use there are also specific functions worth looking out for such as compliance with hearing aids and emergency functions like panic alarms and emergency dialer protocols.
To help you guide your grandparents or even great-grandparents on the road to mobile telecommunications bliss we have gathered together six handsets suitable for the bewildered, the elderly or the infirm.
For the sake of brevity, you can take it as read that all the phones tested here work just fine as phones and that I experienced no problems with signal strength, call quality or basic functionality unless otherwise stated.
The majority of the phones on test come from specialist manufacturers. In the US, mobile phone makers and networks must by law offer a number of handsets that satisfy some or all of the Hearing Aid Compatibility (HAC) criteria. That's not the case over here, so British buyers have to turn to some unfamiliar names to get hold of a phone with a decent HAC score.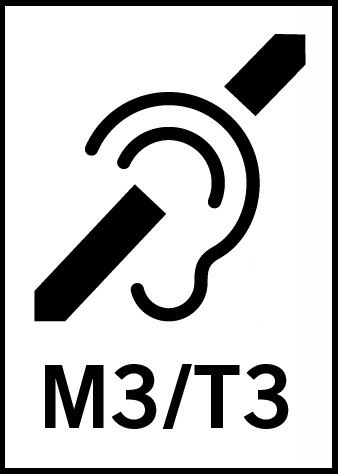 Thankfully, the HAC system has become something of a global standard. An HAC rating indicates how well a phone will work with a hearing aid in microphone mode - the M part of the rating -  and how well it will function with telecoil hearing aids - the T part.
Each feature is rated from 1 to 4, giving potential ratings from M1/T1 (poor) to M4/T4 (excellent). T3 and T4 indicates a phone that will work either well or very well with a hearing aid in telecoil induction mode, while phones rated M3 or M4 shouldn't interfere with or suffer interference from hearing aids in microphone mode.
In the US, only phones rated M3/T3 or above can be advertised as being hearing aid compatible, but that's not the case here.
The HAC rating is not a guarantee of complete compatibility - much will depend on the type of hearing aid in use - but generally speaking the higher the HAC rating the more likely you are to be satisfied with the phone's ability to operate alongside a hearing aid.
Talking Phones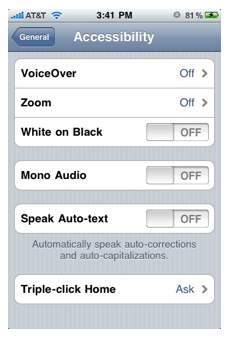 For folk who can't see or have very poor sight, the Royal National Institute for the Blind (RNIB) recommends Apple's iPhone 3GS. The handset includes VoiceOver, a feature that, when activated in iTunes or on the device itself, will speak out the names of buttons and other on-screen elements when the user runs his or her finger over them. You can also set the screen to display white on black.
VoiceOver is built into the 3GS, so the only cost is the handset itself.
If a 3GS doesn't seem appropriate, the RNIB also recommends Nuance Talks Premium, a £150 app for certain Symbian-based Nokia handsets - not the 7230, alas - that, like VoiceOver, reads out what's being displayed on the handsets screen.
The RNIB has a good document detailing the options here (PDF) or you can call its advice line: +44 (0)845 900 0015.
What else should you look for in a phone for the elderly? Firstly, the handset needs to be easy to use.
That's not such a straightforward matter when some phones are a handful even to experienced reviewers. Large buttons, an easy grip and an understand-at-a-glance layout are the watchwords here.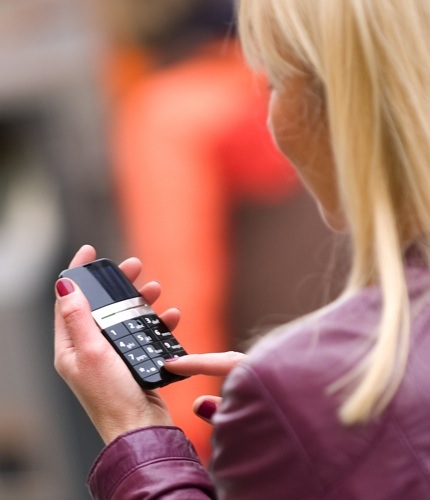 A clear and simple display is also a good idea bearing in mind the vast number of obscure icons that can populate the screens of some mobiles.
Then there is the question of special features such as a one-press emergency call button, or the ability to detect if the owner may have become incapacitated. Again, these features need to be simple enough to use even in moments of crisis. Equally, they may not be appropriate depending on the age and health of the person you're buying the handset for.
You should look out for handsets with a good battery life to ensure they don't spend more time on the charge than at your relatives' disposal. A desktop charging stand or cradle may save the user from having to bend down to retrieve the cable coming out of the AC adaptor.
A seriously loud ringer is good for the hard of hearing - and as an audible alert that will bring help if the emergency button is pressed. ®
Next Amplicom M5010
Thanks to Matobmobile for the loan of the Amplicom, Binatone and Beafon handsets