Original URL: http://www.theregister.co.uk/2010/04/30/review_dead_to_rights_retribution_xbox_360/
Dead to Rights: Retribution
Dog's dinner?
Posted in Personal Tech, 30th April 2010 15:35 GMT
Review To witness your father murdered once is unfortunate, but to witness him murdered twice is downright careless.
This glaring paradox might not be lost on you, but it appears to have escaped the developers of Dead to Rights: Retribution. You see, the trigger for the vengeful bloodbath you exact in Retribution is, well, identical to that of the very first Dead to Rights, namely the cold-blooded murder of your father.
Take aim…
This gaping oversight (or just the failure to explain it) is indicative of a lack of attention to detail that abounds in Namco Bandai's latest Dead to Rights game.
You'd think that by borrowing plot devices from innumerable good cop, bad city movies, such as The Gauntlet and Assault on Precinct 13, along with game mechanics from (among numerous others) Oni, Unchartered and Batman: Arkham Asylum, Volatile Games would have been free to concentrate efforts on graphics and gameplay.
It hasn't - at least not in the early sections of the game.
The dullness and mundanity of the graphics in Retribution's early levels are matched only by the crudeness of its run and gun gameplay. Endless flat, poorly animated and blandly characterised enemies stream out of every flat, blandly textured corridor and alleyway
Sparing little time to establish a semblance of a plot, and without any real objectives, these early levels serve only to introduce newcomers to the gun fu principles of the Dead to Rights franchise.
In support of this, your character, quintessential schlock movie cop Jake Slate, rarely starts a level packing heat, preferring instead to disarm enemies during hand-to-hand combat. The developers have at least made this an easy one-button pull-off, which never fails. What does fail, is the actual hand to hand fighting.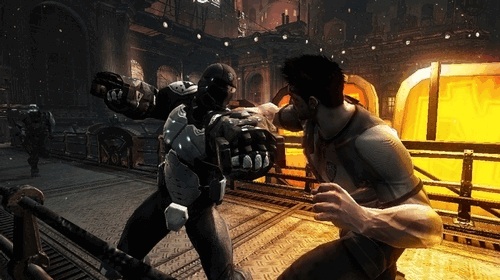 Punch Drunk
Everybody was gun fu fighting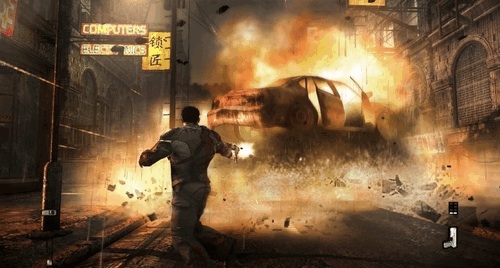 One way to park a car
In promising "360° hand to hand combat", the developers implied something akin to the fluid CQB mechanics of Arkham Asylum. But, unlike that game, striking out isn't contextual, so it's impossible to change target without breaking your combo. Instead, you're forced to concentrate on one enemy at a time, leaving you vulnerable to others, or left just wildly flailing your arms about in the hope of hitting whoever is closest. A poor camera exacerbates this, and you'll often find yourself being struck by an off-screen assailant.
Gunplay is better implemented. Firing from the hip, over-the-shoulder and blindly from cover all work well. The only time shooting doesn't work is in the thick of a melee. Your turning speed is reduced when holding a gun, so you're always better off holstering your weapon and taking them on mano a mano.
This necessitates the game's most obvious and belief-suspending design concession. Even on the most difficult setting, as you rush towards a hail of bullets, Jake Slate is able to withstand some five to ten direct hits at close range before being felled.
Given the game's gun fu mechanics this is an understandable trade-off in realism, and it's admittedly difficult to see how else the developers could better employ the series' trademark marriage of unarmed combat and gunplay. But it reinforces the feeling of last-gen gaming instilled by the game's poor textures and animation. Overall, this forced marriage remains a broken one, and one of gaming's least successful partnerships.
You'd be forgiven for giving up at about this point, so mediocre are the title's early levels and controls. But, if you do, you'll miss out on some considerable improvements just around the corner, as two elements combine to elevate the game from bargain-bin status.
The first is the return of Shadow, your K-9 partner from previous games. Although again poorly animated, he comes replete with tricks. Part guide dog, part treasure hunter and complete face-mauling, groin-ripping devil dog, Shadow is one of gaming's most capable, and sickeningly violent sidekicks.
His dog-only stealth sections provide a welcome break from the mindless bullets and fists. And his use as a canine boomerang against entrenched enemies, or as your tag-team partner in hand to hand combat, brings a worryingly sadistic savagery to proceedings, as well as a superficial level of strategy.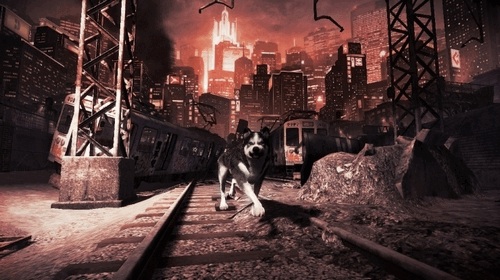 Nice doggy
It gets better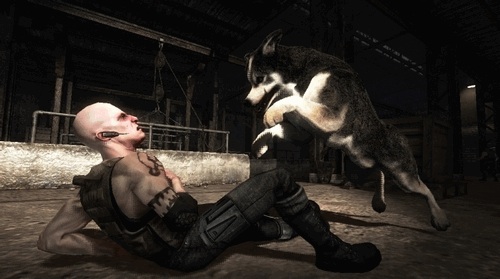 Maybe not such a nice doggy…
The second element to improve the game is the introduction of the futuristic GAC troops around the halfway mark. While not quite matching the watershed levels of say Half-Life's We've Got Hostiles or Beyond Good & Evil's The Factory… Of Deathh, the change in enemy and weapon type is almost as revelatory.
Although in the main they're just tougher versions of earlier enemies, their AI seems cleverer, more interesting. Weapons feel meatier and more precise, too, and show greater variation.
Even the environments feel improved. Still a long way short of matching the looks of triple-A current-gen titles, the switch to a more futuristic palette alleviates the depressive feel of earlier levels.
But even here, Volatile Games does its best to spoil the party. A couple of these levels are just too sparsely populated. One level in particular, in which you are required to blow up several VTOL aircraft, screams out for more enemies.
You can see all of the cover points and imagine facing off against wave after wave of enemies, but down ten or so hostiles and you're left wandering around a ghost town, with little else to do but plant the C4 and move onto the next area. It's hard to know which the developer's ran out of first here, time or ideas.
Nonetheless, the second half of the game is by far the more interesting. Had Volatile Games started midway through, with the introduction of the GAC troops, and broken the gameplay up as it does in the latter stages, it might have had a title of real promise on its hands. Instead, by the time you've reached these levels, you're probably going to be too dispirited to care.
That's the problem with the game overall. For every neat flourish you find here and there, such as the level in which you don a mech suit to dish out some real damage, there's hours' worth of tedious gameplay to trudge through. And without any multiplayer or additional content whatsoever, you'll feel short changed if you pay full price for this game.
"This town," says one of the game's characters during a cut-scene, "needs good cops like Jake Slate."
However true that might be, notwithstanding Jake Slate is little more than a mindless killing machine, this gaming world certainly doesn't need more average games like Dead to Rights: Retribution.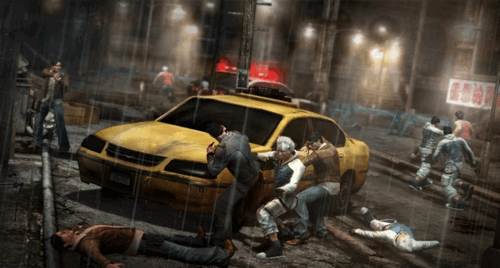 I guess you never heard of forgive and forget?
Some recent reghardware games reviews…

Splinter Cell:
Conviction
Bayonetta
Heavy Rain
Bioshock 2