Original URL: http://www.theregister.co.uk/2010/03/18/review_laptop_dell_vostro_v13/
Dell Vostro V13
A business box to get your pulse racing - surely not?
Posted in Personal Tech, 18th March 2010 08:02 GMT
Review You know where you stand with business-oriented laptops. They're chunky, dull-looking machines with all the pizazz of a rainy afternoon in Chester. Dell's Vostro range has been a case in point: a collection of low-power, low-charisma laptops likely to appeal only to the most frugal of IT department bean counters.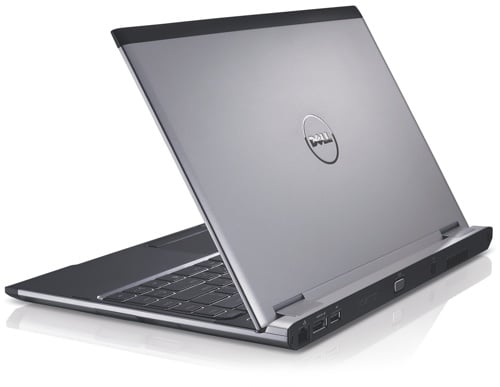 Dell's Vostro V13: not your average business PC design
Until now. When we pulled the V13 from its box we had to double check we'd received the right machine. We'd been promised a model from a range of business laptops costing from a paltry £422 inc. VAT, and instead we got a slim, gleaming machine Steve Jobs would be proud to pull from a shoulder bag.
The V13 bears more of a resemblance to the MacBook Air - reviewed here - or Dell's desirable-but-expensive Adamo range. The aluminium-clad machine is a gorgeous sliver of technology whose quality feel and good looks easily disguise its bargain-basement price.
Inevitably there are compromises. A chassis this slim is hardly going to constitute a PC that you'll want to make your primary system. So while it's disappointing there are only two USB ports - one of which doubles as eSata - it's not surprising.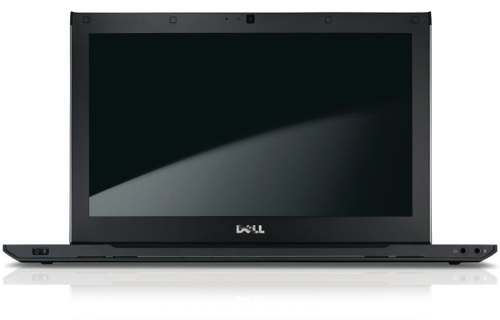 No glossy screens here, thank you
More contentious is the lack of an optical drive, a necessary sacrifice to bring in a system only 15mm thick. A DVD-free existence may not be troubling day to day, but it does raise a few potential annoyances when initially installing applications or attempting to re-install Windows. For a machine this good-looking it's something we're more than willing to forgive, though.
The VGA port on the back is the only 'serious' disappointment - we'd have preferred an HDMI port, but those business types like VGA to hook up their presentation projectors to. The meagre external features are rounded off by a media card reader compatible with SD, MMC and Memory Stick cards, and an ExpressCard 34 slot.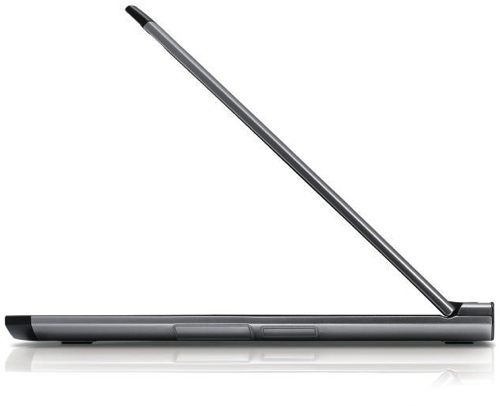 MacBook Air skinny - but not MacBook Air curvy
The thrill of the V13's exterior palls somewhat when you open it, as the interior is standard Vostro fodder. The shiny metallic finish of the shell gives way to a sea of matte black - it isn't ugly per se but it hardly quickens the pulse.
The keyboard is good rather than spectacular. The base doesn't feel incredibly solid but it's not spongy, and the keys feel a little on the flimsy side.

The back is the business end
The 13.3in screen is left un-glossed, which means no distracting reflections while you work. It's bright and sharp, and the 1366 x 768 resolution is fine for the kind of jobs the V13 will be doing. Vertical viewing angles appeared a little tighter than normal, but colour reproduction was top-notch and our gradient tests revealed no stepping between shades.
There's a handy webcam nestled in the bezel at the top, too.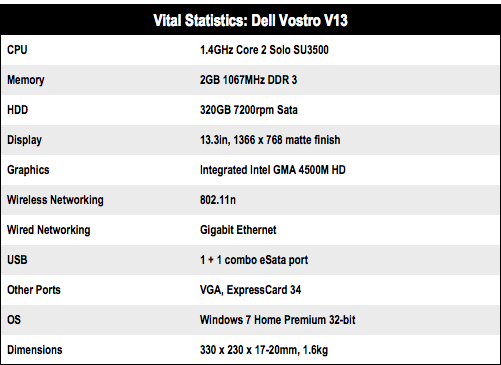 Spec as reviewed - other configurations available
The V13's screen has enough vertical resolution to show HD videos, but our performance tests were the one area where the V13 really disappointed. Running PCMark Vantage resulted in an overall score of 1776, but it's in use that the inadequacies of the single-core 1.4GHz Intel Core 2 Solo SU3500 come to the fore.
Running Internet Explorer with more than half a dozen tabs open resulted in annoying delays when entering text, and attempting to watch HD videos from Vimeo.com proved impossible - the bitrate is so high as to produce stuttering, unwatchable playback.
PCMark Vantage Results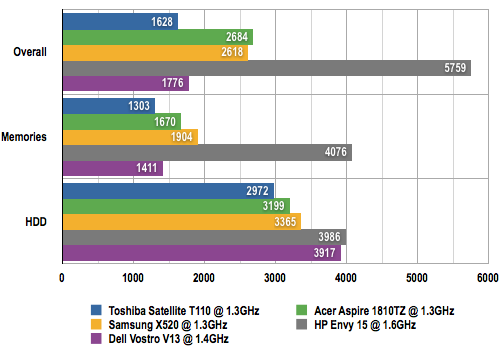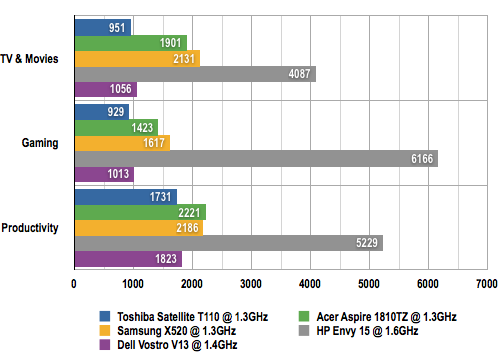 Longer bars are better
The charts tell it all: the V13 was well beaten by small notebooks - the 1810TZ and T110 - with lower-clock but two-core processors - and Pentiums, at that. We included the HP Envy to show what difference a full Core i7 CPU makes.
This particular model of the V13 is best saved for those who have already made the jump to cloud-computing - editing with Google Docs rather than Word, for instance. The V13 has 2GB of DDR 3 memory, but without sufficient computational oomph multitasking is all but out of the question.
PCMark Vantage Battery Life Results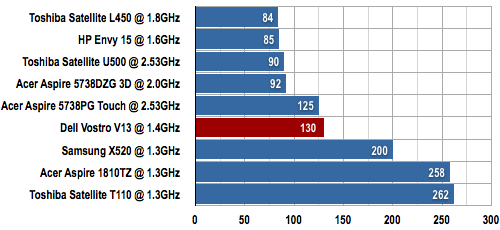 Battery life in minutes
Longer bars are better
Upgrading is a potential problem as well. It's unlikely you'll want to change the spacious 320GB hard drive, but getting at the Ram and battery is a real challenge. Both are concealed under a solid slice of aluminium, and even with all the visible screws removed we couldn't figure a way to get the bottom plate off without employing a small crowbar.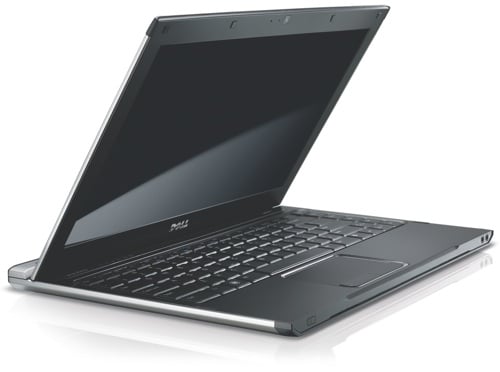 Nice looks, shame about the performance
Those who have fallen for the V13's slim charms shouldn't despair, however. True to form, Dell offers a number of configurations for the system, starting at a 1.2GHz Celeron (shudder) and going as far as a well-specced 1.3GHz Core 2 Duo SU7300 with 4GB of memory for around £105 more than the review unit.
The V13 isn't flawless. The features list is rather bare – Dell says an optional HSDPA 3G module is "coming soon", and a fingerprint reader is standard issue on most business laptops but absent here. The top-end model begins to look distinctly pricey at a shade under £600, but you're getting a laptop with capable performance, good looks and excellent portability. The single-core models may be cheaper than the dual-core V13, but we'd pick the latter every time for its greater performance.
Verdict
Business PCs aren't supposed to evoke a little shiver of pleasure each time you pick them up. In the V13's case, the pleasure is doubled: there's usually a significant premium attached to this kind of design and it's pleasing to see that you can spend – at the bottom of the range – almost netbook money on a machine with looks that give Apple and Sony's finest a run for their money. And it comes from Dell. Who would have imagined? ®
More Compact Laptop Reviews...

Lenovo
ThinkPad
Edge

Sony
Vaio X

Toshiba
Satellite
T110

Acer
Aspire
1810TZ