Original URL: http://www.theregister.co.uk/2010/01/07/review_desktop_pc_packard_bell_onetwo_m/
Packard Bell oneTwo M
All-in-one kitchenware?
Posted in Personal Tech, 7th January 2010 13:02 GMT
Review As the world swings inexorably away from desktop PCs towards notebooks, netbooks and PMPs, the PC has to adapt or die. One way to go, as Packard Bell would have it, is the touchscreen media PC. It follows the iMac paradigm that the whole thing should be built into the back of a large-format LCD screen.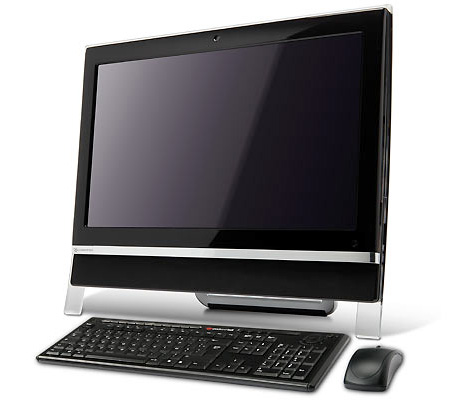 A nice touch? PackBell's oneTwo M includes a Freeview tuner
The concept of a media PC, for use in a living room or study/bedroom isn't new and integrated computers built into LCD screens have been around a while now, but Packard Bell's oneTwo machines have two extras to set them apart, namely, a touchscreen with support for Microsoft Surface apps, and a built-in Freeview DVB-T tuner.
There are two oneTwo models: M for the Medium 20in screen dual core CPU and L for Large 23in model with a quad core chip. The L version supports a full 1080i HD resolution, but the M, reviewed here, has to make do with a 1600 by 900 widescreen. Both models include wireless keyboard, mouse and remote, so they can be used as conventional large-screen desktops, as well as media centres.
The case of the oneTwo M is all gloss black plastic, apart from an insert of clear acrylic between the two case halves, which extends down to form the front feet of the device. On the back panel are sockets for Ethernet, TV tuner and line out, as well as four USBs, and there are a further two USBs on the left-hand edge. The right-hand edge offers a multi-format DVD rewriter, a 5-in-1 card reader, plus mic and headphone 3.5mm sockets.
There's a VGA-resolution webcam set into the top of the screen surround and this is pre-configured for Cyberlink YouCam, so can be used immediately for video links or recordings.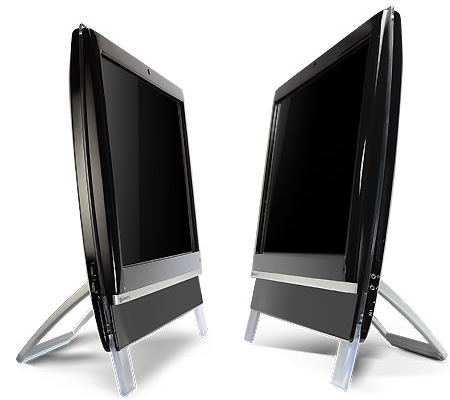 The larger 23in model features a quad core processor
The PC internals are well integrated, so the case is only 50mm at its deepest. It doesn't rely primarily on laptop components to do this, either. The processor is a Pentium Dual Core T4300 chip, coupled to 3GB of main memory and an Intel Graphics Media Accelerator X4500HD.
In performance terms, the 2.1GHz T4300 sits somewhere between an Athlon 64 x2 5400 and an Opteron 1220, so it's no slouch. There's a cooling fan inside the case, which is quite audible, but it doesn't run in normal use, unless normal use is running heavyweight games.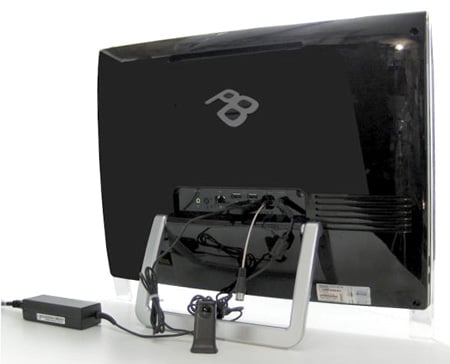 Vertical operation can be tiring on the arms, but the stand won't allow a horizontal position
3GB is enough to run 64-bit Windows 7 Premium comfortably and, as usual, Packard Bell has bundled a good range of support software spanning from the genuinely useful to the needlessly trivial. In the former category are full versions of MS Works 9, Adobe Photoshop Elements 7, Nero Essentials and a nagging Norton AV. In the latter category are most of the touch applets – mainly demos – and the games, which are mainly time-limited demos.
The machine's touchscreen is reasonably responsive, but it did miss a few light button presses. It supports multi-touch gestures, so you can use two fingers to zoom into Microsoft Surface Globe, for example, and Packard Bell offers a second desktop page, full of touchscreen applets. There's a physical button below the screen to switch between desktops, which somehow undermines the idea of the touchscreen.
It's hard work to use the screen for more than casual application control. Waving your arms around Minority Report-style may work for Tom Cruise, but this is a small screen and you need good positioning control to press small Windows buttons. Your arm soon starts to ache. This isn't a criticism of the oneTwo alone – the same is true of any vertically mounted touchscreen – but Packard Bell could at least have built a third position into the stand, so the screen could be set near horizontal on a desktop.
The keyboard and mouse are both wireless and look a bit like afterthoughts, as do the rather spongy buttons on the remote. The key feel is also spongy and not very responsive, and the mouse is small and not a particularly good fit to the hand. Worse than this, though, is that they work with a wireless USB dongle and there are no specific instructions on setup.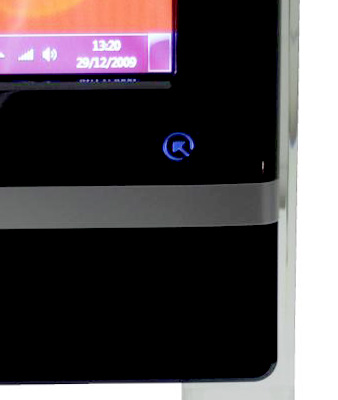 A dedicated Page button switches between desktop layouts
Given that the oneTwo machines are aimed at non-technical customers, the generic user guide, which makes no mention of the specific hardware supplied here, is unhelpful. There appears to be no Connect button on the dongle, so it would be a big help to know you should press the indicator LED to get it to search for peripherals.
Intel's GMA X4500HD graphics support DirectX 10.0 and Shader Model 2.0 and share 1.2GB of main memory, according to DXdiag, hence the unusual 3GB provided. Although it's a good GPU by embedded standards, it's not up to discrete nVidia or ATI chips, so some games may stutter.
Benchmark Tests
PCMark Vantage Results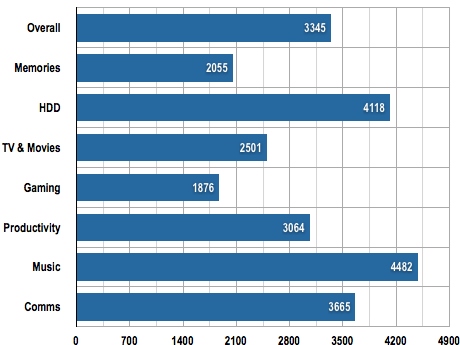 Packard Bell oneTwo M
Longer bars are better
An overall PCMark Vantage score of 3345 is poor, even compared with some laptops and comes in somewhere at the Radeon HD3400 and GeForce 8500GT graphics level. This is also reflected in the gaming score, which is down at 1876. As you might expect, the machine is better at TV and Movies, which recorded 2501 and at Productivity, where it scored 3064.
Considering the size of the speakers in the facia below the screen, the sound is unexpectedly good, with plenty of volume and a nicely balanced frequency range. Dolby Home Theater is implemented and works well to enhance DVD content. Equipped with a 640GB, 7,200rpm Sata hard drive, the storage is enough for a couple of weeks of TV, but with only a single Freeview tuner, you will have to be viewing the channel you're recording.
This is no gaming rig, but for TV and SD video playback it's fine and there was no sign of jittering or artefacts on the test media we used and stations we watched. You're buying convenience and looks here, rather than outright performance.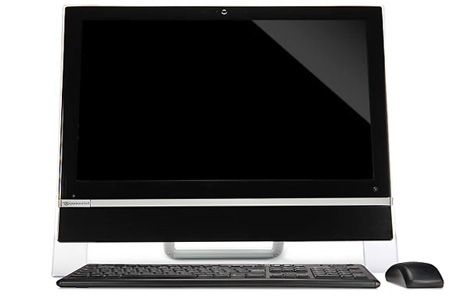 Good for multimedia, but demanding games will inevitably lag a bit
For the extra £300 of the oneTwo L, you get a 23-inch, full HD screen, a Core 2 Quad Q8200s processor, ATI Radeon Mobility 4570 graphics with 512MB on-board, 4GB memory, 1TB of hard drive but still no Blu-ray drive. Packard Bell talks of this as an option, but none of the UK models appear to include one.
Verdict
Although this is the smaller, cheaper oneTwo, it offers a lot for a reasonable outlay. A decent performer, with a well-thought out spec and an easy way of getting at a lot of content make it a good choice for somebody not bent on customisation. The touchscreen works adequately, but you wouldn't want to operate the oneTwo M by this means alone. ®
More All-In-One PC Reviews...

MSI Wind Top
AE1900

Apple
iMac

Shuttle
X 5000TA

Advent
AIO-100