Original URL: http://www.theregister.co.uk/2009/12/03/freeview_hd_launch_report/
Freeview HD goes live
Technical details emerge as DVB-T2 service activated
Posted in Personal Tech, 3rd December 2009 07:02 GMT
With the launch today of the Freeview HD service, the UK can claim to be at the forefront of digital television - though most punters won't be able to receive the service until spring 2010.
Today's launch saw services switched on at the Crystal Palace and Winter Hill transmitters, between them providing coverage for around 22-23 per cent of the UK's population. It's described by engineers and telly executives as a "technical launch", however, with the consumer launch not taking place until late Q1/early Q2 next year.

As of today, while we may have the first operational TV service in the world using the new DVB-T2 standard, there aren't any receivers available to buy.
Ilse Howling, Managing Director of Freeview, told Register Hardware that she expects that equipment will start to appear in stores in January and February of next year, with widespread availability around March.
By then, it's anticipated that around 40 per cent of the population will be covered, rising to 50 per cent in time for next year's World Cup. For detailed roll out dates, see the last page of this report.
Winter Hill is the first station to provide a high-power Freeview HD signal, any anyone who received Freeview in the Liverpool and Manchester area should pick up the new HD multiplex from it. The Crystal Palace transmitter, in common with the other early ones, will be running on lower power. Nevertheless, from the map that was briefly displayed, it looks like coverage will extend to Enfield in the North of London, and in some areas a little further out – sporadic coverage seemed to be going as far as Hertford.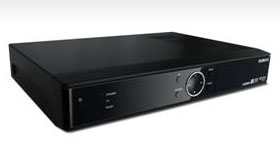 Humax's Fox-HD-T2: set-top box set up for Freeview HD
There's now a little more information about the technical details of the service too. Four manufacturers had prototype receivers on show at the launch, with set-top boxes from Pace and Vestel, together with integrated Freeview HD TV sets from both Panasonic and Sony. In order to qualify for the Freeview HD logo, receivers will need to be IPTV-capable.
Although Freeview wouldn't be drawn on too many of the details of exactly which IPTV services will be coming – there's no confirmed date for BBC iPlayer, for example – it's certainly in the road map. Another potential IP services mentioned was SeeSaw, previously known as the BBC's Project Kangaroo but now owned by transmission operator Arqiva, though its representatives declined to comment.
One surprise is that receivers will have to have the Freeview branding, including the logo, on the electronic programme guide screen, to qualify for the Freeview HD badge. The design of the EPG itself isn't as rigidly specified as the one maintained by Freesat, from what we could gather, but the logo will be there. On the Sony prototype television, the EPG features a small live preview top left, a programme synopsis, and a Freeview logo top right, with several lines of EPG grid below.
Launch channels are BBC HD on EPG channel 50, and ITV 1 HD on position 51. The latter will be a live simulcast of ITV 1, including a large proportion of upscaled material, rather than a red button-activated interactive stream, as is the case on Freesat. The mux will have space for four channels, though it's anticipated that that could rise to five, depending on improvements in encoders, between 2012 and 2015.
And the system has been designed from the start to allow regional variations in the broadcast schedule.
Another change from Freesat, where BBC HD transmits using a fixed bit rate, is that the services will be statistically multiplexed – which means bandwidth is dynamically allocated between channels, depending on the complexity of the images – with the aim of maintaining a consistent quality, rather than a specific bit rate. Video for each channel can range between 3Mb/s and 17Mb/s. Dolby Digital audio will be transmitted at 320Kb/s for 5.1 surround, with stereo audio at 128Kb/s; audio description takes up 64Kb/s, subtitles 200Kb/s and the data stream, for interactive applications, just 50Kb/s.
On the vexed subject of content management, the final decision won't, Freeview assured us, make any difference to the availability of consumer equipment, as it will all be done in software. If Ofcom doesn't give the go-ahead, then the EPG tables will simply be transmitted in the clear, but the boxes will still contain the decoding software should it become necessary to support DRM - if the BBC gets its way - at a later date.
Freeview's website will be sporting a new coverage checker, which is due to be available to the public in early January, and will allow visitors to check which HD channels they'll receive and when. ®
HD Roll-out timetable
England
| Area | Transmitter group | Date |
| --- | --- | --- |
| Manchester | Winter Hill | Broadcasting |
| London | Crystal Palace | Broadcasting |
| Newcastle and Tyneside | Pontop Pike | Feb 2010 |
| Leeds / Bradford | Emley Moor | March 2010 |
| Birmingham | Lichfield | March 2010 |
| Liverpool, central Lancashire, Cheshire, north Staffordshire | Winter Hill relays | March 2010 |
| Exeter, parts of Devon, Somerset, Dorset | Stockland Hill | April 2010 |
| Bristol, Somerset, Dorset, Wiltshire, Gloucestershire | Mendip | April 2010 |
| Devon, Cornwall, and the Isles of Scilly | Beacon Hill, Caradon Hill, Huntshaw Cross, Redruth | Aug 2010 |
| Cumbria and the Lake District | Caldbeck | Oct 2010 |
Then Freeview HD rolls out with the rest of the switchover programme:
2011
Bedfordshire, Berkshire (parts), Buckinghamshire, Cambridgeshire, East Anglia, East Midlands, East Yorkshire, Gloucestershire, Herefordshire, Humberside, Lincolnshire, Northamptonshire, Oxfordshire, Shropshire, South Yorkshire, Staffordshire (parts), Stoke-on-Trent, West Midlands (remainder), and West Yorkshire (remainder).
2012
Berkshire (remainder), County Durham, Greater London (remainder), Hampshire, Isle of Wight, Kent, Northumberland, North Yorkshire, Surrey, Sussex, Teesside, Tyneside.
Wales
| Area | Transmitter group | Date |
| --- | --- | --- |
| Cardiff, Newport | Wenvoe | March 2010 |
| Swansea | Kilvey Hill | March 2010 |
| west and central Wales | Blaenplwyf | March 2010 |
| Carmarthenshire | Carmel | April 2010 |
| rest of Wales | Long Mountain, Moel y Parc, Presely | June 2010 |
| Anglesey | Llanddona | July 2010 |
Wales will have switched over to digital and the roll-out of Freeview HD will be complete by the end of July 2010.
Scotland
Area
Transmitter group
Date
Glasgow, central Scotland
Black Hill
Feb 2010
Shetland
Bressay
May 2010
Orkney
Keelylang Hill
May 2010
Caithness, North Sutherland
Rumster Forest
June 2010
Lewis, Wester Ross, North West Sutherland, Western Isles
Eitshal, Skriaig
July 2010
Angus, Dundee, Perth, and parts of Fife
Angus
Aug 2010
Aberdeenshire
Durris
Sept 2010
Morayshire, Strathspey, and parts of Easter Ross
Knockmore
Oct 2010
South West Scotland
Caldbeck Scotland
Oct 2010
Inverness and the Great Glen
Rosemarkie
Oct 2010
South West Highlands and Islands
Torosay
Oct 2010
Scottish Borders
Selkirk
Nov 2010
Northern Ireland
Freeview HD rolls out with the rest of the switchover programme so that the whole of Northern Ireland is switched over to digital and will be able to receive Freeview HD by the end of 2012.
Other areas
| Area | Transmitter group | Date |
| --- | --- | --- |
| Isle of Man | Douglas | Oct 2010 |
| Channel Islands | Fremont Point | End 2010 |