Original URL: http://www.theregister.co.uk/2009/11/26/review_phone_blackberry_bold_9700/
RIM BlackBerry Bold 9700
Slimmer, sharper, swifter
Posted in Personal Tech, 26th November 2009 08:02 GMT
Review The original BlackBerry Bold 9000 cut quite a dash when it debuted last year, signalling clearly to any doubters that Research in Motion was moving the BlackBerry out of the boardroom and into the pockets and handbags of consumers who had need for its exemplary e-mail service in their day-to-day lives.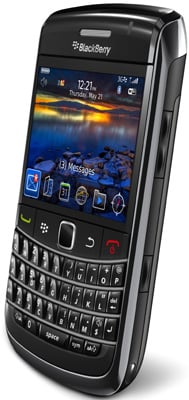 Leaner and fitter: RIM's BlackBerry Bold 9700
Yet, times move fast on planet mobile, and already we're looking at the update, which offers a sleeker case, better screen, new track pad, upgraded camera and more besides. The BlackBerry Bold 9700 – also known informally as the BlackBerry Bold 2 – is a slimmer and sharper looking device than its predecessor.
At 109x60x14mm and 122g it's lost a good 6mm off the sides, 5mm from top and bottom and a sliver under 1mm in thickness. It's also 16g lighter, which is all to the good. All this millimetre shaving leads to noticeably sleeker looking handset, that wears its Qwerty keyboard considerably lighter than its predecessor, so it looks less like standard office drone issue and more like a style-led purchase. Even so, it's unmistakably a BlackBerry.
'Twixt keyboard and screen sit the usual hard buttons – call start and stop, menu and back – but the track ball has now been replaced by the optical trackpad that BlackBerry has been including on recent models such as the Curve 8520. Supposedly, this choice offers longer life due to there being no moving parts, but with no loss of sensitivity.
The buttons on the side also echo the latest Curve, with volume, camera capture and programmable voice command buttons now covered by a rubberised plastic strip, which serves to help them blend into the casework. There's also a micro USB power/sync slot, 3.5mm headphone jack socket (neither of which have covers), with touch sensitive keyboard lock and mute keys on top. At the back it has an imitation leather, grippy cover along with the 3.2Mp camera lens and a single LED flash.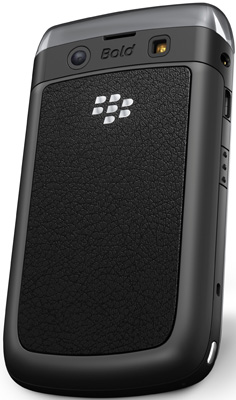 Grippy leather effect casing is both practical and stylish
The 2.4in LCD screen has been updated to put it among best of the BlackBerrys, with its 480x360 pixel resolution, though it supports the same 65,000 colours as its predecessor. It certainly looks impressively sharp, and there's a light-sensor function too, so it automatically adjusts to ambient light, thus hopefully saving your battery.
We were a little worried that the thinner form factor might lead to typing issues, the Qwerty keyboard being that wee bit smaller. We were pleasantly surprised however to find that it's lost nothing post-diet and that the ridged keys are just as easy to find under the thumbs whether you're using thumb pads or fingernails.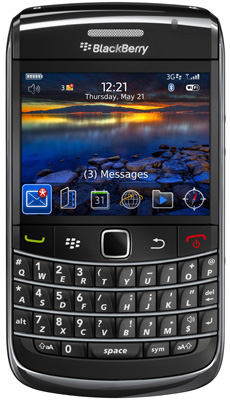 Like the latest Curve, the trackball has been replaced by a navpad sensor
The latest BlackBerry 5.0 operating system is on board, with its top line icons backed by alphabetical lists of functions (functional but boring that is – BlackBerry could do giving those lists a bit of a style tweak). There's a 624MHz processor which RIM says is 'next generation'. Although the original Bold also had a 624MHz processor, this one has been tweaked and offers power consumption improvements as well as speed enhancements. Indeed, it's certainly nippy and we never encountered any noticeable slow-down whether we were multi-tasking, web surfing or movie viewing.
Call quality was pretty decent through the 9700's speaker with a fully rounded tone that didn't break up even at full volume. Very unusually there's an option to adjust the tone of calls too, boosting or reducing the bass. Speakerphone mode functioned well and, when placed on a hard surface, at a good volume too.
E-mail, as usual, is still a BlackBerry strongpoint, with most e-mails being very easy to set up with just address and password. BlackBerry's push e-mail service is as good as it gets for up-to-the-minute e-mail access and there are Facebook and Twitter apps available for keeping tabs on your social network.
The browser is the same as we've been seeing in BlackBerrys past and present for a while now. It's not bad, but it could do with a few tweaks to bring it in line with the latest models available on other platforms. You can click on the track pad to zoom in (and the return button to zoom out again) but these only offer a single increment, and you'll need to access the menu for additional zooming action. The screen works hard to make text legible but it's still on the small side for easy reading and there's still no Flash video support and no option to open multiple windows.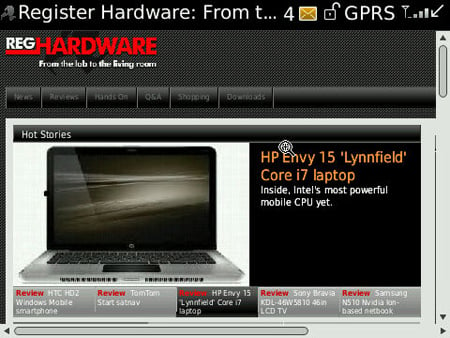 The browser is functional, but has plenty of room for improvement
The camera loads quickly in about two seconds after pressing the shutter button on the side, though the autofocus means it will take around four seconds to take a snap. The maximum resolution is 2,048x1,536 pixels and there's a 2x digital zoom operated by the trackpad. There are menu options for quick-sending via e-mail or SMS, but also uploading to Facebook or Twitter. With decent lighting, the picture quality is actually fairly good, with reasonable colour balance, though quality quickly diminishes if the conditions aren't ideal as our sample shots reveal. For video, the resolution drops to HVGA 480x352 pixels but it's reasonably clear, without too much blur.
Sample Shots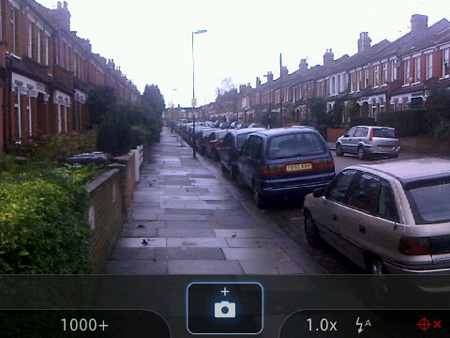 Camera viewfinder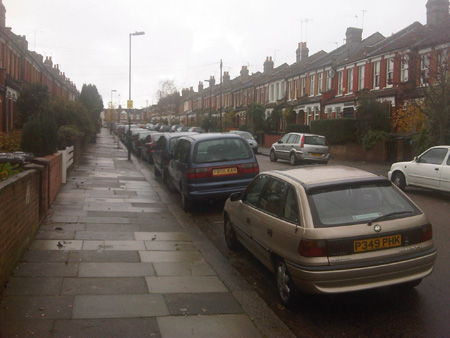 Click for a full-resolution image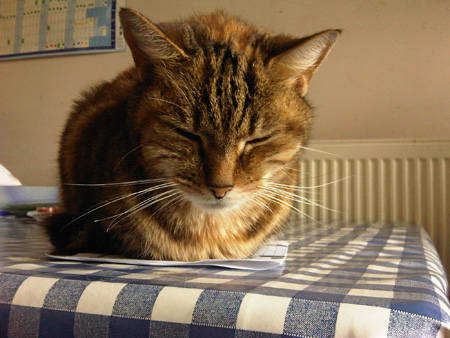 Click for a full-resolution image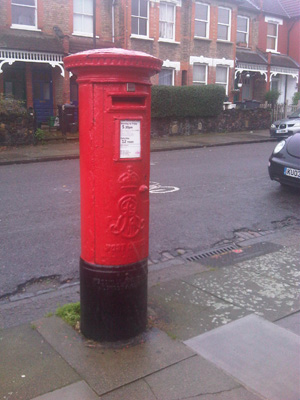 Click for a full-resolution image
Watching video is hampered a little by the size and ratio of the screen – widescreen video won't fit easily into it, and sharp as it is, you'll still need to squint a bit if you plan on any extended viewing. It supports a good range of formats though, including MPEG4, H.263, H.264 and WMV3.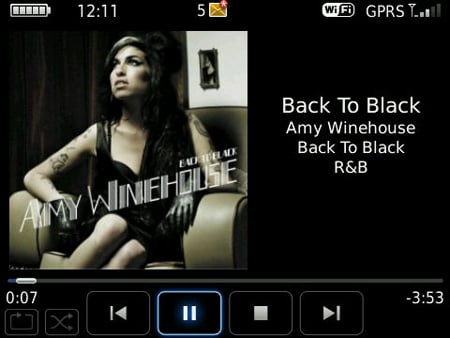 The music player offers easy navigation and not a bad sound either
The music player is well laid out and easy to navigate, with cover art support and a Find option to help you get straight to the tune you want. Sound quality through the supplied headphones was surprisingly good, with a wide dynamic range, and it will also go very loud – it even comes with an onscreen warning, if it thinks you might damage your eardrums.
It's easy to add your own headphones via the 3.5mm headphone jack or take the wireless option with A2DP Bluetooth, and there's a 12-preset graphic equaliser including bass and treble boost options. It'll handle MP3, WMA9/10, AAC/AAC+/eAAC+, MIDI, and it comes with a 2GB microSD card on board.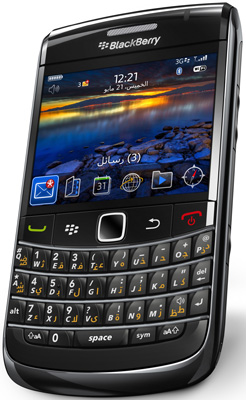 Functionality can be expanded with downloads from BlackBerry App World
BlackBerry App World is filling up nicely, and there are also quite a few interesting apps already preloaded, including document viewers for Word, Excel and PowerPoint, U2's Mobile Album, which has audio tasters, video, lyrics and more of the band's latest release, No Line On The Horizon, though it's a streaming version, and you won't be able to transfer any of the files.
The GPS worked fine, locating our north London location in a few seconds. As usual, there's the choice of BlackBerry Maps or Google Maps, but the added features and superior map layouts of the latter make it the favoured one. Battery life was reasonably good, giving us a day and a half of moderate to heavy use, even with push e-mail and Wi-Fi enabled throughout.
Verdict
The BlackBerry Bold 9700 is a terrific messaging device thanks to its push e-mail and excellent Qwerty keyboard, but it also makes a fair case for itself as a media player, with a terrifically sharp screen that's only let down by its small size. The browser could perhaps be next in line for an update, and the camera improvement is welcome, though it still lags far behind the best. But the 9700's ease of use and speed of use mark it out as an exemplary smartphone for work and play. ®
More Qwerty Smartphone Reviews...

Nokia
E72

Motorola
Dext MB200

Palm
Pre

Samsung
GT-C6625