Original URL: http://www.theregister.co.uk/2009/11/11/review_media_player_archos_5/
Archos 5 Internet Tablet Android-based PMP
The world's first Google-based media machine
Posted in Personal Tech, 11th November 2009 08:02 GMT
Review At first glance, you could be forgiven for thinking we were re-running a review from last year - we originally put the Archos 5 through its paces in October 2008. The addition of two extra words to the end of the name may not sound that exciting initially, but while the Archos 5 Internet Tablet may look very similar to its predecessor there is one very significant change: it now runs Google Android.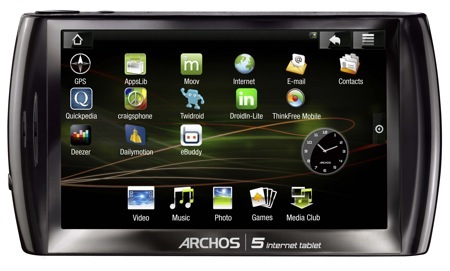 Archos' 5: homegrown OS out, Google Android in
Gone is Archos' own - not exactly super swish - Linux-based OS and in its place sits Google's Linux-based mobile operating system, the first time that it's been seen in an official capacity on a shipping product that's not a phone.
However, it's probably worth getting this out of the way early on: not all Android devices are created equal. Yes, Android is an open source operating system that any manufacturer can download and install onto its hardware without paying a fee. However, don't expect it come with all the applications you're accustomed to seeing on phones from the likes of HTC, for example. Specifically, you won't find Google's suit of apps on there by default since Google doesn't give those away for free.
So, while you will find the core Android functionality, you won't find the apps that make up what's termed the Android Google Experience - which means no Gmail, YouTube, Google Maps, Calendar and Google Talk.
Perhaps the app you'll miss most, though, is Android Market, Google's equivalent to Apple's App Store. Archos has strung its own version together called AppsLib, which promises to showcase free and paid software developed specifically for the Archos 5's larger screen, but it has nowhere near as many apps as the official Google phone-centric offering.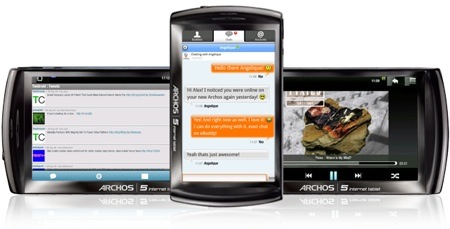 Apps, apps and more apps
You can also go down the DIY install route for some apps. Point the browser at m.spotify.com, for example, and you can manually set up Spotify by selecting one of the HTC versions and then clicking the link labelled "manually download the application". A slick experience, however, it is not.
Without the phone functionality, admittedly not all of the Google Experience apps make sense - but it would still be nice to have them on there anyway, if only to stop people scratching their heads trying to work out where the Google apps they've seen on Android phones have gone.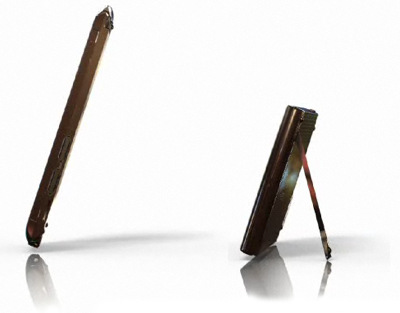 Nice and thin - at least, the SSD version is...
Moving onto the hardware itself, the design has changed little from the previous model. It's available with either solid-state or spinning disk storage. The former comes in 8GB, 16GB, 32GB or 64GB capacities, measures 143.2 x 78.8 x 10.4mm and weighs 182g. The hard drive models offer either 160GB or 500GB of storage and are the same dimensions front on, but are almost 10mm thicker and weigh an extra 104g.
The front is filled by a 4.8in, 800 x 480 touch-sensitive screen and you're limited to just three physical buttons on the top: volume up and down, and power.
Over on the left hand edge, the 3.5mm headphone jack has been joined by a standard micro USB port which, while not as common as mini USB, is a least pretty easy to get hold of if you lose the cable or you want a spare. The micro USB doubles as both PC connection and charging power source.
The same two proprietary USB ports are present on the bottom but there's now also a Micro SD card slot so you can easily slide in more storage. It supports SDHC cards, so you can add in another 32GB of solid-state storage if you run out of space. Finally, round the back, you'll find a stand, so you can watch video hands-free.
The screen is glossy, so naturally more reflective than a matte finish, but not to such an extent that it's distracting when you're trying to watch a film. The touchscreen, however, does take some getting used to.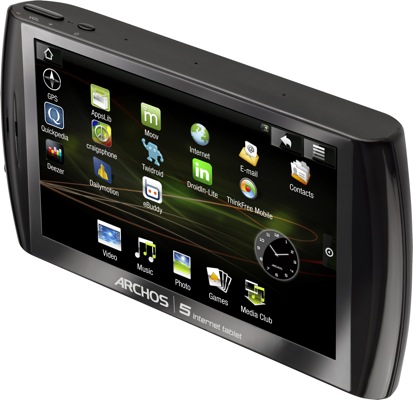 The hard drive model is a bit more chunky
Unlike something like the iPhone, which is a solid sheet of glass, the Archos' screen feels very plasticy and not as responsive. As it's so big, it's also quite difficult to scroll across it in one go without your finger sticking and then juddering and jumping to another spot. You can control it with non-living objects like the top of a pen, however, which makes for a much more responsive experience, but feels a tad old-fashioned, like using a stylus on a smartphone.
File support has previously been an issue with Archos devices, with users finding they have to pay for additional plug-ins to gain certain codecs. This approach hasn't been eliminated entirely but is less of a problem. Out of the box, the Archos 5 can play HD 720p video in H.264, MPEG 4 or MKV format and WMV standard definition.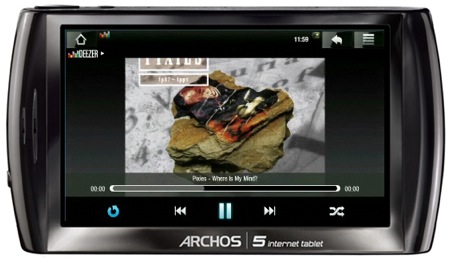 Better format support than before - but some codecs still cost extra
But if you want to play VOB files, or 720p WMV or MPEG2 files, then you'll need to purchase the HD Cinema plug-in which will set you back a further £12.22 but also adds in AC3 audio.
On the audio front, you'll find support for MP3, WMA, AAC, WAV, Ogg and Flac. You can also view images in JPEG, BMP, PNG or GIF format.
Video playback is extremely good, and the 5 handles 720p material without a problem. While there's little advantage to watching that high a resolution on such a tiny screen, the ability to transfer files without transcoding them first is a big time saver.
Switching over to the audio side of things and the playback quality was again impressive. The unit was equally happy with bass-heavy tracks like Dare by Gorillaz or something a bit more laid back like Beethoven. The bundled headphones try hard, but they can't really handle the full output without distorting, so you're better off replacing them with something more up to the job.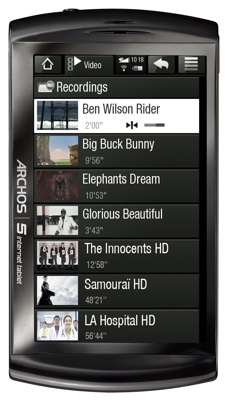 Review your recordings... if you have the optional DVR add-on
There's GPS built in, but before you get too excited and chuck your TomTom in the bin, the maps included in the box are only there for you to try before you buy. You only get seven days to make you mind up - which is pretty short - and after that you'll need to shell out an extra £35 for a UK map and £45 for Western Europe.
It's not the most flexible of satnavs either. It disagreed with our TomTom about whether it was quicker to go through London or around the M25 on a Friday night. An hour later, it was still insisting we turn around and drive back up to M25 - adding at least two hours to the journey. It was only when we came out the other side that it conceded and re-calculated the route. It was also slow to obtain its initial fix - ten minutes into the journey it still hadn't got any idea where we were. On the plus side, it lasted a full three hour's route finding with battery to spare at the end.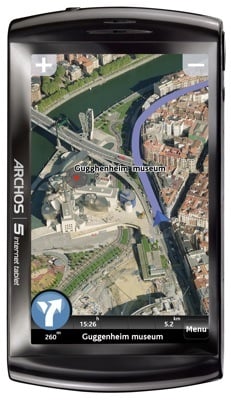 Despite a built-in GPS, the bundled satnav app is just trialware
Archos quotes the 5's battery life at up to 22 hours for audio and seven hours for video, and our test results weren't far off. Playing music on a constant loop came in just under 22 hours and video playback lasted five hours 43 minutes before the battery gave up. We were testing an SSD unit, though, and we'd expect the more power-hungry HDD models to use up their juice a little more quickly.
When it comes to getting files onto the device you can either let Windows Media Player manage the process for you, or directly drag and drop files into the right folders using Windows Explorer.
Fulfilling the Internet Tablet part of its name, there's 802.11n built in and a full web browser so you can jump online whenever you're in range of a wireless hotspot. There's no Flash support currently, which means you can't catch up on iPlayer but YouTube videos will open in the video player app so you can at least watch those.
Verdict
We were very impressed with the Archos 5 first time round and the addition of Android combined with the hardware tweaks only improves things. While it is lacking some aspects of the full Android experience, the 5 still has far more potential than most PMPs that don't even have the option for third-party apps, let alone an already active development community churning out applications. Yes, the iPod Touch does too, but the 5 has a much bigger screen. ®
More PMPs Reviews...

Philips
GoGear
Muse

Sony
Walkman
NWZ-S544

Apple iPod
Touch 3G

Cowon
D2+DAB