Original URL: http://www.theregister.co.uk/2009/11/04/review_hd_tv_sony_bravia_kdl_46z5500/
Sony Bravia KDL-46Z5500 200Hz 46in LCD TV
Striking picture quality
Posted in Personal Tech, 4th November 2009 13:02 GMT
Review Remember how flatscreen TVs used to look: dominated by huge side- or bottom-mounted speakers and with large silver or grey bezel frames? The latest models are positively anorexic in comparison, shaving centimetres off every dimension except the display itself.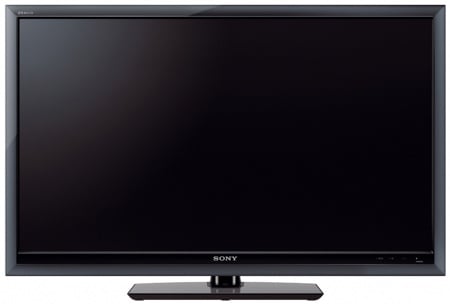 Sony's Bravia KDL-46Z5500: handsome
So this handsome 1080p model from Sony, the 46in member of the Z5500 family, has a reasonably slim profile. It's not as super-thin as some, but even so, the frame is pleasingly small and there are no big speakers on display, with the gloss black bezel looking attractive, understated and neat.
All this dieting means the Z series is noticeably lighter than other, comparable 46in LCD screens, though with luck, once you've positioned it in your living room you won't be lugging it around too much.
Set-up is simplicity itself: switch on, follow the on-screen instructions, then wait briefly while the TV tunes in to the available digital and analogue stations. And you're ready, though obviously if you want to tweak the settings for picture, sound and favourite channels - does anyone actually tune favourite channels? - you have a little more work to do.
There are two HDMI sockets on the back and two easy-access ones on the side for camcorders, cameras, games consoles and so on, so your HD needs are catered for.

Thin, but not as skinny as some LCD TVs
Sony, as we've commented before, codes its TVs largely by alphabetical order. Essentially, the S series is more basic than the V. Don't fancy a V? Then trade up to the W series, with the X above that and, right at the top of the pile, the Z. Simples, as the meerkats say. So is the Z5500 the cream of the crop?
As it's tip-top, you might have expected it would feature LED backlighting, the technology pushed by Samsung and others to give deeper blacks and greater contrast. But it's not present here. Instead, the hero feature is 200Hz MotionFlow frame interpolation, designed to offer smoother results with fast-moving subjects like sport, for instance, by adding in extra, computer-generated frames of video.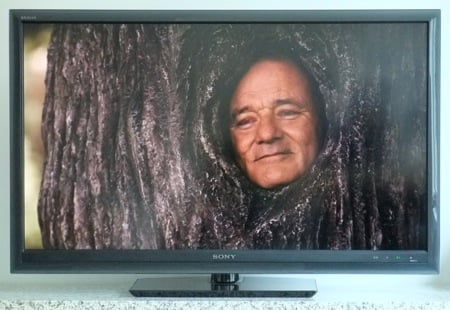 Grained: has Bill Murray ever looked this good?
It also has the latest version of Sony's image-processing engine. Sure, every new TV seems to change the number of the processing system, but Bravia Engine 3 does have a lot to offer.
Anyway, enough theory. Turn on the TV and the Sony logo lights up. Don't worry, you can set it either to stay on or fade out after a few seconds as you choose.
The remote, meanwhile, is large, capable and easy to use. There's even a blue backlight so you can find the right button when you've dimmed the lights to watch a movie. It fits the hand well and feels good, not least thanks to a ridged underside that rests comfortably on the fingers.

The remote's good - and even backlit, too
Press the Home button and you'll see that, like other Sony TVs, the Z5500 uses the XMB interface familiar to Sony PlayStation 3 users and increasingly used on other products, like Vaio laptops. Two intersecting lines of icons makes it easy to get to the items you need.
With Picture, for example, you can quickly adjust the image quality with two presets – Standard and Vivid – or go into more detail to create your own custom settings. There are also more detailed picture mode settings for different genres of TV content, photo viewing, games and so on.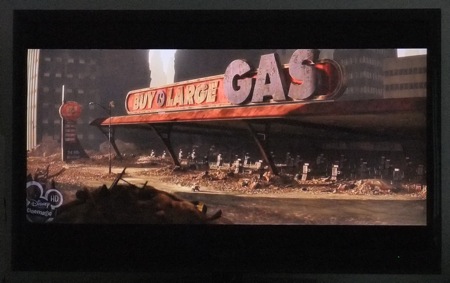 The grime in Wall-E is persuasive
After all that, how good is the picture? Pretty smashing, it turns out. Even with fast-moving action there's no noticeable smudging or blurring. And although there's no black-boosting LED backlight isn't on board, the contrast levels are impressive.
In Wall-E, on Sky in HD, the sequences on board the spaceship demonstrated the screen's ability to contrast brightness and dark: the primary coloured costumes of the Spandex clad Earthlings still rich in shadowy detail, while Wall-E's grimy casing looked persuasively damaged.
Kitsch flick Mamma Mia made Meryl Streep and Julie Walters look suitably over-tanned in the bright Greek sunlight - the Vivid setting may be too much for some viewers here. Still, the quieter scenes work with vibrant skin tones and sharp detail in every corner. Note that not even this TV could make Pierce Brosnan's singing sound good.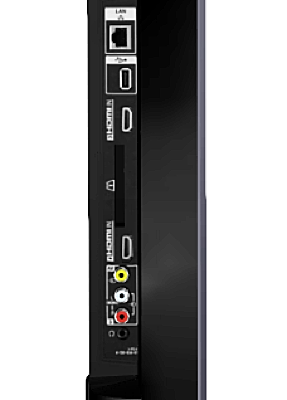 You'll find the extra connectors on the right side useful
While we're on the subject of audio, it was decent but not exceptional. Cute though the graphic showing the volume level is, the chief thing we noticed was that we had turn it up more than we'd expect to get a decent level of sound.
Turn to Freeview and the images were extremely good – the standard definition picture benefiting from the Bravia Engine upscaling to make it shine. Sport looked good, with no ghosting or after-images on football or Formula One. Sony's MotionFlow feature and the 200Hz processing combined to handle everything well, with little or no motion judder or annoying artefacts on screen – all without the need for intrusive tinkering. This is an excellent set, then, for day-to-day viewing.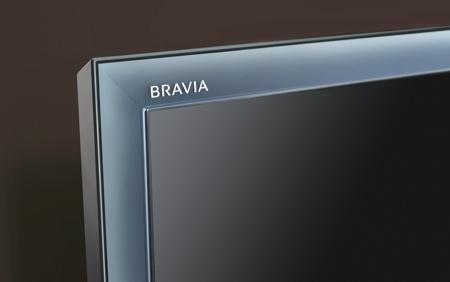 Stylish design
There are other features to note, like the connection to Sony Applicast. The Ethernet cable socket on the side allows you to watch TV and use web-based applications simultaneously. These are limited to items like an RSS feed, calculator and calendar. To our mind, if you have a great-quality, large-sized screen like this you should be looking at Blu-rays - the Z5500 does 24p cinema input - HD broadcasts or even Freeview in as much glory as possible, not zoning part of it out to make room for other features. Especially when sharp, detailed imagery is where this panel excels.
There's an eco-friendly side to this TV, too. It has been designed to use substantially less power than earlier models – over a third, Sony claims – and if you're listening to digital radio through the TV, you can turn off the display altogether.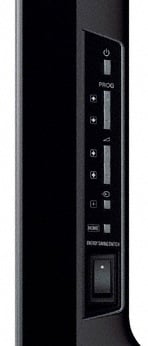 At last! At the bottom of the control cluster: a physical power switch
There's also an ecologically sound complete on/off switch. This telly has a proper spring-loaded switch so you can completely power down the set instead of leaving it in standby. Not every set has such a thing – often even turning off the standby light leaves a tiny current pulsing to make switch-on quicker. But this one has a proper switch like, you know, every TV used to have. Funny how things change, isn't it?
Verdict
Sony's TVs regularly offer stylish design, effectively implemented innovations and striking picture quality. And all that's true here. But this is a pricey TV and the attention-grabbing LED backlighting of rival sets may attract you instead. Despite this absence, the other features, like the excellent Bravia Engine 3 image processing set-up and the headline 200Hz frame rate, mean the image is sharp, bright and immersive. ®
More HD TV Reviews...

Sharp
Aquos
LC40LE700E

Philips
Cinema 21:9

Panasonic
Viera
TX-P42G10

Toshiba
Regza
37AV615DB