Original URL: http://www.theregister.co.uk/2009/11/02/virgin_america_start_up_thinks_big/
Virgin America dumps servers, flies for the clouds
Open-source payload
Posted in The Channel, 2nd November 2009 14:02 GMT
For a start-up, Virgin America is acting pretty big these days.
In the spring of 2007, the low-price airline wasn't even flying. It was still struggling for US regulatory clearance. But suddenly, Washington DC gave it the green light, and on August 8 that year, Virgin's first commercial flight took off from its base at San Francisco International Airport.
Between that spring and summer, Virgin's IT staff of seven scrambled to set up the infrastructure: running cables, installing operating systems on PCs, building a data-center, a reliable web site and middleware, email, business, reservation, and flight systems.
The upshot? A brand, spanking new carrier, a humming data center, and a website responsible for more than 70 per cent of Virgin's multi-million-dollar business that it calls the "crown jewels." The set-up underpins an airline that's grown rapidly from just three US cities with seven flights a day to more than 100 daily flights serving 13 cities.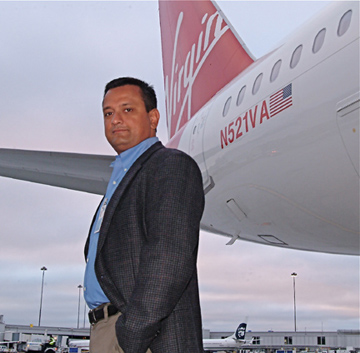 Simhambhatla: departing from Virgin America's recent past
The good and the bad is that just over two and a half years down the runway, the start-up is acting more like the airlines it competes with - decades-old carriers that are several times bigger but also burdened by bloated IT infrastructures that make it so difficult to respond to changing needs.
But under Virgin's recently appointed new chief information office Ravi Simhambhatla, the man who installed all those virgin systems in 2007, the airline has taking steps to avoid this sort of future. He's starting with a bout of server consolidation.
The goal is a streamlined data center that will kick out its nearly brand-new 100 data center servers and double down on server blades. Virgin under Simhambhatla also plans to tap cloud computing, so it's got tons more compute and storage - only not on his premises.
Furthermore, Simhambhatla has re-organizing Virgin's now expanded IT team of 30 to act less like a bunch of people in start-up mode and more like a mature operation that plans ahead.
Simhambhatla, who was named Virgin CIO this summer in recognition for his early set-up work, told The Reg that even though Virgin is new, the logic driving the change is simple: to keep the costs of IT down and to let the individuals in IT find new ways of serving Virgin's customers, through things like mobile check in on the iPhone.
"Because we are such a tech heavy company, we have to keep our eyes on the ball," Simhambhatla said. "We are consciously pushing ourselves to implement technologies that bring value our guests. That's the biggest challenge because the entire landscape is changing."
Pilots to fly without wires
Illustrating the kind of thinking Virgin expect and encourages, is the fact Virgin swapped the standard mountainous volume of paper-based flight documents and navigation charts that airline pilots typically haul about in a brief case on wheels through airports for an electronic system that uses a Windows-based tablet and has information uploaded via a USB. The idea was to consolidate essential flight information and make it easier to access.
The next step, in early 2010, is to let pilots download all that data via wireless - right to the point where they leave the airport, at the gate. Also added will be information on weather conditions and ground speed. The idea is to ensure pilots get all the latest data on flying conditions. Other airlines' pilots will still be lugging about dated charts and graphs in 2010.
"Our company doesn't need just another IT team, the more and more we get entrenched in the world way of doing things the less and less room we will make for ourselves to be innovative."
Simhambhatla joined Virgin in March 2006 before the carrier's first flight and was given a mandate: set up all the IT systems and be ready to fly in just four-months' time.
Open-source skeptics in suits
From day one, his thinking went against the grain. Faced with little budget, Simhambhatla picked open source to get things running. He built the web site on MySQL, Red Hat, Apache, Tomcat and UltraMonkey. The email system went Postfix for the MTA, with ClamAV with Amavisd-new, spamassassin, and Maia Mailguard for the anti-virus and anti-spam defenses. The VPN server is OpenVPN integrated with Microsoft's Active Directory, document management comes courtesy of Knowledge Tree DMS and issue tracking is from Scarab.
And there were no support contacts. Even today, Virgin's kept things light, with just two support agreements for its open source - for Red Hat and MySQL.
Simhambhatla - who joined Virgin from outside the travel industry - faced skepticism from colleagues who'd been recruited from competing airlines, with IT budgets of billions of dollars spent on products and services from companies like Microsoft, IBM, and Oracle.
"One of my biggest challenges was being able to convince my peers, seniors and executives that open source was the right way to go, not because it was great but the right way to go because it was technologically superior. All these guys come form other airlines where IT has $10m budgets, but my challenge was to show I could deliver the same and better for a fraction less," he said.
Open source proved itself, however, and Simhambhatla notes there's never been a single issue. Open-source proved itself reliable, overcoming early skepticism.
Today, that open-source website, Virgin's financials, its frequent flyer club, the email system, and a host of servers - specific to the airline sector plus more bread-and-butter business systems - live on 100 massive servers at Virgin's Burlingame, California, head office. The typical box is a one-, two- or four-U unit quad-core 4Gb machine with a handful of 32Gb machines.
Just two and a half years in, Simhambhatla said his dream already is to rid his data center of racks. Servers have three things going against them: they need administrators, they eat up physical space and money as you add more to try to increase your computing capacity, and they consume gobs of power. All these factors mean increased cost for an airline whose average ticket comes in around $150.
The goal is to concentrate all the internal servers - but not some very specific industry server applications that require dedicated machines - on between 60 and 70 blades with 16Gb of memory each, eight CPUs, and four network interface cards. These will be sliced and spun up using VMware virtualization. "I can bring more and more applications and more and more services on to the same blade using virtualization so the cost of ownership over time reduces quite nicely," Simhambhatla said.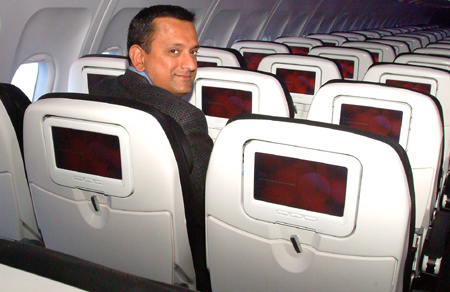 Ready for take off: Simhambhatla believes the cloud will provide Virgin on-tap compute capacity
One of the data-center's biggest and most important occupants is Virgin's web site. The site is Virgin's primary shop window, generating up to 72 per cent of revenue. Through the site, Virgin holds regular sales - three this year - that Simhambhatla said pull in 700,000 hits during the first three to four hours after a sale has been announced, producing peaks in traffic. To give you an idea of what's at stake: Virgin's April sale contributed to revenue of $100m during its first quarter - growth of 90 per cent, during a recession.
Typically, the site will run on eight blades and peak at between five an 10 per cent of capacity during a sale. "We are barely scratching the surface," Simhambhatla admitted.
Into the clouds
His eye, though, is on increasing traffic and achieving growth without engaging in the time-honored practice of adding additional computing capacity of buying more servers. Simhambhatla said Amazon or Force.com service could provide potentially un-restricted capacity, which he could fire up at the moment he needs it, for a low monthly cost.
For Simhambhatla, as long as he can get "great" computing capacity and do it for less money than buying and running his own servers, while achieving the same levels of performance and security, "that's pretty much what we will do."
"If we need to bring something up very, very quickly, then that's where I strongly believe the cloud will come into play. I believe I can put components of the web site on the cloud, buy computing power, load up applications and pay a monthly retainer to keep them humming and bring them online as we need to," he said.
Why move so quickly?
"We have to keep our costs down in a way that's is reasonable and does not impact the business negatively. We will not scrimp on stuff that is critical to our infrastructure...[but] servers have become such a commodity now why'd I want to put my money in a mega box unless it's Superdome? We are an airline, and the product is in the plane."
Why move so quickly?
Simhambhatla said Virgin needed to quickly move out of its launch-phase chaos and develop a mature IT operation supporting the business and not become the kind of cliché IT shop that's expensive run or home to a growing group of administrators who fall behind on new projects.
An integral part of all this was the team re-organization. This saw the previous two business systems analysis and the architecture and integration teams that set things up re-organized into software engineering and an operations team - the latter to mange systems.
A project management office was also instituted. This is normally the kind of thing found inside places like major corporations, where IT has become a vast operation of many moving parts, and where the number of business and technology stake holders mushroomed. Project management offices are used to to help tack IT projects and to make sure things are coming in on time and in budget.
The idea at Virgin was to ensure IT has a good intake of projects from the suits and that Simhambhatla and the suits can track projects, articulate plans, and keep things in budget. The chief executive and financial offers also attend IT meetings.
Simhambhatla said this re-organization was crucial. "There was always this controlled chaos," he said of Virgin's early launch days. "It was good chaos - we did a lot of fantastic work - but it took us more energy than it should have."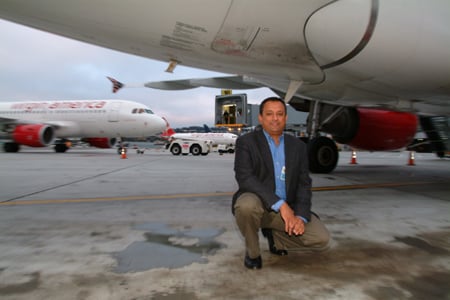 Moving fast: mobile is very important to Virgin and passengers, according to Simhambhatla
According to Simhambhatla, the re-organization has worked because it's letting IT experiment and build while delivering what the suites ask for. In the pipeline are ongoing updates to the Virgin web site - something that's very high on the CEO's mind, Simhambhatla said - while IT has began experimenting with the iPhone Software Development Kit (SDK).
One thing on Simhambhatla's mind is mobile check in - something that happens in Europe but that is difficult in the US as local airports impose different security restrictions. Mobile is somehow seen as risky. Some of Virgin's US competitors do offer check in at some of their destinations, though. "Mobile is very important," Simhambhatla said. "We need to do the same as mobile banking...We want to take it in reasonable steps."
The name "software engineering' that's been applied to one of the teams has also created a "whole new discipline" Simhambhatla said. Referring to the iPhone dabbling he noted: "There's no mandate from the business yet, but we will play with the SDK to look at what iPhone applications make sense for the consumer - alerts and schedules and so on."
Work has also begun on brand new software for the Virgin self-service check-in kiosks that were rolled out to US airports in the last two-and-a-half years. "Today we have very functional kiosks at the airport. We want to add more, like potential up sell opportunities during check in that help us and guests at the airport. Out kiosk check in is very different to what other airlines have, but we want to make our software more modular and extensible for the future," he said.
PC grilling
Other plans include expanding Virgin's existing use of thin-client software particularly in Virgin's pilot training program, so there's no need to buy or manage more PCs - cutting the cost and reducing Virgin's power budget. "My goal would be for every new employee to ask the question: does this person need a laptop - do they need mobile computing are they traveling?"
Behind Simhambhatla's need for speed is the desire to harness Virgin's hardware and software, rather than fall into the trap of becoming prisoners of it. To let the IT team dabble and deliver, not become full-time Oracle DBAs. And to keep Virgin lean, avoiding the slide into the kind of mid-life, middle-age spread that has typified its competitors - companies who've been in bankruptcy restructuring and have removed the frills for their passengers while increasing prices as their costs have crept up and traveler numbers have dropped off.
"The more mature our business becomes...the need for focus and discipline on how we do our work increases," Simhambhatla said. ®