Original URL: http://www.theregister.co.uk/2009/11/02/review_networking_belkin_powerline_hd/
Belkin Powerline HD Gigabit mains Ethernet adaptor
High-speed networking through a three-pin plug?
Posted in Networks, 2nd November 2009 08:02 GMT
Review Belkin's Gigabit Powerline HD mains-wiring network adaptor is the first we've seen to claim to be able to delivery data transfer rates of up to 1000Mb/s.
We stress the word 'claim' and the phrase 'up to'. Makers of powerline kit also market adaptors that, they say, deliver bandwidth of up to 200Mb/s. But no one who uses one will ever get a data throughput anywhere near that. Almost every 200Mb/s adaptor uses a 10/100 Ethernet port, capping the throughput at 100Mb/s.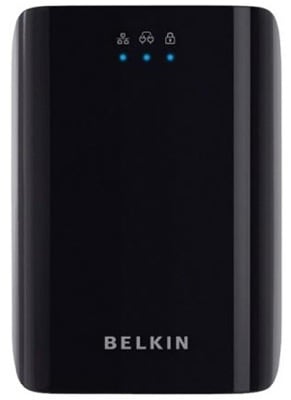 Belkin's Powerline HD: capable of Gigabit speeds?
That's because real-world powerline speeds are occasionally slightly above but usually lower than 100Mb/s. There's simply no point in the vendor integrating a Gigabit Ethernet port: the link speed means you'll never get any advantage from it.
Powerline isn't alone in this. All networking kit performs some way below the maximum speed quoted by vendors to make sure their offerings don't appear slower than anyone else's. It's high time the networking industry came up with a better measure, but don't hold your breath waiting for one.
Back to Belkin. Its Powerline HD adaptor does have a Gigabit Ethernet port, and that's because it can indeed deliver real-world speeds well above those that 200Mb/s adaptors can manage - whether they use the HomePlug AV standard or the rival UPA specification. And it delivers speeds above 100Mb/s.
Belkin's shiny black box uses HomePlug AV technology, so it's compatible with existing adaptors of that type from any vendor, though connecting it to one will see the link speed fall back to well under 100Mb/s.
The adaptor uses chip company Gigle's Mediaxtream chippery, which, while equipped with HomePlug AV for compatibility, also runs its own faster channel over the mains. "Mediaxtream... delivers raw throughput data rates of up to 882Mb/s at the PHY," says Gigle. Ethernet will knock the actual data speed somewhat below that peak, with real world speeds further eroded by factors such as wiring quality and noise on the line.
To get the maximum speed, you'll need a Belkin adaptor at either end of the link. Each Gigabit Powerline HD unit measures 84mm side to side - it's 50mm deep and 116mm top to bottom - so you may well want to double-check the sockets you propose to stick the adaptors into to ensure there's room for them. The adaptors are large enough to potentially intrude on adjacent power sockets.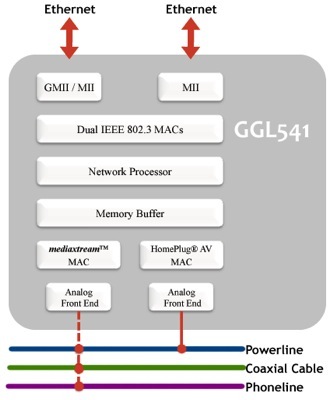 More than powerline: inside Gigle's Mediaxtream chippery
The power pins are at the top of the back panel, so it's not just a question of whether there's sufficient space either side of the socket, but that the adaptor isn't going to run up against a floor, desk or other surface placed below them. The Ethernet port is on the base on the unit, so you'll need to allow a further 30-40mm beyond the height of the device.
You can, of course, use a distribution board to get round this spacing problem but, as we'll see, that may not be such a good idea.
Like almost all of today's HomePlug offerings, Belkin's incorporates push-button encryption key sharing across the network. Plug two or more adaptors in, press the button on one for a second or so until the LED with a padlock icon blinks then go and press the buttons on the remaining adaptors. They'll all share a 128-bit key and encrypt all the data the flows between then from that moment on. Adaptors not involved in this process won't get the key and won't be able to decode the data.
There's no software supplied with the adaptors to allow you to set the key manually, which you might want to do if you have an existing HomePlug AV network that you want the new adaptors to talk to, though not at the speed of the new units, of course.
Belkin supplies the Gigabit Powerline HD in pairs, and we used the two of them to bridge an upstairs router-cum-Nas-box and a laptop downstairs. Both laptop and router have Gigabit Ethernet ports. Afterwards, we swapped the Belkin boxes for the pair of Devolo dLAN 200Mb/s adaptors that we use to link the router to a media player we have connected to our TV.
Now, the Devolos both usually sit on distribution boards, one to split the power from a single mains socket so we can drive said media player and a Freeview DVR. The upstairs distribution board has the router and the cable modem dangling off it as well as the powerline adaptor.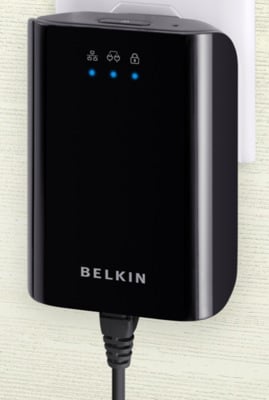 Make sure you leave room for the Ethernet cable
HomePlug supporters used to say that it's best not to do this, but with the AV standard it generally doesn't matter. Indeed, with the Devolo boxes we get effectively the same speed however we connect the adaptors to the mains.
Each Belkin adaptor has a powerline link LED that glows blue when you have a good mains connection, purple when it's so-so and red when the link is poor. When we swapped Devolo for Belkin, all we got were red lights, and we found performance was down to HomePlug AV level. If anything, the connection was slower than the one we got with the Devolos.
We tried a number of mains sockets downstairs and this time got purple lights, but saw no appreciable increase in data transfer speed. For our testing, we timed copying the same 1.41GB file from the router's integrated Sata hard drive to the laptop. We took the adaptor upstairs and finally got a blue powerline light, but again not real improvement in throughput.
Belkin warns against connecting the Powerline HDs to distribution boards, but, as we say, we've never had cause to take this seriously. Until now. Gigle's Gigabit channel is far less resilient in this respect than slower HomePlug and UPA boxes. We pulled the router-connected adaptor from the board and plugged it into a wall socket instead. Immediately, we saw a clear increase in performance.
Under Mac OS X, we timed the file transfer of the file for a more real-world reading. The file took 1m 53s to copy - 102.22Mb/s. Mac OS X 10.5's Activity Monitor showed a peak speed of 13.94MB/s, or 111.52Mb/s.
With the Devolo, the file took 4m 8s to transfer, or 48.39Mb/s. The Belkin was at least twice as fast as the HomePlug AV box. Our wiring is almost 30 years old, and we'd expect to see higher numbers in newer housing than our 1980s house-to-flats conversion.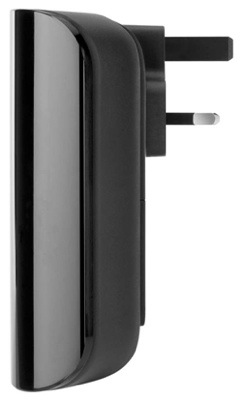 The power pins aren't suited to close-to-the-floor mains sockets
Right after we finished testing, Belkin UK posted a firmware update for the adaptors. They shipped with version 2303 but the update takes the firmware to version 2314. We still had the adaptors, so we repeated the test with the new firmware.
We got 94.14Mb/s for the file transfer, peaking at 102.4Mb/s. Belkin told us: "The... firmware has been designed to improve transmission stability over longer distances and in noisy environments but as a result has reduced the very top-end performance ever so slightly as a trade off."
On the upside, it also meant we got better performance when the Belkins were plugged into distribution boards.
Belkin prices up Powerline HD at £130 a pair, but we've seen them for as little as £100. That's still a £25 mark-up on, say, the £75 you'd pay for a pair of Devolo 200Mb/s adaptors. That seems a small price to pay for a doubling of bandwidth.
Verdict
How should we rate the Belkin Powerline HD? Slap it down hard because it doesn't get anywhere near the 1Gb/s headline data-transfer speed? No networking product does. With an Ethernet cable linking laptop straight to router we only get 216Mb/s - so why penalise this one? From a Gigabit Ethernet perspective, Belkin's offering may be disappointing. But it's also at least twice as fast as some of the best 200Mb/s powerline adaptors, and well ahead of Wi-Fi. ®
More Networking Reviews...

Vodafone
Access
Gateway

D-Link
DHP-303

Solwise
Piggy 6

D-Link
Xtreme N
DIR-685