Original URL: http://www.theregister.co.uk/2009/10/19/review_electronic_book_interead_cool_er/
Interead Cool-er
Reading: the future?
Posted in Personal Tech, 19th October 2009 12:02 GMT
Review The time of the eBook reader may have come at last. With Amazon's Kindle leading the charge and Barnes and Noble working with UK OLED display maker Plastic Logic for a similar offering next year, there's growing awareness of the possible market for electronic readers. Interead's Cool-er is an independent reader, trying to carve itself a niche.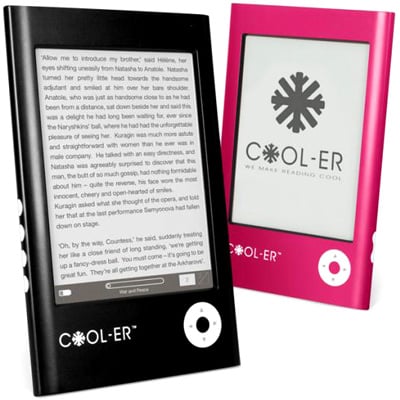 Interead's Cool-er: another page in the eBook's development
There's undoubtedly more interest in eBook readers than there was even a few months ago and the Cool-er device from Interead aims to service a slice of this. Styled like a large iPod and in a range of candy colours, the cases are disappointingly plastic and there's no slip-sleeve to protect case or 6in E-Ink display.
E-Ink is probably the best know supplier of electrophoretic screens and is used by Sony and Amazon. The big advantages are that the screen has high contrast – though the background isn't completely white – and that it takes no power to maintain an image; in this case, a book page. The only power is taken when the page is turned and the screen refreshed.
The Cool-er has a set of buttons down its left-hand edge for sound, orientation, exit and menu and a toggle button on the right for sound volume. On the front panel, below the screen, is a ring of navigation buttons and a central one to make a selection. All the buttons are too stiff to be comfortable, but in their favour, are also hard to press in error.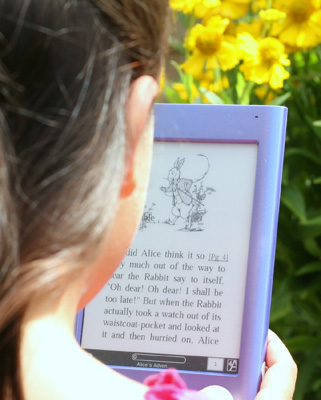 There's no denying the high contrast of the E-Ink screens
The reader uses a Linux variant as its OS and runs the Adobe Mobile Reader. It shows folders and files for eBooks you've loaded from the Coolerbooks site, where there are over 300,000 titles available, plus another million free, public domain, ones. Contemporary fiction eBooks tend to be more expensive than from Amazon, but at least when you buy one, it's yours and there's no mechanism, as there is in the Kindle, for anyone to delete it from your Cool-er.
The reader needs no additional software, as it appears as an external storage device when connected using the supplied USB cable to a Mac or PC. It's easy enough to drag and drop files, though a Mac does create Trashes folders, which appear in the Cool-er's file tree without names and are hard to remove.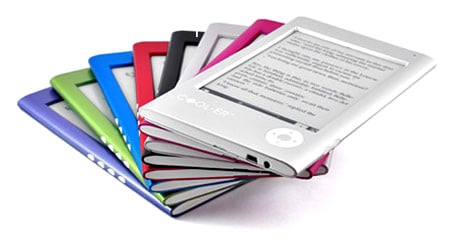 Buttons are positive, but too hard to press
The reader majors on displaying epub and pdf files and handles epub particularly well, showing illustrations to texts, as well as the eight greyscales of its display allow. You can adjust text size and style, if the eBook permits it, and you can view in portrait or landscape orientation.
While it may not be the main function of the Cool-er, it would expand its uses considerably if it could read files you generate. It can read pdfs, of course, but it can't read doc or docx. It can also show rtfs, but only, according to Interread, if you save them out of Word. We certainly couldn't get it to read any rtf files we created with the popular bulk converter ConvertDoc – it showed them in its file tree but refused to open them.
More worryingly, it had problems with rtfs saved from Word 2007. While it displayed them, most of the carriage returns had been stripped out, making them hard to read. Graphics were removed, too.

MP3 audio is supported for music and audiobooks
There's a mini USB socket on the bottom of the Cool-er, next to a mini audio jack. The Cool-er can play back MP3 tracks and audiobooks, though there's no support for either AAC or WMA files. Sound reproduction is good enough for both uses and the 1GB of internal memory can be expanded by up to 4GB, using an SD card.
One of the things an eBook reader should be able to do is to return to the page of the book you were on when you switched it off. The Cool-er doesn't do this. When you start it up, it takes you to the top-level menu and you have to drill down to the book you were reading and re-open it. It does then remember the page, but the whole process takes the best part of a minute, rather than being instant.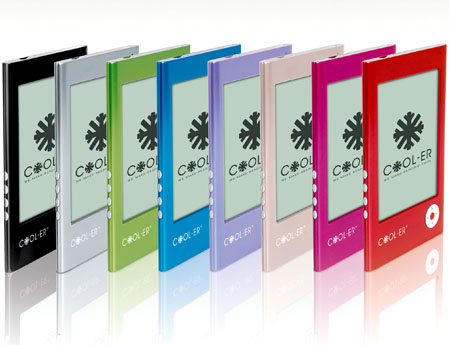 Wonka-bar colours should fit most tastes
Interead advises disabling the auto-shutdown, in effect, leaving the reader running all the time. While its E-Ink display may only take power on a page turn, there's a processor running OS and reader software and that takes juice all the time. Even so, you should measure the battery life in weeks rather than days – it recharges automatically using its USB connection.
Verdict
The Cool-er has all the hallmarks of a product in Version 1. The interface needs to be a lot more intuitive and the reader needs to handle supported document formats more accurately. With recent news of Asus intending to release an eReader for under £100 by Christmas, the Cool-er and others are also looking too expensive. ®
More Tablet Reviews...

iRex Digital Reader
DR1000S

Toshiba
Portégé M750

Group Test
Electronic book readers

Nokia N810
Internet tablet