Original URL: http://www.theregister.co.uk/2009/10/17/review_storage_fast_usb_flash_drives/
Fast USB 2.0 Flash Drives
We test vendors' top-speed offerings
Posted in Personal Tech, 17th October 2009 08:02 GMT
Group Test Anyone else remember how the death of the floppy disk was supposed to mean the end of the 'sneakernet' - files exchanged physically on a handy, portable storage format?
It never happened. Instead, floppies were briefly replaced by higher-capacity media like Iomega's Zip disk and then, when USB really took off, Flash drives. Nowadays, Flash drives are so ubiquitous you can pick low-capacity ones up for nowt at trade fairs.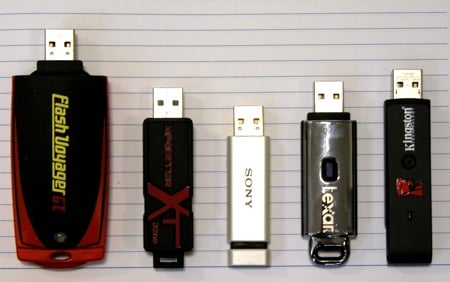 Flash for Freedom: L-R Corsair Voyager 128, Patriot Xporter XT, Sony Click Excellence, Lexar Lightning and Kingston DataTraveler
The freebies might do for some folk, but plenty of us prefer something rather faster than oh-so-slow giveaways. USB 2.0 helped a lot, but there's still room for improvement, and drive makers are pushing ever faster drives. USB 3.0 will change the game, but it'll be a while before compatible Flash drives arrive - let alone low-cost ones.
We asked the main Flash key makers to lend us their fastest drives. We've focused on speed, but we've factored in portability, solidity and price when we came to choose our Recommended and Editors' Choice products.
The drive sequential and random read and write speeds were tested using CrystalDiskMark 2.2 running on a Windows XP Service Pack 3 machine. The drives were set not to use Windows' disk cacheing.
Since Flash drives aren't generally used as SSDs - you'll grab a file or two off it, but you won't be shuffling data back and forth almost constantly - the random results are less relevant here, though they give an indication of how good they drives are at transferring large numbers of small files. These products are used for bulk transfers, so it's the sequential speeds we're most interested in here.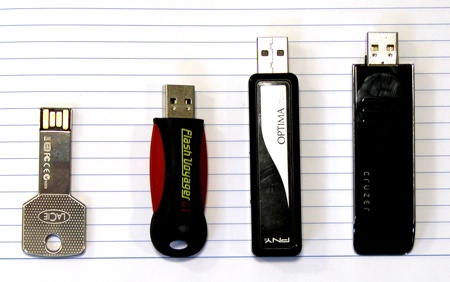 (L-R) LaCie IamaKey, Corsair Voyager 32, PNY Optima and SanDisk Cruzer Contour
We also tested real-world data read and writes on a MacBook Air using a single 2GB file and a 1GB folder containing 100 10MB files. The test files were copied to the drive, duplicated on the drive and then copied back to the host machine. We timed each transfer then fully shut down the machine, waited 15 seconds or so, and rebooted to test the next product in the list.
While there was considerable variation between CrystalDiskMark, 2GB File and 1GB Folder read speeds, the equivalent write speeds were much more consistent betwen the three tests. In order, then, with the best write speed first and worst last, we have:
1. Corsair Voyager GT 128
2. Lexar JumpDrive Lightning
3. Corsair Voyager GT 32 and SanDisk Cruzer Contour
5. LaCie IamaKey and PNY Attaché Optima
7. Sony MicroVault Click Excellence
8. Kingston DataTraveler 410
9. Patriot Xporter XT Boost
Averaging a drive's rating across the three read tests yields the following order, again with the best read speed first and the worst last:
1. Corsair Voyager GT 32
2. Lexar JumpDrive Lightning and Corsair Voyager GT 128
4. Sony MicroVault Click Excellence
5. LaCie IamaKey
6. Patriot Xporter XT Boost
7. SanDisk Cruzer Contour
8. PNY Attaché Optima
9. Kingston DataTraveler 410
Clearly, then, you are not going to be disappointed with a Corsair or Lexar drive, but you are likely to be unimpressed with a Kingston. The Patriot's poor write performance drags it down too. Good middle-of-road performers: LaCie, Sony, SanDisk and PNY, in that order.
Check out our charts for a fuller picture, particular for read speed, which saw some interesting oddities. SanDisk's Cruzer Contour, for example, scored poorly at reading the 2GB file, but much better with our 100-file 1GB Folder test. The Corsair 128 went the opposite way, a sign perhaps of the roles their respective controllers have been optimised for.
CrystalDiskMark Results
Sequential Read and Write Speeds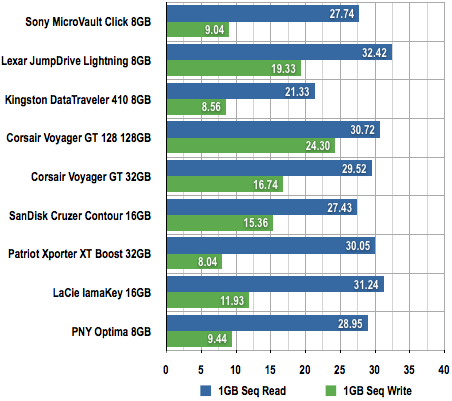 Throughput in Megabytes per Second (MB/s)
Longer bars are better
Random Read and Write Speeds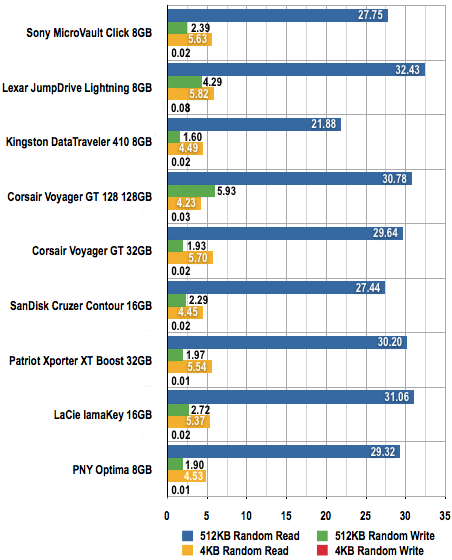 Throughput in Megabytes per Second (MB/s)
Longer bars are better
File-Transfer Results
2GB File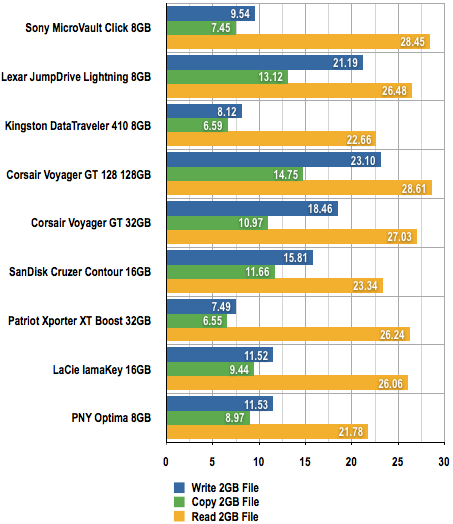 Data Transfer Rates in Megabytes per Second (MB/s)
Longer bars are better
1GB Folder of 100 10MB Files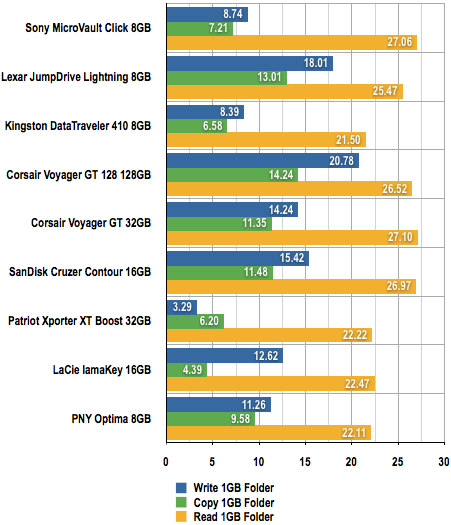 Data Transfer Rates in Megabytes per Second (MB/s)
Longer bars are better
On the next pages, we'll go into each drive in a little more detail.
Kingston DataTraveler 410 8GB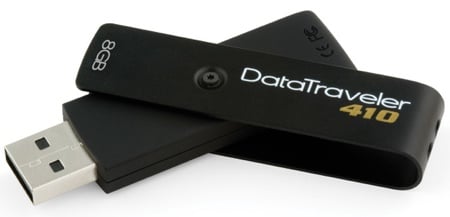 Kingston's latest USB Flash drive proved something of a disappointment. While we liked its matte black paint job and its slim, light metal casing, the drive's performance proved relatively poor. The 410 came in last place when we measured read speeds and wasn't much better when it came to writing.
There's no arguing with the 410's low price, which is a steal if you're not too concerned with file-transfer speeds - though the PNY Attaché Optima costs much the same and is faster. The drive also comes bundled with SecureTraveler, an app that lets you partition some or all of the drive into a password-protected private area.
And it's a good-looking drive. It's protected by a metal cover that pivots around the centre of the drive to expose or shield the USB connector and which forms a strong anchor for a lanyard if you plan to use one.
Rating 60%
Price £25 Click here for the best online price
More Info Kingston's DataTraveler 410 page
Patriot Xporter XT Boost 32GB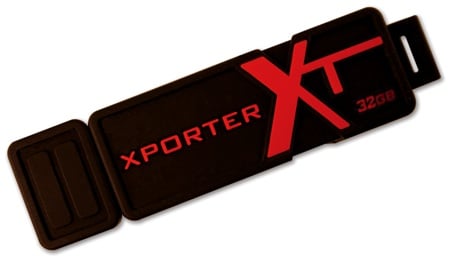 Patriot slaps a big "Ultra-high 200x Read Speed" label on the Xporter XT Boost's packaging and that, plus the drive's name, led us to hope we had a speed demon on our hands. It proved to provide a reasonably read speed in our tests, but it proved the slowest of the lot when it came to writing data to the drive.
Like the Corsair offerings, Patriot's drive comes in a smart rubbery casing with a moulded lanyard attachment and equally rubbery connector cover. But where the Corsair feels solid, this one had a small but squeezable gap between casing and drive internals. That's not a problem as such, but it is indicative of lesser build quality. But we like the way the cap fits snugly only the lanyard connector for safe-keeping.
It's pricey, too, though a good shop around means you'll be able to get it for a lot less than £90. And if the slow write performance disappoints, Patriot's offer of a lifetime warranty certainly doesn't.
Rating 60%
Price £90 Click here for the best online price
More Info Patriot's Xporter XT Boost page
PNY Attaché Optima 8GB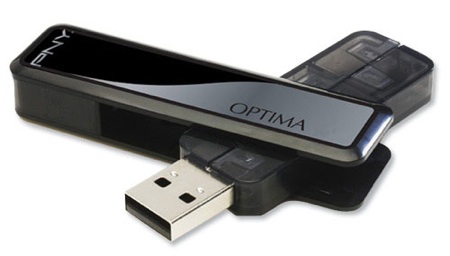 PNY's Attaché Optima is probably the oldest of the drives on test but it still put in a performance that kept it ahead of the likes of Kingston, Patriot and - for write-speed at least - Sony. It's a good mid-ranger, in other words.
Like the Kingston drive, the PNY is a two-part product that swivels around a point to cover the USB connector. Here, though, it also slides in a way to tuck the connector into a bay at the end of the cover. It's a neat mechanism, though it makes the flimsiness of the plastic casing obvious, unlike the metal cover of the Kingston. But it's no more or less brittle than the Sony.
Rating 65%
Price £25 Click here for the best online price
More Info PNY's Attaché Optima page
Sony MicroVault Click Excellence 8GB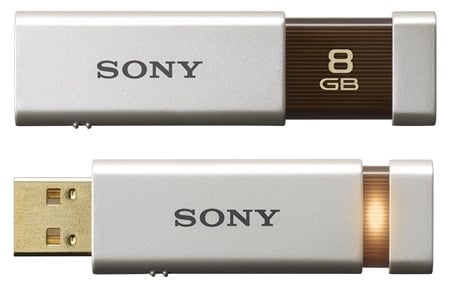 Sony's Click is the lightest and smallest of the drives we tested but, thanks to its all-plastic casing and loosly sprung slider mechanism, felt the least rugged. Only the Iomega IamaKey is thinner. It's a good looking drive.
The Click gets its name from the spring-loaded retractable USB connector. Push one end in to expose the connector, then push it again to release the catch and spring the connector back inside the casing. The resistance of the connector in a USB port means that when you pull the Click out of a the port, it also triggers the release mechanism.
The Click posted some very good real-world read speeds, though CrystalDiskMark was less keen and it hung around the bottom of the list of drive write speeds.
Sony bundles a capacity doubler utility, but that shouldn't detract from the fact that this is pricey for an 8GB drive.
Rating 70%
Price £40 Click here for the best online price
More Info Sony's MicroVault Click Excellence page
SanDisk Cruzer Contour 16GB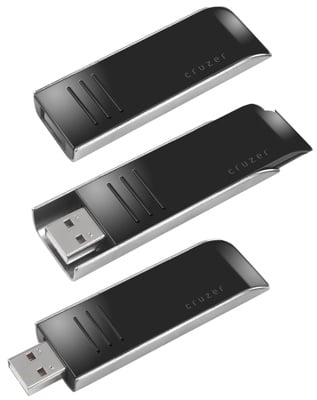 SanDisk's fastest drive put in a respectable mid-range performance in our tests, ahead of some but behind others. But we weren't so keen on its fussy, probably-seemed-a-good-idea-at-the-time connector protection mechanism.
These are generally a good way of covering the connector and there's no cap to lose. But they can be fiddly just when you want to grab your drive and go. SanDisk's mechanism is no exception. It's a two-stage system that requires you to hold it with your fingers beneath and your thumb on top. You pull back the shiny, black plastic part of the drive with your thumb to reveal the USB connector. Then you have to push it back to extend the connector beyond the edge of the curved matte metal plate that forms the bottom half of the drive.
To cover it again, you push the plastic forward, over the connector, then pull the whole lot back flush with the edge of the metal. Small flap pops up to cover the whole which would otherwise allow dust and fluff to reach the recessed USB connector. It all makes for a clever bit of engineering yes, but we have to wonder how long it will last with all this sliding back and forth.
Still, new ones aren't expensive: the 16GB test drive costs £55, but the 8GB version costs £33 - not as cheap as the Kingston or PNY. You also get a copy of the U3 home-folder-on-a-stick utility with the SanDisk and a slim pouch that looks like a miniature cosh when loaded.
Rating 70%
Price £55 Click here for the best online price
More Info SanDisk's Cruzer Contour page
LaCie IamaKey 16GB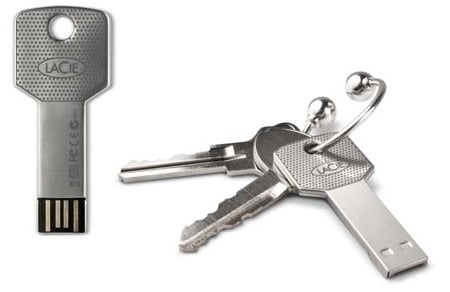 LaCie earns points for its sense of humour: lots of people call USB Flash drives 'keys', so here's a product that looks like a key. It's the thinnest of the drives on test but, being made of metal, it's no less resilient for that. And it'll fit on your regular key holder so there's no messing around with lanyards if you're worried about losing it.
It's not a bad performer. It notched up decent sequential read speeds in CrystalDiskMark. Though it's not the quickest when it comes to writing data to, it's not among the slowcoaches, either.
LaCie doesn't bundle any software with the IamaKey, but it does include a wee plastic cover the clips on over the USB connector wires. A nice touch, but we wonder how long it'll be before you lose it. The two-year warranty is nicer to have.
Rating 75%
Price £50 Click here for the best online price
More Info LaCie's IamaKey page
Corsair Flash Voyager GT 128GB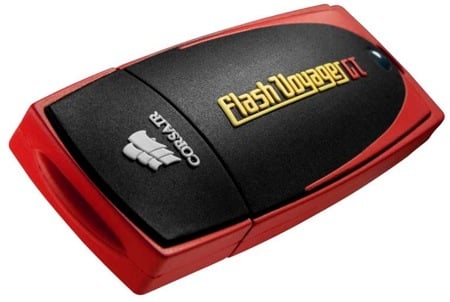 Corsair is rightfully proud of its Voyager GT 128 - it's a very fast Flash drive with a capacity that leaves all the others in the shade. That said, it's not your everyday USB Flash drive. Corsair is pitching the product at punters who want the rugged qualities of Flash but also need the capacity of a small external hard drive - hence that whopping 128GB capacity. This isn't a drive you're going to buy for sending your holiday snaps to your mum.
Quite apart from anything else, it's more than double the size of a typical Flash drive.
As such, it's not entirely an appropriate inclusion in this round-up, but we wanted to try it out because of the claims Corsair has made about its speed. And in this review, speed is the name of the game.
In our tests, the 128 was consistently within the top four products, but it was top-scoring product in all the write tests. Only Lexar's JumpDrive Lightning came close.
But here's the problem: the 128 costs £349 - though you can get it for £100 less if you look around. Still, even £349 is £2.72 per gigabyte. The Lexar comes in at £12.50 per gigabyte. That puts the value ball well and truly in Corsair's court. Even Kingston's low-cost offering is £3.13 a gig.
It's horses for courses. If speed matters and physical resilience is paramount - this thing will take punishment no portable HDD can - and if you want a drive that offers a storage capacity to match a small hard drive, look no further than the GT 128.
Rating 85%
Price £349 Click here for the best online price
More Info Corsair's Flash Voyager GT 128 page
Lexar JumpDrive Lightning 8GB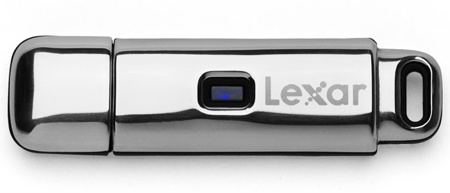 Lightning by name, lightning by nature, Lexar's speedy offering was the second fastest drive we tested for writing, and posting the fastest read speed in CrystalDiskMark, though it lost a little ground in the real-world file transfer tests. But there's not a lot in it.
The Lexar's shiny metal casing - there's a thin rubbery band that runs around the edge to ensure a good grip - makes it a looker and gives the drive a solid, well-made feel. The lanyard loop is large and formed from the same metal as the case. The downside: the chrome-look metal shows up fingerprints and scratches in ways drives like the matte black Kingston DataTraveler never will.
The Lightning comes with Secure II, Lexar's Mac and Windows app that allows you to create a password-protected, encrypted archive, present as a file on the drive. It also includes Ceedo's virtual desktop app for Windows, which allows you to keep local, drive-only copies of software you need to access from any machine.
But there's the price: £100 officially, though we've seen it for as low as £70. But that's still a lot for an 8GB Flash drive, even one as quick as this. For its overall speed, the Lightning might well have won our Editor's Choice award, but not at that price. For a small sacrifice in speed you can save a heap of cash and gain considerably more storage capacity.
Rating 80%
Price £100 Click here for the best online price
More Info Lexar's JumpDrive Lightning page
Corsair Flash Voyager GT 32GB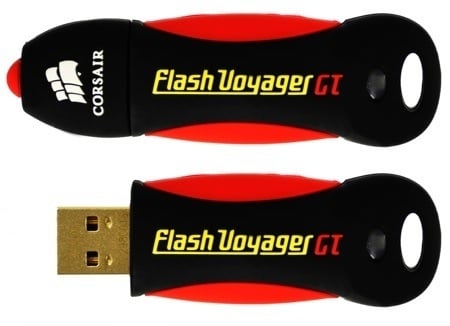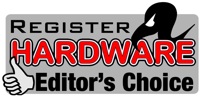 This Corsair offering may share the same name as its 128GB sibling, but it's a very different product, one the rivals all the others here other than its stablemate. Its colourful chunky rubber casing is much the same size as the other, more regular USB Flash drives included in this round-up.
When it come to write speed, it fared less well than the Lexar, but performed better at the file-transfer read tests.
There's no fancy but delicate connector retraction mechanism here, just a cap, and the 32's squidgy shell should be proof against knocks and bumps. It also extends at one end into a thick lanyard anchor loop, and the drive is one of the few we tested to come with a neck band, quite a thick one, in this case.
The cap forms a tight seal, but we wouldn't go so far as to suggest it's waterproof, so don't tip it into a tarn when you're out and about, OK?
This 32GB model doesn't come cheap, but you can have an 16GB version for around the same price as a lot of 8GB drives.
Rating 85%
Price £75 Click here for the best online price
More Info Corsair's Flash Voyager page