Original URL: http://www.theregister.co.uk/2009/10/16/review_gadgets_urc_r50/
Universal Remote Control R50
A little screen for your big screen
Posted in Personal Tech, 16th October 2009 08:02 GMT
Review The R50, from US brand Universal Remote Control (URC), is a chunky A/V entertainment integrator that delivers a decent amount of functionality whilst being fairly easy to set up. While aimed more at the family market – real tech-heads might want a little more programmability and customisation – the product makes a decent fist of putting your home entertainment controls all in one place.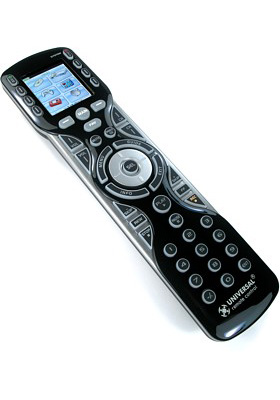 Universal solver? URC's Digital R50
The R50 delivers control of up to 18 products of your choice and has the option of adding macros for one-touch multi-function commands. The unit is no bigger than your average TV remote, but feels considerably heavier. This is no big problem, as a little bit of extra weight actually pushes the unit nicely into the palm of the hand with the R50's rubberised back also helping to hold the product steady in the hand.
Included with the unit are the four AA batteries that, once inserted, power up the R50's on-screen guide. URC supplies a quick start guide, but the onscreen menu is by far the easiest way to get going. The text on the start up screen is a little blocky and could do with being a little bigger for ease of reading. However, assigning products for the remote to control is very simple and the on-screen instructions are easy to follow.
The remote works from its own database; it has 32MB of flash memory, so there is no need to hook up to a laptop and go on-line. Initial set up is by choosing a series of product types from the on-screen list and slaving them to the remote. Usefully there is no need to specify a model or serial number, so there is no climbing around behind your stack.
Then there is a choice of a couple of different icons to represent each product. The icons have a cartoonish look to them there is a touch of the 1980s about them but, ultimately, they are clear enough to avoid confusion.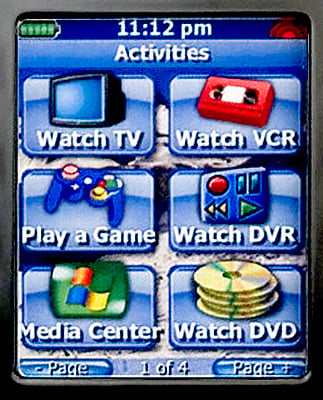 The display lacks definition with the custom icon choices appearing very dated
There is a small amount of customisation available here, as each icon has to be given a name, which you can choose yourself. Next, you manually power up the product you want to add, then press the cursor keys up or down until the product turns off. You then press the test function and the unit instructs you to try a few keys to see if the remote has picked the right set of controls to slave the new device to it.
We found that after you had completed this process once, it was very quick to add in new products and most of the time the remote gets it right first time – although it did need a few goes to pick up our Thomson Sky box. If your product is not listed – for instance, we could not find a listing for any Bose kit for example – the remote can learn commands from a unit's original remote without too much hassle.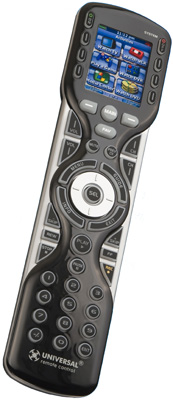 Macro command programming allows up to 255 steps
Features, such as adding favourite channels for quick access, are easy to apply. A handy 48 favourite channels are available and you can choose from on-screen icons or, if you favourite is not listed, use one of the blank channel icons and type in the name of the channel. As the product is from a US company, the channels choice is a little heavy on North American options, so a more UK or European spec would be helpful.
Setting up macros is more awkward though and we found some of the on-screen instructions rather vague. We did have to play with the product for a good half an hour before we really started to get the hang of dialling in a command series. A good tip – and to be fair the set-up guide does recommend this – is to add pauses into the list when building more complex macros for a greater level of success. A total of 255 steps can be added, which is more than enough for most homes.
Verdict
A satisfactory performer, with some helpful time saving functions, particularly during basic setup. There are also some other sensible add-ons, like a 'sofa' function which senses when the product is stuffed down the side and is having all its buttons pressed and switches itself off. The more demanding user might want something a little more advanced but, for the average AV set-up, the R50 does a decent enough job.
More TV Gear Reviews...

Digital Vision
GiGo DV-DTR1

Elgato
Video Capture

Emtec
Movie Cube S800

LG
DVS450H