Original URL: http://www.theregister.co.uk/2009/09/09/review_printer_hp_officejet_6500_wireless/
HP OfficeJet 6500 Wireless all-in-one inkjet
Nice print quality, great running costs
Posted in Personal Tech, 9th September 2009 11:38 GMT
Review All inkjet makers are trying to persuade us that their printers really do offer an alternative to colour lasers. HP has been a leader in this push and, to its credit, has produced machines more likely to tempt people than most. Surprisingly, running costs are also claimed to be lower than from equivalently priced colour lasers. Can this be true?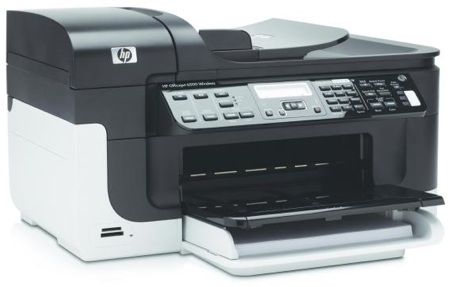 HP's OfficeJet 6500 Wireless: better running costs than a colour laser?
The OfficeJet 6500 Wireless is designed as a general-purpose inkjet and includes printing, scanning, copying and faxing as its core features. Reflecting the fact that more and more visual material is used in offices, there are also two memory card slots. While it's not intended as a photo enthusiast's machine, it can be pushed into basic photo duties without much effort.
HP's industrial design is in a 'big curves' phase, with its contrasting black and white colour scheme broken up by a range of them, smoothing the case lines in almost every direction. Even the input tray of the auto document feeder (ADF) has a subtle bend at its end.
The 35-sheet ADF is nearly horizontal, though, so it doesn't increase the height of the machine as much as gravity-fed ADFs and it's still easy to recover a scanned document from the lid of the A4 scanner.
This is a Contact Image Scanner (CIS), a technology which used to be restricted to entry-level machines because of its inferior colour fidelity when compared with CCD devices. Improvements in CIS technology now mean you find them in higher-price scanners and all-in-ones, though and this device is adequate for most business uses.

The busy, but well-organised control panel is easy to use
The control panel is busy, but well organised, so you can work your way around without getting too confused. From left to right there are three functional groups of controls for scan, photo and copy and in the centre, a two-line by 16-character backlit LCD display. HP scrolls status messages and instructions across this LCD.
Moving further right, there's a number pad for fax dialling – this is a fairly standard 33.6Kb/s fax, though it will handle colour faxing if you know the receiving machine does, too. At the right-hand end are three speed-dial buttons but, in fact, the machine supports up to 100, numbered speed-dials.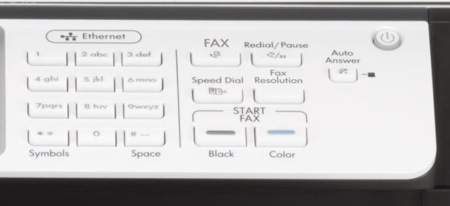 Extra controls for faxing
Below the control panel is a single paper tray which can take up to 250 sheets. This is a slightly unusual design: the lid of the paper tray, which in typical HP style is also the output tray, is only supported on its right-hand side. The left-hand side is the adjustable paper guide for A4 right down to 15 x 10cm sheets. A pull-out paper support has to be extended when printing A4, increasing the machine's footprint by a good 15cm.
The two memory card slots, at bottom left of the front panel, take SD, MemoryStick and xD cards, but not CompactFlash.
At the back are sockets for USB and Ethernet, as well as for a phone line and a handset, if you want to connect one. The reason for paying extra for the wireless version of this machine, though, is to use its 802.11g Wi-Fi connection, and this is easy enough to set up, using the USB cable supplied. Once connected, the entire setup procedure is automatic.
HP likes to be versatile with its connections and this machine can run with any version of Windows after 2000 and Mac OS X from 10.4 on, out of the box. Snow Leopard's install-when-needed printer driver mechanism supports the 6500 series.
There's also downloadable support for Linux via HPLIP, which is already included in many Linux distributions. More information here.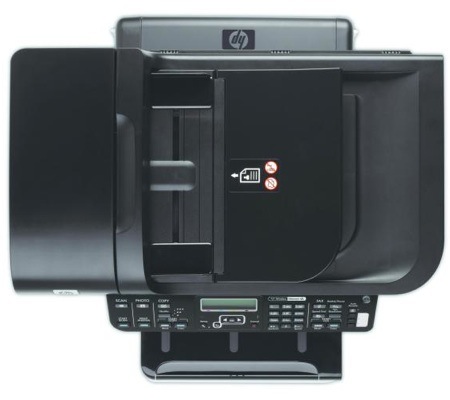 A duplex is built in as standard - hence the bulge at the back
Thanks to the new ISO standard for speed tests, HP claims this machine can print black pages at up to 8.2ppm and colour ones at up to 5.4ppm. Our five-page, black text job gave 4.2ppm, but when we printed a 20-page document, the speed went up to 9.0ppm. This must be the first time we've had a printer outpace its speed specification in years and it's a good speed for a machine in this price bracket.
Colour print doesn't quite better the headline rate, but we still got 3.9ppm from a five-page document, which is a fair speed. Part of what holds up the machine is the amount of 'fiddling around' it does before starting. It's presumably priming it's print heads, though these are fed from four separate ink tanks plugged directly into the head carrier. It's not as if it's having to keep connecting tubes full of ink.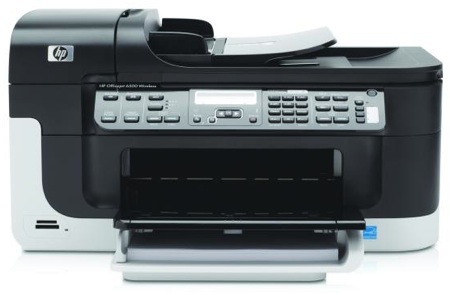 A neat ADF keeps the overall height of the machine down
Duplex print is hampered, as with most inkjets, by the need to wait for the first side to dry before printing the second. A 20-side duplex document took 7m 15s to complete, which is a speed of 2.76 sides per minute. Quite a jump down from the 9ppm for single-sided print.
Photo printing is quick, with a 15 x 10cm print taking just 41s – an impressive time for a machine not geared primarily to photo output. The quality is also there, with our test landscape photo sharing very smooth gradations and colour across areas of open sky and natural colours throughout. Although some detail in darker, shadowed areas is lost, it's still a very sound performance.
Colour print on plain paper is also good. Though not quite up to the standard of a toner-based laser printer, there's still very little sign of ink-run into the paper nap, so there are good, clean edges to characters and bright colours from the improved gamut of liquid inks. The only place this isn't quite true is when copying, when the machine over inks, particularly on black text. Fortunately, this can be adjusted for from the control panel or driver.
The ink cartridges are the only consumables in this machine and they all have a healthy capacity. The three colour cartridges should yield 700 ISO pages and the black cartridges, available in standard and high-yield versions, offer 420 and 1200 pages. The black and colour cartridges have SRPs of £21 and £10, giving costs per page of 1.75p for black and 6.04p for colour. These prices compare very favourably with those for colour laser printers in the £100-200 range, so HP's claims of up to 40 per cent reduction in running costs aren't outlandish.
Verdict
The OfficeJet 6500 Wireless is a very well-balanced all-in-one. It has a strong feature set, including photo printing and full fax functionality, as well as fast document scanning using its ADF. Speeds are pretty much what it says on the box - unusual in itself - and print quality and especially running costs make this is a very desirable small-office machine. ®
More All-in-One Printer Reviews...

Brother
MFC-6890CDW

Ricoh
Aficio GX 3000S

Canon
Pixma MX330

Epson
Stylus Photo PX800FW