Original URL: http://www.theregister.co.uk/2009/07/14/review_satnav_garmin_nuvi_1340t/
Garmin Nüvi 1340T
Slimline satnav that's also thin on features
Posted in Science, 14th July 2009 12:02 GMT
Review As part of Garmin's recently refreshed in-car satnav range, the Nüvi 1340T will be the one satnav you won't want to leave stuck to your dashboard. With an easily portable slimline design, the Nüvi 1340T features a pedestrian mode that includes the ability to hold your hand on London's underground network.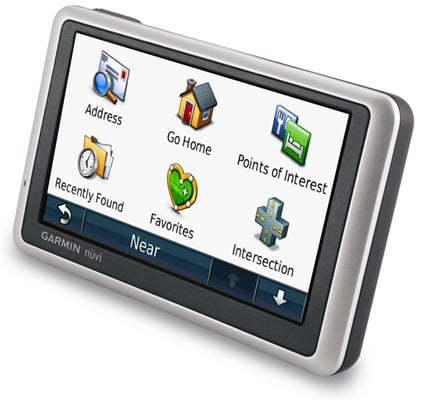 Slimline navigator: Garmin's Nüvi 1340T
The 4.3in widescreen display has a resolution of 480 x 272, while the chassis weighs 160g and measures 12.2cm wide, 7.5cm tall and just 1.6cm thick. There's only one physical button on the device, namely the power button. A micro SD card slot sits on the left side, but with a whopping 4GB of internal storage – and only just over half used – it's unlikely you'll need to use it. Look carefully and you'll notice a mic on the left side, however with no Bluetooth or voice recognition functionality it's a totally redundant feature on the 1340T.
Start up times are quick, with the main menu appearing after just 20 seconds from cold and the satellite lock being obtained a few seconds later. Browsing the map, however, can be painfully slow - on occasion, we had to wait a good 10 seconds when scrolling around before the screen updated. We also experienced a couple of crashes – software-based, not multi-car pile ups – when browsing with the GPS receiver switched off. Thankfully, neither of these problems occurred during navigation.
The 1340T comes with street level road maps for Western Europe, courtesy of Navteq. Register your device with Garmin and, if a new map is released within 60-days of your first journey, you'll be able to download it for free. From then on, single map updates cost £73 or lifetime updates can be purchased for a one-off £100 payment.
If you enjoy having road names read out, the Nüvi 1340T will gladly oblige. Naturally, some road names are too complex for the text-to-speech engine to pronounce accurately, but it makes a decent fist of it and reads out roads such as the A259 in the correct "A-two-five-nine" manner as opposed to "A-two-hundred-and-fifty-nine".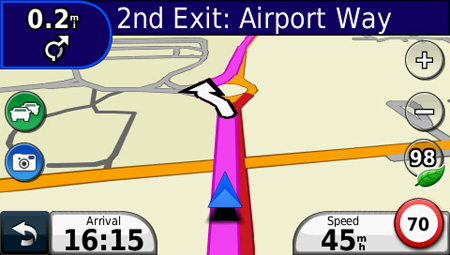 Navigation is good, but the 'next turn' icon could be bigger
Navigation commands are clear, but we did find the 'next turn' icon that appears in the top right of the screen a little small – especially when approaching roundabouts. It's able to belt out instructions loud enough to be heard over the roar of motorway driving, although it won't increase the volume automatically as you speed up. You also have to return to the main menu, in order to change the volume – as with so many other sat navs, simple physical volume buttons would be so much better.
Lane Assist helps you avoid making last minute swerves on some, but not all motorway junctions, and Garmin has sensibly avoided going down the utterly pointless 3D landmark route favoured by the likes of Navman. One annoyance is that it's not possible to edit or even view your basic itinerary, which is a pain if you want to swap a couple of 'via' points around, for example.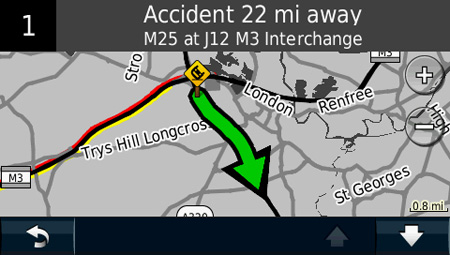 Traffic Master updates require the FM antenna to be attached
Traffic updates are supplied free-of-charge via the Trafficmaster service. In order to access these traffic alerts you need to attach the FM antenna to the charging cable, and unless you're very careful you'll simply end up in a tangle of wires. What's more, you'll only be alerted to hold-ups on major roads.
Safety camera alerts courtesy of Cyclops are built in, but if you want to keep them regularly updated you'll need to fork out £20 per year. In our tests, it successfully warned us of fixed cameras as well as mobile hot-spots, but it knew nothing about a red-light camera on our test route that's been there for many years.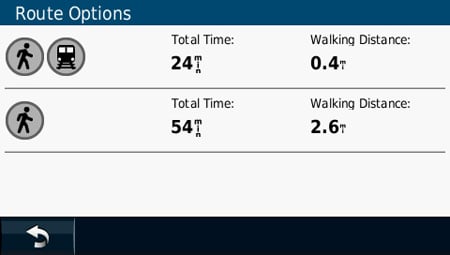 The pedestrian mode gives you various journey options…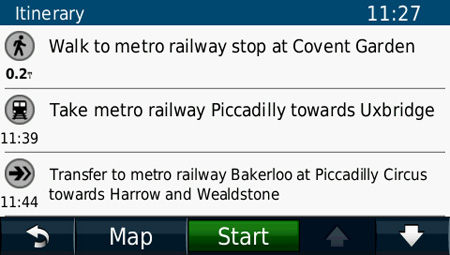 …and with the appropriate CityExplorer module installed it can tell you which tube lines to use
Bikes, of the pedal variety, are catered for thanks to the Bicycle mode. It's very basic, though, and essentially just keeps you off motorways. A Pedestrian mode is also available. To make the most of this you'll need to purchase a CityExplorer map. These are available for major European cities and cost from £7.49.
We tried out the London CityExplorer map and it managed to plan out tube journeys for us, as well as offering walking routes. It didn't, however, make best use of shortcuts through parks, which is a shame. The fact that London is the only city in the UK to have a CityExplorer map also limits this feature's appeal.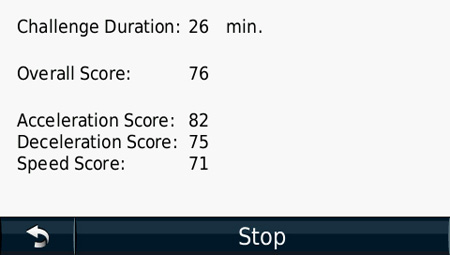 Take the Driving Challenge
No sat nav is complete without some form of planet-saving feature, and with the Nüvi 1340T you get what Garmin calls ecoRoute. Using this feature, you can monitor how much fuel you're using and how much each journey costs.
You can also take the Driving Challenge, which rates your driving based on factors such as smooth acceleration and braking, as well as cruising speeds. It works to an extent, but there wasn't a massive change in the score when we changed our driving style from 'easy does it' to 'boy racer' mode.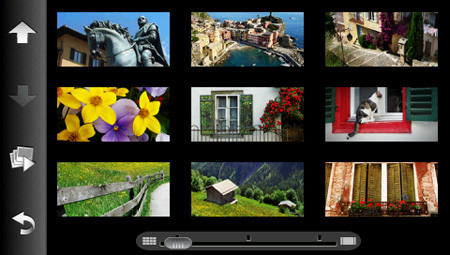 The picture viewer is one of the few useful extras
Garmin hasn't gone crazy in terms of extras with the Nüvi 1340T. The calculator, unit converter and word clock are nice to have, but there's no Bluetooth or audio/video player. You do, however, get a picture viewer.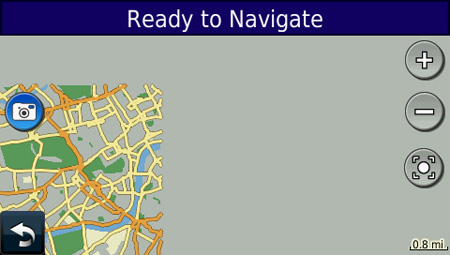 The map can be painfully slow to update when browsing
The Garmin Lock feature lets you protect your device with a pin code. You can also define a security location – if you forget your pin, you can take it to this location and it will unlock itself. Although it's nice to think that if stolen it will be rendered useless, this feature won't stop it being nicked in the first place. A far better security feature would be to allow the device to be started up with the wrong pin code, but then secretly navigate the miscreant to the nearest police station – we'll get a patent on that beauty.
Finally, Garmin reckons you'll get up to four hours out of the battery. In our tests, which had the brightness set to full and a constant GPS connection, the low battery warning appeared after 2hrs 15mins, before the power finally ran out half an hour later. Charging is performed via USB (a 12v car adapter is included), but it's frustrating that there's no charge indicator to let you know when the battery is at full capacity – the power meter is only viewable when the device is unplugged and switched on.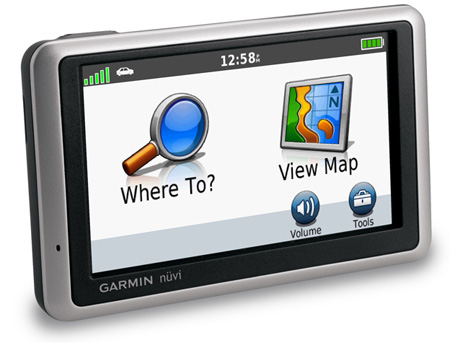 A missed turn? Garmin could have packed more into this model
As for the competition, TomTom's latest sat nav with Western Europe, the Go 740 Live, is dearer at £279 but also comes with countless extras such as voice control, Bluetooth and subscription-based live traffic updates via a built-in GPRS module. Meanwhile, Navman's S200 Europe is £229 and features Bluetooth along with an FM transmitter. You can get a flavour of the Go 740 and S200 by reading our head-to-head of the Go 540 and S100 which are essentially the same models but with UK mapping only.
Verdict
Despite being impressed with its navigation skills and usability, £219 just seems a bit steep for the Nüvi 1340T, especially since there's no Bluetooth, which is useful for hands-free calls as well as providing more up-to-date traffic reports. Many will question the range of features TomTom and Navman cram into their models, but fact is the Nüvi 1340T should be cheaper considering it offers less. If you've no need for street maps for Western Europe, the Nüvi 1300T (£189) is essentially the same device but with UK and RoI maps. Further costs can be saved by ditching traffic alerts and opting for the Nüvi 1300, which represents far better value at around £169. ®
More Satnav Reviews...

Coyote Systems
Mini Coyote

Mio DigWalker C620T

Navman S30 3D

TomTom GO 530 Traffic