Original URL: http://www.theregister.co.uk/2009/07/14/review_laptop_dell_studio_15/
Dell Studio 15
Designer chic without price or performance penalties
Posted in Personal Tech, 14th July 2009 08:02 GMT
Review Dell is going big on personalisation with the Studio 15, with five colours and 11 artistic designs available to choose from. If you really want your laptop to stand out from the crowd, then you could opt for one of the colourful finishes from designers such as Mike Ming, Derek Welch, Joseph Amedokpo, Siobhan Gunning or Bruce Mau. This comes at a cost, however, with three colours (lime green, purple and red) adding £29 to the bill and artistic designs an extra £69.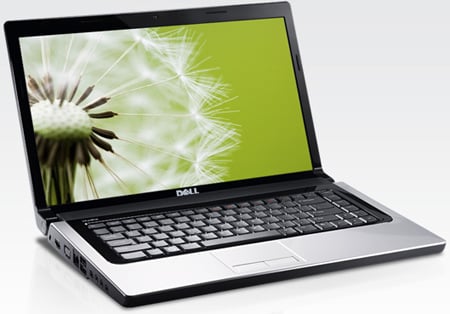 Dell's Studio 15
There's also a bewildering array of components to choose from, but this offers the freedom to tweak the spec to suit your needs. The review model came with a 2.4GHz Intel Core 2 Duo P8600 processor, 4GB 800MHz DDR2 Ram, 320GB 7,200 rpm SATA hard drive, 512MB ATI Mobility Radeon HD 4570 graphics, an internal DVD writer and a six cell battery, all coming in at £719. Adding £100 will get you the Blu-ray reader but if you want to burn Blu-ray discs as well, then £280 will get you the writer.
Going the other way, opt for a 2GHz Pentium Dual Core T4200 CPU, integrated Intel GMA 4500MHD GPU and trim the memory down to 2GB together with a 160GB hard drive, and you'll shave around £250 off the price tag. Designer options aside, the Studio 15's wedge shape starts out at 30mm high at the front, rising to 43mm at the rear and it measures 372mm wide by 252mm deep. Tipping the scales at 2.65kg, it's not the most travel-friendly laptop, but manageable for short excursions.
On the whole, the Studio 15 has a good array of connectivity options. Down the left hand edge you'll find both HDMI and VGA output, Gigabit Ethernet, USB, a combo USB/eSATA port, 4-pin Firewire, microphone and two headphone sockets. Flip over to the other side and you'll see a power connector, an additional USB port, memory card reader (SD, MMC, Memory Stick), ExpressCard 34 and a slot for the internal DVD writer. If you're hunting for the power switch, you'll find that nestling in the middle of the screen hinge on the right hand side.
However, having only two dedicated USB ports seems a little stingy, if you do actually require the eSATA interface. These main USB ports are, on opposite sides, so you at least have some degree of freedom when it comes to positioning your peripherals.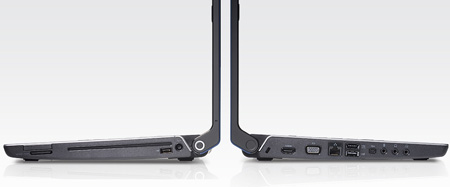 The eSATA port also doubles as third USB interface
That said, some portable USB hard drives rely on a Y connector for laptop use. These godawful break out cables featuring two USB connectors are typically short in length and can't reach both sides of a laptop but, nevertheless, need to use two USB ports for power and data, respectively, to work on most notebooks. So if you do use eSATA and you find yourself with one of these drives you'll certainly need to do some forward planning.
Tucked away inside is a dual band Intel WiFi Link 5100 802.11a/b/g/n card which operates in both the 2.5GHz and 5GHz bands, so you've got extra choice when it comes to trying to find a free spot of the airwaves and there's Bluetooth built in too.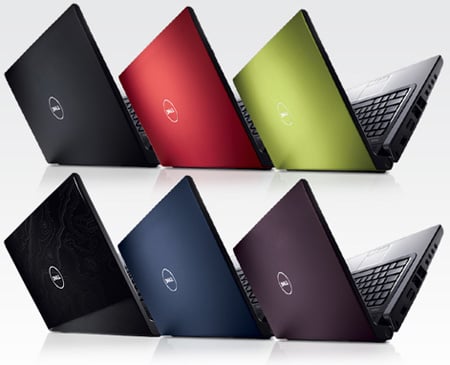 Dell offers personalisation both inside and out with the Studio range
The 15.6in screen stretches to a 720p friendly resolution of 1366x768 pixels. For an additional £70 you can opt for a full 1080p 1,920x1,080 panel, although on a screen of this size unless you've got 20/20 vision you may find such a high resolution a little on the small side. If you still want to make the most of 1080p content, you can always hook it up to a suitable large screen TV via the HDMI port.
Another option is the Studio 17. This is Dell's version that features a 17in screen with a resolution of either 1440x900 or 1920x1200. However, the 256MB ATI Mobility RADEON HD 3650 as the only GPU option will no doubt disappoint a few potential buyers. As these models use a glossy panel, you can expect vibrant colours but with the downside of increased reflectivity. If there are any bright lights behind you, then they'll be very noticeable reflected back in the display. Above the screen sits the usual webcam, in this case a 2-megapixel model.
While hardly earth shattering, the Studio 15 now features a 3W sub-woofer that beefs up the sound, so it's certainly good enough for watching DVDs, listening to music or viewing internet video. Also, by utilising the combination of audio interfacing on this model, it's possible to get 5.1 surround signal out of it to hook up to a multichannel entertainment system.
The keyboard is a decent size and pretty good to type on, but it is missing a couple of keys you'd expect such as Scroll Lock and Pause/Break. Admittedly, they're not the most widely used keys these days but, if you have a specific need for them, their absence may be a problem. The F keys along the top row have also been relegated to secondary status, with each key's primary function assigned to operations such as volume, screen brightness or controlling wireless connections.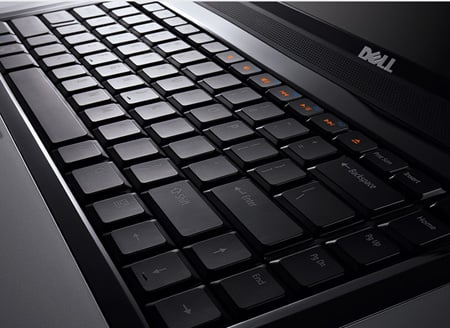 Some keys are missing, but shouldn't bother most users
If you often find yourself working in less than perfect light conditions, then the backlit keyboard will at least mean you can find the keys you want without having to peer closely at each one individually. The touchpad is seamlessly integrated into the laptop's wrist rest, although it feels a little rougher than the surrounding plastic and it's indented slightly. It's a good size with big buttons that are easy to locate without having to take your eyes off the screen.
PCMark05 Results
Overall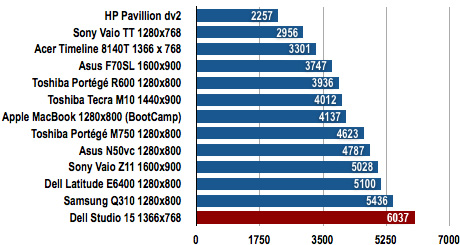 Longer bars are better
CPU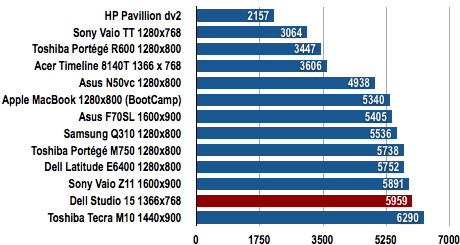 Longer bars are better
Memory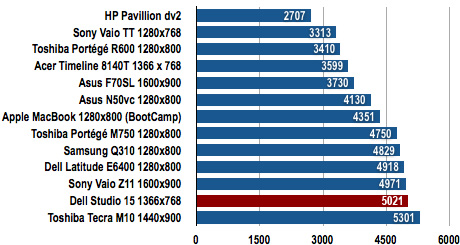 Longer bars are better
Graphics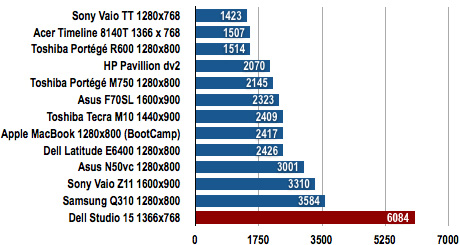 Longer bars are better
HDD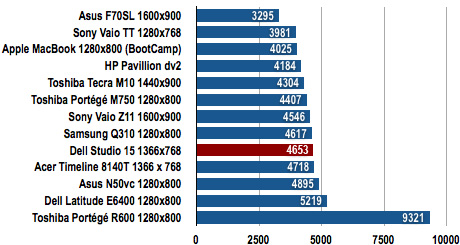 Longer bars are better
3DMark06 Results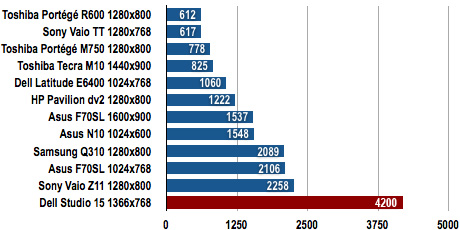 Longer bars are better
PC Mark05 Battery Life Results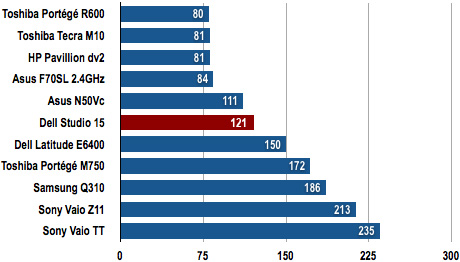 Battery runtime in minutes
Longer bars are better
On area where the Studio 15 stands out, especially for a machine of this price, is performance. Its PCMark05 score of 6,037 placed it comfortably ahead of similarly priced machines such as the Samsung Q310 and Asus N50. Its 3DMark06 score of 4,200 is also pretty reasonable. It may not be enough for hardcore gamers, but at least it stands half a chance.

A respectable performer, although the battery life could be better
HD content proved no problem for it, with it able to playback both 720p and 1080p clips without an issue. Vista pegs its Windows Experience Index score at 5.1, which breaks down as: 5.3 processor, 5.9 memory, 5.1 graphics, 5.3 gaming graphics and 5.4 hard disk. Given the scale tops out at 5.9 that's pretty good.
Battery life was less impressive, with it managing to last just a minute over two hours running the PCMark05 test on a loop. Given that this is an extreme test, you could probably achieve something approaching the four hour mark with more moderate use. The Studio 15 wasn't overly noisy when running at full pelt and it didn't kick out a massive amount of heat either, so you shouldn't run into any problems using it on your lap if there isn't any desk space available.
Verdict
For the money, the Studio 15 is a very well equipped laptop and its performance scores are not to be sniffed at. It may not be the most portable of machines and its battery life is a little on the low side, but if you're happy to stay still and near mains power you won't be disappointed. Add in the ability to choose a distinctive case design and you've got a good looking, well specified, decent performing laptop for a reasonable price tag. ®
More Notebook Reviews...

Acer
Timeline 4810T

Asus N50vc

Toshiba
Tecra M10

Samsung Q310