Original URL: http://www.theregister.co.uk/2009/06/22/review_phone_apple_iphone_3g_s/
Apple iPhone 3GS
This object of techno-lust just got even better... and pricier
Posted in Personal Tech, 22nd June 2009 12:52 GMT
Review Everyone knew that Apple was planning to unveil version 3.0 of the iPhone OS at its Worldwide Developer Conference this month. As expected, the new OS adds some long awaited features such as 'copy and paste', multimedia messaging (MMS) and the ability to 'tether' your iPhone to a laptop computer so that the notebook can share the phone's 3G internet connection.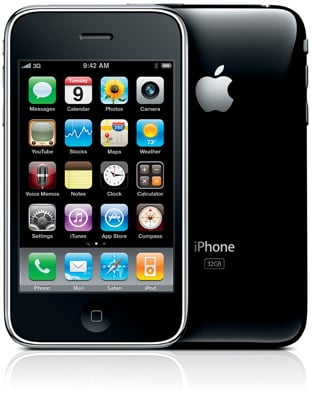 Apple's iPhone 3GS:
However, the rumours were also flying thick and fast about the iPhone hardware itself. Most of those rumours seemed to concentrate on the possibility of some new low-cost models – perhaps with 4GB of storage – that would help to increase the iPhone's market share even further. In the end, what Apple unveiled was a more powerful and – depending on the contract/tariff you opt for – even more expensive model called the iPhone 3GS.
We've been able to get our hands on the new model and in this review we'll focus on the features that are specific to the iPhone 3GS, rather than the features that the 3.0 software update brings to all existing iPhone models.
Externally, the new iPhone looks exactly the same as its predecessor. The only minor change is the "oleophobic" coating on the screen that does indeed makes it a lot more smudge-resistant than previous models' displays. Internally, though, there have been some big changes.
Apple is keeping quiet about what's inside the iPhone 3GS, but a number of teardowns that have shown that it uses a new Samsung ARM processor that runs at 600MHz – compared to the 412MHz processor in the previous model. There's also a new PowerVR SGX graphics chip that considerably enhances the iPhone's potential for 3D graphics and games, along with support for the 7.2Mb/s HSDPA 3G mobile broadband that O2 is (very) gradually rolling out in the UK.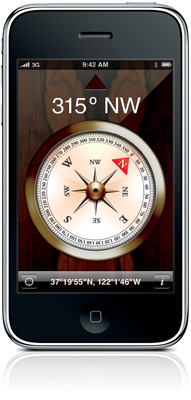 Improved by degrees
Apple says that "the 'S' stands for speed" and that the combination of the new hardware and fine-tuned operating system makes the iPhone 3GS about twice as fast as the 3G model overall. We agree with Apple's claims that games and other apps load more quickly and run more smoothly, but we found that the improved performance was most noticeable with a number of more routine tasks on the iPhone.
A particular bugbear for us has always been the slow screen response when you flip the iPhone from upright portrait mode to horizontal landscape mode. This was often most noticeable when playing music – the iPhone would clearly pause for breath before switching from a vertically scrolling list of album or song titles to the horizontal "coverflow" mode that allows you to flick through album artwork.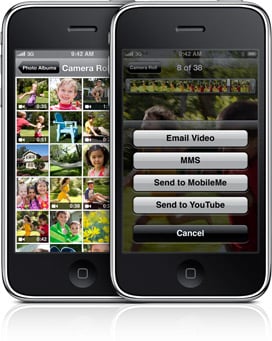 Apple adds MMS by demand, not by design
Now, you'll see a nice, smooth crossfade as the screen display flips onto its side. It also feels more snappy and responsive for many simple tasks, such as flicking from one page of apps to another on the main Home screen.
Potentially, the biggest performance boost comes from that new PowerVR graphics chip. Games developers certainly seem to be rubbing their hands in glee at the thought of its 3D capabilities. At the moment, there are few games or other apps that really exploit that extra graphics power, so this is something that we'll follow with great interest in the coming months, as a new generation of iPhone games appear.
Apple will have to watch out, though, or we'll see apps split into those that require the 3GS and those that don't. This hasn't been necessary so far, and it's one of the strengths of the platform that you don't have to worry about what i-hardware you're downloading the apps to.
We were concerned that the more powerful chips might affect the battery life, but the numbers Apple is quoting actually improve on the iPhone 3G in some areas. Talk time using a 3G connection remains at five hours, but Wi-Fi access increases from six hours to nine hours. Audio playback increases from 24 to 30 hours and video playback is up from seven to ten hours.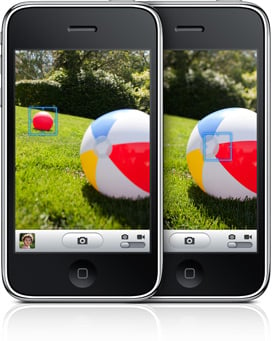 The camera can now auto-focus - or you can move the rectangle to control it yourself
In fact, our tests actually showed these figures to be a little conservative, as we got almost exactly 11 hours of video playback when we left the iPhone running some films we'd ripped into the H.264 format.
Another key feature in this model is the new camera. This has always been one of the iPhone's greatest weaknesses, so Apple clearly had to do something to address this issue. The iPhone 3GS is now equipped with a 3Mp camera rather than the 2Mp job found on the previous models.
Given how much the 3GS costs, Apple really should have gone to 5Mp - there are plenty of other phones that boast this and higher resolutions. That said, we found the iPhone's image quality to be pretty good – sharp and detailed and with strong colours.
Sample Shots
The autofocus feature works well, immediately locking onto any object it detects within a targeting rectangle in the centre of the camera's preview screen. However, you can also 'tap to focus' on any object or person within the scene to quickly bring the focus to the foreground or move it further out to the background.
We were disappointed to see that the photos we transferred onto our Mac were shot in 4:3 aspect ratio – despite the widescreen preview on the iPhone screen.
Alas, there's still one glaring weakness here, as the new camera still doesn't include even a simple digital zoom option, let alone a proper optical zoom. A basic digital zoom is a terrible omission in such an expensive phone and it's really quite baffling that Apple's engineers can cram a magnetometer into the thing for the new Compass feature — which nicely integrates with Google Maps, rotating the map according the direction you're facing — but will overlook something as basic as a zoom option for the camera.
Sample Video
No doubt, the reasoning is that a 3Mp resolution is going to produce cruddy images with a digital zoom, and Apple doesn't like to do cruddy. But the shots the camera is capable of taking, as you can see on the previous page, aren't so bad as to negate the need for a zoom. Other phones do it - why not this one?
You do get video capture, though. The resolution is basic VGA - 640 x 480 — at 30f/s, but the video clips we shot were bright and sharp, and more than adequate for uploading to YouTube. There's also a handy little editing feature that allows you to quickly trim the beginning and end of your clips before you upload them.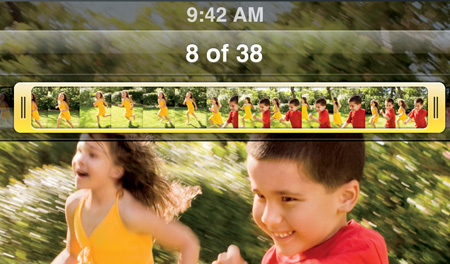 Video capture includes editing features
These new camera and video features are certainly welcome, but this remains one area where the iPhone is still playing catch-up with its rivals, rather than leading them as it does in so many other ways.
There's one other new feature that is reserved solely for this model. Press the Home button for a couple of seconds and a new Voice Control display panel appears on the iPhone screen. You can then control the iPhone with voice commands such as "Call Reg Hardware" or "Play songs by Queen". This is guaranteed to impress your friends – until it gets it wrong and repeatedly confuses 'Queen' with 'Sweet' and makes you a complete laughing stock instead.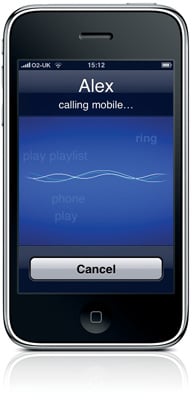 Tell a phone: issue commands with Voice Control
To be fair, the Voice Control option works well most of the time - it's not a repeat of the Newton handwriting fiasco, for those of you with long memories – but Voice Control does strike us being a bit of a gimmick for showing off to your friends, rather than a genuinely useful new feature.
If you bear in mind that the 3.0 software update can be used to upgrade previous iPhone models, then the key improvements in the iPhone 3GS boil down to its improved performance, the new camera and support for 7.2Mb/s HSDPA. Those features alone would certainly make us happy to upgrade to the new model. The only problem is trying to decide what you're prepared to pay so much more for those new features.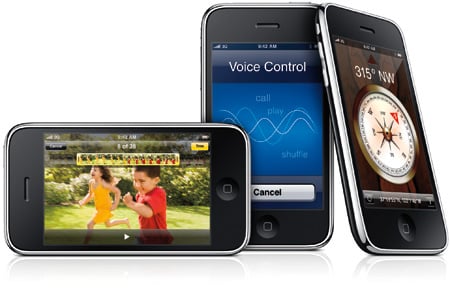 O2's tethering charges sour this Apple
You can get a 16GB iPhone 3GS completely free if you sign up for the top-of-the-range contract, which costs £73.41 per month for 18 months. You can get the 32GB model by paying an additional one-off fee of £97, or by extending the contract to 24 months. The range of tariffs on offer is confusing, although we covered them in detail here.
However you look at it, the sweet spot seems to be the £34.26 per month tariff, which allows you to buy the 16GB phone for £185, or the 32GB model for £274.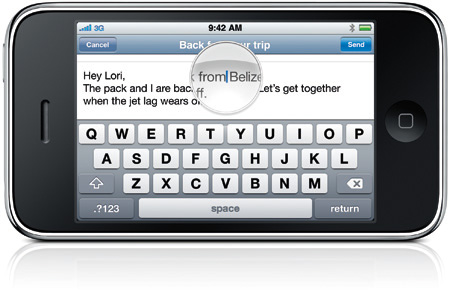 Landscape typing now available with the iPhone 3.0 update
It's also possible to buy the iPhone without a contract on O2's 'pay as you go' plan, although this will cost you £440 for the 16GB model or a thumping £538.30 for the 32GB 3G S.

Click for larger view
Even more disappointing is the discovery that O2 charges extra if you want to use the tethering 'bolt on' option: £14.68 per month with a 3GB monthly download cap, or £29.36 for 10GB cap. That strikes us as disgraceful given that the existing monthly tariffs are supposed to include 'unlimited' internet access. It shouldn't matter whether the content's being viewed on the handset or a laptop.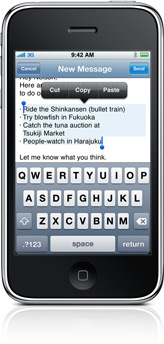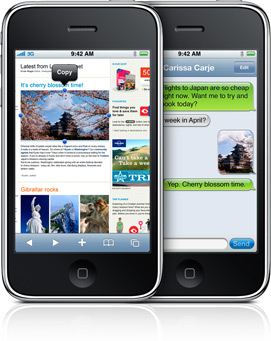 Cut'n'paste... at last
The one bit of good news on the pricing front is that the old iPhone 3G is still available and is completely free on all but the cheapest contracts – it costs £96.89 otherwise — effectively giving Apple a 'new' low-cost model to draw in less well-heeled customers.
Verdict
If you don't already own an iPhone then the iPhone 3GS might well be the model that finally wears down your resistance. The lack of a camera zoom is a glaring omission, but the iPhone's great strength remains the sheer variety of features and software that it offers, and which make it vastly more versatile than most of its rivals.
The faster processor and graphics chip will further encourage developers to create new apps that will continue to enhance the iPhone's versatility.
The only real drawback is O2's monopoly stranglehold on the iPhone in the UK, which has certainly affected our overall rating of the iPhone. It means that O2 can charge pretty much whatever it wants - including that extortionate tethering tax.
Even so, that £34.26 monthly tariff is probably pitched at just the right point to ensure that the iPhone 3GS maintains that handset's juggernaut momentum. It's undeniably the phone that sets the pace at the moment - just look at all the clones. We only wish that Apple would make it available through a wider range of networks and get some real price competition going. ®
More Phone Reviews...
| | | | |
| --- | --- | --- | --- |
| LG Arena | HTC Magic | Orange Vegas | HTC Touch Diamond 2 |