Original URL: http://www.theregister.co.uk/2009/06/18/review_desktop_pc_shuttle_xpc_sx58h7/
Shuttle XPC SX58H7
Monster CPU, miniature chassis
Posted in Personal Tech, 18th June 2009 08:02 GMT
Review Shuttle has managed a feat of engineering with the XPC SX58H7. It has shoehorned a Core i7 motherboard into a small(ish) form-factor case - it measures 325 x 208 x 189mm - of the kind we've seen on models such as the SP45H7.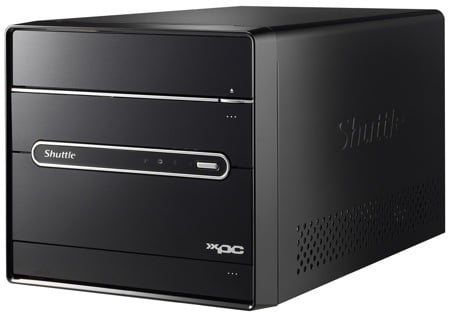 Shuttle's XPC SX58H7: engineering miracle?
It is the work of moments to remove the main cover, drive bay, ICE fan unit and CPU cooler, and lay the innards open to view. The layout is similar to other XPCs, although this is the first time that we have seen twin PCI Express graphics slots in a Shuttle. It's not the first time Shuttle has used this feature as you can see from the spec of the SX38P2, but it is the first time we've seen it on our test bench.
The two graphics slots are positioned very close together so you have the choice of installing two single-slot graphics cards, such as an AMD ATI Radeon HD 4850, or one double-slot card. Shuttle provides a six-pin and an eight-pin graphics connector so you can choose either configuration. But we have concerns about using two graphics cards as the airflow around the outermost card will be restricted. During our testing, we used an ATI HD Radeon 4890 which is a beefy double-slot graphics card and it behaved flawlessly.
The inclusion of two graphics slots mean there's no room for a PCI slot. This may limit the scope for upgrades. Shuttle includes a list of features that is fairly typical of any X58 motherboard, with six USB ports on the rear, dual Gigabit Ethernet, five analogue mini jacks and optical S/PDIF. In addition, there are two eSata ports and a power point that accepts a Sata power adaptor cable so you can connect a regular internal Sata drive.
On the front of the SX58H7, the drive bays and ports are hidden behind stealthed doors. There is one 5.25in optical drive, one 3.5in external bay - even though there is no floppy drive connector - and a row of ports to provide one eSata and two USB ports, and two jacks for a headset.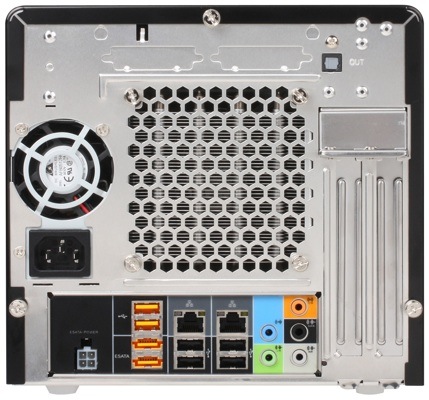 You want ports, we got 'em...
It's clear that the designers have worked hard to keep the area around the Core i7 socket as clear as possible. Take the 500W power supply as an example. It measures 200mm long and 82mm tall and is about 50mm thick, so it's only one third the size of a regular desktop power supply. By any standard, that's impressive but Shuttle has gone a step further and has given the PSU a tapered shape. It steps down from a thickness of 51mm at the rear of the case to 45mm at the front of the unit so the PSU is able to accommodate a 50mm cooling fan at the rear while providing clearance at the front for the CPU cooler.
There are two parts to the cooling system. There's the ICE cooler that transfers heat from the CPU to a heat exchanger at the rear of the case where it is blown into the outside world by a 90mm case fan. The second part is the Oasis cooler, which uses heatpipes that loop around the CPU socket to link coolers on the northbridge, southbridge and power regulation hardware. The single ATA-133 connector and three ATA connectors are arranged at the front of the motherboard where the cables have an easy route.
PCMark 05 Results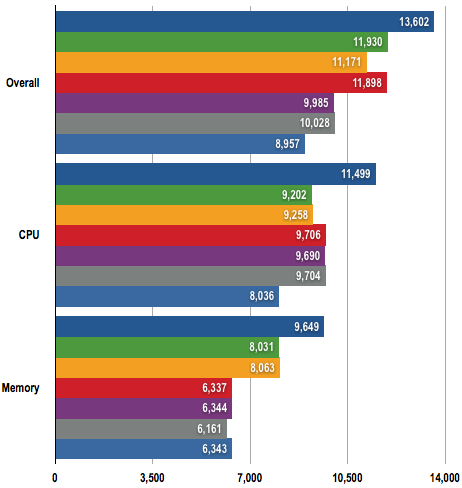 Longer bars are better

You need to supply a processor, memory, a hard drive, an optical drive, a graphics card and an operating system to turn the SX58H7 barebones into a finished PC. When you consider that the cheapest intel Core i7, the 920, costs £220, you know the build isn't going to be cheap, but you may need to sit down when you learn that the Shuttle SX58H7 itself costs £529. This takes the cost of a fairly basic system north of £1000, and if you fancy proper gaming graphics the cost is likely to be higher than £1200.
We built our test system with a Core i7 920, 3GB of 1066MHz DDR 3, a Radeon HD 4770 and an Intel X25-M SSD and found that performance was comparable with a regular PC, so there is no performance hit from using the small form-factor Shuttle.The system was impressively quiet and the innards remained pleasingly cool so we decided to push things a bit further.
3DMark 06 Results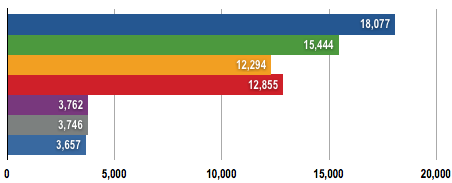 Longer bars are better

Power Draw Results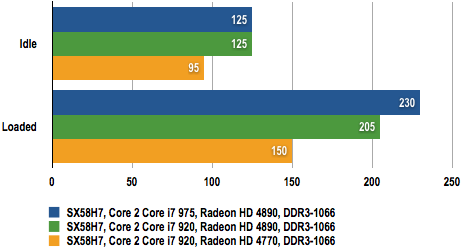 Power Draw in Watts (W)
We stepped up the graphics to an HD 4890 and were pleasantly surprised that the system remained both cool and quiet, although the graphics card made a terrible racket at start-up as the fan ran at full speed. As a final test, we swapped the 2.66GHz Core i7 920 for the new 3.33GHz Core i7 975 Extreme, which took the total power draw under load to 230W and naturally enough we saw performance rise by a healthy margin. The Shuttle chassis had no trouble keeping our high-end hardware cool with the minimum of noise and we would happily consider using it as a media centre for gaming and HD movies.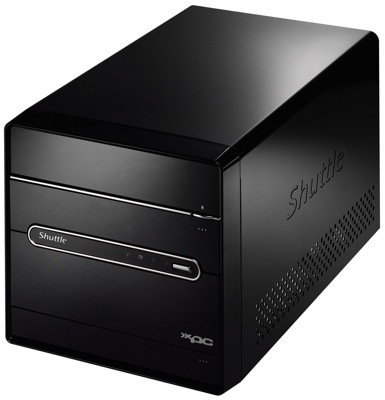 Top-flight PC performance in a compact chassis
That's one possible use for the Shuttle, but you have to think that the main market is the LAN party gamer who wants a small, portable PC that delivers oodles of performance. In that respect, the SX58H7 is a winner, but there's no getting away from the high price tag.
In fairness to Shuttle, there's no such thing as a cheap Core i7 PC - a Dell Studio XPS with Radeon HD 4850 graphics but without a display will cost £819. If you build your own Core i7 using a Micro-ATX Asus Rampage II Gene motherboard at £190 along with a Lian Li Mini Tower at £75 and a 500W PSU for £70, you'll spend £200 less than the price of the Shuttle SX58H7.
In other words, you pay a premium of £200 for the privilege of building your Core i7 system in a small, compact, quiet chassis that's half the height of a regular mid-tower. That's a high price to pay for a regular desktop PC but it's worth considering as the end result is very smart and effective. LAN party gamers – yes, both of you – should form a queue here.
Verdict
The Shuttle SX58H7 is brutally expensive but that's a fact of life with Core i7 hardware. However, the price is offset by low noise levels, stylish design and excellent cooling. ®
More Desktop PC Reviews...
| | | | |
| --- | --- | --- | --- |
| Shuttle X 5000TA | Linutop 2 | Asus Eee Box B206 | Advent AIO-100 |