Original URL: http://www.theregister.co.uk/2009/05/20/review_gadget_webcam_philips_spc1330nc/
Philips SPC1330NC
90f/s webcam anyone?
Posted in Personal Tech, 20th May 2009 08:02 GMT
Review With every tuppenny-ha'penny laptop and netbook coming with a built-in web cam, and laptops taking an ever larger chunk of the computer market, it's probably fair to say business ain't want it used to be when it comes to flogging external webcams. So has Philips' new SPC1330NC Webcam Pro got what it takes to make it a worthwhile purchase for those whose PCs have a fitted camera?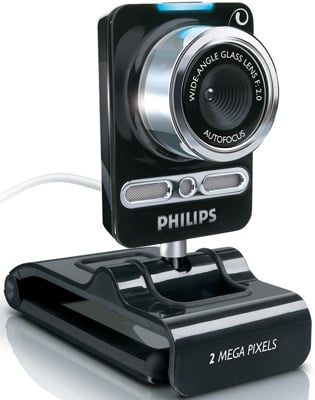 Optional extra: Philips' SPC1330NC
It's not often we start reviews with the box, but in this case we are going to because it makes some bold claims including that the SPC1330NC delivers HD quality, 90f/s, 2Mp video and 8Mp resolution still images.
A glance at the spec sheet reveals that the SPC1330NC also comes with an 8x digital zoom autofocus f-2.0 wide angle lens with a 70 degree viewing angle, twin stereo microphones and a couple of trick bits of software, namely, Pixel Plus 2 – for "natural-looking, razor sharp pictures" – and Digital Natural Motion, that removes picture judder.
Standing 95mm tall on a base 86mm deep and 40mm wide, the camera is a compact design and a very flexible design too. The lower side of the stand hinges down by up to 90 degrees, so the unit can be hooked over the lip of a laptop screen as well as sat on a desk.
The camera itself sits on a hinge that moves back and forward by around 30 degrees from the vertical, though the "up" angle can be further increased by opening the jaws of the stand. Put a weight on the lower part of the base hinge and you can have the camera point up at 90 degrees should you so wish. The camera housing will also rotate through 360 degrees and has a big blue LED on the top to tell you when it's in use.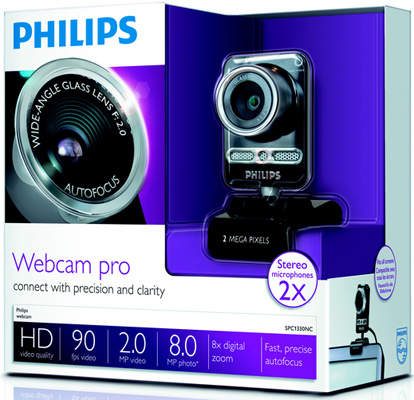 In the frame: the specs require closer scrutiny
We are less sure about the aesthetics though – the shiny silver plastic decoration around the camera and microphone grill make it look cheaper than the £70 it'll cost you. Along with the camera, all you get is a software CD and a USB cable. But what about that 8Mp photo claim? The CMOS sensor in the camera has a native resolution of 2Mp, so that 8Mp figure is for a software interpolated image, rather than a genuine 8 million pixels.
Next under the microscope is the 90f/s video claim. For our test we hooked the webcam up to a Dell Inspiron 1525 laptop with a 2.1Ghz Core2 Duo chip and 3GB of RAM and the best we got was 6fps at 2Mp and 1.3mp and 20f/s at 800 x 600. 90f/s – or even 30/s for that matter – only became an option at VGA resolution and below. The bottom line? A lot of users won't be able to record 2Mp video at 90f/s or even 1.3mp video at 30f/s.
When we asked Philips about this, it confirmed that the results we achieved were about right, which is fair enough. Yet the spiel on the box still rather suggests – at least to the technically naïve – that it can do better.
That said, the SPC1330's performance is not actually half bad. As you can see from these screen grabs of a Skype test, the video quality is far superior to that of our Dell's built in 1.3Mp, fixed focus webcam. The built-in Digital Natural Motion movement estimation technology can't be turned off, so its effectiveness is hard to compare, but lower frame rates did seem to benefit – appearing more watchable and less jerky.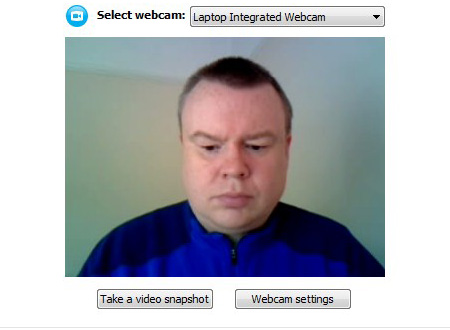 Dell PC webcam image on Skype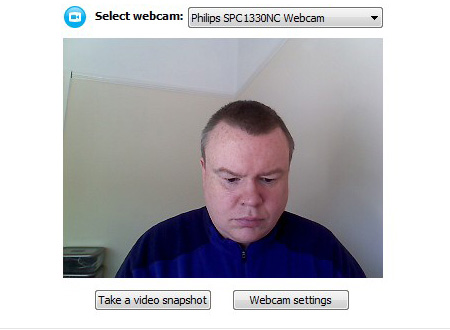 Philips SPC1330NC webcam image on Skype
The autofocus sometimes took four or five seconds to get its act together but once it did images were commendably crisp, although the Face Tracking feature is best left switched off. Enable it, and the autofocus continually tries to re-focus itself no matter how still you sit. The camera also performed well in low light situations, rescuing us from the impenetrable Stygian gloom that webcams usually render us in during late night, lamp lit video calls.
Sample Shots
The images below were taken from the office window, the first at 8Mp interpolated, the second at 2Mp and the last one, the SVGA 800 x 600 option. On the whole we were pretty impressed – the images having a decent colour balance and being reasonably crisp and detailed at 2Mp and "above".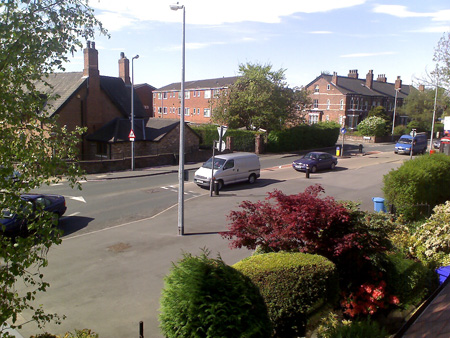 8Mp interpolated setting: apparently 'improves' the image but doesn't increase the resolution
Click for the full-resolution image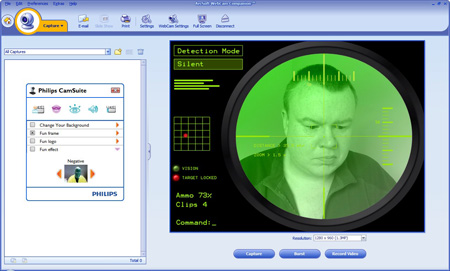 The effects are targeted at a range of users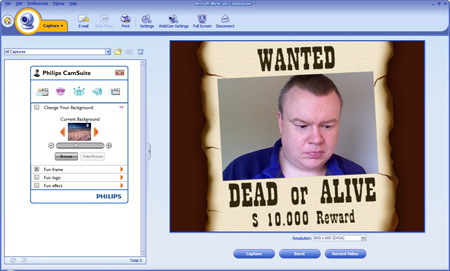 Experimentation has its own rewards
Where the SPC1330 scores particularly well is audio performance. The stereo microphones do an excellent job of relaying speech in a clear, coherent manner and cancel out background noise and echo too.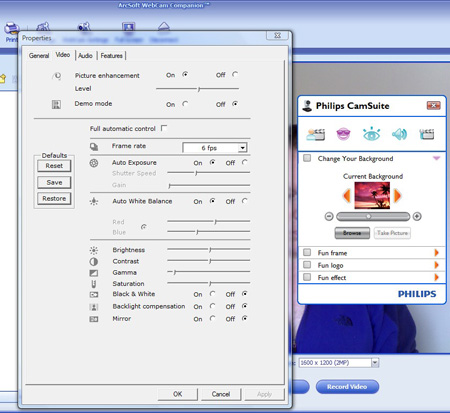 Picture perfect: Arcsoft's control panel offers plenty of tweaks
The bundled ArcSoft software lets you adjust near enough all the camera's settings, as well as do all the usual webcammy things like capturing still and moving images. You can also set the camera to detect and record motion, launch popular IM applications and perform very basic image editing. Images can be decorated too, with a host of amusing backgrounds, frames and filters.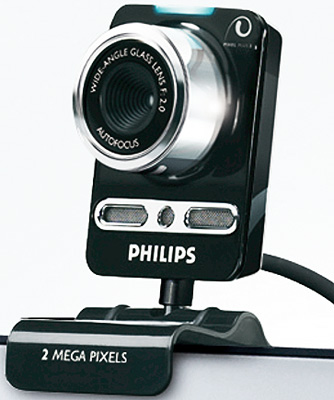 Visible difference: beats built-in webcams hands down
While Philips makes no mention of Mac or Linux support – the software bundle is Windows only – the SPC1330 worked out of the box with Skype on both a MacBook Pro and an old Advent laptop running Ubuntu. Certainly, the MacBook's iSight camera performed better than the Dell's, but it was still left in the dust by the SPC1330.
Verdict
As a device for video chatting the SPC1330 has a lot going for it. The basic design is extremely adaptable and the twin microphones do a great job. The camera gives a consistently fine performance with good colour balance, excellent light handling properties and a very effective – if sometimes slow - autofocus. Yet, truth be told, recording the advertised 90f/s at a decent resolution, simply won't be in the frame for most users. ®
More Webcam Reviews...

Novo Minoru
3D webcam

WowWee
Rovio Mobile

Logitech Digital
Video Security

Creative Live! Cam
Optia AF