Original URL: http://www.theregister.co.uk/2009/03/26/review_elgato_turbo_264_hd/
Elgato Turbo.264 HD hi-def H.264 encoder
120f/s iPod video encoding, anyone?
Posted in Personal Tech, 26th March 2009 13:59 GMT
Review We love Elgato's original Turbo.264 dongle for its ability to speed up the conversion of video from a variety of sources into the H.264 format favoured by the iPhone we use as a PMP.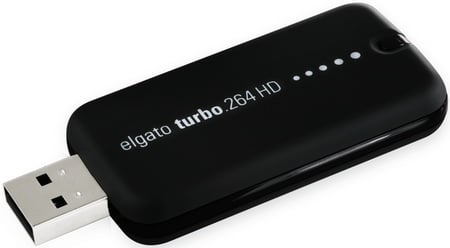 Elgato's Turbo.264 HD: now with a red LED for visual feedback
The first Turbo.264 was focused entirely on standard-definition content. It would handle HD material, but only to reduce it to SD or less in the understanding you'd watch the transcoded footage on a portable player and not your 50in plasma.
Yet, Elgato always included a setting for the Apple TV, a device designed to be hooked up to an HD TV but unto which the Turbo.264 would only render up SD video. Nearly two years on from the Turbo.264's release comes a new version that truly works in the hi-def world.
Unsurprisingly dubbed the Turbo.264 HD, the new dongle's slightly smaller than its predecessor, is less angular and sports a red LED at one end that lights up when it's doing its stuff. Elgato undoubtedly felt it had to get the hardware to do something visual for folk who couldn't tell if it was working or not, though you can see the results clearly enough in the control application that's the hardware's only user interface.
This software too has undergone some aesthetic improvements, but the process is the same: drag the files you want to transcode onto the app, select how you're going to view the results, then click Start. Simple and straightforward.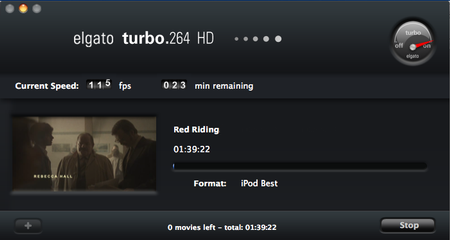 Accelerated H.264 transcoding rates
Once again, the Turbo.264 app provides pre-defined settings for the iPhone and iPod Touch, the Sony PSP, the Apple TV, and two iPod-oriented settings, one at 320 x 240, the other 640 x 480. If the source video's resolution is lower than the pre-set's, it's not scaled up, but it will be scaled down if it's of a higher resolution.
An early software-only update added a YouTube pre-set, and the new release gains YouTube HD, plus 720p and 1080p. Since there's no upscaling, the latter's really only for converting from one video format to another.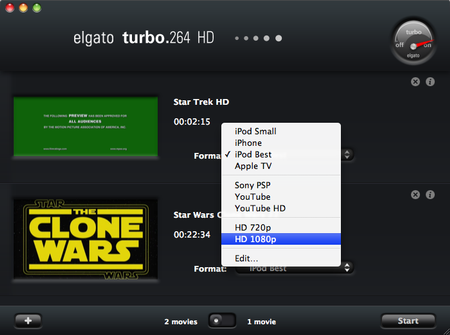 Comprehensive encoding pre-sets
Our initial test centred on a 22.57-minute 624 x 352, 24f/s .AVI file. The test was conducted on a 1.6GHz Core 2 Duo-based MacBook Air, with the 'iPod Best' (640 x 480) pre-set selected. Turbo.264 put in a respectable performance, transcoding the video at a rate of, on average, 45f/s, for an coding time of 11.78 minutes.
Replacing the original dongle with the Turbo.264 HD saw the transcode rate rocket to a peak of 113f/s before it settled down to around 92f/s, making for an overall encoding time of 5.89 minutes. That's almost half the time the original unit took.
We also transcoded the movie using the free app MPEG Streamclip 2 from Squared 5 - an excellent but unaccelerated tool we've used before. Relying on just the processor, and with settings to match those applied by the Turbo.264 apps, the software-only approach took fractionally over 28 minutes, running in less than real time - about 19.35f/s, in fact.
MPEG Streamclip provides a wealthy selection of settings you can adjust to get your transcoded video just the way you want it. An update to previous Turbo.264 app added the ability to adjust a handful of basic settings, but the new released exposes a whole load more that let you get to the heart of the H.264 codec.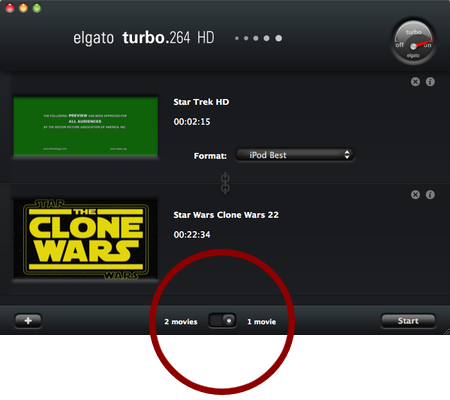 Combine your clips with one click
To be honest, we left them well alone. Only video professionals will feel the need to explore them - and they'll be the only ones who understand this arcana anyway. The point is, though, you can now tweak away if you want to. Our only gripe: as with the original app, you still can't adjust the pre-sets until you add a video to the to-encode list.
More useful is the new video editing tool. Click on a video in the main Turbo.264 HD window and a new screen opens that presents a basic time line onto which you can add markers to block out sections of the movie. Click on the Done button and all the unblocked sections are transcoded into a single H.264 video file.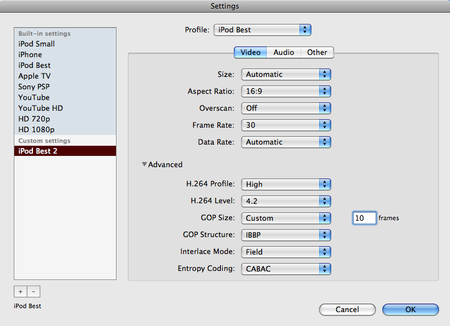 Tweak the encoding settings to your heart's content
Elgato put this in primarily to help camcorder owners block out unwanted footage, but we found it useful to segment DVD rips where a disc of TV episodes had been read as a single movie-length presentation. It's also useful for topping and tailing TV recordings you've copied over from a DVR.
We'd have liked to have the option to transcode the various segments into separate movies rather than a single file. Turbo.264 HD will work the other way: if you load it with, say, four source videos, you can flip a new switch at the bottom of the window to encode the lot into a single file. But you can't easily split a single file into multiple files. This is especially galling because the software can and does take into account DVD chapter marks.
Turbo.264 HD's camcorder support continues with the ability to drive a connected camera to extract AVCHD footage from it.
Now using a 1920 x 800, 24f/s source, we converted to Turbo.264's 1080p, 720p, Apple TV and iPod Best settings. Average frame rates were 31, 27, 14 and 24, respectively, which isn't bad given the size of the source frame and the degree of downscaling - and when you consider that MPEG Streamclip took 19.5 minutes to transcode the file - roughly 2.77f/s. The original couldn't convert to HD, but it managed frame rates for the Apple TV and iPod Best conversions of 17f/s and 23f/s, respectively.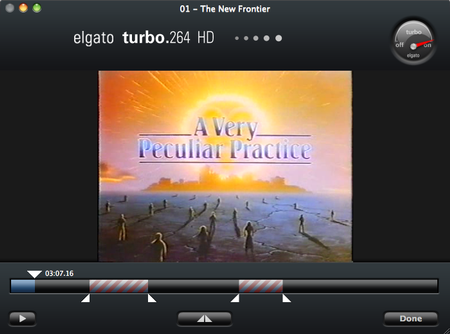 Sections of source video can be blocked from the encoder
Note though that the old Apple TV pre-set was limited to 960 x 540 resolution, the new one is pegged at 1728 x 720.
Comparing the original HD Xvid .AVI file with the H.264 transcode, the Turbo.264 HD yields a softer picture on a frame-by-frame basis, but one no less watchable for that. Knowledgeable users can undoubtedly tweak the pre-sets if they want to increase the sharpness a bit.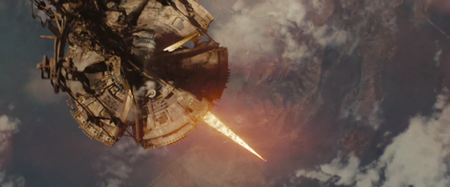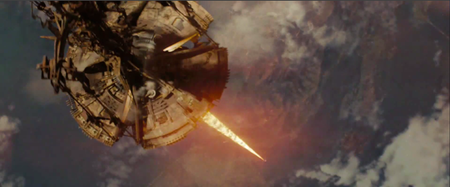 The source HD video (top) and the Turbo.264 HD's transcode (bottom)
Click each image for a full-size picture
All this comes at a price, through. The original Turbo.264 retailed for around £60. The new one's more than double that - £140 - partly due to the changing fate of Sterling but also because Elgato's upped the price.
There's another, less obvious price too: CPU performance. Previously, the Turbo.264 software delegated its entire workload to the dongle. The new version uses the host CPU much more aggressively to prepare video data for processing, which is one of the reasons why it deliver faster transcoding. The result is that it grabs a surprisingly high number of processor cycles. The benefit here is that the faster your CPU, the better transcoding speeds you'll get, but it also means it's much less of a run-in-the-background-and-forget-about-it product than before.
Set your Mac aside to let it churn through video, and that's not a problem. But it might be if you want your machine to do other tasks too. Whether that's good or bad depends entirely on you and your workload. Personally, we're happy to get the fastest possible H.264 encoding available on a Mac today.
Verdict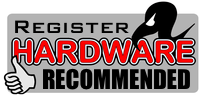 If you already have a Turbo.264 and you're not an AVCHD camcorder owner, the Turbo.264 HD is more 'nice to have' than 'must have'. If you use it casually, you probably won't want to cough up for the upgrade. For the serious video shooter, or if you about to embark on ripping your entire DVD collection to stick in your Mac Mini media centre, the time you'll save using the new Turbo.264 will be well worth the outlay. ®
More Mac Add-on Reviews...
| | | | |
| --- | --- | --- | --- |
| Elgato EyeTV DTT Deluxe | LG GP08NU10 | Elgato EyeTV 310 | Sennheiser MM50 |