Original URL: http://www.theregister.co.uk/2009/03/17/review_storage_ssd_samsung_mmd0e56g5/
Samsung PB22-J 256GB SSD
Our new favourite solid-state drive
Posted in The Channel, 17th March 2009 13:02 GMT
Review The catchily named Samsung PB22-J MMDOE56G5MXP-0VB weighs in at 256GB and is the biggest SSD we've seen to date. Biggest, that is, in terms of capacity. Physically, it follows the usual 2.5in hard drive form-factor and measures 100 x 70 x 9.5mm. Cosmetically, it's an attractive drive that has a brushed metal finish but, let's face it, once the drive is installed, you couldn't care less what it looks like.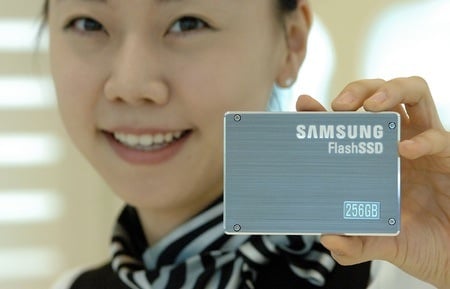 Samsung's 256GB SSD and friend: we like it too
Samsung tells us that it was the first company to sell a 32GB SSD, in March 2006, and was also the first to reach 64GB, which it did in 2007. Here we are with a 256GB drive in 2009. For the record, G.Skill lists a 256GB Titan drive in its range, and OCZ has a 250GB version of its Apex SSD. However, the Samsung is the first 256GB SSD that we have received.
Before we get started with the tests, we have to sound a cautionary note about availability and pricing. Samsung doesn't sell its SSDs direct to the consumer as they all, for the moment, go to its laptop customers.
A quick bit of research suggests that Alienware, Flybook and Lenovo are the companies in question. Take a look at the Alienware Area-51 m15x laptop, which starts at £899 with a 160GB 7200rpm SATA hard drive with sudden-drop protection. Upgrading to a 250GB drive with the same spec costs an extra £40, while a 320GB drive is a £62 upgrade - £22 more than the 250GB.
Switching from the 160GB SATA drive to a 128GB SSD costs £246, while a 256GB SSD costs £411. That gives us an approximate price of £430-440 for the Samsung 256GB SSD, but these prices are extremely fluid and seem to be changing rapidly.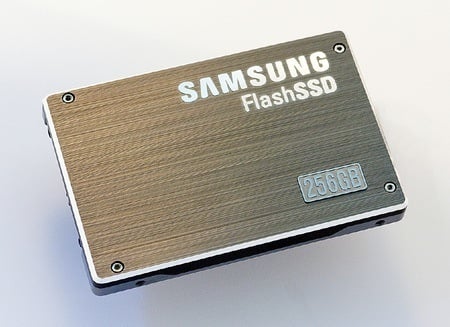 Not cheap, it seems
Taking the Lenovo option is far more expensive than the Alienware route, so if you fancy upgrading the 120GB 5400rpm HDD in a Lenovo ThinkPad X301 to a 128GB SSD, it will cost you £382. Phew.
We are making the assumption that the SSDs in question are Samsung products as that is the best information that we have at present. To put those prices in context, an 80GB Intel X25-M costs £350 and the 160GB version is priced at £690.
Cracking open the casing of MMDOE56G5MXP-0VB reveals that Samsung has chosen to use a full complement of its own chips. There are 16 K9MDGZ8U5M-SCK0 NAND multi-layer cell (MLC) Flash chips with ten chips on the bottom side of the board and six chips on the top along with a 1Gb DDR cache K4X1G323PD-8GC6 chip.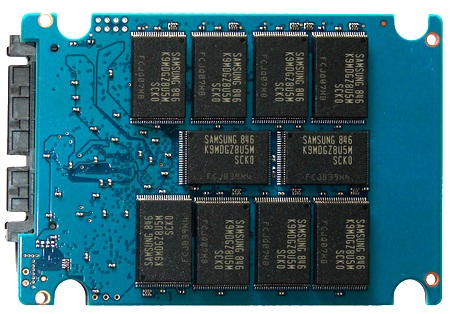 Inside, ten Samsung MLC Flash chips on top...
That's exactly what we'd expect to see as Samsung memory is so popular with OEMs. But the SSD controller is also made by Samsung. This is a bold move. Intel uses a Promise SSD controller and OCZ employs the popular JMicron chip, but Samsung has gone for its own S3C29RBB01-YK40 part. Off the top of our head, this is the first time we've seen a Samsung storage controller in action unless you count the chips that feature in Samsung's hard drives.
We connected the 256GB SSD to a Core i7-based test PC and compared the performance of the Samsung to an Intel X25-M and a 1TB Western Digital Caviar Black hard drive. We've mixed in the figures from our review of the 120GB OCZ Apex - all taken using the same test rig - however we didn't have the drives simultaneously and were therefore unable to perform a direct comparison.
When we reviewed the OCZ Apex we found that file transfer times fluctuated quite significantly so we have used the median figure from a number of test runs to ensure that our figures are representative. We have also used median figures for the WD Caviar HDD, and the Intel and Samsung SSDs, although the variance across the test results with these three drives was relatively small.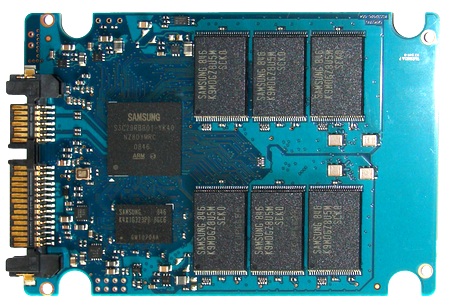 ...and six more underneath
The synthetic HD Tach 3 benchmark produces impressive results for the Samsung, yielding an average read speed of 203.7MB/s which is reasonably close to the Intel X25-M's 219.5MB/s and a comfortable distance ahead of the OCZ Apex's 166.5MB/s.
In write speeds, the Intel is quite disappointing (77.6MB/s) and is easily beaten by the OCZ (136.0MB/s). But the Samsung sets a new benchmark: 176.2MB/s. In burst speeds, all three SSDs achieve epic speeds, with the Samsung sandwiched in the middle.
HD Tach 3 readouts
Samsung 256GB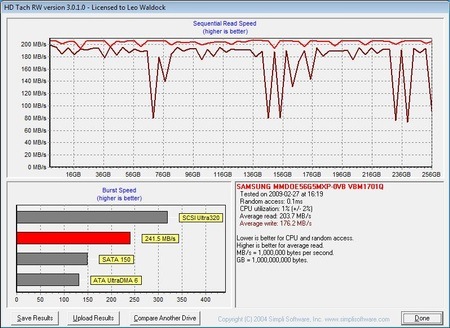 Click for full-size image
OCZ Apex 120GB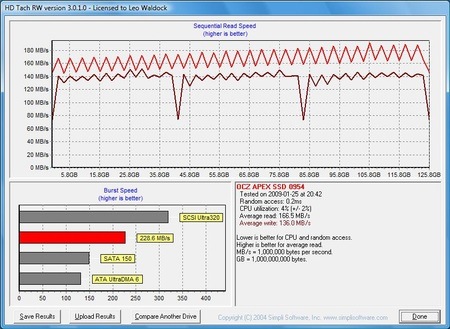 Click for full-size image
Intel X-25M 80GB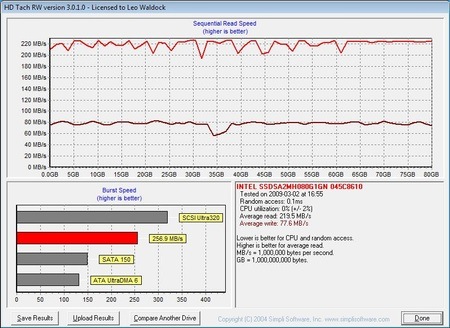 Click for full-size image
During our tests, the temperature of the Samsung remained cool to the touch and didn't exceed 25°C, just like the Intel, while the OCZ warms up to 45°C.
HD Tach 3 Results
Random Access Time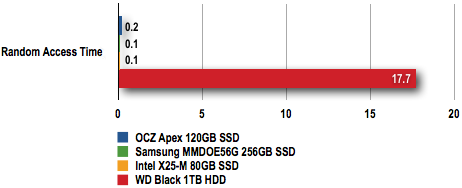 Time in Milliseconds
Shorter bars are better
HD Tach 3 Results
Speeds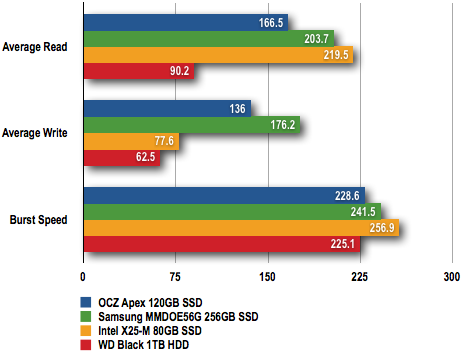 Speed in Megabyters per Second (MB/s)
Longer bars are better
When we transferred 2GB of files within each drive, the Samsung managed the task in 23.9 seconds - 12 seconds faster than the Intel and twice as fast as the OCZ. Things get a bit more complicated when we transferred files between drives as we have already seen that the Intel SSD has a slow write speed. This led to the interesting result that it took longer to write 2GB of files to the Intel SSD than it did to the WD Caviar hard drive.
2GB File Transfer Results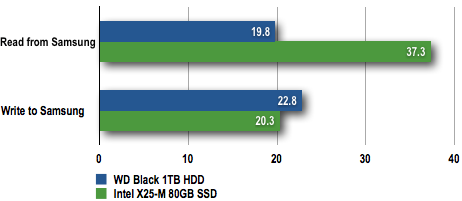 Time in Seconds
Shorter bars are better
Now that we've seen a handful of SSDs in action, it's clear that the Intel X25-M is somewhat slower than we first appreciated and presents a significant bottleneck when it is allied to a second SSD.
2GB File Transfer Results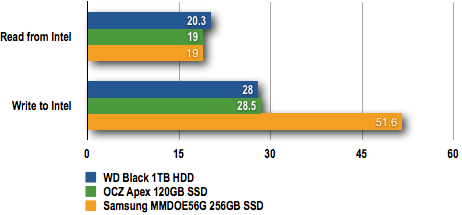 Time in Seconds
Shorter bars are better
Reading 2GB of data from the Intel SSD to the OCZ and Samsung SSDs took 19 seconds for both drives. There was only one second separating the OCZ and Samsung when we transferred data from the WD Caviar.
2GB File Transfer Results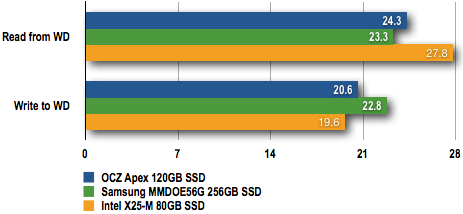 Time in Seconds
Shorter bars are better
Previously, we were impressed by the speed of OCZ Apex but sounded a note of caution as its performance is quite variable. By contrast, the Samsung is as fast as heck and appears to be flawless while also delivering enough capacity to be useful in the real world. There are few of us who could stomach a drive with 80GB or 120GB of capacity in a laptop or PC, but a 250GB main drive is entirely plausible.
2GB File Duplication on Drive

Time in Seconds
Shorter bars are better
Now, we know what you're wondering: these tests were carried out on a clean Windows Vista PC but how do these new fangled SSDs perform in the real world?
PCMark05 HDD Results

Longer bars are better
We decided to use our own, everyday use Windows XP PC as a guinea pig to answer that very question. The main hard drive is a 250GB Samsung SP2504C with 75GB taken up by Windows and applications, while music, videos, work and other files are stored on a rather larger secondary drive. The motherboard is an Intel X48 and the processor is a 3.2GHz Core 2 Extreme QX9770 with 2GB of DDR 3 Ram, but start-up is a painful process that takes five or six minutes while the PC chugs into life.
The exact times for three start-ups are:
4 minutes 48 seconds
5 minutes 43 seconds
6 minutes 35 seconds
Part of the variation comes down to Sophos Antivirus, which performs an update at start-up. If an update isn't needed, it cuts at least a minute off the start-up time. But no matter what, there's a lot of disk thrashing as the software loads. That's Windows, ZoneAlarm firewall, Windows Defender, Sophos, X-Fi audio drivers and ATI Catalyst graphics drivers, plus a few other things, but honestly, it's a fairly clean system that's just getting old. We imaged the 250GB hard drive to the 256GB SSD and start-up times plunged:
1 minute 14 seconds
1 minute 21 seconds
1 minute 28 seconds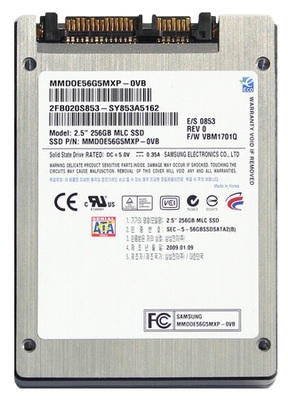 So that's it - we're sold on the Samsung SSD and don't want to give it back. If the manufacturer insists we may even make its an offer and buy the darn thing, and we can't say fairer than that.
Verdict
Samsung, please stop messing around and sell this gorgeous 256GB SSD as a component that's available to the buying public. ®
More SSD Reviews...
| | |
| --- | --- |
| OCZ Apex | Intel X-25M |