Original URL: http://www.theregister.co.uk/2009/02/25/review_storage_ssd_ocz_apex_120gb/
OCZ Apex 120GB SSD
Quirky performer
Posted in The Channel, 25th February 2009 09:02 GMT
Review From the outside, the 120GB OCZ Apex solid-state drive looks very similar to every other 2.5in SSD on the market, including the 80GB Intel X25-M that we reviewed last year.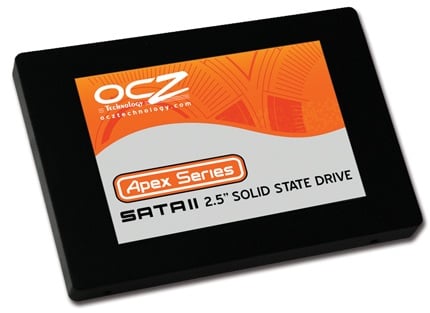 OCZ's Apex: good price-per-gigabyte score
Internally, it's a different story as the Apex uses two JMicron JMF602 Flash controller chips in conjunction with a JMB390 RAID chip so the Apex is effectively a pair of 60GB SSDs in RAID 0 configuration. If you check the specification, you'll see that the RAID setup means that the 60GB model has a write speed of "up to 110MB/s", while the 120GB and 250GB models have a speed of "up to 160MB/s".
Our reference point for the OCZ Apex is the Intel X25-M, which launched at a price of £399 - £4.99 per gigabyte - and which has subsequently dropped to £315 - £3.94 per gig. Intel has announced a 160GB X25-M that costs £615 - £3.84 per gigabyte - so you pay a smidge less than £4 per gig if you shop with Intel and £2.67-3.25 per gig when you buy an OCZ Apex drive.
That's a substantial saving provided the performance of the Apex is up to snuff. We tested both the Intel and OCZ drives along with a 1TB WD Caviar Black HDD on an EVGA X58 SLI motherboard with a Core i7 965 processor and 3GB of 1066MHz DDR 3 memory running Windows Vista Ultimate Edition.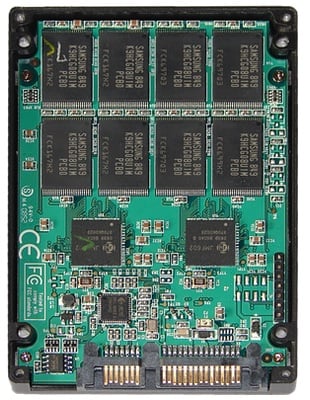 Inside the Apex
OCZ Apex 120GB SSD Specs
Available in 60GB, 120GB, 250GB capacities
Read up to 230 MB/s
Write (120-250GB) up to 160MB/s
Write (60GB) up to 110MB/s
Seek <.2-.3ms
Slim 2.5in Design
Dimensions 99.88 x 69.63 x 9.3mm
Weight 77g
Operating Temp -10°C ~ +70°C
Storage Temp -55°C ~ +140°C
Low Power Consumption
Shock Resistant 1500G
Internal RAID 0 Support
MTBF 1.5 million hours
Warranty Two years
We installed each drive in turn as the Windows drive, with the other two drives as data drives, and ran HD Tach and PCMark05 benchmarks, as well as transferring 2GB of files between the drives.
OCZ Apex HD Tach Output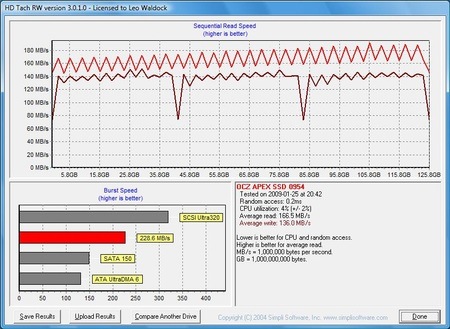 Click for full-size screengrab
Our initial impressions of the Apex were mixed. The figures from HD Tach 3 show the average write speed - 136MB/s - is rather faster than the Intel X25-M, which is 80MB/s. This seems to be evidence of the RAID feature in action. But then its read-speed is considerably lower than the Intel's: 166.5MB/s to the X-25M's 235.1MB/s
The Apex demonstrates a burst speed that is the fractionally higher than the WD and 12 per cent lower than the Intel drive.
In the HDD element of PCMark05, the Apex achieved twice the score of the WD Caviar Black. However, it was substantially lower than the Intel X25-M.
Both HD Tach 3 and PCMark05 are synthetic benchmarks that have been written specifically for rotating magnetic media - data are stored quite differently on an SSD. Specifically, the SSD uses algorithms that level the load to ensure the memory chips are used evenly to avoid wearing them out.
This doesn't necessarily mean that synthetic benchmarks are a waste of time with an SSD, but it does mean that you have to use caution when you refer to the test results. We'd go further than that and say that the current crop of benchmarks reflects the way that Windows XP and Vista use hard drives. We won't get a proper picture until Microsoft finalises the SSD-friendly Windows 7.
Intel X-25M HD Tach Output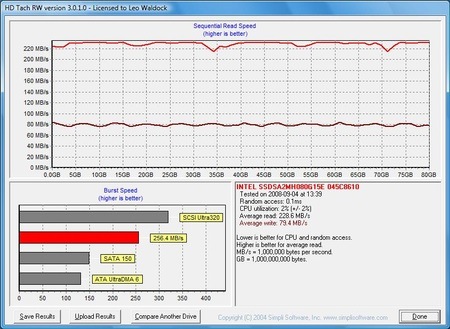 Click for full-size screengrab
The software behemoth talked about Windows 7 Enhancements for Solid-State Drives at WinHEC 2008 and you can grab the PowerPoint here, but we warn you, it makes for dull reading.
PCMark05 HDD Results

Longer bars are better
HD Tach 3.0.1 Results
Random Access Time

Time in Milliseconds (ms)
Shorter bars are better
Average Read and Write Speeds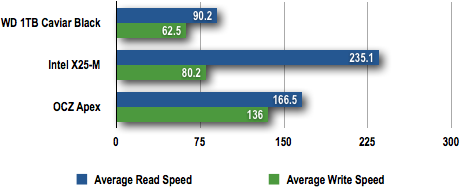 Speed in Megabytes per Second (MB/s)
Longer bars are better
Burst Speed

Speed in Megabytes per Second (MB/s)
Longer bars are better
If benchmarks are a bit of a flop, the safe bet is to turn to real-world tests. We transferred a 2GB directory of files within each drive and also from one drive to another. Usually, we run a particular test a number of times until we are confident the results are both representative and repeatable and then we use the median figure. The OCZ blew that approach out of the water as the numbers were horribly inconsistent, so we have given the three median figures for each file transfer test.
2GB File Transfer Results
OCZ Apex as Data Drive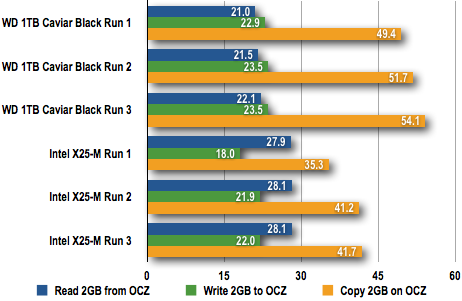 Time in Seconds
Shorter bars are better
Intel X-25M as Data Drive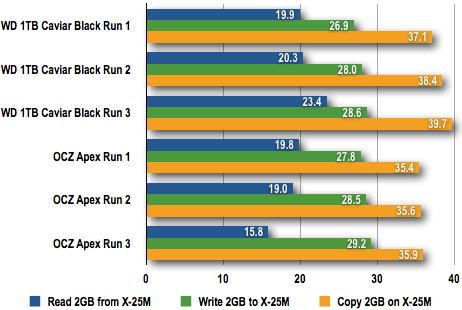 Time in Seconds
Shorter bars are better
WD Caviar Black as Data Drive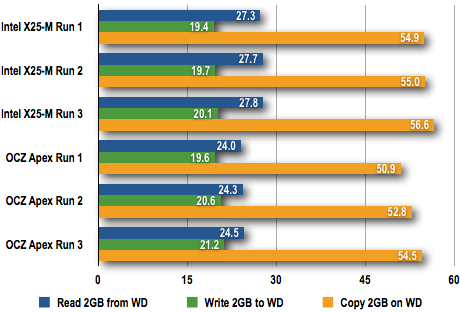 Time in Seconds
Shorter bars are better
When we timed how long it took to transfer 2GB of data within the Apex as the Windows drive these figures are 36.9s, 49.9s and 54.8s which is an enormous spread of 18s. When we ran the same test with the Apex as a data drive on the Intel SSD and WD Caviar Black, the range of the three median figures was much tighter at five or six seconds.
Duplicate 2GB on the Drive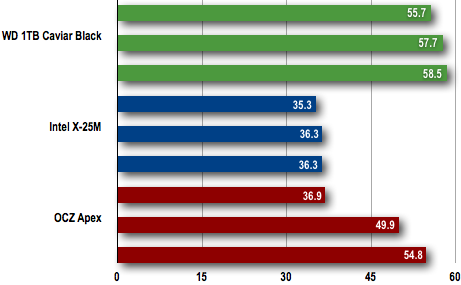 Time in Seconds
Shorter bars are better
This may be related to the Sequential Read Speed graph generated by HD Tach as it is as jagged and uneven as any graph we have ever seen.
The strange behaviour of the Apex is smoothed out when you're transferring data from one drive to another. With the WD Caviar Black as the Windows drive, we were able to do a direct comparison between the Intel and OCZ SSDs and the OCZ Apex came out slightly ahead. During testing we were surprised to find that the smart metal casing of the OCZ reached a consistent temperature of 45°C. By contrast, the plastic casing of the Intel SSD didn't get hotter than 25°.
You'll have spotted that those conclusions have been couched in cautious terms as the OCZ Apex SSD is both fast and erratic.
This may be the reason that OCZ has announced the Vertex range of SSDs, which will switch from the JMicron JMF602 controller and will instead use the Indilinx Barefoot IDX22 chip, which has a write speed of 170MB/s and a read speed of 230MB/s.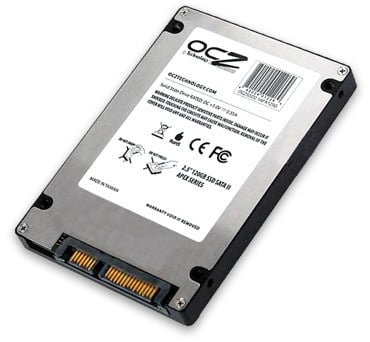 SATA claws
The four Vertex drives will sell for £99 (30GB), £180 (60GB), £340 (120GB) and £640 (250GB). That makes it hard to recommend the current Apex SSD models when the new and presumably better Vertex series is just around the corner. At least OCZ has added to the downwards pressure in SSD prices.
Verdict
We have mixed feelings about the Apex SSD and sincerely hope that the Vertex will make strides to improve performance. ®
More Drive Reviews...

Intel X-25M

WD Caviar Green 2TB

WD VelociRaptor
HDD vs SSD

WD Caviar Black 1TB vs
Seagate Barracuda 1.5TB